How to Put Facecam on Screen Recording in 3 Methods
Updated by Nick Orin on Dec 29, 2022 17:00 PM • Category:
Record Screen
5 mins read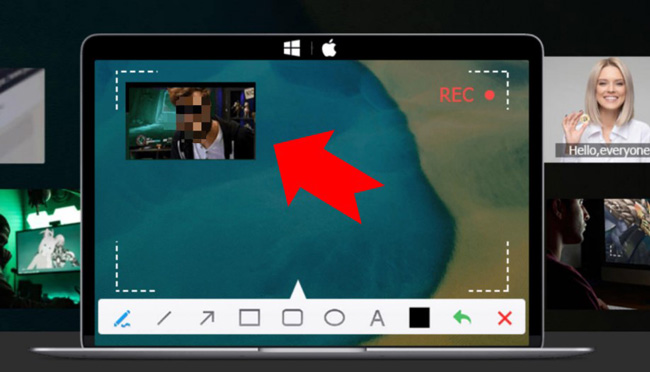 The facecam or face cam has been used by YouTubers and live-streamers to put their own faces in the corner of the screen to show interactions with their audience. The purpose of recording a video with a facecam screen is to increase the authenticity and immersion of the content, especially for a tutorial video or gameplay broadcasting.
Since many video recorders do not provide the facecam recording function, so we've organized the 3 easiest ways to help you record facecam videos with no hassle. Besides that, you can choose the device based on your purpose and try those recorders for free.
Part 1: How to Record Facecam Videos with TunesKit Screen Recorder
As a fully-fledged facecam and screen recording tool for beginners, TunesKit Screen Recorder is capable of recording a video in different modes. If you need to record a video with facecam screen, then the "Webcam Recording" mode is what you want. This facecam recorder allows you to set the resolution, use scheduled recording, add personalized watermarks, as well as take screenshots anytime.
What makes TunesKit Screen Recorder different is the excellent format support features. That is to say, users can choose a specific format as their recording output, such as MP4, AVI, DivX, MOV, MKV, and M4A. The recording length is unlimited, and you can choose to trim out unwanted parts of the recording.

TunesKit Screen Recorder for Omegle
Multiple recording projects to help you make a quick recording
Choose the background audio resource and preset audio format
Clutter-free video recording interface that can take screenshots
Add watermarks on the screen with your customized content
Record as long as you want without registration and expiry
Try It Free
600,000+ Downloads
Try It Free
600,000+ Downloads
How to Put Facecam on Screen Recording with TunesKit Screen Recorder
Step 1: Download TunesKit Screen Recorder. Launch it, and choose the "Webcam Recording" mode
When entering TunesKit Screen Recorder. You choose the "Webcam Recording" mode to face your face with a webcam on the screen. The toolbar is able to set the audio resource and video resolution quality. You can use the scheduled recording to make countdown recordings. If you need to adjust the output format and save path, click the "Settings" icon in the right place.

Step 2: Move the facecam screen to the right place. Stop the recording when it is finished
You can adjust the position of the facecam area as your want. The interface is drag-n-drop. In the recording process, you can take a screenshot at any time. When it is finished, click the "Stop" icon from the menu bar. Then a workspace for downloading will pop up.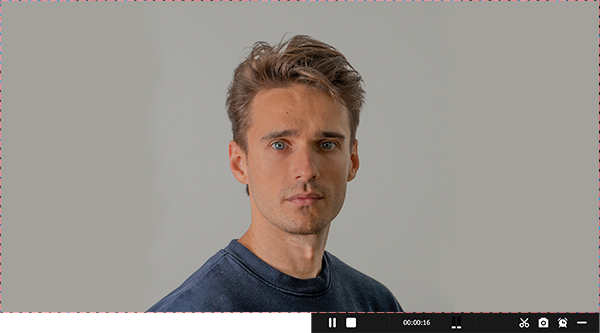 Step 3: Choose the recording to trim out the parts you dislike. Find the saved recordings to share them
The "History" panel includes all recordings you captured where users can edit the length and find the save path. You can separate the video recordings from screenshots by classification. Also, the performance monitor is designed to help you playback the recording.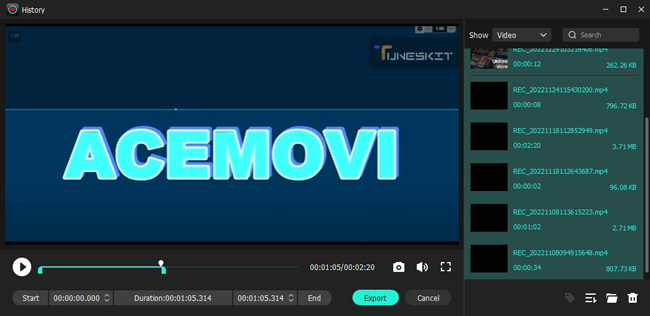 Part 2: How to Facecam while Screen Recording on iPhone and Android by Go Record
Want to know how to record a facecam video on your iPhone or Android? We all know that mobile phones has set a built-in screen recorder feature to help users record everything they want to capture, but the reality is there is no function in recording the screen with facecam on your phone if you do not download an app. The facecam recording app we recommend here is Go Record, which is clean and able to record screen or record facecam. On the free version, you can record as many facecam videos as you want.
Step 1: Download Go Record from app store. Use the "Face Cam" function to record facecam video
There are two projects on Go Record. One is to record a normal video with music, the other is to record a video while there is a facecam screen floating on the screen which can be repositioned as your want. Click "Face Cam" > "New Project", then choose to record a new video or select the video from your phone.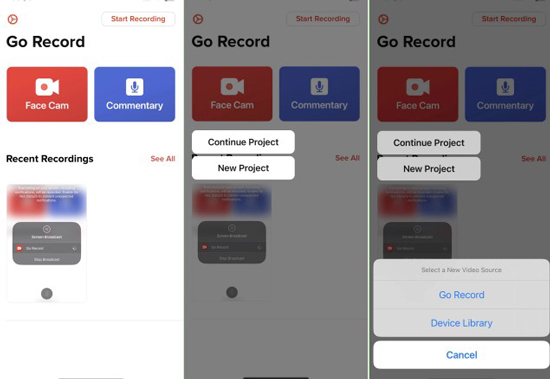 Step 2: Locate the facecam area. Click "Start Recording" to record the screen with facecam
Choose the video you want to put on the facecam screen. At the same time, you can adjust the audio volume. The facecam area can be repositioned on the screen as your want. Once you want to record the facecam video, click "Start Recording". When the recording is finished, the recording file will be saved to your album.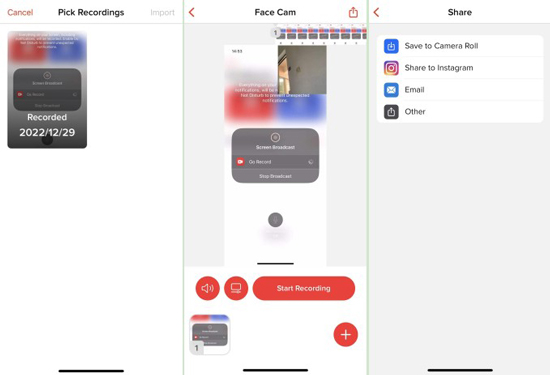 Part 3: How to Get Facecam on Screen Recorder Online Free via 123APPS
Want to use an online facecam recorder to make a recording with both screen and facecam without downloading software or application? In this case, we believe that 123APPS Screen Recorder is worthy of a try, which is powerful in recording a video and saving files in HD resolution. The websites may have ads, but you can try a lot of useful features in easy steps.
Step 1: Visit 123APPS website. Choose "Video Recorder" from "Video Tools" on the interface
Since the 123APPS website is a multi-functional video editing and recording tool, you need to choose the right function first. Then "Video Recorder" can be launched from "Video Tools" on the user profile.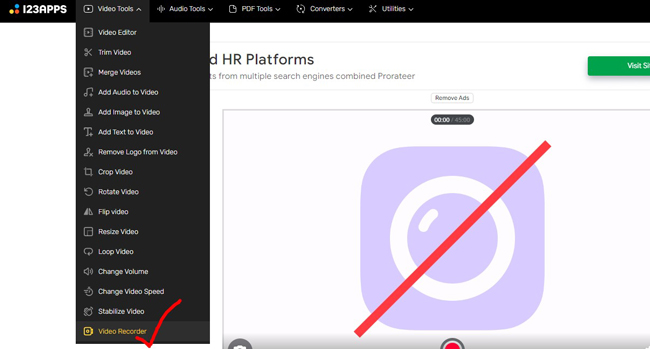 Step 2: Choose the microphone, mirror mode, camera, and facecam recording quality
You can adjust the recording quality and try to mirror the objects in your recording. Also, you need to connect a webcam for recording yourself on the screen. The 720p and 480p are free to set.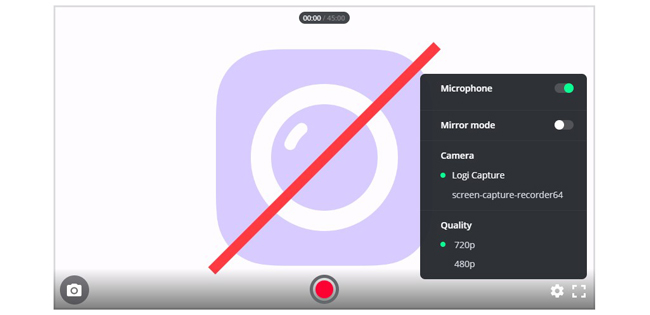 Step 3: Play the recording playback. Download your facecam recording video online for free
Now, the screenshots and recorded videos can be downloaded online for free with 123APPS. You can play the recording to check whether it is okay to download as well. If you need to trim, speed, convert, or crop the recording, you can try other features provided by 123APPS.

Conclusion
Here are the 3 best ways to record a video with facecam. In every method, you need to connect to a webcam for recording yourself on the screen. Some facecam recorders are powerful to change the resolution in advance, such as TuensKit Screen Recorder and 123APPS, they can also help you split out unwanted recording parts in real time.