Transfer Music from SoundCloud to Apple Music
Posted by Adam Gorden on Feb. 1, 2021 6:15 PM • Category:
Record Audio
4 mins read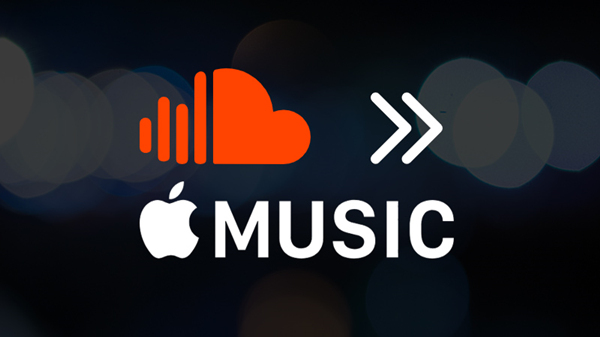 SoundCloud and Apple Music are both globally famous music services with millions of users and their unique advantages. As many songs on SoundCloud are published by new artists that not always on Apple Music, the users who are fans of both platforms may want to transfer music from SoundCloud to Apple Music or the other way around. But how? This guide will tell you exactly how to transfer SoundCloud to Apple Music, no matter you want to transfer songs, albums, or playlists.
Why It Is Not So Easy to Make the Transfer Without Tools
Although both SoundCloud and Apple Music are music streaming services, there are still many differences between them. Some of the regulations and designs are making the transfer process even more difficult, not to mention each of them doesn't provide an official solution to this library transfer demand of the users. Before we get into the tutorial part, let's first look at why it would be difficult to make this transferring without tools.
1. Limitations of SoundCloud Download: Many who want to download SoundCloud songs to their local storage so that they can upload those songs to Apple Music will find this problem. Whether to enable the users to download their music is decided by the artists, and that means a lot of songs on SoundCloud cannot be downloaded.
2. No Official Methods to Achieve this Goal: Neither SoundCloud nor Apple Music lets users transfer their library to other music apps. It is understandable from their perspectives since such a feature would make it easier for users to leave their platforms for other competitors'. Why would they want to do that?
3. Low Efficiency of Download from SoundCloud: Even if you can download the songs you want from SoundCloud and transfer them to Apple Music, it will take a very long time because you cannot download a whole album or playlist.
The Best Software to Transfer SoundCloud to Apple Music
TunesKit Audio Capture is one of the best options to transfer songs, albums, playlists from SoundCloud to Apple Music. Thanks to the cutting-edge audio capture technology of TunesKit that will extract the data of the audio, the sound quality of the downloaded tracks is lossless. This program can batch download music from SoundCloud, which guarantees high efficiency of download. It is so smart that it can match the ID3 tags of the songs automatically.
Extra features are also noticeable. The built-in editor allows you to trim or cut the tracks, adjust the EQ, or edit the ID3 tags. What's more, the 6 most popular formats are free for you to choose from, including AAC and M4A, so that you can play the songs on all Apple devices.

Key Features of TunesKit SoundCloud Music Downloader
Download streaming music to Apple Music
6 popular formats including MP3, AAC, FLAC, WAV, M4A, and M4B available
Preserve streaming music with the original audio quality and full ID3 tags
Support many customization functions and groove the songs even offline
Try It Free
600,000+ Downloads
Try It Free
600,000+ Downloads
Steps to Download from SoundCloud to Apple Music
1

Run TunesKit Audio Capture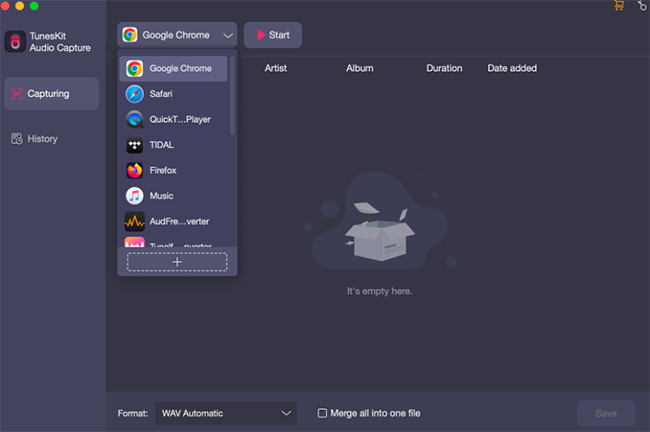 Install and launch TunesKit Audio Capture on your computer, and you'll see a list of programs on the home screen. Make sure the web browser you open SoundCloud with is on the list. If not, click on the "+" button to add the program or drag and drop it to the window of TunesKit.
2

Configure the audio preferences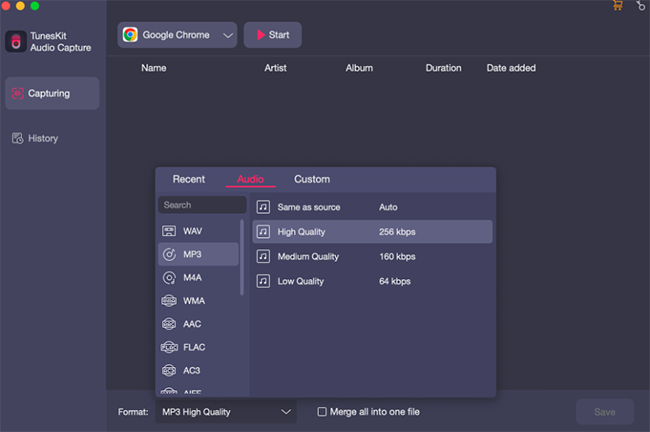 Click the "Format" icon at the bottom right and set the output preferences in the popup m. It supports 6 common audio formats including MP3, WAV, AAC, M4A, M4B, and FLAC. You can set the audio format as AAC and also adjust the audio quality like codec, sample rate, bit rate, and channel. When finishing configuring, press the "OK" button to confirm the changes.
3

Start downloading music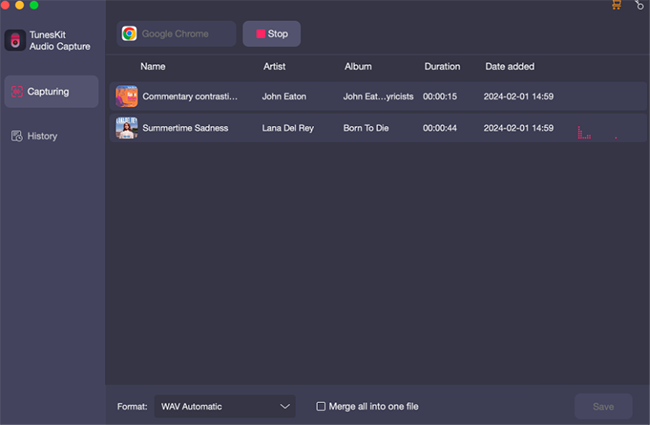 Go back to the main interface and tap on the browser with which you are going to open SoundCloud. Go the SoundCloud and play the songs, albums, and playlists, and you will see in a download window of the program that they are being downloaded. When finished, click the "Stop" button.
4

Save SoundCloud music to the local folder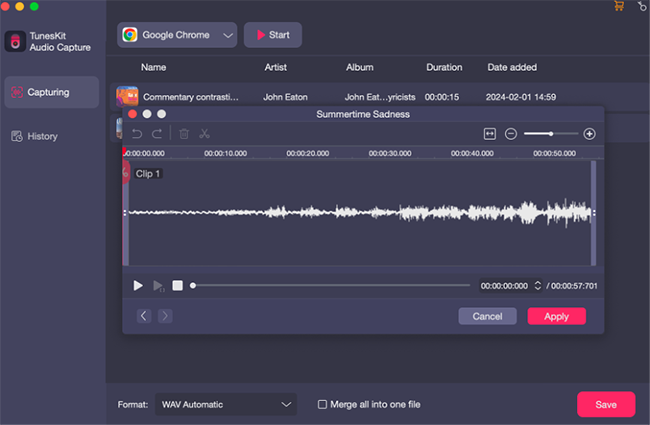 Once captured, you could personalize these music tracks by clicking the "Edit" icon at the rear of each track. Here, you could trim and cut the audios, adjust the EQ, or edit their ID3 tags. After that, click the "Save" button to save them to your local music collection.
5

Transfer SoundCloud music to Apple Music on PC/Mac

For PC users, run iTunes then open its Music tab at the top-middle of the window. Click the "File" option on the top left corner, and then choose the "Add File to Library" or "Add Folder to Library". Select SoundCloud music tracks you want to add, and then click the "Open" button to add SoundCloud music to Apple Music.
For Mac users, run the Music app on your Mac and go to "File" > "Add To Library or File" > "Import. Locate the SoundCloud songs or the folder to save them, then click Open. If you add a folder, all the songs in it are added to your library.
Summary
In this article, we have introduced why it is hard to import SoundCloud music to Apple Music and how to do it in the best ways. We hope this guide will help you to switch smoothly between music platforms.