How to Play Tidal Music on Google Home
Updated by Adam Gorden on Jul 20, 2023 10:00 AM • Category:
Record Audio
6 mins read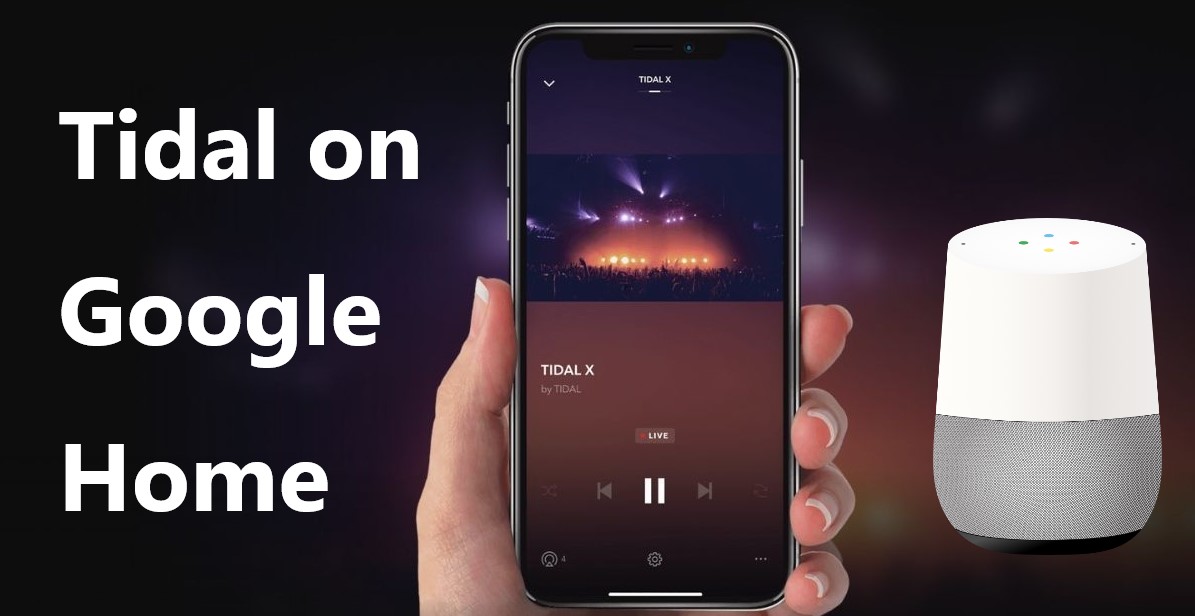 Like Apple Music, Tidal is a subscription-based streaming audio platform. It is set up in 2014 by a Norwegian company. Tidal owns 70 million songs, which overcomes loads of music providers and gains listeners from 56 countries all over the world. It is available on Windows or Mac computers, iOS, and Android devices. But for many music enthusiasts, listening to music with a speaker like Google Home which supports many streaming audio apps like YouTube Music brings them a better listening experience. Then here comes the question, can we play Tidal on Google Home?
Unfortunately, for Tidal music, it is not as easy as playing YouTube Music on Google Home. But we still find other effective methods to help you link your Tidal music on Google Home.
Method 1. How to Play Tidal on Google Home Offline
Plenty of Google Home users prefer to use Google Play Music to listen to music when they are using Google Home. Google Play Music is a music and podcast streaming service which is owned by Google and supported by Google Home. Import the Tidal playlists to Google Play Music and then you can listen to Tidal songs on Google Home directly. You have to download Tidal songs on your computer before you sync Tidal playlists to Google Play Music. But Tidal does not allow anyone to download Tidal songs on a computer. That means that you have some limitation when you play Tidal on Google Home. Therefore, you need an external tool to help you.
TunesKit Audio Capture, a powerful streaming audio downloader, can help you download Tidal music to a computer. It is able to record any audio the computer's soundcard gives out including streaming music from Tidal, Apple Music, YouTube Music, and more. And it can always help you to save them in different formats such as MP3, FLAC, AAC, and others, in high quality and get full ID3 tags preserved. You can download multiple music tracks at the same time which saves time for you. What's more, this tool offers a choice for you to edit the ID3 tags of your audio.
To know more features of TunesKit Audio Capture, the best way is to use it by yourself. Download and install it for free now!

Key Features of TunesKit Tidal Downloader
Download music from Tidal, Spotify, Amazon Music without limits
Convert to 6 formats like MP3, AAC, FLAC, WAV, M4A, and M4B
Save downloaded Tidal music with the original audio quality and ID3 tags
Support the merging, trimming, and editing
Try It Free
600,000+ Downloads
Try It Free
600,000+ Downloads
1.1 How to Download Tidal Music for Google Home
Follow the 3 steps below to use TunesKit Audio Capture to capture any music from Tidal and save it in common formats like MP3.
1

Open TunesKit Audio Capture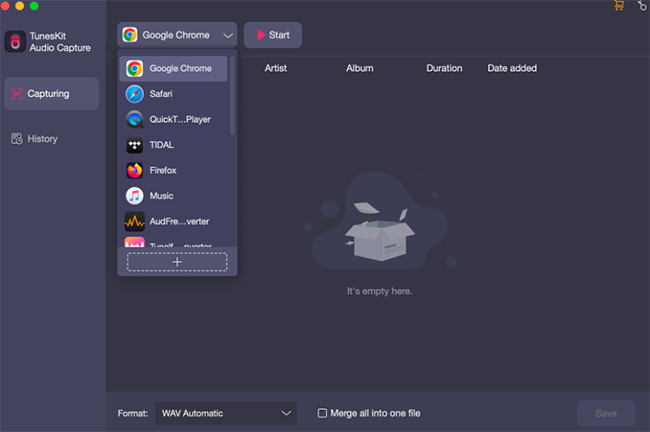 Launch this tool on your computer. There are some programs already on the screen. If you find that the Tidal icon is not there, Click the + button to add Tidal desktop app.
2

Set format for Tidal songs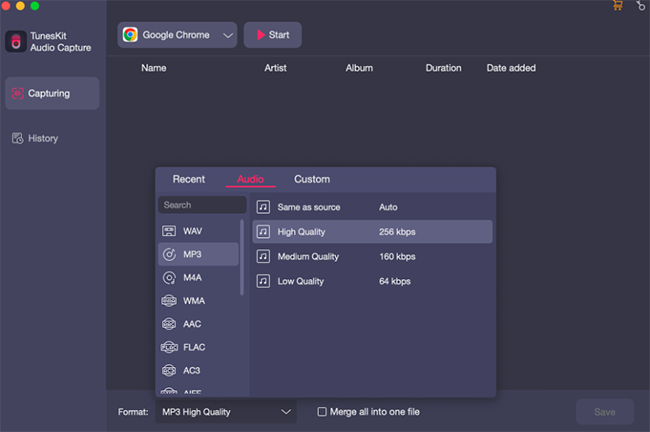 Click the Format button to choose the format you want. Here we choose MP3. You can also change the codec, sample rate, and other settings of Tidal audios.
3

Capture Tidal songs for Google Home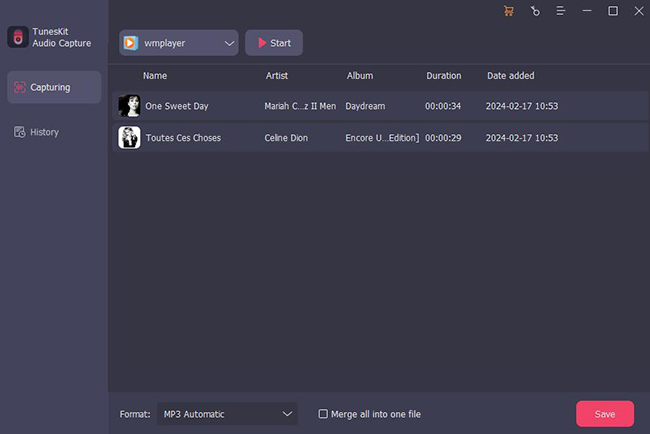 Open the Tidal app from TunesKit Audio Capture. Play music of Tidal that you want to download. It will appear a recording track on this software automatically. When you stop playing the music and close Tidal, TuensKit Audio Capture will stop the recording. Click the Save button to export the downloaded Tidal music.
1.2 How to Import and Use Tidal music on Google Home
Now you can transfer Tidal music to Google Play Music to play on Google Home. Here are the specific steps.
Step 1. Open Google Play Music on your computer and log in to it. Choose the My Music button to find the Tidal songs and import them to Google Play Music.
Step 2. Open Google Home app on the computer and log in to it. Go to Settings > Services > Music to set the Google Play Music as the default player. Now you can listen to Tidal on Google Home!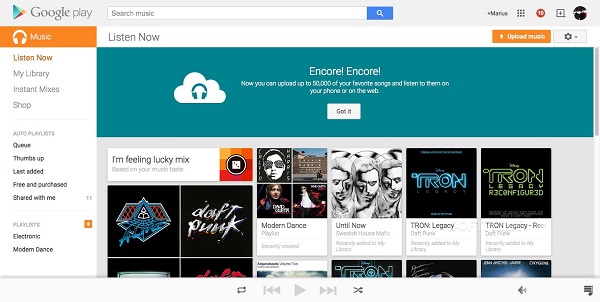 Method 2. How to Link Tidal to Google Home via Bluetooth
For those Tidal subscribers, they don't need to download Tidal songs before transferring them to Google Home via a third-party app to play them. All they need is a stable network and turned-on Bluetooth, and they can link Tidal to Google Home for online playback. Before you play Tidal on Google Home, there are a few necessary steps to set up. See below.
How to Connect Tidal to Goole Home
Step 1. Open the Google Home app on your phone. Scroll down, and you'll see your Google Home device is on the list.
Step 2. Click on the Google Home device, go to Device Settings, swipe down and click on Paired Bluetooth Devices > Enable Pairing Mode.
Step 3. Slide down the Control Center, open the Bluetooth options, and pair to Google Home.
Step 4. After successful pairing, Google Home is your phone's Bluetooth speaker. You can open the Tidal app and play the music you want on Google Home right now.
Note: You can also connect the Tidal desktop app from your computer to Google Home. And remember that Tidal won't play on Google Home if your Tidal subscription expires or the internet is poor.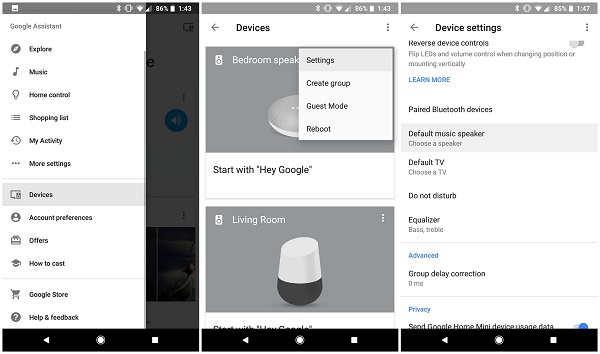 Method 3. How to Add Tidal to Google Home With Google Cast
As you know, Google Home features Google Cast, which is a technology to enables users to cast media and apps from phones, tablets to TVs, and speakers. If you are a subscriber to Tidal, you can apply for this function to link Tidal to Google Home. You need to use a phone or tablet to control it. If you are new to Google Cast, follow this:
How to Cast Tidal to Google Home
Step 1. Open Tidal app on your phone. Connect your phone with the same Wi-Fi that your Google Home connects.
Step 2. Choose a Tidal song to play. Click the bar that shows the name of the song and the artist. You will enter the Now Playing screen.
Step 3. Click the Cast button at the bottom left, which looks like a TV. The Google Cast sub-menu will pop up, which lists all the Google Cast device which is under the same Wi-Fi with your phone.
Step 4. Choose the Google Home among them. Now you will find that your Google Home is playing Tidal music you just choose. And your phone becomes a remote which controls the playing of the music on Google Home. You can also use commands to let Google Home play or stop the Tidal song. For example, say "Pause" to stop the song. Say "Resume" to continue the playing.
Note: The advantage of this method is that you will not drain the battery of your phone. But the limitation is that you cannot use Google Cast to connect Tidal to Google Home if you didn't subscribe to Tidal.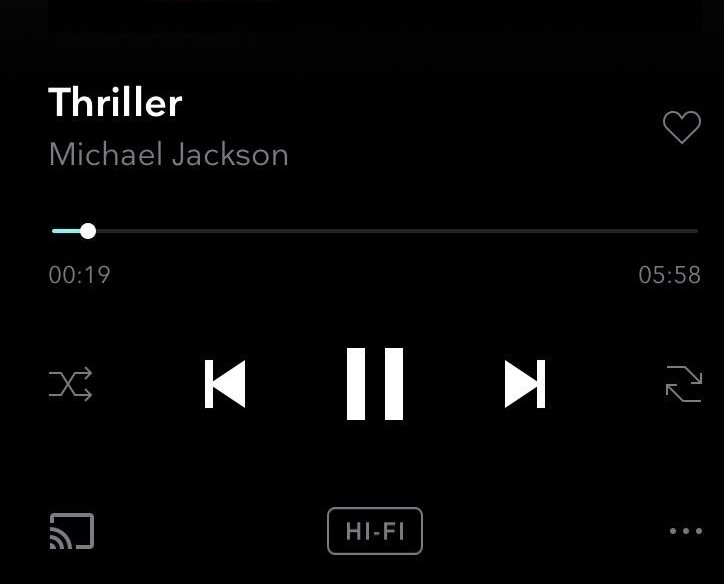 FAQs About Tidal on Google Home
Q1: Is Google Home has Tidal integration?
Unfortunately, Google Home is not integrated Tidal music so far. But you're able to play Tidal music on Google Home via other auxiliary tools. Choose the method that suits you based on the text above.
Q2: Does Tidal work with Google Nest Mini?
As of now, Tidal is not integrated into Google Nest Mini. But it can still play music from Tidal on Google Nest Mini. One of the best ways is to get the Tidal music downloads via TunesKit Audio Capture and play them on Google Nest Mini through Bluetooth.
Q3: How do I get Tidal on Google Home Mini?
As the Tidal integration on Google Home Mini is now unavailable, you will have to resort to other tools to indirectly play Tidal on Google Home Mini, such as Bluetooth, Google Cast, etc. Please read the above for details.
Q4: Does Google Play Tidal?
Google Play Music is available in web platform, iOS and Android platform. Tidal is available in almost all of the platforms.
Q5: What music providers work with Google Home?
YouTube Premium, YouTube Music Premium, Spotify Premium, Apple Music, Pandora Premium, Deezer Premium. You'll get specific songs, albums or artists along with music based on genre, mood or activity or your personal playlists.
Conclusion
We have concluded three effective methods to help you play Tidal on Google Home. TunesKit Audio Capture enables you to get Tidal music downloads and play them on Google Home via Google Play Music. Or you can also take advantage of Bluetooth or Google Cast to listen to them on Google Home.
You should note, however, that using Bluetooth or Google Cast is limited by your Tidal subscription and your phone needs to act as a medium. But with TunesKit Audio Capture, you don't have this restriction and can play these Tidal songs on any device you own.