2 Best Solutions to Burn Tidal to CD
Updated by Adam Gorden on Jul 22, 2021 6:15 PM • Category:
Record Audio
5 mins read
With an emphasis on high-quality audio and a very different business model for its artists, Tidal stands out from the competition in the streaming music services. Tidal covers a catalog of about 60 million songs and a variety of podcasts, music videos, live concert recordings, and professionally curated playlists, some of which are exclusives.
As with most music streaming services, you can access it on a wide variety of devices, including computers, smartphones, tablets, smart speakers, and more. So, is it possible to be able to burn Tidal to CD? Then you're allowed to listen to Tidal music from a CD player or play Tidal music in the car. Sure, just go on reading the post and you will know how to burn Tidal music to CD.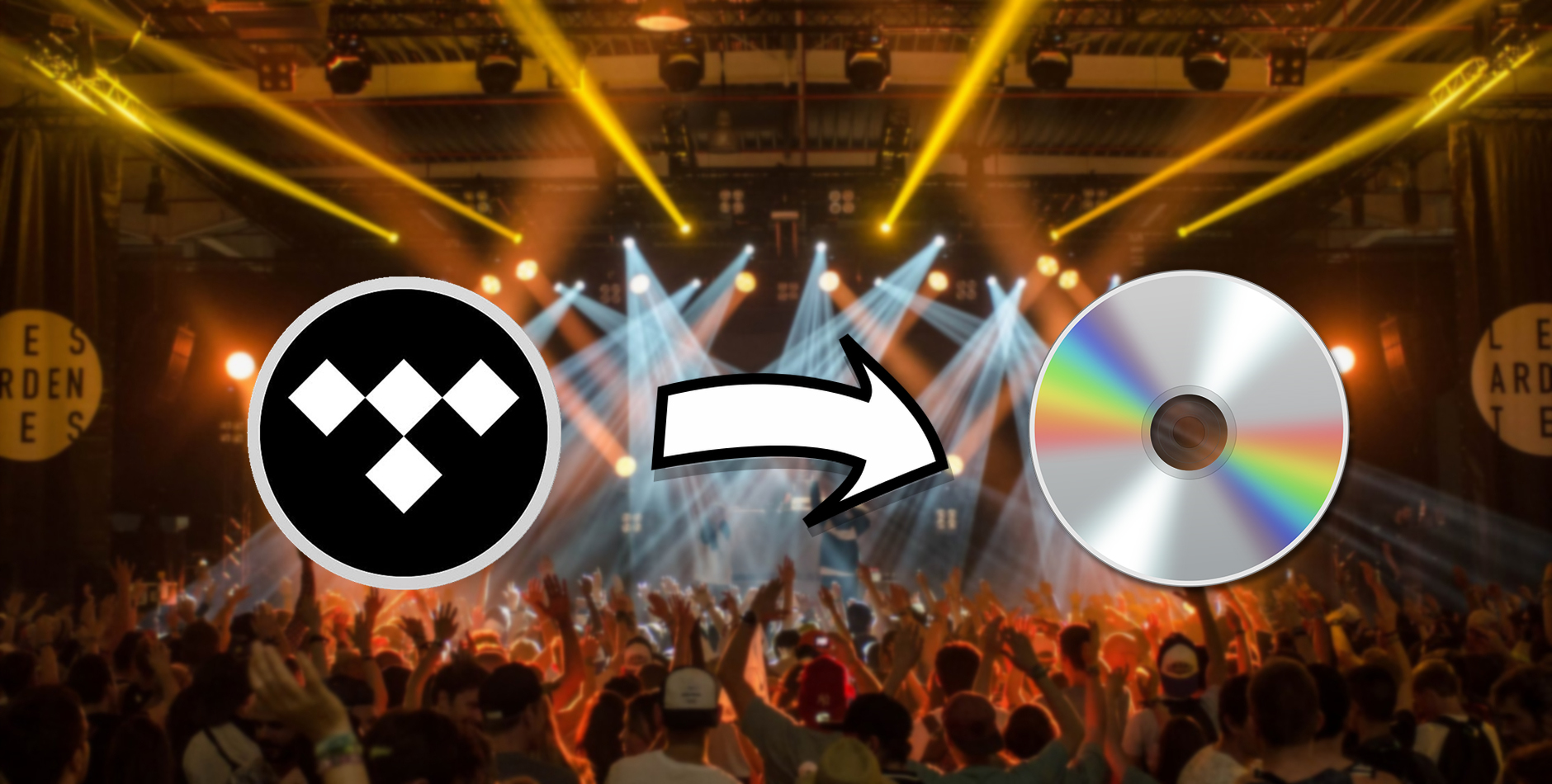 Part 1. How to Extract Music from Tidal with 2 Methods
Before you are prepared to burn Tidal songs to CD, you need to remove protection from Tidal music and download Tidal music to your computer. To do this, you have 2 choices.
Method 1. How to Burn Tidal Music to CD with TunesKit Audio Capture
As we all know, all music from streaming platforms including Tidal is saved in the virtual format with digital rights management protection. On account of the fact that the virtual format limits the usage of Tidal music, you are only allowed to play Tidal music within itself, let alone burn CD from Tidal.
Therefore, the best solution is to download and convert Tidal music to plain audio formats with the help of a third-party tool like TunesKit Audio Capture. It can enable you to save music from Tidal to files without a Premium subscription and then transfer Tidal songs to CD for burning.

Key Features of TunesKit Tidal Music Downloader
Download and convert music tracks, playlists, albums, artists from Tidal
6 plain formats including MP3, AAC, FLAC, WAV, M4A, and M4B available
Preserve streaming music with the original audio quality and full ID3 tags
Support many customization functions and groove the songs even offline
Try It Free
600,000+ Downloads
Try It Free
600,000+ Downloads
The following is required to burn Tidal music to CD:
1. Make sure that your computer has a disc drive for burning discs;
2. Prepare a blank CD disc for copying music from Tidal to CD multiple times;
3. Download and install TunesKit Tidal Music Downloader to your computer;
4. The CD burner like iTunes or Windows Media Player is available on your computer.
Just perform the following steps to download music from Tidal to files with Tuneskit
1

Add the Tidal App to TunesKit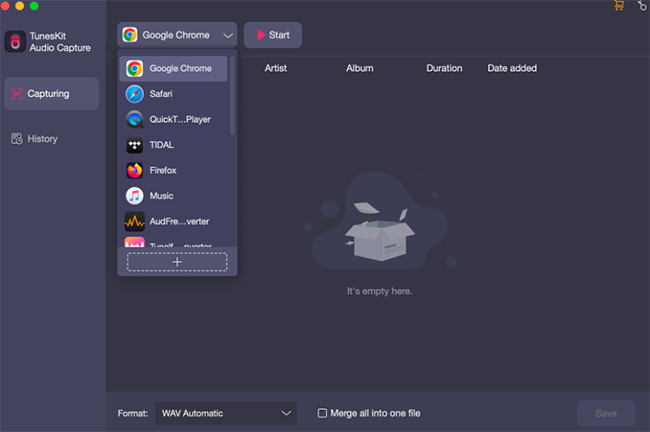 After downloading and installing TunesKit Tidal Music Downloader to your computer, open TunesKit and check the interface of TunesKit. If you don't see the Tidal app listed on the program list, you need to add the Tidal app to TunesKit by drag-and-drop. Or you could click the "+" button to add it.
2

Adjust the Output Audio Format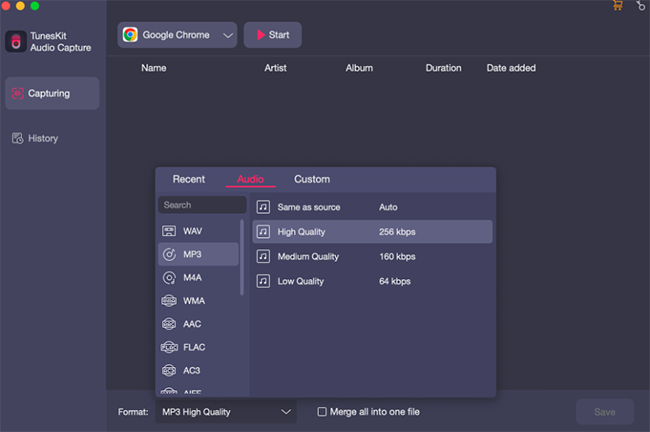 Then you need to configure the output audio parameters by clicking on the "Format" button. There are six audio formats including MP3, AAC, WAV, FLAC, M4A, and M4B, and you should pick the format of MP3 files among them and continue to configure the value of channel, bit rate, and sample rate for getting better audio quality.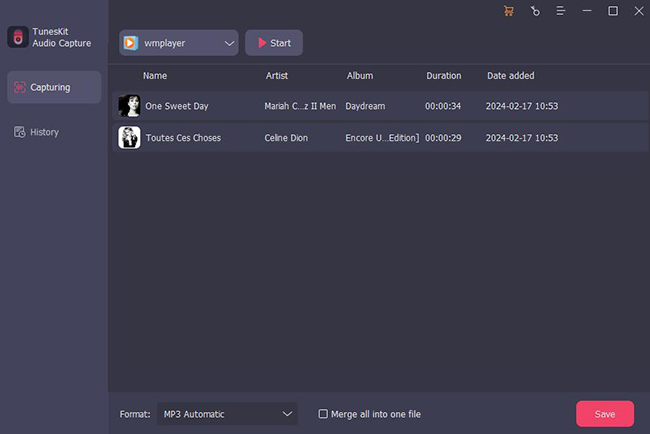 Once all the setting is done, you can launch the Tidal app from TunesKit and log into your Tidal account. Then choose to play a playlist or album from Tidal and TunesKit will record those music tracks from Tidal after several seconds. You can stop recording music from Tidal by clicking the "Stop" button.
4

Trim and Cut Tidal Music Tracks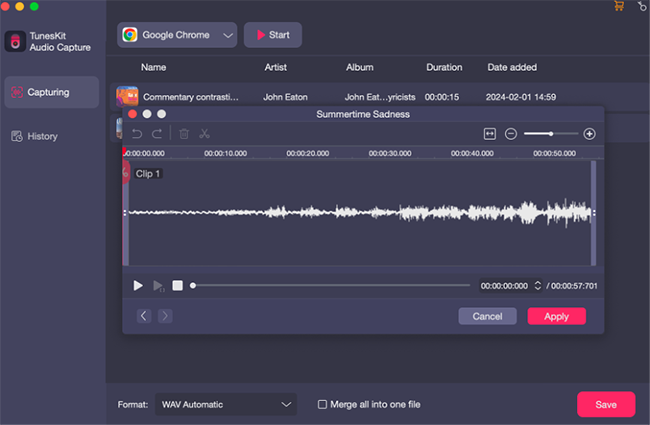 Now you could go to customize those recorded Tidal music tracks by clicking the "Edit" button at the rear of each track to open the service of audio customization. With the service, you could trim and merge all Tidal music tracks and edit the ID3 tags and other audio information. Then save all your edited music tracks to your computer.
Method 2. How to Burn a CD from Tidal with Audacity
Another choice to rip music from Tidal is to use Audacity, which is an open-sourced tool. You can use it to record Tidal music. But different from the previous Tidal audio recorder, this tool has a more complicated interface and operation method. Follow the guide below to record music with Audacity.
Step 1. Launch Audacity on your computer.
Step 2. Then you need to turn off Software Playthrough. Go to Transport > Transport Options > Software Playthrough.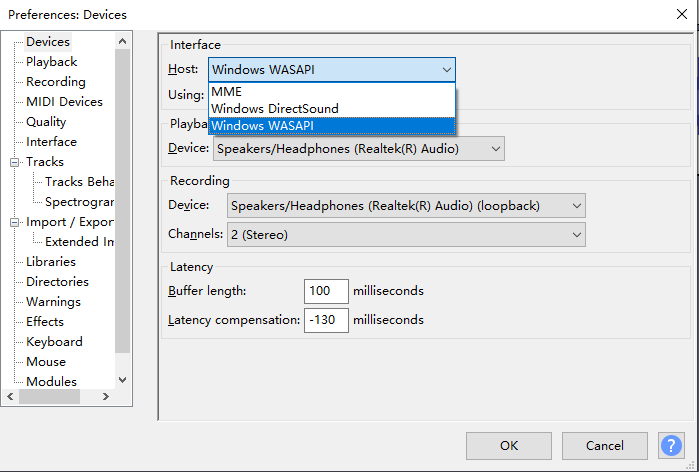 Step 3. Open your Tidal and play a song. Click the Record button at Audacity.
Step 4. Tap the Stop button to stop recording.
Step 5. Then you need to save your recorded files. Go to File > Save Project > Save Project.
Part 2. How to Burn Tidal to CD on iTunes or Windows Media Player
After you complete the downloading and conversion of Tidal music, you could burn songs from Tidal to CDs. There are two methods available for you and you could choose one of them for burning.
Option 1. Burn Tidal Playlist onto CD with Windows Media Player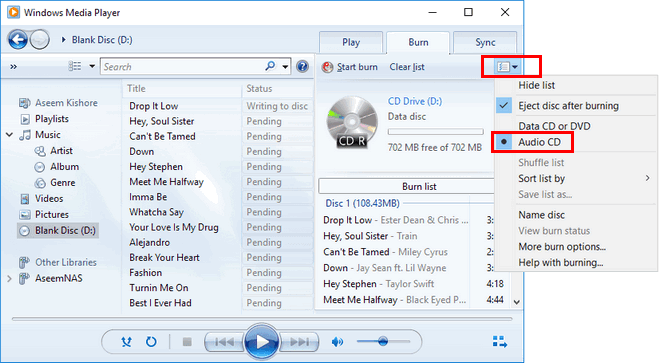 1. Insert a blank CD into the disc drive of your computer.
2. Open Windows Media Player (WMP).
3. Press the 'Burn' button on the right.
4. Drag and drop Tidal songs into the burn list.
5. Click the menu in the Burn panel.
6. Press the 'Start Burn' button.
Option 2. Transfer songs from Tidal to CD with iTunes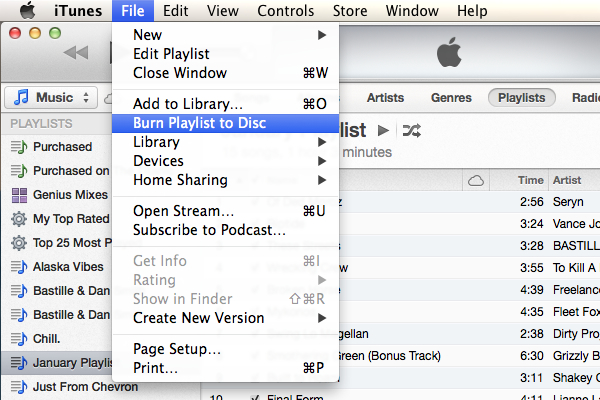 1. Open iTunes.
2. Go to 'File > New > Playlist' and create a playlist.
3. Insert a blank CD into the disc drive.
4. Open the 'File' menu and select 'Burn Playlist to Disc'.
5. Select the 'Audio CD' from the format list.
6. Press the 'Burn' button.
Summary
To download Tidal music for free and burn Tidal music to CD, you have 2 choices. TunesKit Audio Capture and Audacity. If you prefer to download Tidal music with high quality and easy steps, you can choose TunesKit Audio Capture. If you are a tech savvy and like free software, then you can try Audacity.