5 Best Software to Record Browser Audio
Updated by Nick Orin on Feb. 9, 2022 12:00 PM • Category:
Record Audio
5 mins read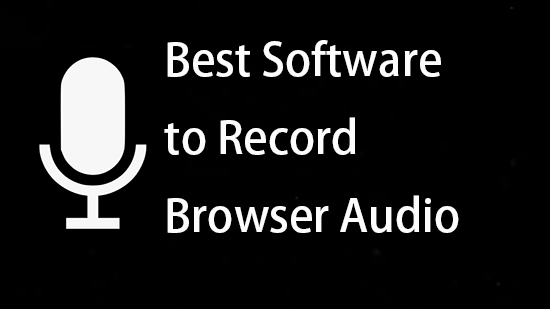 With the rise of new social media, people like to record what they are interested in through screen recording or audio recording on the browser and then share it on the Internet through their own editing. Regarding recording browser audio, most people will choose to record the screen directly, because it can also record audio at the same time, but they need to take additional editing to get the target audio.
Maybe some people are tired of this way to record sound from the browser and thinking about how to record browser audio directly, fortunately, we have collected the 5 best audio recording software to record browser audio. Now let's check them out now!
Part 1. How to Record Browser Audio via Best Tool
TunesKit Audio Capture is powerful audio recording software that supports capturing any sound on a browser. Such as for streaming videos, online shows, live broadcasts, online games, music videos, etc. This software needs to select the recording source in the recording interface of the software to be able to record, so users can play many sounds at the same time without interfering with the recording. And the audio recording can be saved as MP3, M4A, and other different formats.
This software not only can work on Windows but also can record browser audio on Mac. It features trimming function, supporting users to trim the recorded audio in their desired length. And it has ID3 tags that allow users to add some information to their audio recording. So it is a great audio capture for different users.

Features of TunesKit Audio Recorder
Record browser audio losslessly
Have multiple output audio formats
With a smart built-in ID3 tags editor
Support multi-track recording, audio cutting and merging
Try It Free
600,000+ Downloads
Try It Free
600,000+ Downloads
Now let's follow the tutorial on how to record audio from the browser.
Step 1: Download and launch TunesKit Audio Capture. Then you can see the main interface. In this interface, you can click "+" to add a new browser, or you can directly drag the browser into this interface.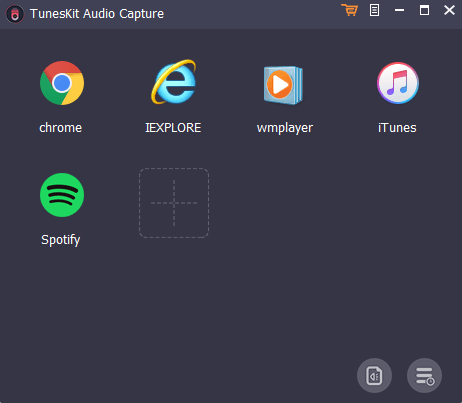 Step 2: Click Format to make a preset. You can select the output format, sample rate, and bit rate. Then click OK.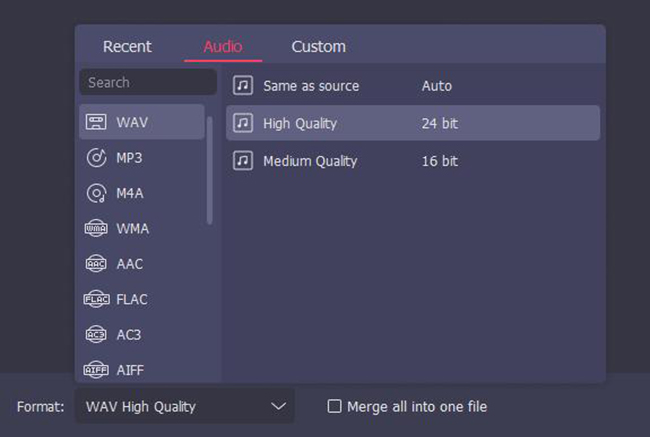 Step 3: When the user opens the browser, the software is ready for recording. Once the user plays the target audio in browser, the software will begin capturing automatically without any click by the user. When the sound ends, it will also automatically stop the recording.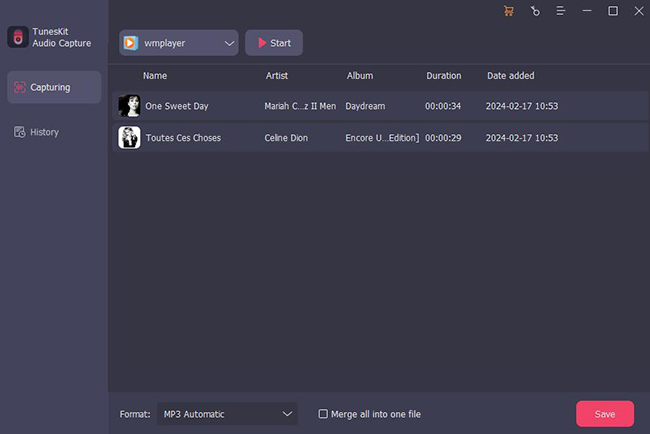 Step 4: You can check the audio recording in the capture list. In this scene, you can preview the audio and trim it by clicking Edit. In the edit interface, you can drag the process bar, then click OK. You can also add ID3 tags to your recording. When you finish, click OK.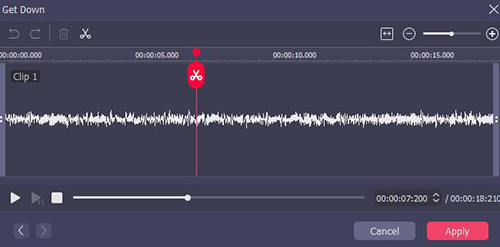 Step 5: If you want to put several audio tracks into one file, you should click STOP, then click MERGE ALL INTO ONE FILE, and click SAVE. Then the new audio will be saved in the history file.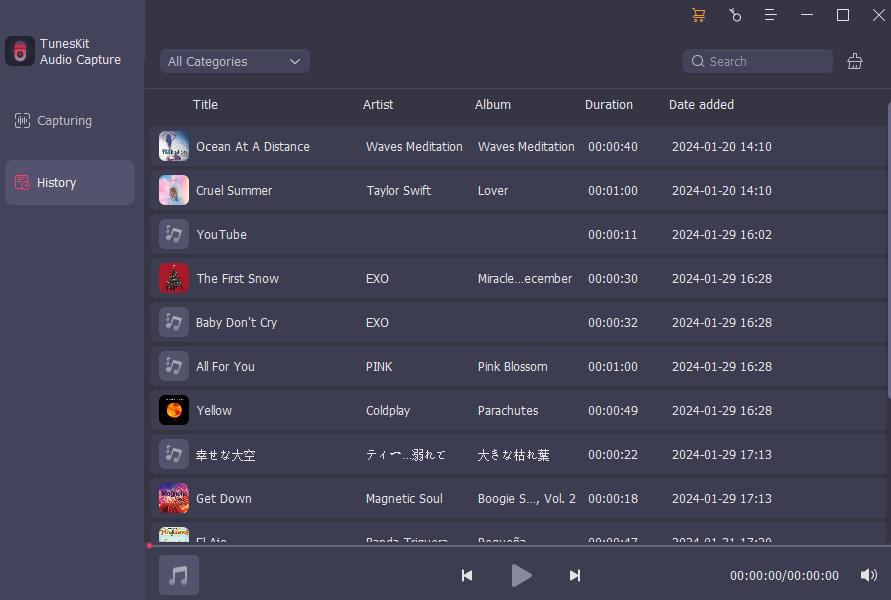 Pros:
With built-in ID3 tags editor
Losslessly capture browser audio in high quality
Record multi-sounds at the same time independently and smartly
Cons:
Can't customize the recording speed
Part 2: Other 4 Recommendations about Recording Audio from Browser
1. Audacity
Audacity is an excellent free audio recording software. It is also an easy way to record browser audio with Audacity. This software has visual tracks that allow you to make more accurate changes to your audio. It also supports multiple effects plug-ins, and you can even add your own.
After you open your browser, open the software before playing the audio and click Start recording. Then you can play the audio and the software will start recording the audio from the browser.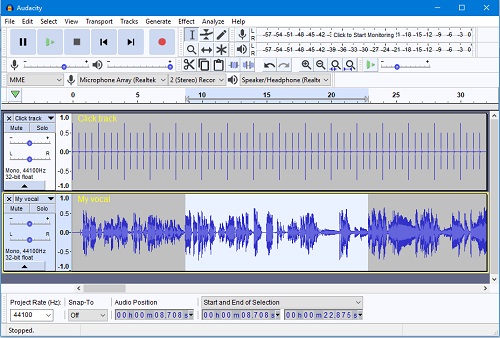 Pros:
The diversified audio processing function
Visual audio track
Cons:
Messy menu
Complicate audio editing
2. OBS Studio
OBS Studio is a powerful screen recorder as well as a good audio recorder. If you have downloaded this software and thinking about how to only record browser audio on OBS Studio, or is OBS Studio only able to record browser audio? The answer is yes.
The audio recording process is similar to the video recording process. You only need to open the software, create a new scene, select audio input capture in the scene, set the output file, click start recording, and then you can play the audio you want to record in the browser. When finished, click stop recording audio, and you can successfully record the audio of the browser.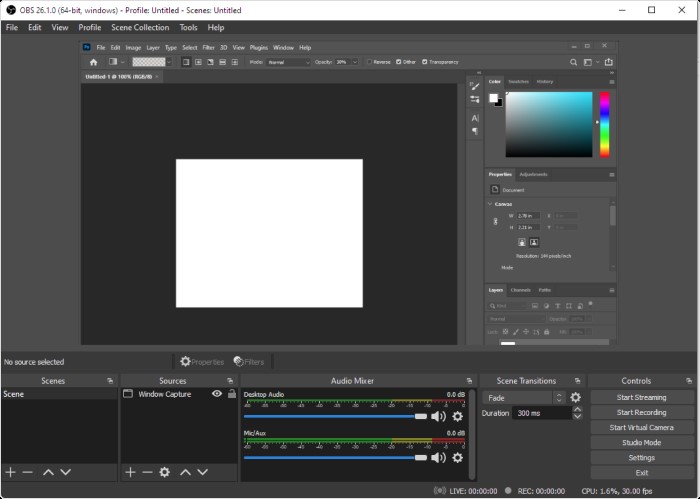 Pros:
Simple recording process
Free
Cons:
No audio editor
The audio recording can not be saved as MP3 or other audio formats
3.Free Sound Recorder
Free Sound Recorder can record any sound on your computer, so it can record the sound from the browser. Such as video sites, music sites, live streams, and so on. This software not only can record audio but also can edit it. In the edit interface, you can apply all kinds of effects to your audio recording. When you are trying to record browser audio with this software, you need to launch it, make some settings, then click Start recording. So you can play the audio on your browser and capture it.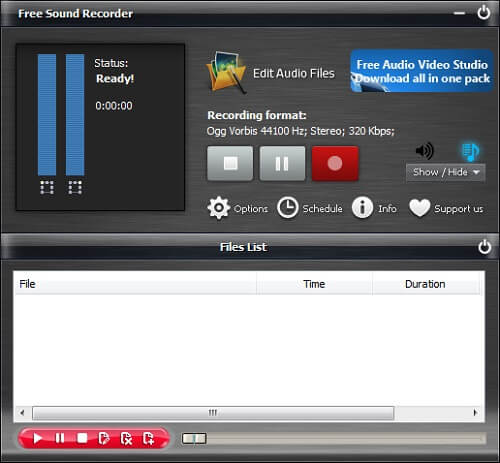 Pros:
Can set recording schedule
Clear interface
Cons:
Edited audio can not be saved in the trial version
No plugin functionality added
4.Online Voice Recorder
Online Voice Recorder is a free online audio recording tool that can be use to record browser audio. It has a simple interface, fast operation, with the function of trimming, and can automatically detect the beginning and end of the mute part and automatically delete it.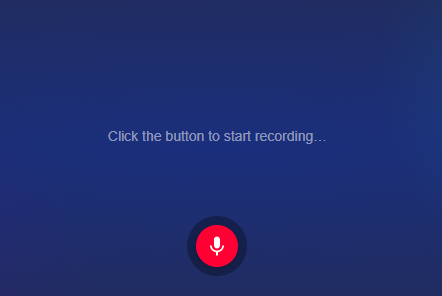 Pros:
Automatically detect and delete the mute part of the beginning and end
Free and convenient
Cons:
Only have MP3 output format
Can not customize the output file
Part 3: Conclusion
These are the 5 best audio recording software that we have introduced today to record browser audio. They each have their characteristics and values. You can choose the most suitable software for you, and we still recommend TunesKit Audio Capture. We believe that its features will not disappoint you, such as lossless recording, multi-format output, etc. Feel free to try the software we have listed and see which suits you best.
Part 4: FAQs about Recording Audio from Browser
Q1: Can I record browser audio on Windows 10?
Yes. The software we listed above can all be used in Windows 10. Choose what you like and download it.
Q2: Can I use TunesKit Audio Capture to record Browser video?
You can use it if you just want to capture the sound from the video. But if you want to record the video and audio, you have to download screen recording software. You can give TunesKit Screen Recorder a try.
Q3: How to record sound from the browser without capturing the background music of the game play?
You can download TunesKit Audio Capture to record browser audio while playing the game on the computer. Because it has to select the recording source from the software then can record the sound. Once you choose the browser as your recording source, the software only can record the audio from the browser. You can play games or do other things on your computer and don't need to worry about the recording.