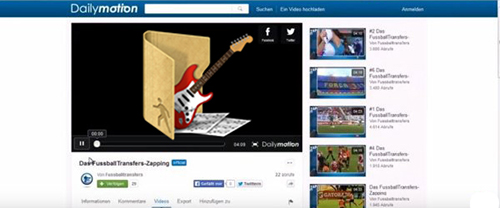 Q: I'm a music lover and attracted by some audio tracks from uploaded Dailymotion videos, and I would like to extract these pleasure music from Dailymotion video to MP3. As a consequence, I am able to listen to Dailymotion music on portable devices and MP3 player for offline playback. But I'm not familiar with digital technology and don't know how to get Dailymotion music by myself. Is there any suggestion to capture audio tracks from Dailymotion videos?
More and more music enthusiasts are looking for the answer of recording Dailymotion videos as MP3. If you have no idea about downloading and recording Dailymotion videos as MP3, there are two recommended methods for you to get special audio tracks from Dailymition videos uploaded by other members. One is to use a professional Dailymotion audio capture program to record Dailymotion video as MP3. The other is to use an online Dailymotion downloader application to download and convert Dailymotion videos to MP3. For more information about the detailed tutorial, please read on this article.
What is Dailymotion
With more than 300 million monthly users, Dailymotion is one of the most popular and largest video sharing websites online. This powerful Dailymotion digital file sharing service is available for multiple languages and can be used in numerous countries. Plus, Dailymotion program has the high compatible platform, since it's fully compatible with Windows 10, Windows phone, Android and iOS operating system. Being same with YouTube, Dailymotion allows members to explore thousands of videos and music freely, share and upload exclusive and delightful videos, and play any favorite track and playlist in Dailymotion by opening the Daylimotion video URL via web browser, like Google Chrome. All features of Dailymotion can be used when your computer is linked with Internet, only in the case that you have downloaded and recorded them on your computer in advance.
Method 1. Best Dailymotion Audio Capture to Record Music from Dailymotion Videos
TunesKit Audio Capture is one of the top leading and powerful audio recording application, which is specialized in recording any sound from streaming music and videos playing through web browser, web player, media player and other programs. By adopting advanced and innovative recording technology, this professional audio grabber can not only capture audio tracks with lossless output quality preserved, but also come with multi-track recording feature, meaning this smart TunesKit software is capable of grabbing and recording streaming music simultaneously, even if you are playing them on different platforms. So with the help of TunesKit Audio Capture, you can record multiple audio tracks from Dailymotion videos at the same time. Since it support output formats, like MP3, FLAC, AAC, M4A, and more, you can also record and downlaod Dailymotion music as MP3 with ease.
Key Features of TunesKit Dailymotion Audio Recorder
Record unlimited audio tracks from Dailymotion videos
Convert recorded Dailymotion audio to MP3, AAC, WAV, FLAC, M4A, M4B
Keep original audio quality and ID3 tags
Support multi-track recording, audio cutting and merging
Capture any other streaming music like Pandora music, Spotify, etc.
Step-by-step Tutorail – Record Dailymotion Music Losslessly
For the starter, you don't know how to use this TunesKit music recording software. Here, there is a quick guide for you to master how to use this audio grabber to extract and capture audio files from Dailymotion videos.
Step 1

Open TunesKit Dailymotion audio recording software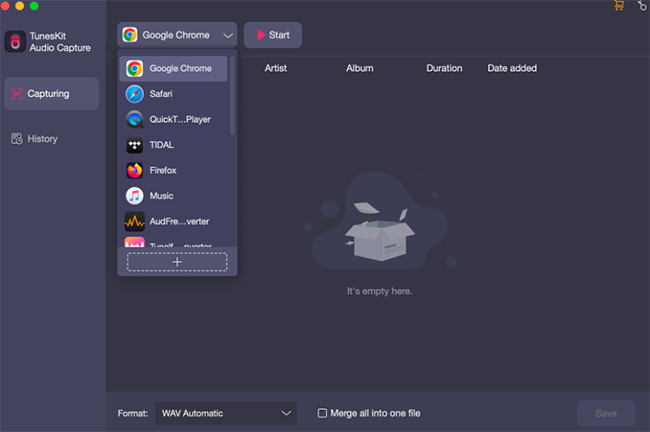 Double click to launch TunesKit smart audio recording application, and there will automatically pop up a list, where a lot of programs are downloaded and installed on your computer by yourself, like Google Chrome, iTunes, and others. In this step, you should make sure that the web browser you used to play Dailymotion videos is here. If not, you can click the "+" button to add your wanted software directly. Since MP3 is the default output format, you don't need to set and change the output format for converted Dailymotion audios.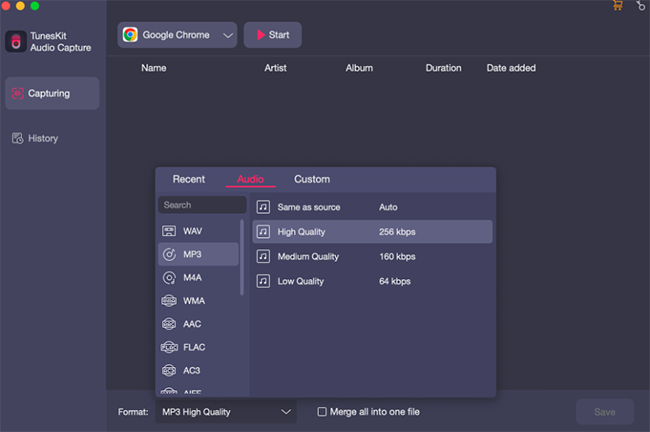 Step 2

Play Dailymotion videos and record music from Dailymotion videos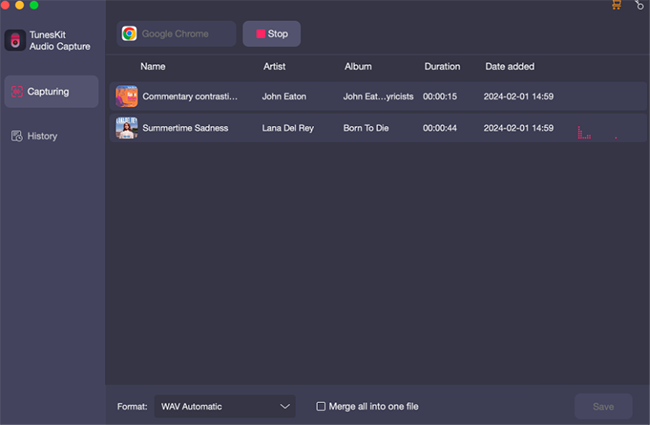 To this step, you can open the web browser, enter into Dailymotion web page and login in Dailymotion with your unique account. Now, please choose Dailymotion videos included favorite audio tracks to play, and you will discover TunesKit opens a recording window to capture Dailymotion music simultaneously. You just continue to find out all audio tracks you want to record and play them via web browser.
Step 3

Cut and trim unwanted Dailymotion music from converted audio files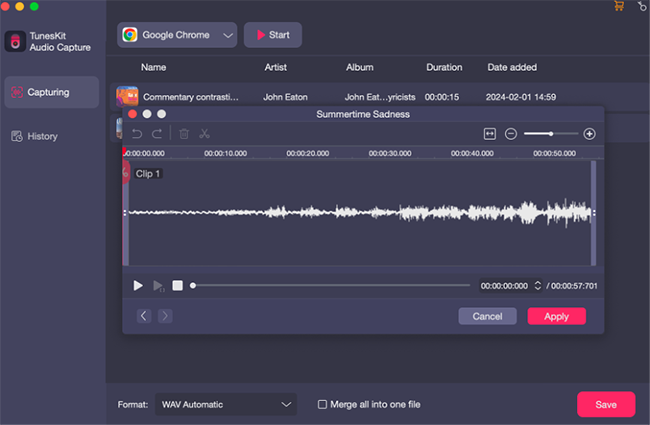 Once the audio tracks are recorded on the recording list, you can touch the "edit" option to launch the editing window, in which you can cut and trim any useless audio tracks by doing a few clicks. Please be well noted that you don't need to wait for the end of all recording process, one audio track has been recorded successfully and you can start to edit it.
Step 4

Stop recording process and save recorded Dailymotion tracks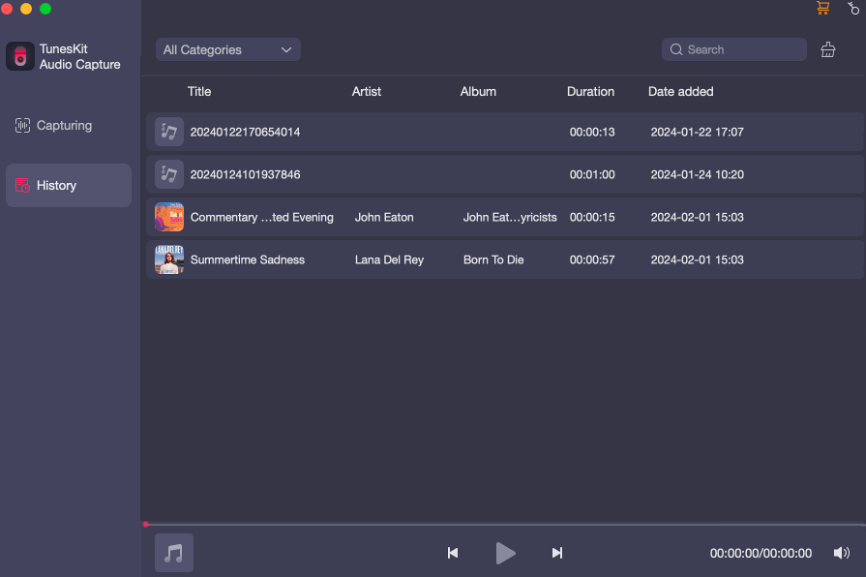 If you would like to stop the recording process, there are two ways for you to achieve it. One is to stop playing Dailymotion videos, the other is to quit web browser directly. No matter which approach you choose, TunesKit audio recorder will stop to record Dailymotion music. The obvious feature you can see is that the Cancel button has switched to Save button automatically.
Method 2. Online Dailymotion to MP3 Converter – Record and Download Dailymotion Video as MP3
Maybe you will think of whether there are some free Dailymotion to MP3 freeware for you to record Dailymotion tracks effectively. Obviously, the answer seems to be positive, like Convert2MP3.com and DailymotiontoMP3.com. Although they don't have so many powerful and excellent features like paid Dailymotion recording software, such as cutting unwanted audio files, keeping ID3 tags, and more, these free audio recording applications can meet the basic requirement recording and download Dailymotion to MP3. Taken DailymotiontoMP3.com as example, the following article is a simple process to capture Dailymotion audios from videos.

Step 1. Open the web browser, go to the Dailymotion web page, and login in Dailymotion with your exclusive account. And then you can find out the favorite audio tracks and copy its Dailymotion video URL.
Step 2. Open the Dailymotion to MP3 Downloader online, and you will see that there is a text box, in which you can paste the Dailymotion video URL you copied before.
Step 3. Once imported the video URL, there are three options for your choice, respectively Download MP3, Download MP4, and Download MP4 HD. Since you would like to capture audio tracks from Dailymotion videos, you can simply click the Download MP3 as the output format. And this Dailymotion recording software will start to record music from Dailymotion.