How to Play YouTube Music on Tesla
Posted by Adam Gorden on Oct 11, 2023 11:00 AM • Category:
Record Audio
4 mins read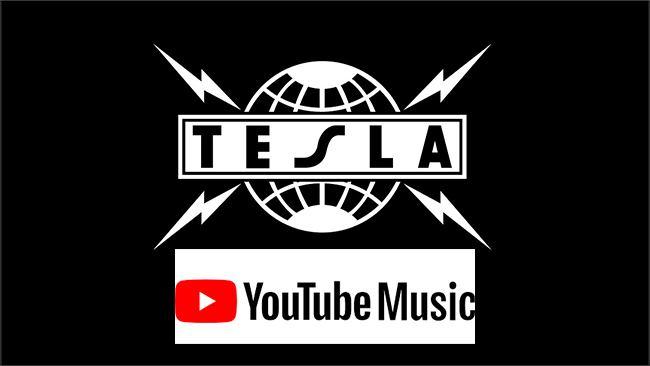 Tesla is an electric vehicle and energy company. Here we call the car produced by it Tesla. Tesla supports some specific music streaming services such as Apple Music, Spotify, Slacker, TIDAL, TuneIn and Slacker Radio. Tesla has excellent sound systems so it is an enjoyable thing to listen to music in it. However, it is not available for all of the music platforms to be listened to in Tesla like YouTube Music. YouTube music is a popular music service around the world that has many unique music on it. In a way, YouTube Music has replaceability. Although Tesla and YouTube Music seem to be not compatible with each other, it is possible to make them compatible. This article summarizes three useful methods to help you play YouTube Music on Tesla.
Method 1. Play Songs from YouTube Music on Tesla via Bluetooth
Using Bluetooth on your phone and Tesla is the easiest way to play YouTube Music. Before playing, you should make sure the Bluetooth of your phone and Tesla are turned on. The following steps will tell you how to connect the two devices.

Step 1: Open the Settings app on your phone to find the Bluetooth option; tap on the Bluetooth option to turn on its Bluetooth;
Step 2: Tap on the Bluetooth icon on the top right of the Tesla's screen and then tap on the Add New Device + button to choose the Start Search option;
Step 3: Find the name of your phone's Bluetooth and tap on it.
After connection, you can play your songs from YouTube Music on your Tesla. You can switch songs through the corresponding button on the screen of Tesla.
Method 2. Get YouTube Music via TeslaMirror App
TeslaMirror is unique to Tesla to help Tesla users play outside music on Tesla. This app will mirror YouTube Music app on your phone to Tesla screen. It allows you to play YouTube Music on Tesla and control YouTube Music on Tesla.

Here are the steps to play YouTube Music on your Tesla via TeslaMirror.
Step 1: Install the TeslaMirror app on your phone;
Step 2: For Android, tap on the Apps button on your Tesla's screen and then select TeslaMirror > Mirroring; for iPhone, you should first turn on the Bluetooth of your iPhone and then tap on the Start Mirroring option.
After connection, the picture on your phone will appear on your Tesla. You can control your YouTube Music via your phone or Tesla screen.
Method 3. Play YouTube Music on Tesla via USB Drive
A USB has a large capacity. In addition, the files in it can be used without network which means that if you transfer your YouTube Music to a USB, you can listen to that music free offline. It is convenient when we are in somewhere bad signal.
However, it is not an easy thing to download songs out of YouTube Music because of its protection mechanism. Although we cannot download music from YouTube Music directly, we can ask a third-party tool for help.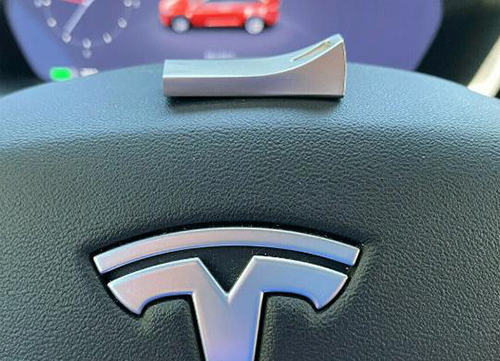 TunesKit Audio Capture is the tool that can help you directly. It is an excellent audio recording software for PC. All of the sound playing on your computer can be recorded and downloaded by it. YouTube Music can be used on computer so you can use it to download your YouTube Music directly.
Apart from sounds from music service, TunesKit Audio Capture can rip the voice from a video. For example, if you want to extract the audio from a YouTube video, Audio Capture can help you get it for free. If you need, you can also edit the audio as you want.

Key Features of TunesKit Audio Capture
Download TikTok audio tracks losslessly with ID3 tags
Get TikTok audio downloads to MP3, AAC, WAV, FLAC, etc.
Support recording audio on Mac and Windows
Support multi-track recording, audio cutting and merging
Try It Free
600,000+ Downloads
Try It Free
600,000+ Downloads
Here are the detailed steps to download music from YouTube Music.
Step 1

Download

Download TunesKit Audio Capture on your PC
Step 2

Make sure the output format

Open the software and then click the Format icon on the bottom right of its homepage to choose the output format of the audio you want; the default format is MP3;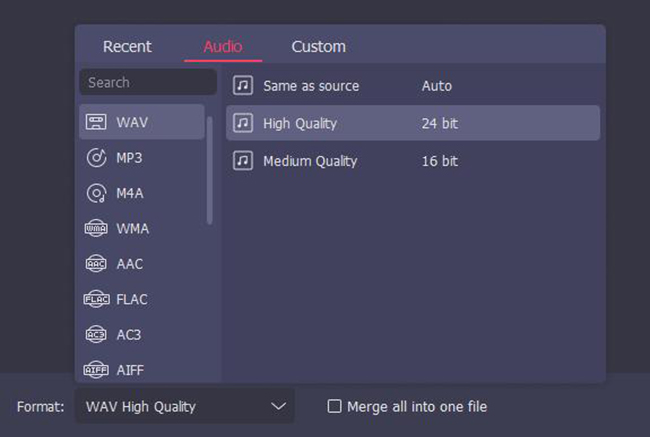 Step 3

Record and download songs

Click the Chrome icon to find the songs from YouTube Music website; or you can download the YouTube Music software on your computer and then click the + icon on Audio Capture to add it to the homepage; play the music after you find the music you want; Audio Capture will record the music automatically;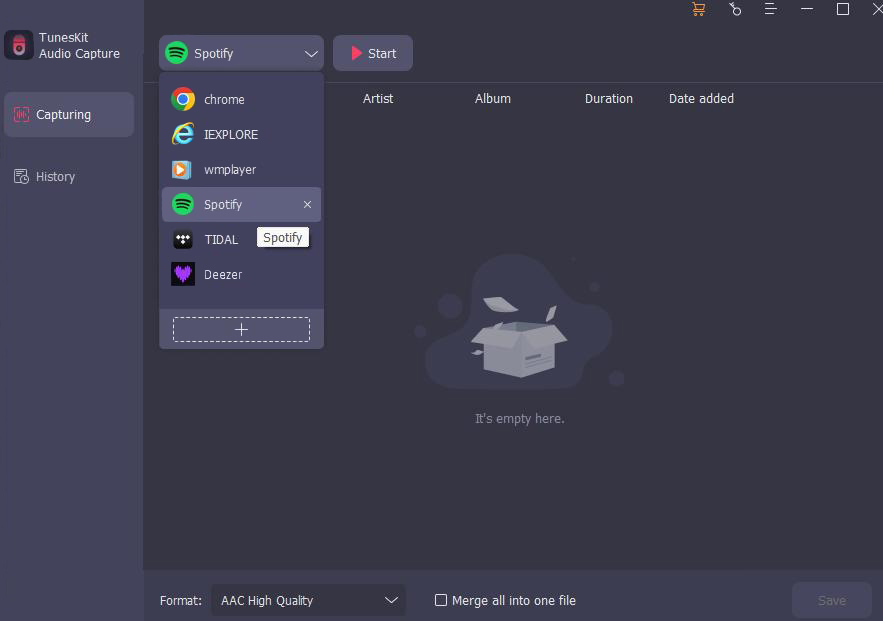 Step 4

Stop, rename and edit the music

Click the Stop button whenever you want; on each downloaded music, there are Rename and Edit icons; click them, and you can change the name of the music and edit it respectively;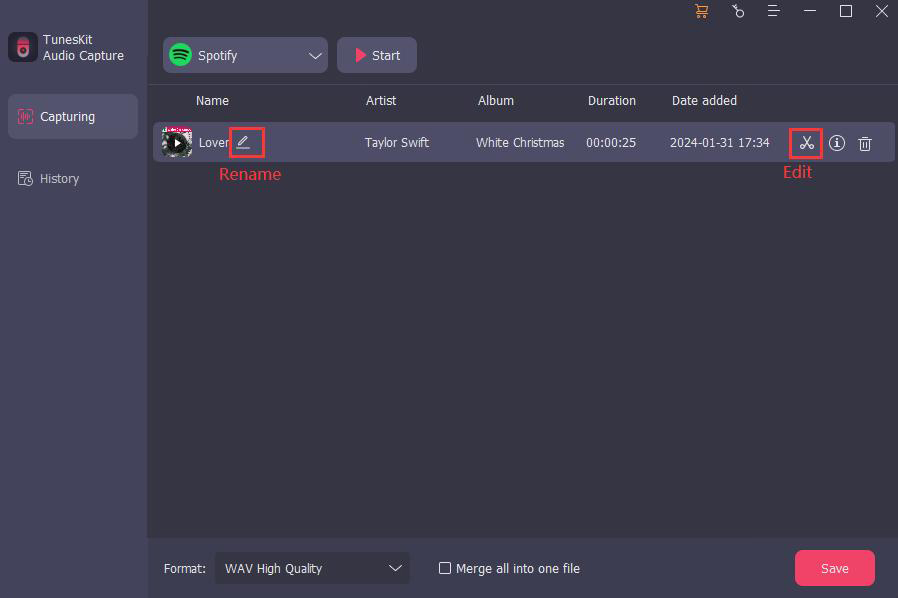 Step 5

Save and locate the downloaded music

Click the Save button to save the downloaded music to the computer; if you want to locate the music, you can click the Converted icon on the bottom right of the homepage to enter the History list; all of the downloaded music can be found on it; the Search icon can help you locate the music's place on your computer quickly.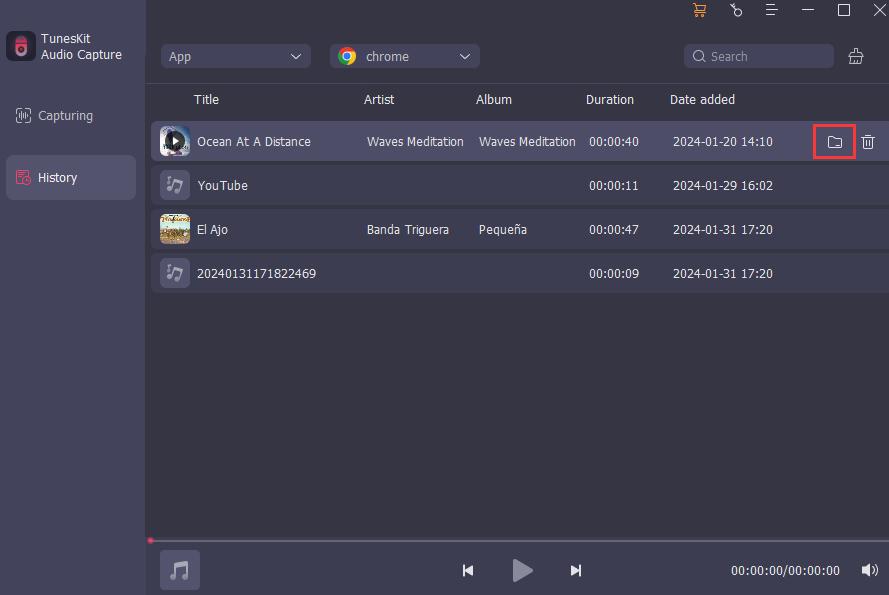 After downloading music, you need to transfer it to your USB. It is an easy process. After that, you should make sure your USB has been formatted using exFAT. Because only when you do this, your USB can work normally on your Tesla.
FAQ
1. Does Tesla have Apple CarPlay?
No. Tesla is one of the major companies to not offer Apple Carplay as a standard feature. You can use the above ways to enjoy the music that Tesla not offer.
2. Is streaming free on Tesla?
Premium Connectivity is not free for in-car streaming music & media over cellular. A paid subscription to third-party streaming services is needed to access music and media streaming for both Standard and Premium Connectivity.
3. What streaming apps can you get in Tesla?
Tesla has Spotify and Tidal, TuneIn Radio, SiriusXM, Caraoke (if you count that as a streaming service) and Slacker Radio (A Tesla partner and branded as a Tesla streaming service).
Conclusion
If you are bored when you are driving your Tesla and desiring to play YouTube Music on Tesla, the methods above can help you achieve the purpose. TunesKit Audio Capture is the best way to download songs from YouTube Music to USB. When you want to listen to free music offline, it would be the best friend for you. Hope you have a good experience.