How to Download Music to iPod from YouTube(Includes YouTube Website and YouTube Music)
Updated by Adam Gorden on Nov 14, 2022 6:00 PM. • Category:
Record Audio
7 mins read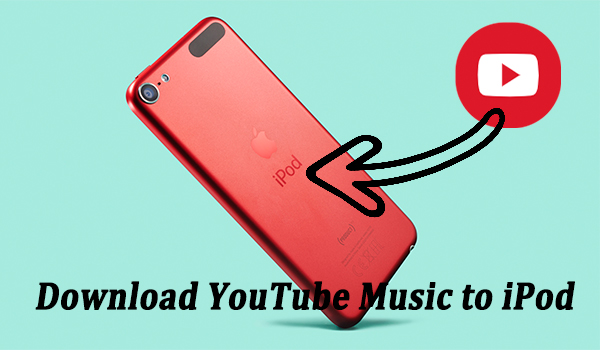 As once the most popular Apple product, iPod transformed how we listen to music. At present, it's still great for the few people who seek an easy-to-control gadget that can play games and music without an internet connection, and songs can still be listened to on iPod via the music service. However, there are still some people who want to enjoy other streaming music services on their iPods, such as YouTube Music.
However, whether it's from the YouTube video site or YouTube Music service, you will find that downloading music from them to your iPod isn't as easy as you thought. Worse still, since iPod Touch, iPod Classic, iPod Nano, and iPod Shuffle were discontinued, it's hard to play or download music when the service stops support.
Luckily, we've finally worked around it and will show you how to download music from YouTube to iPod without/with iTunes. Now continue reading to learn more methods.
Part 1. How to Download Music from YouTube to iPod without iTunes (2 Ways)
1.1 How to Download Music to iPod from YouTube YouTube Music Downloader
As a professional audio sound recording tool, TunesKit Audio Capture is well-designed to grab any sound losslessly from your computer's soundcard, including streaming music, in-game sound, movie soundtracks, etc., no matter through browsers or media players, for example, YouTube official site and YouTube Music Service.
Moreover, this powerful tool can help you convert YouTube to MP3, WAV, FLAC, and other widely-supported formats. And its built-in editor allows merging and trimming the YouTube music tracks and editing the ID3 tags. Once downloaded to your computer, you can move the records to any device without any limit, such as iPod.

Key Features of TunesKit YouTube Music Downloader
Record audio from YouTube Music to FLAC, MP3, AAC, M4A, M4B, WAV
Capture and download streaming audio from any programs and websites
Preserve streaming music with the original audio quality and full ID3 tags
Support many customization functions like trimming, cutting, and merging
Try It Free
600,000+ Downloads
Try It Free
600,000+ Downloads
Before conversion, just click the 'Download' button above to get your best TunesKit Audio Capture assistant. Be aware to install the right version for your computer, and then follow the steps below to download songs from YouTube to iPod, which is suitable for downloading songs from YouTube video sites and YouTube music services.
1

Select audio sourcce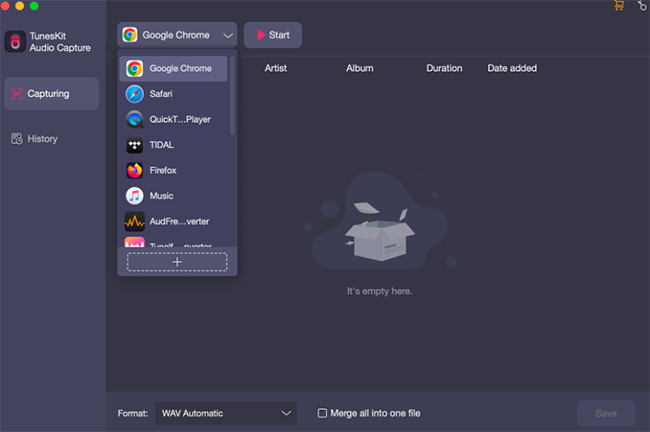 Once launched the program, you'll see a list of programs on its main interface. All you need is to select a browser that can access the YouTube video website or YouTube Music Service. If there's no browser icon for selection, simply tap the + icon to add the browser shortcut.
2

Customize the audio parameters of YouTube Music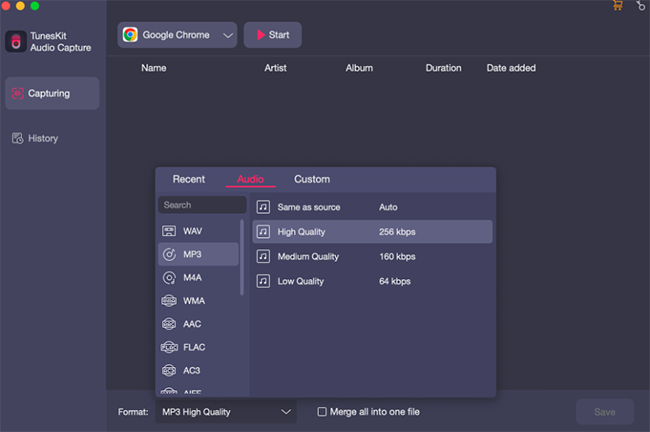 Before start capturing the music, you can set the audio parameters by clicking the bottom right Format button. Here, you can adjust the audio format, codec, channel, sample rate, and bit rate. To convert YouTube songs to iPod, you are suggested to select the MP3 or FLAC format that is compatible with iPod.
3

Start to record YouTube music tracks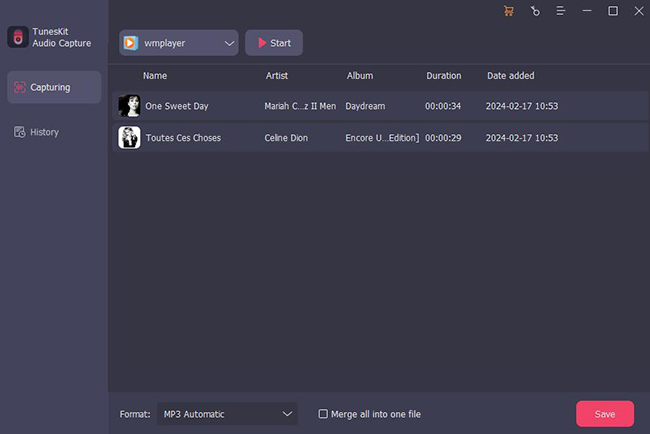 Next, open the browser from TunesKit Audio Capture to visit the YouTube website or YouTube Music, and select the target songs you want to download to your iPod. Just play the song and TunesKit Audio Capture will automatically start the recording. It can also capture several YouTube music tracks from several browser tabs at the same time. When you finish, tap the Stop button or quit the browser.
4

Edit the YouTube music records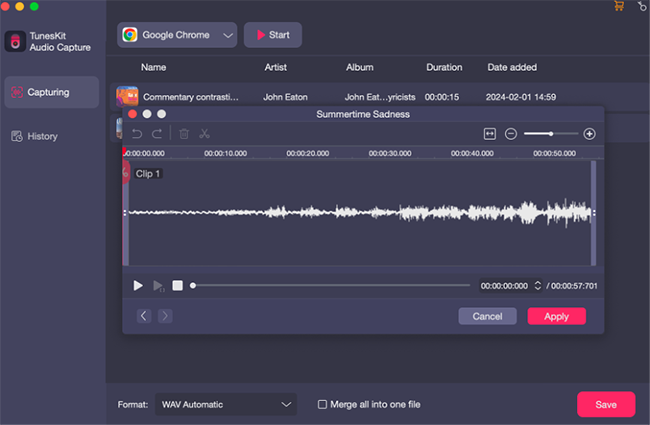 Once recorded, you can tap the bottom left Merge button or trim the captured YouTube song tracks by clicking the Edit button after each track. So the different tracks can be merged into one, and you can manage the song length and ID3 Tags according to your needs.
After that, you just need to click the Save button to export those YouTube songs to your computer for converting to iPod. By clicking the bottom History icon, you can browse all the music YouTube audio tracks you've recorded.
1.2 How to Get Downlaoded Music with YouTube to iPoad Converter Online for Free
In case you want to download songs from YouTube Music online, there are many ways to do so. There are still various free YouTube to iPod converters online. One of the best ways is with a website called YT5s.io to convert music from YouTube to your iPod.
All you need to do is copy and paste the URL of the target YouTube Music song or YouTube video into the search bar of the YT5s.io homepage, and then you will be prompted with a list of options for downloading. The site supports downloading YouTube songs to various audio formats, including MP3, which is the iPod-supported format.
1

Navigate to YT5s.io

Open a browser and visit the yt5s.io homepage.

2

Copy and paste the YouTube music link

Next, copy and paste the URL of your target YouTube music into the search bar, and press Start. Then select the audio quality and click on Get link to start downloading YouTube music for iPod.
Part 2. How to Convert Music from YouTube to iPod Shuffle/Nano/Classic without iTunes
Most iPod users (especially those who own an iPod Classic, iPod Nano, or iPod Shuffle) may encounter the issue that when their iPod is connected to iTunes, the music on their iPod is overwritten with what's in their iTunes or Music library when their iPod is connected to iTunes. To avoid the inconvenience, you'd better have any other third-party converter. For instance, WALTR PRO.
WALTR PRO will help you convert downloaded YouTube music to iPod Shuffle, iPod Classic, iPod Nano, and iPod Touch as well as other Apple devices with simple operations. It supports free trials, so you can test it out before making a purchase. Just drag and drop downloaded YouTube music files into the program, and it's done! It can even convert any files to a compatible format for you instantly to your target Apple devices so that you don't have to convert the file in advance.
1

Download WALTR PRO and connect your iPod

Open a browser to download WALTR PRO to your computer. Then launch the program and connect to your iPod via a USB cable.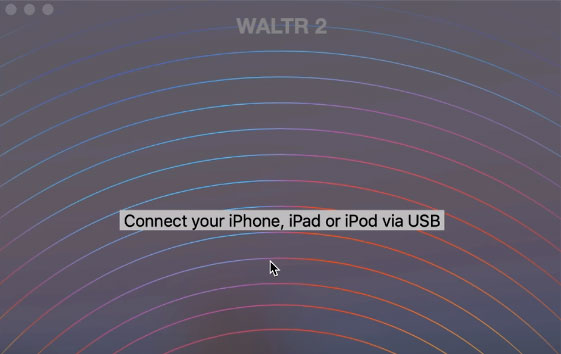 2

Add YouTube music files to iPod

After that, it will recognize your iPod and prompt you Drop File Here. Just open the YouTube music files you just downloaded, then drag and drop them into the program.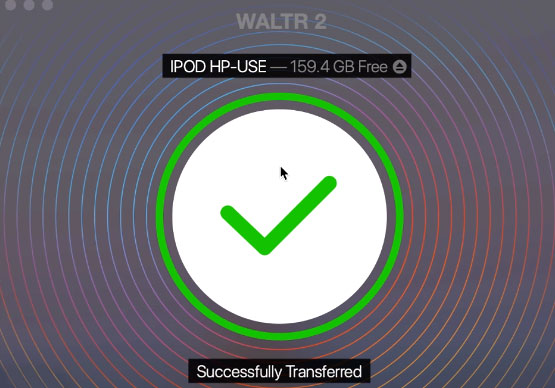 Part 3. How to Transfer Music from YouTube to iPod via iTunes or Finder
As for the iPod Touch, you are able to transfer the downloaded music from YouTube to iPod without resorting to additional file transfer software. There're two options available for you to put music on iPod from YouTube.
3.1 Sync YouTube Music to iPod with iTunes
If you're using macOS Mojave or earlier or a Windows PC, you can transfer YouTube Music to your iPod nano, shuffle, or classic using iTunes.
Step 1

Import YouTube Music to iTunes

Launch iTunes on your computer and click the top menu File > Add File to Library to import your recorded YouTube Music to iTunes.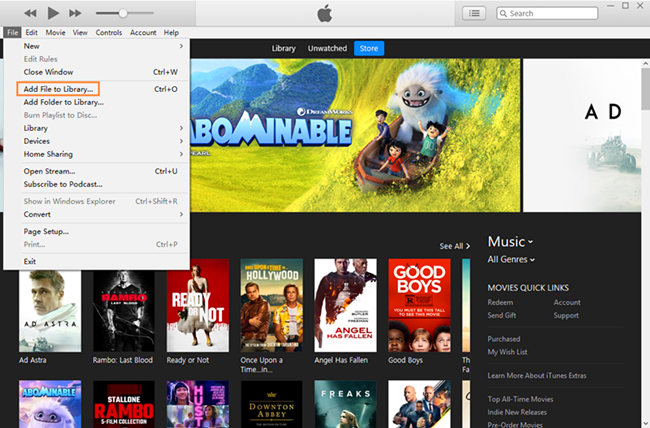 Step 2

Connect iPod to your computer

Connect your iPod with a computer via a USB cable and click the upper-left iPod icon to load your iPod info.

Step 3

Sync YouTube Music to iPod

Go to Settings > Music > Sync Music, and then choose to Selected playlists, artists, albums, and genres. Under the Playlists option, check Recently Added to select the uploaded YouTube Music. Then click Apply to start moving YouTube Music to iPod.

3.2 Put YouTube Music on iPod via Finder
If you're using macOS Catalina, you're available to sync with Finder. Learn how to put YouTube Music on iPod nano, shuffle, or classic.
Step 1

Connect iPod to the computer

Launch Finder on your Mac, and connect iPod with your computer via a USB cable. Then unlock your iPod and trust your Mac.
Step 2

Add YouTube songs to Finder

In the Finder, click the iPod icon, hit the Music button to check Sync Music onto [your iPod's name], and then choose Selected artists, albums, genres, and playlists.
Step 3

Sync YouTube songs to iPod

After selecting your preferred YouTube Music tracks, just click the Apply button in the lower-right corner to start transferring YouTube Music from the computer to iPod.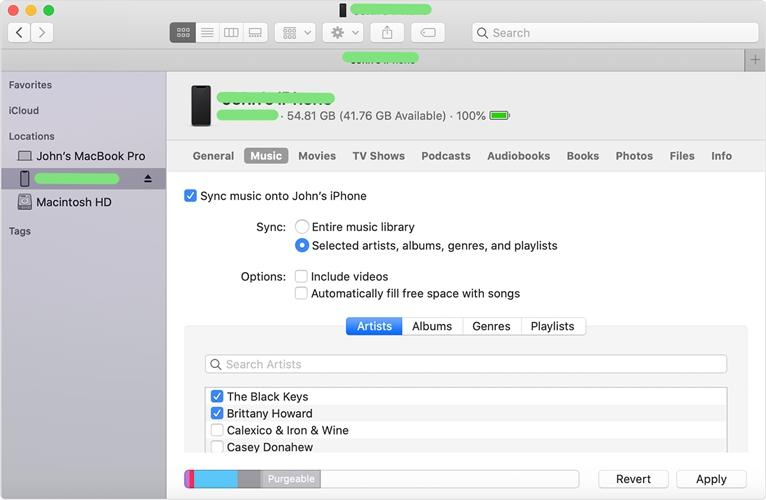 Part 4. FAQs about YouTube to iPod
Q1: Can you download music from YouTube Music to iPod?
As iPod does not integrate YouTube Music ever, and won't do it after(as iPod had been discontinued), you can not listen to YouTube Music directly with your iPod. But it's possible to download music from YouTube Music to your iPod via an additional YouTube downloader, such as TunesKit Audio Capture. You can refer to part1 for more details.
Q2: How do I download YouTube videos to my iPod Nano?
iPod Nano does not support downloading YouTube videos. And you should download the YouTube videos via the YouTube video downloader on the net first, and then connect your iPod Nano to iTunes via a USB cable and transfer the video files (.mp4 or .mov format).
Q3: How to download music from YouTube to iPod Shuffle for free?
To download music from YouTube to iPod for free, we recommend YT5s.io, which is a free online YouTube downloader for downloading any music or audio on YouTube with ease. Then you are able to put downloaded music to your iPod Shuffle via WALTR PRO, iTunes, or Finder.
Part 5. Conclusion
In this passage, we have introduced two powerful YouTube Music downloads, TunesKit Audio Capture and YT5s.io to help you download songs from YouTube Music or YouTube site to iPod. And also present you with three effective ways to put the downloaded YouTube Music to your iPod. Beyond this, you can still record any other sound from your computer with TunesKit Audio Capture. So just get one to have a try, whether for grabbing your preferred music tracks, or capturing a movie soundtrack, and you'll be glad you did.