2 Methods to Get Free Background Music Download
Posted by Adam Gorden on Jul 5, 2022 6:00 PM • Category:
Record Audio
5 mins read
If you try to create a video, perfect background music is indispensable besides the video content. Similarly, when you watch videos from others, you can hear the background music at an appropriate time, and you might be attracted. Thus, is it possible to get the same background music and put it in your video? Or how to get the free background music download?
Here are the answers you're looking for. In this article, we'll introduce two methods to help you get free background music download from any video. So let's get going.
Part 1. How to Get Free Background Music Download
As mentioned at the beginning, if you want to capture the same background music from others' videos, then TunesKit Audio Capture is what you need. It's a decent and powerful audio recorder that helps you capture background music from video or audio losslessly. Using this software, you can record multiple music clips, merge them into one, and cut unwanted segements. And it's able to export recorded BGM to MP3, M4A, M4B, AAC, and FLAC for offline playing on any device. Here's the tutorial.

TunesKit Audio Capture
Record and Download background music with the original audio quality from any video
Record background music to MP3, AAC, FLAC, WAV, M4A, and M4B
Edit background music via the built-in editing tool
Record any audio from different source, such as YouTube, Vevo, Spotify, Pandora, etc.
How to Record and Download Free Background Music with TunesKit Audio Capture
Step 1: Download and launch TunesKit Audio Capture on your computer. Before you start downloading, you can configure the settings. Go to the top drop-down Menu button and select Preferences and you can adjust the saving path and other recording options. Then click the Format button at the lower right, here you can change the output format, codec, bit rate, and others.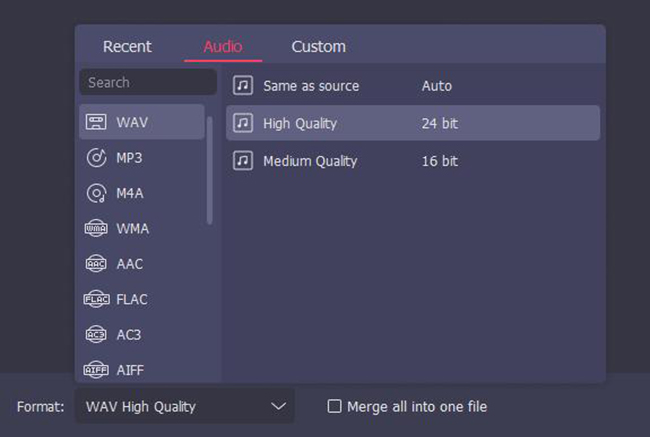 Step 2: Now you need to select the audio source. Check the main interface of TunesKit Audio Capture to see if there's the software to open the target source, If not, you can add the program by tapping the "+" icon, or drag and drop the software in it.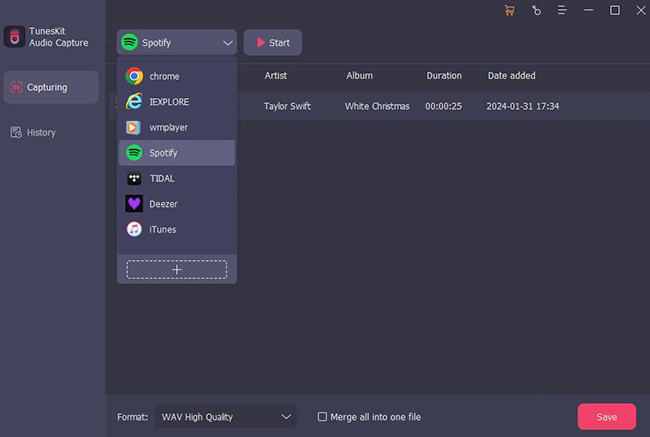 Step 3: Hit the target program to open the audio source. TunesKit Audio Capture will begin to record the background audio once you play it. When you finish, click the Stop button, and then the recorded background music will be displayed in the Capture list.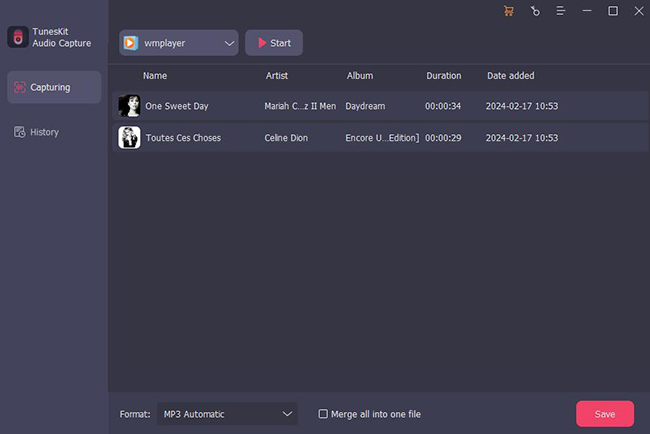 Step 4: You can hit the Edit icon to open the editor. Then cut the recorded background music and edit the ID3 tags.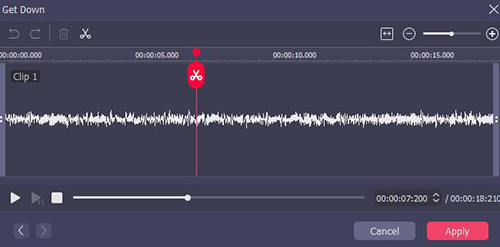 Step 5: Then click Save, so you can check the background music recording in the History list, and you can open the file by clicking on the Search button.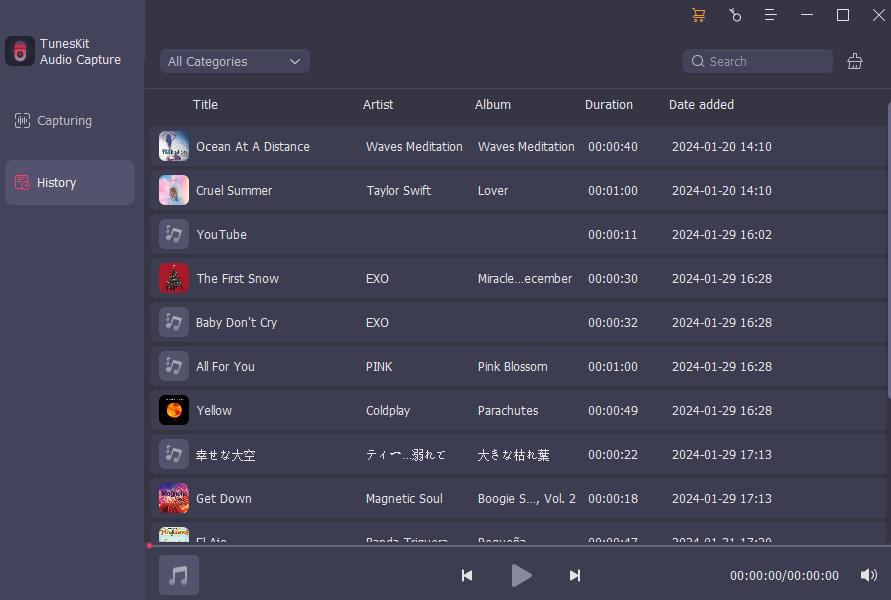 Part 2. How to Identify and Download Background Music for Free
Sometimes you may hear an attractive background music clip, so you want to listen to the whole song. But you can't search for it if you don't know its name. In this case, you will need Shazam to identify the music.
Shazam is a powerful online music recognition tool. It can quickly identify music by simply playing a small sample of an audio clip. As a result, many people apply it to easily recognize the audio or background music of the song they seek. You can follow the guide below to see how to use Shazam to identify and download background music.
How to Identify the Background Music via Shazam on Computer
Step 1: Open the Chrome browser and search for the Shazam extension, then add it to your Chrome browser. After you install, switch to the tab that you'd like to identify, play it and click on Shazam extension. After a few seconds, you can see the results shown in the Shazam.

Step 2: Now note the name, and you have two choices to download the whole song for the background music clip. One is to use TunesKit Audio Capture to download it just like you did in the method above. And the second option is to find a target song on free online MP3 sites and download it.
You can find many free MP3 music download sites online. Here we will use MYFREEMP3 as an example to show you how to free download the song you want as the background music for your video.
How to Free Download Background Music
Step 1: Open a browser and access the MYFREEMP3 website. Type the name you just got from the Shazam. Then tap Search.
Step 2: After seconds, you will see results related to the search. Select the preferred choice, click the play icon, and it will start playing music. Now click on Download MP3 so it will download to your computer as soon as possible.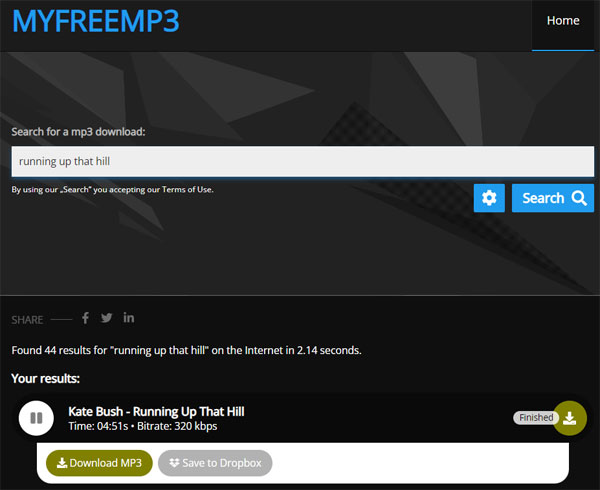 Part 3. Extra Recommendation on How to Make Video with Desired Background Music
After you have used the above methods to acquire background music download for free, you will need a good video editor if you want to add it to your video. Here, we will introduce you to a great video editor, which is AceMovi Video Editor.
This functional and professional video editor allows you to put the downloaded song as the background music in your video. Aside from this, it can be customized to create a unique story based on your preferences. After adding the video, you are able to edit the content and audio on it. For instance, you can add audio effects to the background music, add filters, text, images to your video, etc. Any idea you have can be realized right here.

TunesKit AceMovi Video Editor
Allow users to add background music to the video
Trim, cut, merge the background music clips
Add audio effects to the background music
Support inporting different audio formats
Part 4. Conclusion
We hope you can get background music free download through our tips. TunesKit Audio Capture is capable of recording and downloading any audio you want to be the background music with the original quality. While the MYFREEMP3 site can directly help you download background music for free. Feel free to comment below if you have any questions or recommendations.