How to Record and Download Music from Primephonic
Posted by Adam Gorden on Mar 17, 2021 3:31 PM • Category:
Record Audio
4 mins read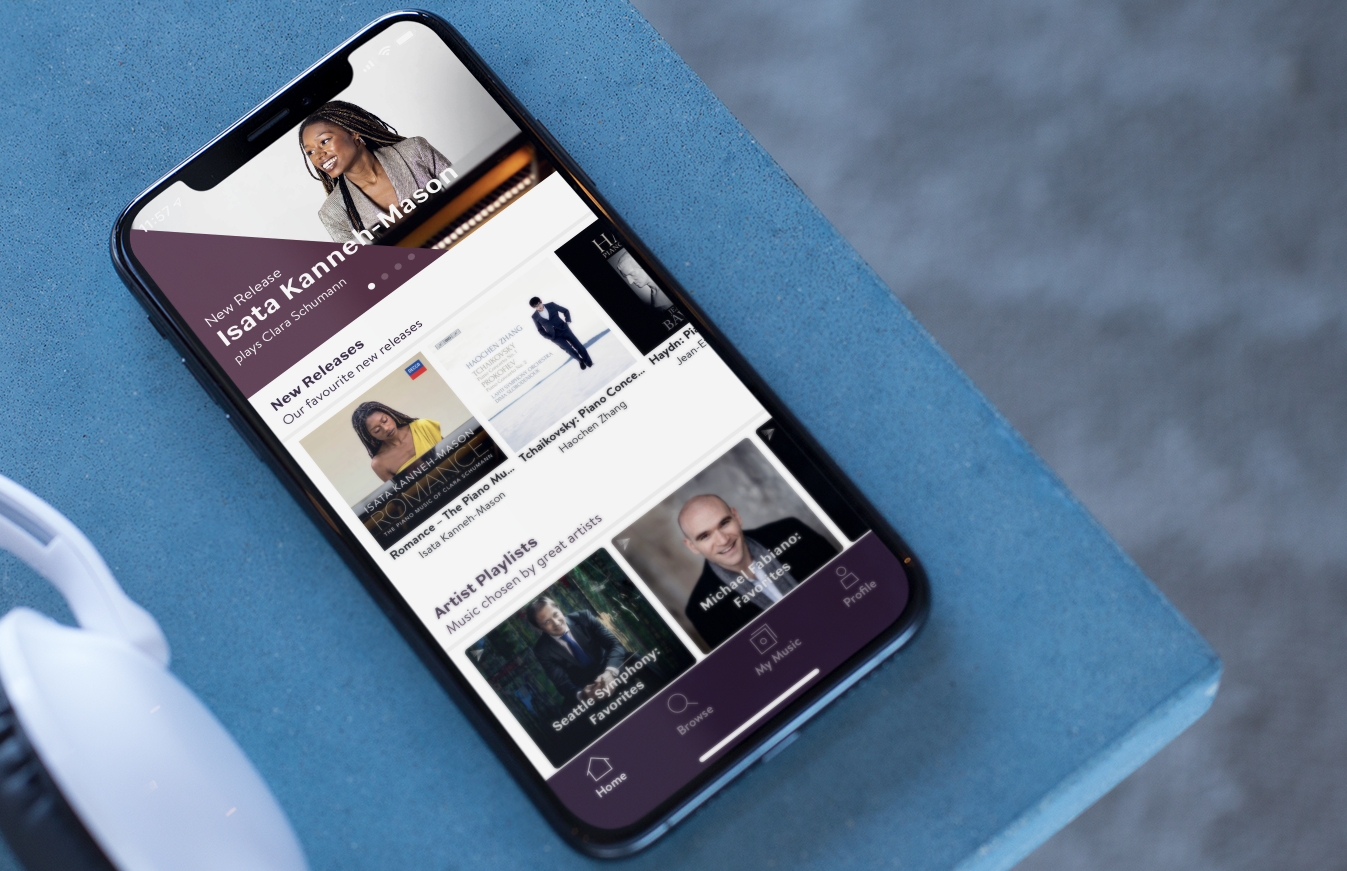 If you like classical music, in addition to those well-known music services such as Spotify, there are some music platforms focusing on classical music you can choose from. Primephonic is one of the best classical music platforms. Primephonic owns the largest catalog for classical music with high quality and users can use the search function to find out the music they like with hundreds of versions.
To enjoy classical music better, you may have a strong desire to download the classical music from Primephonic to take your time to taste and appreciate it. Actually, you can use two methods to download music from Primephonic. The first one is to subscribe to Primephonic and the second is to record Primephonic music and save it in MP3 with an audio capture to keep it permanently.
Download classical music from Primephonic with subscription
Primephonic is a music streaming platform. To download Primephonic classical music, you need to subscribe to Primephonic. Primephonic offers 4 plans for users: Premium Monthly subscription ($9.99), Premium Yearly subscription ($99.99), Platinum Monthly subscription ($14.99), Platinum Yearly subscription ($149.99). You can enjoy music with 320 kbps MP3 quality by choosing a Premium plan and 24-bit FLAC audio with a Platinum plan.
To download Primephonic classical music, you can use the Primephonic app for smartphones and tablets. You are able to download any playlist or album. Here are the specific steps.
1. Open the album or playlist on Primephonic you want to download.
2. Tap on the Download button or the 3-dot button at the top part of the screen to download Primephonic classical music.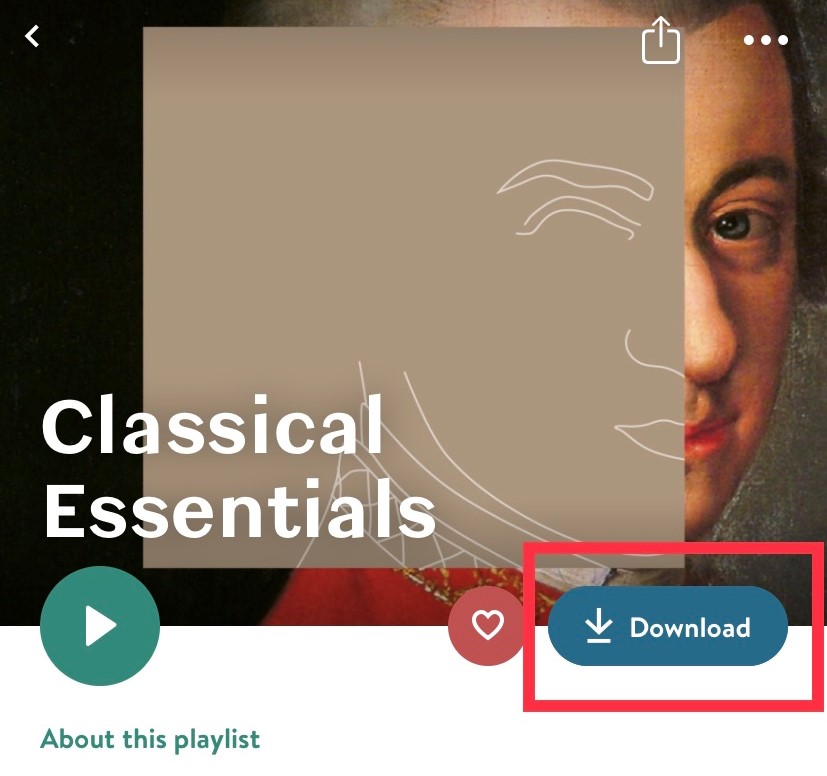 3. You can find the downloaded files from the My Music section.
4. When you want to remove the downloaded music, you need to click the Download button again.
Record and download Primephonic music without subscription
Only subscribers of Primephonic can save the music for offline listening. For people who do not want to subscribe to Primephonic, there is another method. You can use TunesKit Audio Capture to record and download classical music from Primephonic and save them in MP3 or other formats. TunesKit can record any audio on your computer including live broadcasts, sounds in games, streaming music from Tidal, Deezer, Amazon Music, and more. You can open a web to play music or video on any browser or run a music player app on your computer. TunesKit can always record them with high audio quality.
It will save the downloaded audios in various formats such as MP3, FLAC, AAC, and others. Just choose the one you need. And you can download multiple audio tracks at the same time during the recording. Finally, this audio capture will save the ID3 tags of the audios and you can edit the ID3 tags of your audios. Now, we will talk about how to download Primephonic music with TunesKit Audio Capture.

Key Features of TunesKit Audio Capture
Record streaming audio from any website or media player
Save recordings to AAC, MP3, FLAC, WAV, M4A, M4B
Preserve high audio quality and track information
Support multi-track recording, trimming and merging
Try It Free
600,000+ Downloads
Try It Free
600,000+ Downloads
Necessary preparations for downloading Primephonic music
Before we start to teach you the specific steps to record and download music from Primephonic, it is necessary to make some preparations. Firstly, you need to find a computer with Mac or Windows system. Secondly, sign up for Primephonic with the 14 days free trial. Finally, download and install TunesKit Audio Capture on the computer.
How to record and convert Primephonic music
When you are sure that you have got all preparations done. It is time to start to download Primephonic music, which need 3 steps.
Step 1

Open TunesKit Audio Capture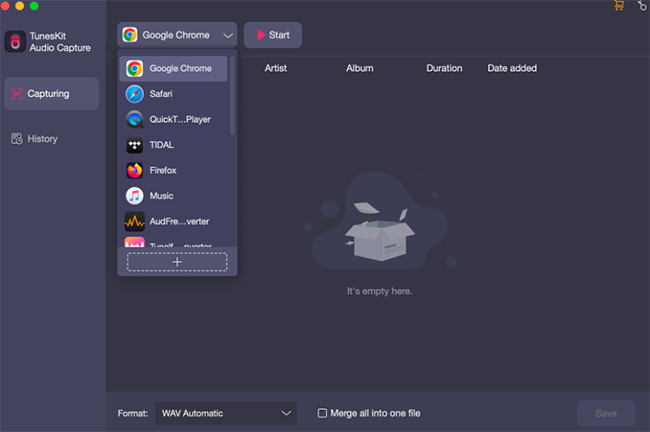 Launch this music downloader on your computer. You can see some programs on the screen of this software such as Windows Media Player. You need a browser to open Primephonic in the third step. If you cannot find a browser you need on this program, click the Add Programs button to add any program to TunesKit.
Step 2

Set format for Primephonic audio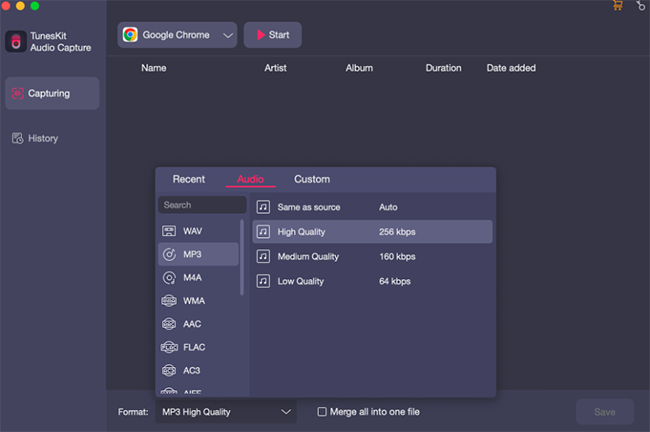 Click the Format button. You can choose the format you need from AAC, MP3, FLAC, WAV, M4A, M4B. You can also change the codec, sample rate, and other settings of Primephonic audios.
Step 3

Record and download Primephonic classical music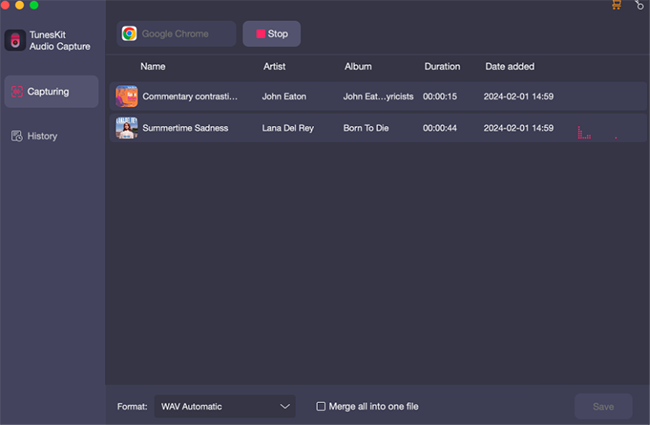 Launch a browser and open the Primephonic website to find the music playing page. Play the classical music that you want to download. The software creates a recording track automatically. When you want to stop the recording, just stop playing the music and close Primephonic. Click the Save button to save and convert Primephonic songs. TunesKit Audio Capture allows several recording tracks simultaneously. So, you can open many other programs to play other audios when you are recording Primephonic. This will save time for you when you have to download many different audios.
Conclusion
For classical music fans, Primephonic is a perfect home where they can find millions of classical tracks. To download music from Primephonic, you can choose to subscribe to Primephonic for $99.99/$149.99 a year or use TunesKit Audio Capture to download them for listening permanently.