How to Download Music from Hdtracks
Posted by Adam Gorden on Jun 22, 2023 6:00 PM • Category:
Record Audio
6 mins read
Hdtracks is a fantastic option if you want to find a dependable and good music source. Hdtracks is a terrific place to get the music you love because it offers various digital downloads in various formats.
Access to high-resolution audio music is made unique and practical via HDtracks. You can listen to some of the best songs from well-known performers and record companies with the aid of this platform. This is why many music enthusiasts use HDtracks for their requirements. HDtracks offers a great platform for staying up with the newest releases thanks to its user-friendliness.
Now that you are familiar with the service let's explore the process to download music from HDtracks.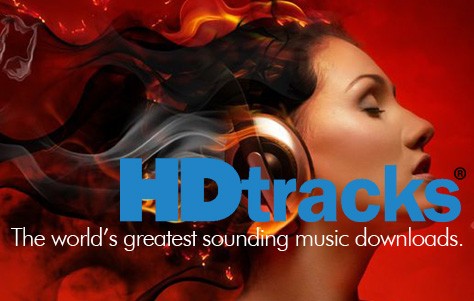 Ways to download music from HDtracks
1. Using TunesKit Audio Capture
TunesKit Audio Capture is an audio recorder specially designed to record any audio from both computer and online sources like Apple Music, Spotify, Napster, YouTube, etc. and save them in the most popular audio formats and keep the lossless quality. It's the most convenient way to get a high-quality HDtracks music download. TunesKit Audio Capture will help you download music quickly and safely without losing quality.
Advantages of using TunesKit:
Simple to use - TunesKit Audio Capture makes it simple to capture and download music from HDtracks with only a few clicks. Launch the programme, choose the song you want to download, and click "Record"—that's all there is!
High quality - TunesKit Audio Capture can record HDtracks music in the highest quality, ensuring you receive the greatest sound quality imaginable.
Fast and efficient - With TunesKit Audio Capture, you can quickly record and download HDtracks songs, as it only requires a few clicks.
Supports various formats - TunesKit Audio Capture supports various formats, including MP3, WAV, AAC and more.
Steps to Download HDtracks Music with TunesKit Audio Capture:
Step 1. Install and Launch TunesKit Audio Capture
Download and install the latest version of TunesKit Audio Capture on your computer. Then launch it, and you will see the main interface of this audio recorder.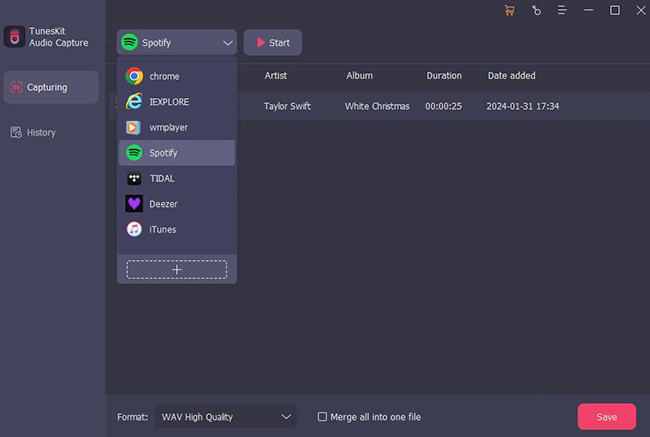 Step 2. Set Audio Format for Output Music
Set your music's audio format after that. The format for your HDtracks music can be selected in a new panel that appears when you click the Format button in the bottom left corner of the main window. MP3 is recommended here.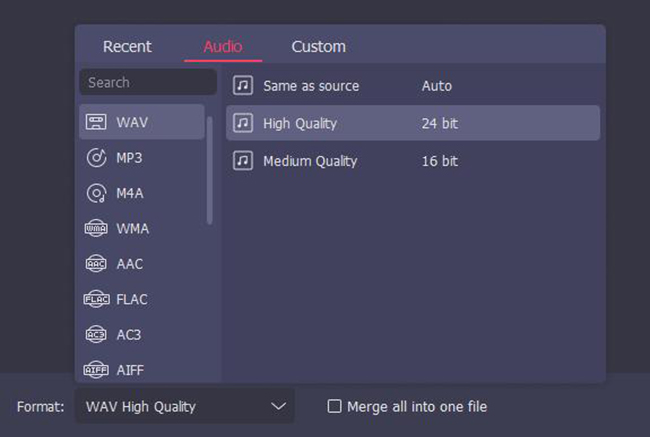 Step 3. Play and Capture HDtracks Music
Now you can visit the HDtracks official website and stream your favourite music. Then click the "Record" button of TunesKit Audio Capture to start recording and to download music from HDtracks.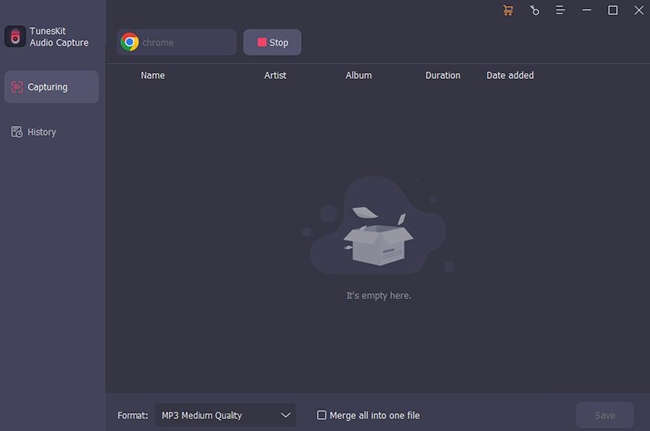 Step 4. Get HDtracks Recorded Music
After the recording process is finished, you can find all the recorded HDtracks music in the "History" panel. You can play them to check if they are as expected. Then click the "Convert" button to get the HDtracks music in your desired format and audio quality.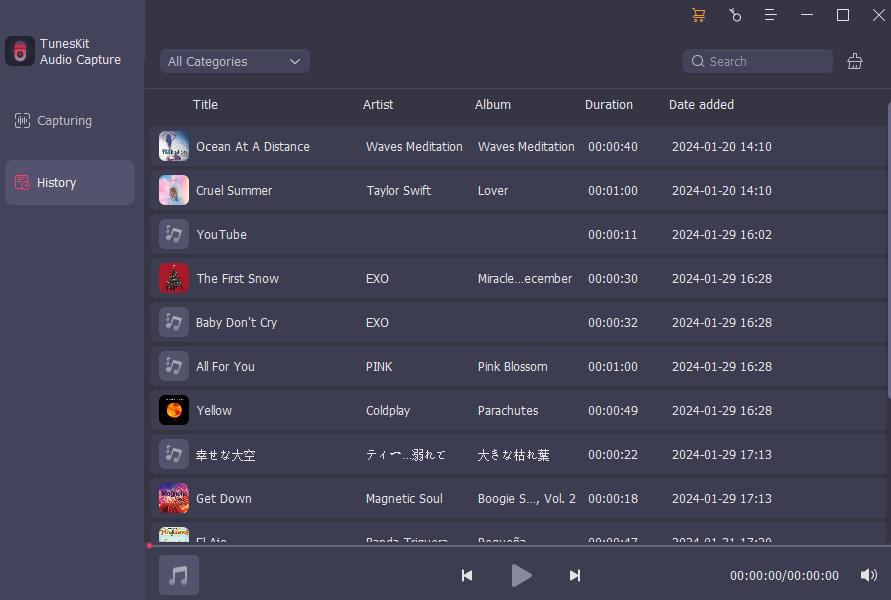 2. The Official Way
If you want to download music from HDtracks downloader the official way, follow these steps:
Download and install HDtracks: Download and install HDtracks by going to the HDtracks website and selecting the download button. Your PC should be installed with the programme.
HDtracks Registration: Sign up for an account to start using HDtracks. Enter your user credentials and adhere to the on-screen instructions to complete the signup process.
Discover Music: Navigate HDtracks to find your desired music once you've signed in. To find your favourite tunes quickly, use the search bar to enter the song title, artist, or genre.
Select Your Tracks: After finding the songs you wish to download, simply choose them by clicking the "Buy Now" button.
Secure Payment: When making a payment, select your preferred option and click "Continue" to carry out the transaction securely.
Obtain Your Audio:You can start downloading the HDtracks' high-quality audio files after your transaction has been successfully completed.
Frequently asked questions about HDtracks music download
1. What is HDtracks, and how do I access it?
The online music service HDtracks offers downloaded options to start your trip through high-resolution audio. Start downloading the specialized iOS or Android app from the HDtracks website at www.hdtracks.com.
2. What types of music can I download from HDtracks?
Jazz, classical, blues, rock, and other genres are among the many that are offered on HDtracks. They also provide a selection of limited-edition CDs and live recordings by some of the most well-known performers right now.
3. How do I download music from HDtracks?
Downloading music from HDtracks is easy. To get started, you must register for an account and make a purchase. You can access your songs through the HDtracks website or app after purchase. High-resolution audio files in Apple Lossless (ALAC), FLAC, and WAV can be downloaded if you want to.
4. Is there a subscription option available?
HDtracks indeed offers a subscription service that gives you unrestricted access to over 800,000 high-resolution tracks. Additionally, the membership offers up to 50% savings off the list price of individual tracks and albums.
5. Are there any additional costs associated with downloading music from HDtracks?
You may shop confidently on HDtracks since there are no additional costs that HDtracks will charge you when you use their site. There is HDtracks free download feature available, learn more to get benefited with it.
Conclusion
Experience how easy and convenient it is to download music from HDtracks, with a vast selection of fantastic music available online. You can find music that suits your taste among the numerous genres and artists. Take advantage of the opportunity to learn about and listen to some of the best music.
TunesKit Audio Capture is a powerful tool that lets you easily download music from HDtracks. This programme can also record audio from other streaming services. Use the effective, user-friendly, and secure application TunesKit Audio Capture to get the most out of your music listening experience.
Take advantage of its excellent sound quality, a wide range of audio format support, and seamless functionality. Don't wait to improve your musical adventure by using TunesKit Audio Capture.