Wynk Downloader: How to Download MP3 from Wynk Music
Updated by Adam Gorden on May 10, 2023 10:15 AM • Category:
Record Audio
4 mins read
Music serves as a therapy and is generally considered soul food. Nowadays, the trend of listening to music through online streaming has changed the scenario which has replaced the above-mentioned forms of magnetic media.
One such online music streaming service is known as Wynk Music which is provided by Airtel communications. The premium subscription lets you download MP3 songs from Wynk. You can listen to these downloaded songs offline. But this feature is not available with free service. However, you can still download songs from Wynk, in two ways.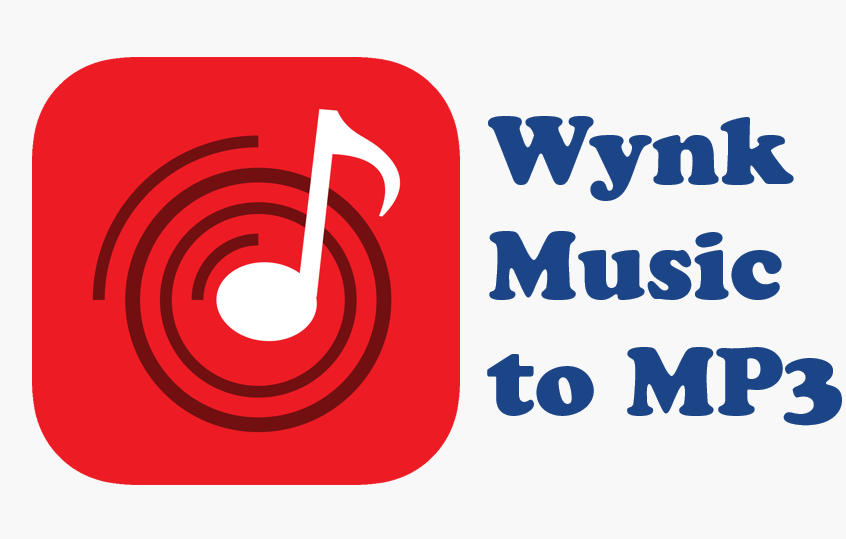 Part 1. Download MP3 from Wynk Music with TunesKit Audio Capture
The first way to download Wynk Music is to use a software application called TunesKit Audio Capture. TunesKit lets you capture music playing from various sources like a video game, sound card of your system, podcasts, broadcast, etc. Moreover, you can also play multiple tracks and record all the tracks in individual files.
After recording, you can save the files in any format you like, such as MP3, WAV, FLAC, etc. Plus, the quality of output files can be as high as original ones. TunesKit Audio Capture also offers some editing features for you to split, merge, and edit the audios in a flexible way.

Key Features of TunesKit Audio Capture
Download unlimited number of audios from Wynk Music
Convert streaming music like Amazon Music, Spotify to MP3, AAC, FLAC, WAV, M4A, and M4B
Save streaming music with the high quality and ID3 tags
Support the trimming, cutting and editing of the audios
Try It Free
600,000+ Downloads
Try It Free
600,000+ Downloads
Specific steps using TunesKit Audio Capture to download music from Wynk in MP3 file format:
Step 1

Launch TunesKit Audio Capture

Download TunesKit Audio Capture. Open the TunesKit Wynk to MP3 Converter application on your computer. If Wynk Music is not listed in this page, click the "+" symbol to add Wynk Music.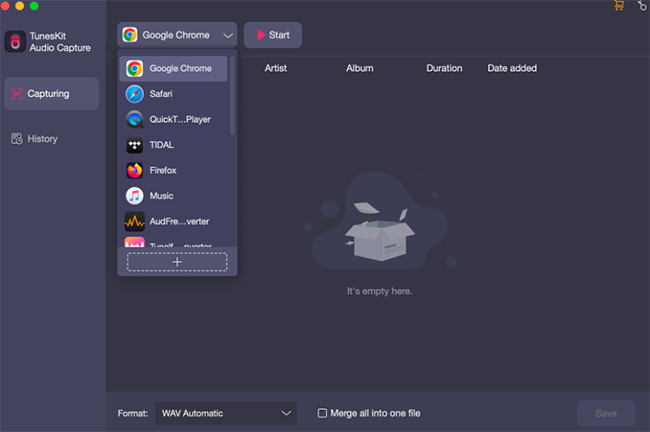 Step 2

Choose MP3 as Output Format

As you select the target application, you have to choose the right file format you need in the resultant file. Press the button that shows a symbol of a speaker. Choose the MP3 file format. Also, mention values for parameters like Sample Rate, Bit Rate, etc.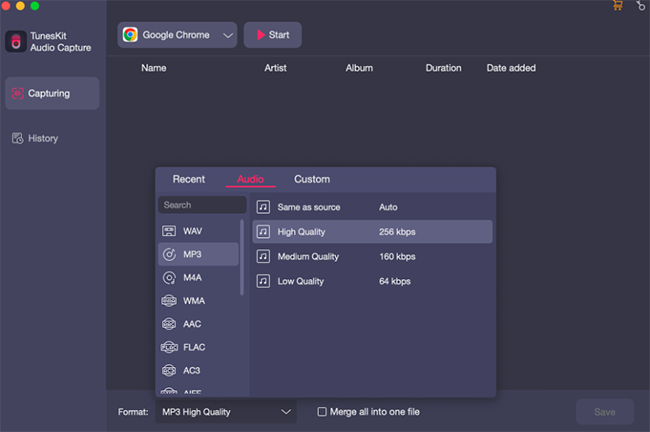 Step 3

Start Wynk to MP3 Download

Now, go to Wynk Music and find out the music you want to capture. Start playing the selected music to enable the recording. You can see a new recording task being created in the TunesKit window. To stop the recording, simply stop playing the music.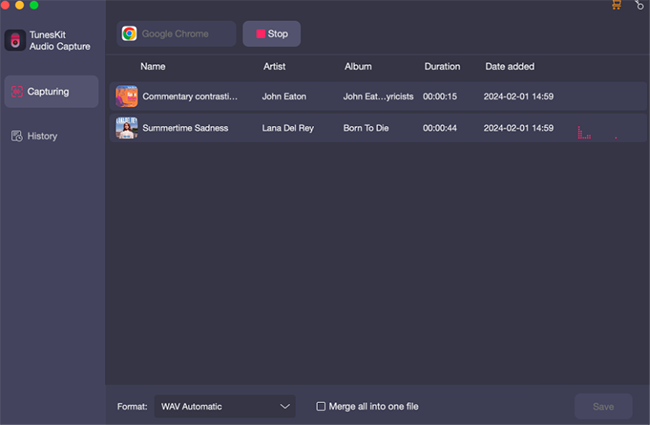 Step 4

Edit and Save Recordings

Trimming or merging the audio can be done by clicking the button with a square symbol and a pen in it. Trimming can be done by specifying values manually or cutting out a segment of them. With the merge function, you can combine one or two pieces of music. Now, click the Save button to save the file(s) in the desired location.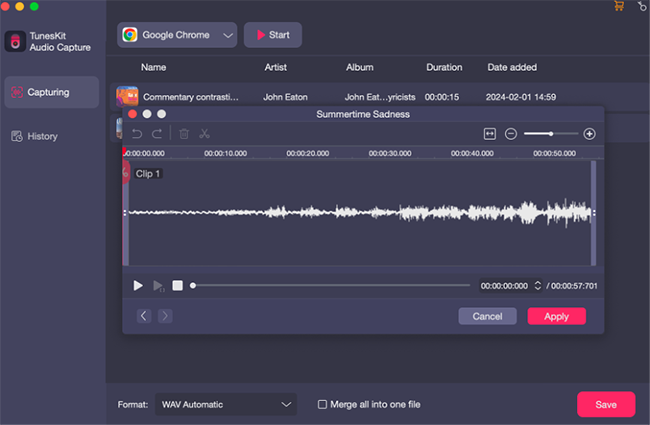 Benefits offered by TunesKit Audio Capture:
● Capture any kind of music from any source.
● You can create an individual file for tracks or merge two different music tracks.
● This tool lets you record files in formats like MP3, M4A, AAC, etc.
● With the retention of ID3 tags, you can rename the resultant files as per your requirements.
● It lets you modify the parameters like audio codec, sample rate, bit rate using the audio editor provided with the tool.
Part 2. Download MP3 from Wynk Music through Wynk Music downloader
We have seen how we can download music in MP3 file format from Wynk using TunesKit Audio Capture. Now let us see the other way to download the music from Wynk through Wynk Music downloader APK.
Wynk is one of the excellent online music streaming services available in the market. The application serves its users a collection of around 2.8 million songs from Indian and International music. With Indian music, you can listen to songs in various regional languages like Gujarati, Marathi, and Bengali.
It also has a collection of various genres of music and pre-curated playlists according to the moods and likings of the user. You can access all the songs for free but you need an Internet connection. Moreover, audio advertisements are also played when you are using their free services.
Wynk lets you download the MP3 songs from its database only when you buy a premium subscription. You can install Wynk in your system.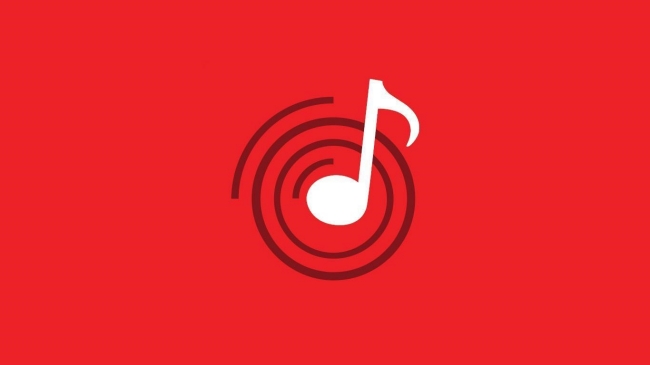 Specific steps using Wynk downloader
Let us see how to download MP3 music using Wynk:
Step 1. Install Wynk after downloading the Wynk Music downloader APK from the official website of Wynk (https://wynk.in/music/artist/pc/pc).
Step 2. Create a user profile with all the required details filled in. If you already have a profile, just log into it.
Step 3. Now, open the Settings, and select a paid subscription. Pay for the selected services and you can play songs without advertisements.
Step 4. You are all set. Start playing the selected songs and press the Download button to download the songs.
Step 5. The downloaded songs can be played offline from the list of your downloaded songs.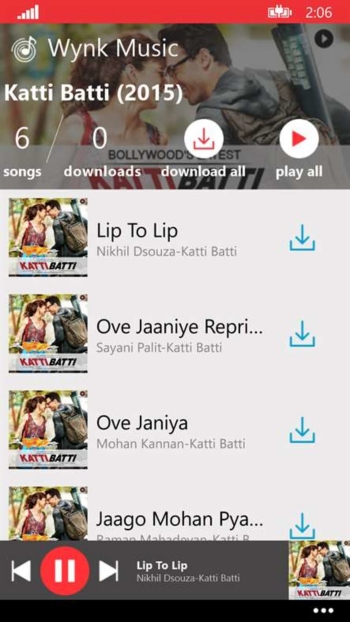 Benefits offered by Wynk song downloader:
● Listen to songs for free even with a weak network reception.
● Listen to unlimited songs but with audio advertisements.
● Once you buy the premium services, you can download MP3 music from Wynk to your device and listen to the songs in offline mode or in situations where there is no network reception.
Part 3. Conclusion
Wynk Music downloader and TunesKit Audio Capture both come with their way of working and both of them exhibit benefits in their ways. It is best to use TunesKit Audio Capture because you can use the music downloaded from the tool for the entire lifetime. But with Wynk, you can only access the downloaded music as far as you use its paid services.