Want to hear your favorite Bollywood track again and again? Downloading heavy YouTube videos will not make sense. After all, it is the audio that you want, minus the video. And you don't want to compromise on the audio quality also.
Wondering what is the best audio format available out there? Don't just search for MP3 converters, just because it is so popular audio format. If sound quality is what matters to you, it is the AAC format that you should go for.
IPhone users can swear by its sound quality when they hear one, iPods too use it extensively. In fact, AAC is the format you would find in most Apple devices. But even if you don't have an iPhone, you can get your YouTube video into AAC format.
We have listed the best tools you can use to convert YouTube to AAC audio below.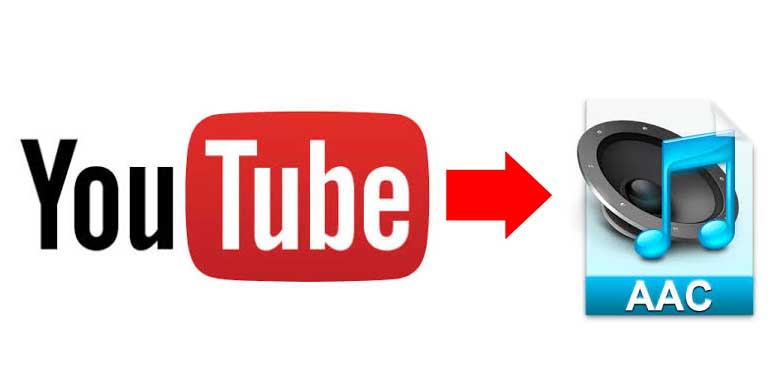 Part 1. What is AAC audio format?
AAC is Advanced Audio Coding. It is a digital audio format, which is used for playing audio in media players. It is in compressed form, so as to take less storage space, but does not compromise in giving you the subtlest sounds.
Sound quality is much better in AAC compared to other audio formats. AAC audio gives you clear crystal audio output. Diehard music aficionados will love the high crescendo of the opera, the deep brooding bass effects of a violin concerto, or the sparkling guitar chords of a romantic Bollywood chartbuster when played in AAC audio.
It is for these reasons that AAC audio is the most sought after audio format for converting YouTube videos.
Part 2. How to convert YouTube to AAC on computer?
2.1 Convert YouTube to AAC offline - TunesKit Audio Capture
Where will you get it: https://www.tuneskit.com/audio-capture-for-win.html
There is nothing better than capturing audio from your computer. TunesKit Audio Capture gives you total freedom from downloading YouTube videos, subscribing to streaming services, or saving MP3 audio songs or playlists. You simply record any audio that is playing, either on YouTube, live broadcast, or media players. You can be anywhere, on Chrome, Firefox, Internet Explorer, Windows Media Player, iTunes, VLC, QuickTime, it doesn't matter. Easy to follow steps are just what you need to convert YouTube to AAC audio with TunesKit Audio Capture.
Step 1

Open TunesKit Audio Capture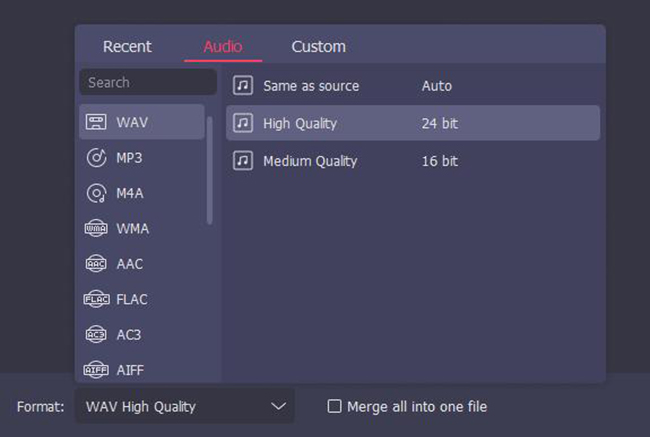 The main interface of TunesKit Audio Capture shows you browser and media player options from which you can capture audio. Format button will allow you to change the default audio format. Click on Format button and choose AAC as the preferred audio format. You can also change Bitrate, Channel and other audio settings. Converted button besides the Format button will list all the audio that was captured.
Step 2

Capture Audio from YouTube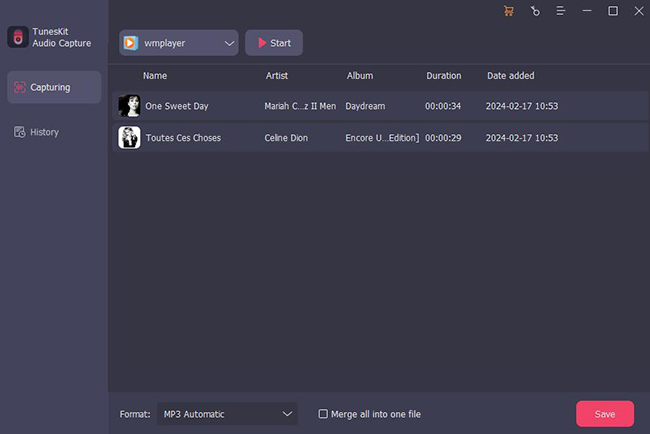 From the main interface of TunesKit Audio Capture, click on Firefox browser. A Capture List window will also open simultaneously. Start playing your favorite videos on YouTube. As you play, you will see the audio being captured in AAC format in the Capture List window. Click on the Save button and you will come back to the main interface of TunesKit Audio Capture.
Step 3

Listen to the Audio Captured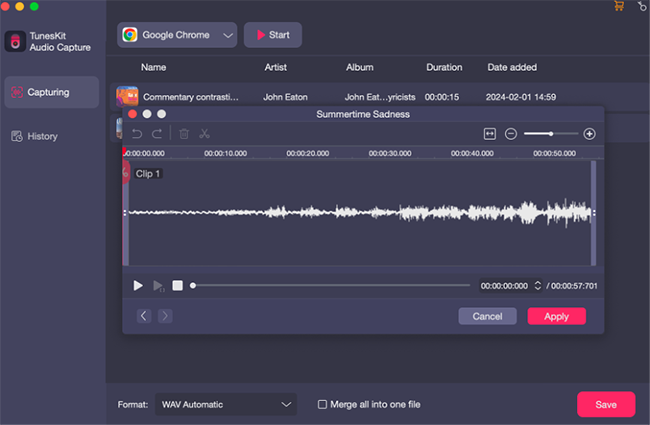 Click on the Converted button and you will see the list of AAC audio clips that you had captured from YouTube. Double click on any one and it will start playing.
2.1 Convert YouTube to AAC offline - Anything2MP3
Where will you get it: https://anything2mp3.cc/
Don't get fooled by its title, because it's not just MP3, but this website can convert YouTube into AAC audio online itself. No need to download any software, no need for registration!!! It's free to use and does the job of extracting AAC audio from YouTube videos with minimal of effort. Just follow the steps given below and you will see why we've added it on this list of the best tools to convert YouTube to AAC audio online.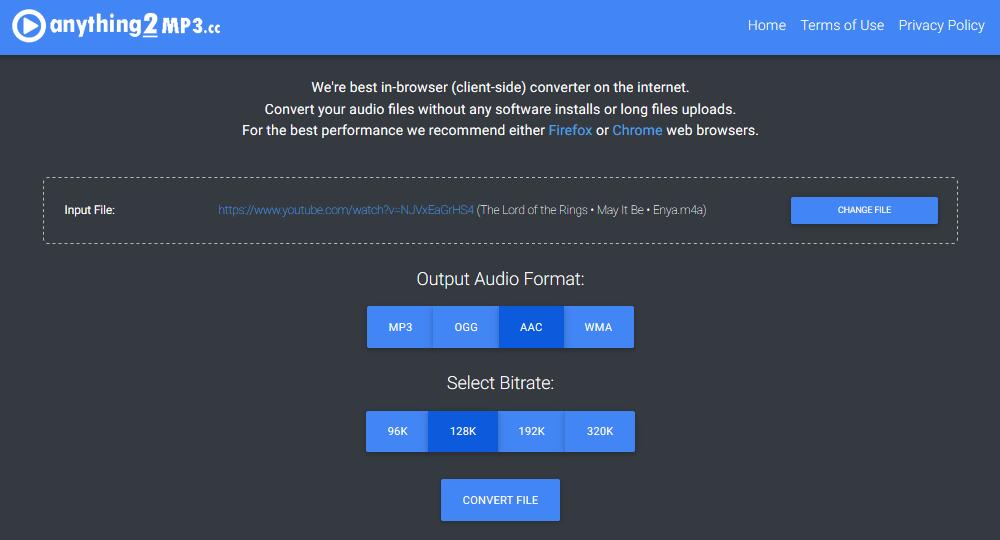 Step 1

Download YouTube video into URL field

Copy the URL of the YouTube video that you want to convert. Paste it into the blank space which is meant for the YouTube video URL. Click on the DOWNLOAD FILE FROM URL button below the field, and wait for the video description to appear. You will not see the video itself, but the URL of the YouTube video and its title will get displayed on the screen.
Step 2

Select audio output format and bitrate

Below the URL and description of the YouTube video, you will see the audio output formats available for conversion. Select AAC. Below audio output format, you will see Bitrate options. Select the one you want. Selecting a higher bitrate will result in higher file size, but it will also contain more audio details, resulting in better audio quality. Then click on CONVERT FILE button, and you will the conversion process taking place, which is shown in percentage form.
Step 3

Download AAC audio

After the conversion, you will see the AAC audio output file. Just click on the title and save the audio in your desired location in your system.
Part 3. How to convert YouTube to AAC on iPhone?
In this section, I'll show you how to convert YouTube to AAC on iPhone. Currently, there are not useful app for you to do that, but you can use iTunes to transfer those files converted on computer just now to your phone.
Where will you get it: https://www.apple.com/itunes/
iTunes is available free for download in PC/Mac and works wonderfully to share and transfer media between Apple devices like Mac, iPhone, and iPad, iPod and PC. It supports a variety of audio formats and is great at organizing, syncing and downloading songs, podcasts, radio, streaming video for offline playback. The simple steps that are given below are all that you need to transfer converted AAC audio into iPhone using iTunes.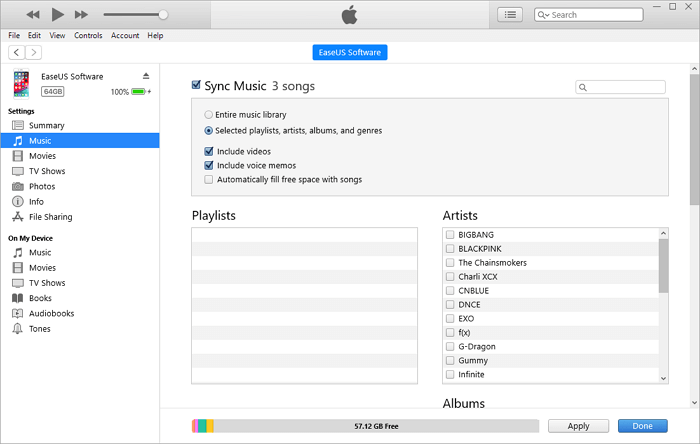 Step 1

Install iTunes

iTunes is free for download on a PC or Mac. Once you have downloaded, connect your iPhone to your computer via USB Cable/Wi Fi. If prompted to Trust This Computer, then do it.
Step 2

Transfer AAC audio files into iTunes

Once your iPhone gets connected to your PC/Mac, you are now ready to transfer AAC audio into iTunes. Select the folder where you have saved the converted AAC audio files. Then simply drag and drop the folder into iTunes. Alternatively, you can also go to the File menu in iTunes, select the Add Folder to Library option. The AAC audio files will get displayed in the iTunes library.
Step 3

Transfer AAC audio from iTunes into iPhone

After the AAC audio files come into iTunes, you can turn on Sync to automatically transfer your files. But you can turn sync off if you want to transfer your files manually. Just select the AAC audio files and drag and drop them into the panel where you can see your iPhone displayed.
Conclusion
The above tools are the best among the many that are available online to convert YouTube to AAC free. AAC audio gives you an unparalleled audio experience that lingers on for days after you've heard it. These tools do not cost anything, and gives you superlative audio that you can hear anytime, anywhere. They come in handy especially if you want to listen to just the audio part and remove the video content. AAC is portable and easy to transfer to an iPod, iPhone, PC, Mac, home audio system, car, or even in your Smartphone. It's your choice.
Now what? Just get the free download of TunesKit Audio Capture below and start extracting AAC tracks from YouTube videos!