Top 5 Best Audio Recording Programs for PC and Mac
Posted by Nick Orin on Oct 28, 2019 10:55 AM. • Category:
Record Audio
4 mins read
Have listened to a wonderful song on the Internet and only to find that it cannot be downloaded for offline listening? What will you do when you encounter such circumstance? Well, if you know a powerful audio recording tool, this will be quite simple.
In this post, we will review 5 best audio recording programs for PC and Mac that allow you to record songs from any streaming service such as Apple music, Pandora, Spotify, Myspace, Deezer, Tidal, etc. and play the audio on any device without requiring network connection. Of course, you can also use these tools to record any audio from other sources such as media player, video tracks, etc. on the computer.
Top 1. TunesKit Audio Capture (Windows & Mac)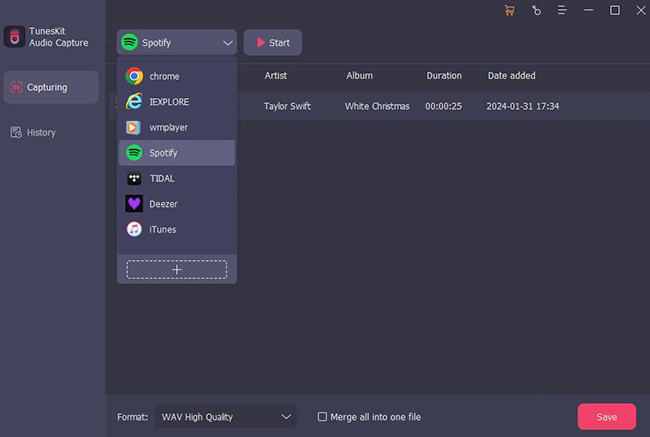 If you are looking for a tool that you can rely on for any audio track you want to capture or convert, then this is the perfect choice. TunesKit Audio Capture for Windows (or for Mac) is all-purpose audio recording tool that grabs any sound playing on your computer.
In addition, you can record sounds reproduced by media players like VLC, Windows Media Player, iTunes and QuickTime. More to that, this streaming audio recording software will enable you to capture streaming music from platforms such as: Pandora, iTunes, Apple music, Spotify etc. With this software, you enjoy a rare opportunity to seamlessly edit and convert Spotify music which allows you to play your favorite tunes on any of your devices.
Pros:
Allows you to capture multiple audios at once thus saving time;
Keep original ID3 tags for audio;
Allows you to split, cut and mix captured audio tracks.
Cons:
The free trial version only allows you to record the first one minute of the audio file.
Top 2. Aktiv MP3 Recorder (Windows)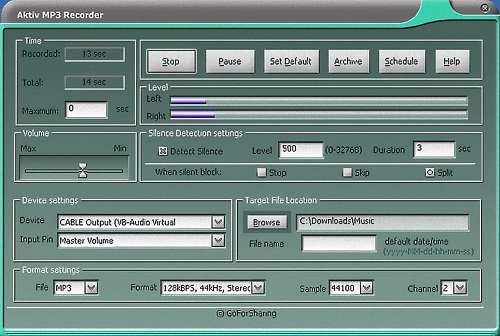 When it comes to this audio recording program for Windows 7 and other versions, you must first download the Aktiv MP3 Recorder on your device. Once you have successfully installed it, you can capture music from numerous sources. In addition, the captured audio will be saved in a wide array of formats such as: MP3, WMA, OGG, VOX, AU or AIFF. The most amazing feature about this software is its inbuilt recording scheduler that enables you to capture the streaming audio tracks at specific times based on your needs.
Pros:
Total free audio recorder;
Capture music at times of your own choice;
Save the audio in a wide range of formats.
Cons:
Does not support Mac Operating system;
Installer is loaded with additional software which is unnecessary.
Top 3. Audacity (Windows, Mac & Linux)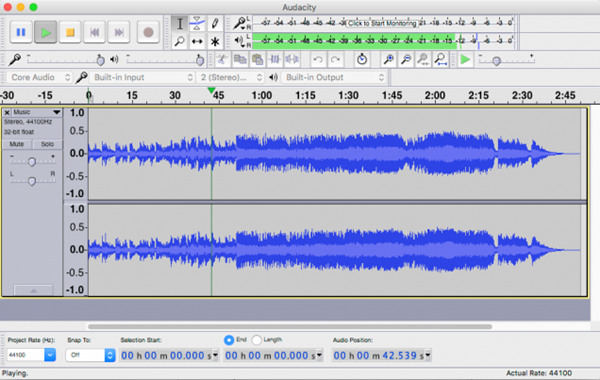 Audacity is arguably another one of the best audio recording tools which allows you to capture any audio and save it in a wide range of formats. With Audacity, you can tweak the audio track to suit your tastes by normalizing noise, adjusting the pitch and introduce effects such as phasing and reverbing the tracks. This audio recorder program is supported on all the popular platforms which include: Mac, Windows and Linux. Courtesy of its multi-track audio recording technology, Audacity can capture a number of streaming audios simultaneously thus enabling you to save time.
Pros:
Can be used on numerous operating systems;
Free to use;
Contains multi-track recording technology.
Cons:
Very few audio formats supported;
The quality of the output audio tracks is compromised after editing.
Top 4. Wondershare Streaming Audio Recorder (Windows & Mac)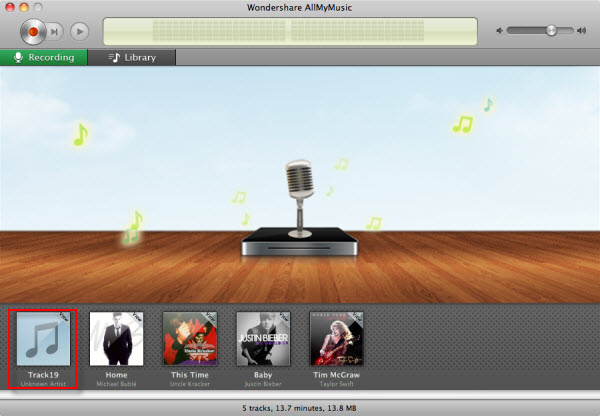 Just like its name suggests, the number of sources from which you can stream real-time music is simply amazing. Wondershare Streaming Audio Recorder allows you to stream music from over 500 streaming sites and online radio like Amazon music, Apple music, Tidal, Spotify, Dezzer and Last F.M.
With this best audio recording program for PC and Mac, you can remove ads from the recorder audio and easily add audio records to iTunes library. The inbuilt automatic music tagger ensures that the ID3 tags in recorded music streams are not compromised. Also, you can save the streaming music to MP3 or M4A format thus enabling you to play your favorite jams on any device.
Pros:
Remove ads with ease from the recorded streaming music;
Convert the audio records into ringtones;
Accurately records the streaming audio
Cons:
The output records supported are minimal and include MP3 and M4A;
Is not supported by Mac OS X10.11 and 10.12.
Top 5. AudFree Audio Capture (Windows & Mac)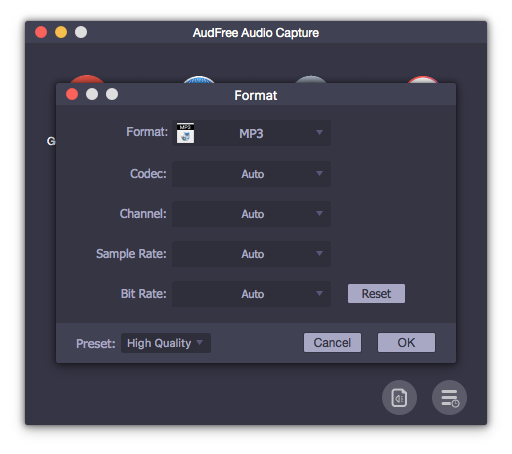 This audio recording tool can capture audio from a huge number of streaming sites which include: Pandora, Spotify, Tidal and any other local media player like windows media player and Quick time. Also, you can extract audio tracks from video sites, voice chats and live courses. Moreover, you can save the captured audio in formats like: MP3, FLAC, WAV, M4A and AAC. There is also the mixing function that allows you to merge files based on your needs.
Pros:
Best software for streaming and editing audio;
Enjoy listening to top quality streaming music offline.
Cons:
Not free;
Cannot support audio tracks through a microphone.
Conclusion
Now you've got five audio recording tools to capture any sound on your PC or Mac computer with ease. You should consider choosing the best ones in terms of quality, budget, compatibility, ease of use, etc. If you have little budgets, you can try Audacity, with the compromise of lower quality. If you're on a Mac computer, Aktiv MP3 Recorder will not meet your needs. If you care much about the quality, you're suggested to consider TunesKit Audio Capture, an easy-to-use audio recording program to grab any sound with high quality.