[2022 Selected] 10 Best Audio Recorder Online
Posted by Nick Orin on Dec 14, 2022 10:00 AM • Category:
Record Audio
6 mins read
Traditionally, people used to install and download several programs for different purposes. Each program performed a single task. Likewise, if you need to record audio, you are supposed to install a program on your computer or device. But time has changed, and you can rely on websites and online voice recorders to do such tasks.
With online platforms and websites, you can use your microphone to create voice-overs and memos, record lectures, sing a song, and much more. You will find many such voice recorders online, so don't worry. We are here to help you by providing the top online voice recorders with good-quality audio. Get the details and choose the best one.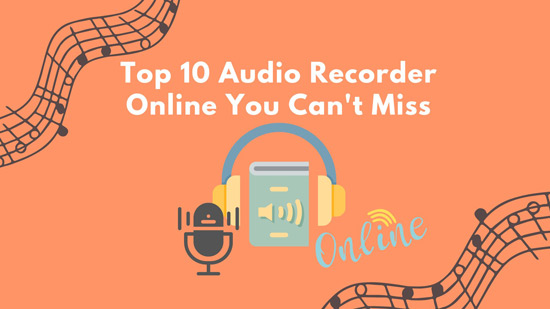 #1 Online Voice Recorder by 123Apps
The best recorder for saving voice and audio recordings in MP3 audio format is the Online Voice Recorder by 123Apps. You can record any audio from your computer or capture your voice using a headset or microphone. With simple steps, you can record and download any audio online for free to your computer.
With Online Voice Recorder, you don't need extra editing for short recordings. It offers additional features such as a lightweight editor and microphone adjustment settings through Adobe Flash tools. But the downside is that it can only export audio to MP3 format.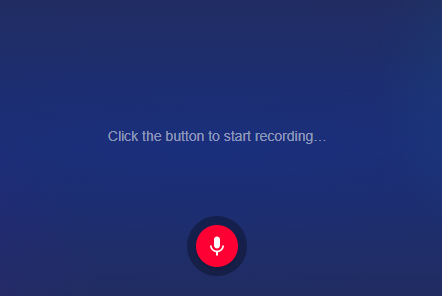 Pros:
Automatic detection of silent fragments
It offers a crop function
Cons:
The free plan offers only files with 700 MBs per day
Without sharing options
#2 Vocaroo
Vocaroo is a free audio and voice recorder that records audio online without hassle. You can use the embed widget of Vocaroo to record any audio on a webpage or blog, and record, save, upload, and share audio files with easy steps and buttons as well.
It offers custom tools such as a background noise canceller for you to reduce the interference of noise during recording. But one thing you should note is that it does not come with audio editor.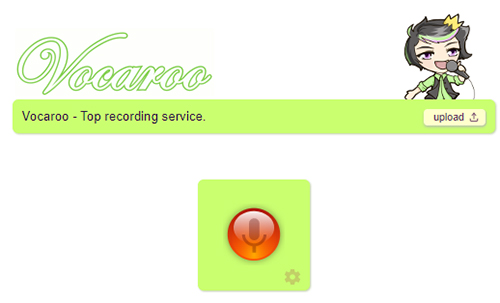 Pros:
It automatically adjusts the volume and removes background noise
It has many uploading and sharing options
Cons:
It only saves recordings in only MP3 format
Without editing tool
#3 Rev Online Voice Recorder
Another best online recorder is the Rev Online Voice Recorder. It is a simple and effective option to record and download MP3 files. Use the 'Record' and 'Pause' buttons to start and end the recording process.
Rev Online Voice Recorder provides encrypted audio recording that you can only access and use. Its main features include allowing users to record audio for free. Also, you can use the paid transcription service of Rev with ease.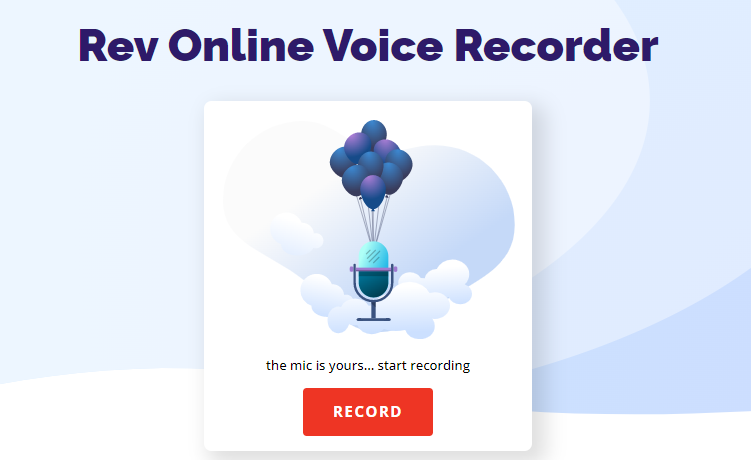 Pros:
Top-notch accuracy
Easy editing
Cons:
The web dashboard could use more polish
#4 Apowersoft Free Online Audio Recorder
One of the best voice recorders for recording computer audio and external sound is the Apowersoft Free Online Audio Recorder. As a web-based audio recording tool, it has an easy and clear interface that offers a few buttons for users to record internal and external audio.
It allows users to select the audio source, like from the web, from the desktop, or from external devices. The free version will only export audio to MP3 format, and it lacks an audio editor for you to trim or cut.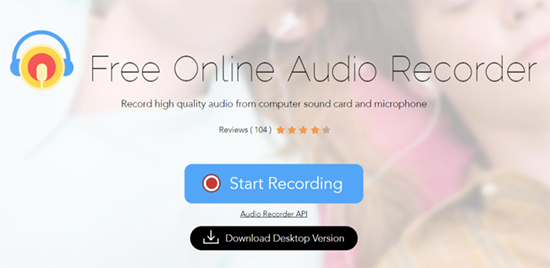 Pros:
It provides audio source selection
It provides high audio quality
Cons:
Users are required to install the launcher
Export to MP3 format only
#5 Virtual Speech Online Voice Recorder
Comes with a simple interface, Virtual Speech Online Voice Recorder is one of the best tools to record anything. It offers a playback option to listen to the recording or download it on your device. You are not required to log in or signup for Virtual Speech Recorder.
With easy steps, you can record any audio by clicking the 'Start Recording' button. The drawback to the recorder is that it offers free access to users only once. After the first time, you need to pay $5 per charge. It records audio in OGG format, and you can listen to it in a browser.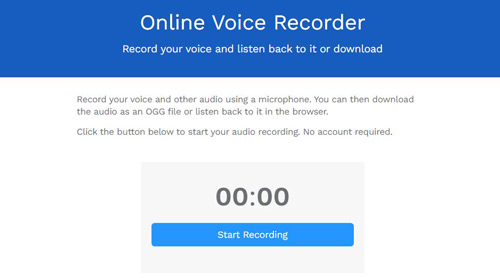 Pros:
No account is required
Simple and easy processing
Cons:
It's accessible only once
#6 Veed.IO Voice Recorder
Veed Voice Recorder is another free online voice recorder that provides high-quality audio. You can easily record anything with the recorder and download it to your device. As a web-based audio recorder, it is available on Windows and Mac for audio recording.
Veed offers the option of sharing the recording without downloading. Your recordings will save in your cloud account so you can share the link with anyone in multiple ways. Also, it comes with a simple editor for cutting the audio recordings.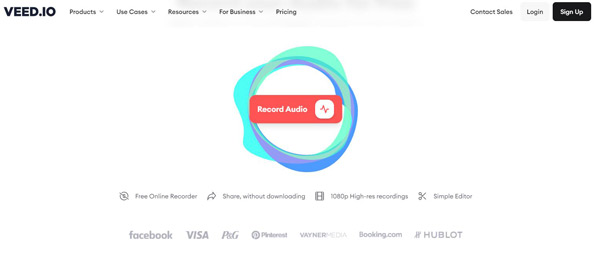 Pros:
It offers multiple editing options and subtitles
It has an audio editor
Cons:
The recording duration has limits
#7 Reverb Online Voice Recorder
Another one of the best audio recorders is the Reverb Online Voice Recorders. It is a free tool to record anything and share it with anyone through multiple options. You don't need to log in or signup to start the process.
With simple processing, you can record and store the audio on your device. It offers a delete button to remove the files you no longer want. It is a free online web-based recorder, so you should make sure the internet is connected when recording audio.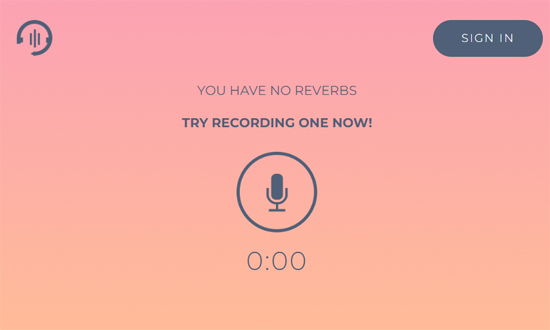 Pros:
Simple interface
It records audio in multiple ways
Cons:
#8 Media.io Voice Recorder
Media.io Voice Recorder offers you the simplest interface with only one click to record anything, including conversations, songs, voice-overs and more. It is an online recorder that you can use for free. It has an easy and friendly interface.
You can use an internal or external microphone to record anything on your device. It supports audio formats such as WAV, MP3, FLAC, OGG and more. It offers editing options such as cut, trim, split and sound effects. It also automatically converts the audio into text and provides subtitles.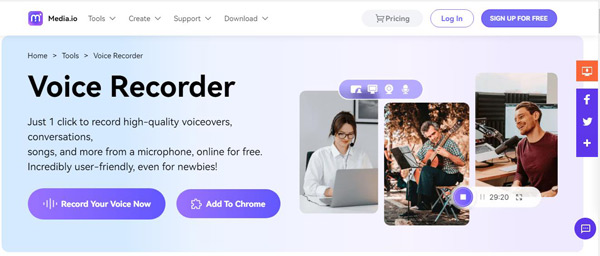 Pros:
It offers one-click background noise removal
It is highly secure to use
Cons:
Some features are for premium users only
#9 Chrome Audio Capture
Want to record audio from Chrome? Try Chrome Audio Capture. It is a simple and effective voice recorder extension from Google Chrome that can capture any audio from the Chrome tab without quality loss.
It only records audio from the current Chrome tab and cannot record any audio from the desktop or microphone. The recorded audio will be converted to MP3 or WAV audio formats after you finish the recording.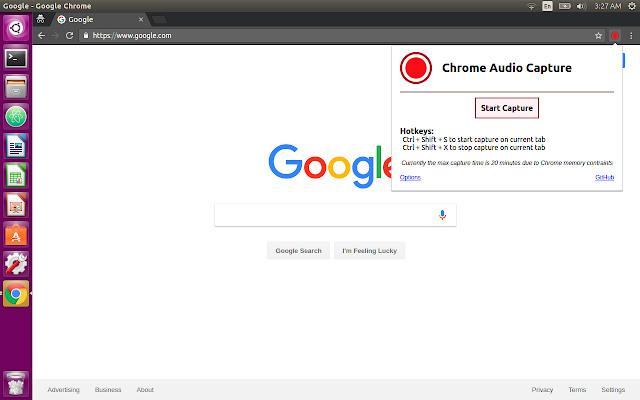 Pros:
Easily share recorded audio
Offers to the multiple record tabs
Cons:
It has limited editing options
#10 SpeakPipe Voice Recorder
The best online voice recorder for storing recordings in a cloud is the SpeakPipe Voice Recorder. The recorder's simplicity provides users with three easy steps to record and download MP3 files. It is compatible with computers and mobile devices.
SpeakPipe Voice Recorder is free but offers two annual paid plans, including Premium at $36 per month and Gold at $12 per month. You can save your recordings in cloud storage and use API for websites.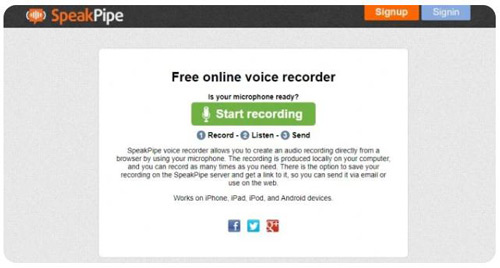 Pros:
Easy-to-use interface
Several sharing options
Cons:
The audio quality is not great
Extra Tip: Record Audio via Desktop Audio Recorder
TunesKit Audio Capture is a powerful desktop audio recorder that is available on Windows and Mac. It allows you to record audio from online streaming websites or desktop programs without quality loss. Besides, it provides six common audio output formats for selection, including FLAC, MP3, AAC, M4A, WAV, and M4B.
Besides, it supports recording several tracks at the same time without affecting each track and will automatically keep the ID3 tags so users can collect them separately. You don't need to have the technical knowledge to use the recorder. It has an easy-to-use and friendly interface that is best for both beginners and professionals.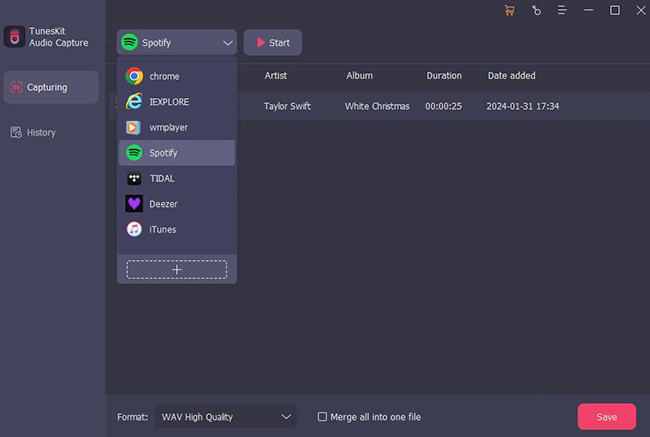 Pros:
Provide six audio output formats
Record audio in high quality and keep the ID3 tags
Feature a simple audio editor for merging, trimming, or splitting
Cons:
The free trial can record audio in 1 minute only
Conclusion
With the above voice recorders, you can quickly meet your voice-recording requirements. All recorders have multiple editing options, customizing tools, and much more. However, even though they allow you to record sound without spending a penny, there are always various drawbacks, such as average sound quality, recording noise, few optional output formats, lack of audio editors, etc.
In this case, you can use the TunesKit Audio Capture to record audio from the computer without quality loss, such as streaming music, audio live streams, program background music, etc.
Anyway, select your preferred one and start recording your voice or audio with ease.