Top Audio Hijack Alternative for macOS, Windows and Linux
Posted by Nick Orin on Jan 27, 2021 4:55 PM • Category:
Record Audio
4 mins read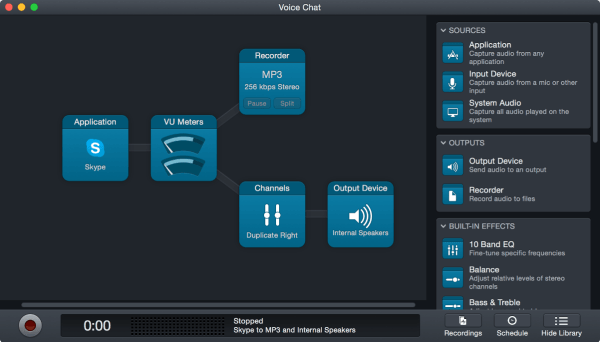 Audio Hijack is an audio recording program for Mac that can record system sound from Mac and edit the audio in real-time. It is a great internal sound recorder to record audio from Skype, radios, or other apps, but some users may want to find an alternative due to the price, the complexity, or other reasons. It's difficult to make a choice among all the system audio recorders with different features and prices. Don't worry, because we have done the research for you. Here is the review of the top Audio Hijack alternatives with the highest scores in our test, and one of them might just suit your demands.
1. TunesKit Audio Capture - the Best Alternative to Audio Hijack (Mac & Windows)
Price:
$29.95 for 1 device
$39.95 for 2-5 devices
$69.95 for an unlimited number of devices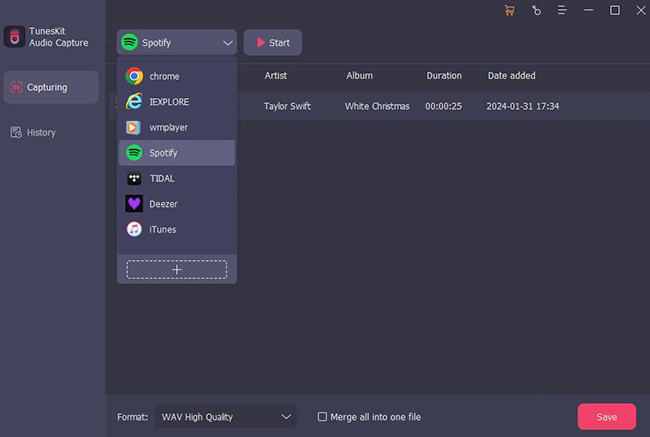 TunesKit Audio Capture is an all-round audio capturing software with diverse features and strong functionalities. It stands out from other Audio Hijack alternatives for several reasons.
First and foremost, it runs in different ways than traditional system audio recorders. Instead of recording sounds directly, it will capture the code of the audio, which enables the program to retain the original audio quality. Another unique advantage of this design is that sounds from different software will be simultaneously recorded into different tracks so that none of them will be intertwined with each other and the work can be done efficiently.
As for other features, the built-in audio editor is going to offer you the convenience of editing audio after you record it. You can trim or cut the audio track, and the EQ can be adjusted to yield more enjoyable results. ID3 tags will be recognized automatically if the audios you record are published music, and you can rewrite those tags however you want. The recorded tracks can be exported to 6 different formats, including MP3, AAC, FLAC, WAV, M4A, with customizable bitrate and sample rate.
Pros:
1. Lossless recording audio quality
2. Record sperate tracks from different apps at the same time
3. Diverse audio parameters and formats choices
4. Powerful built-in editor to edit the recordings
Cons:
Not free
2. Piezo (Mac)
Price:$19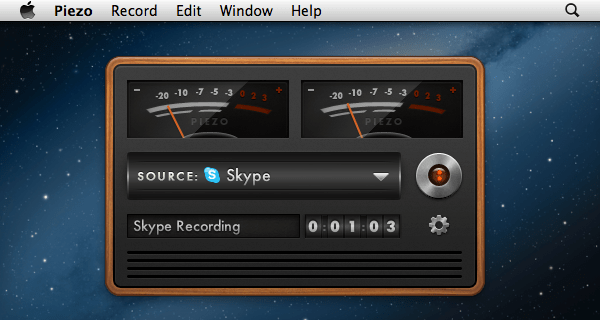 Piezo is a fast streaming recorder on Mac. By saying fast, Piezo requires nearly no configuration apart from choosing the recording source, such as the microphone, Skype, or other apps. The UI design resembles a boutique physical recorder, which is rarely seen and easy-to-use. Other notable features are the play-thru capability and the customizable output folder, which will be opened automatically after your recording.
As for the drawbacks, the biggest one must be that it can only record from one source at a time, which greatly reduces your productivity. The audio quality is not lossless. Limited format - MP3 and AAC - are provided for you to choose from. However, being free of those complex features is what makes Piezo swiftly record audios without much hassle.
Pros:
1. Fast and clean recording experience
2. Record from multiple sources including microphone and the system
3. Beautiful and intuitive UI
4. Play-thru capability
5. Customizable output features
Cons:
1. Record only from one source at a time
2. Audio quality not lossless
3. Only 2 formats to choose
3. Sound Siphon (Mac)
Price:$49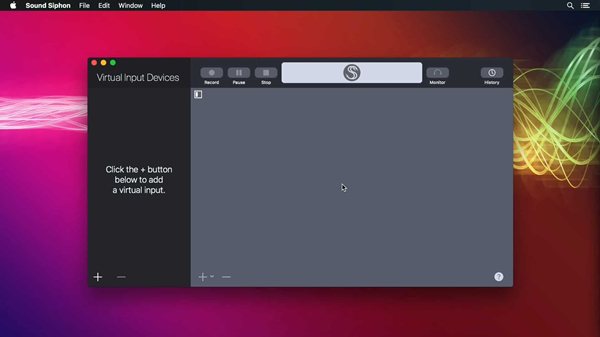 Sound Siphon, with a similar design to Audio Hijack, is a software package that makes the audio output of your Mac available as an audio input device. It allows you to send audio from one application to another where it can be processed, streamed, or recorded. Anyone familiar with Audio Hijack should find no difficulty in using Sound Siphon. Major strengths of this powerful video recorder include the ability to record from microphone, system audio, specific apps, the audio mix and map, etc. By using Sound Siphon, you can get basically most of what you can get from Audio Hijack at a lower price. It is a system-wide recorder with enough flexibility.
However, it is still worth noting that the price of this program is still relatively expensive. Its functionality does live up to the price, but beginner users might be overwhelmed by its complex features and special workflow.
Pros:
1. Powerful recording ability to record from any source flexibly
2. Easy for Audio Hijack users to learn
3. Diverse recording editing capability
4. More cost-effective than Audio Hijack
Cons:
1. Price relatively high
2. Difficult for beginners to get used to
4. Audacity (Mac & Windows & Linux)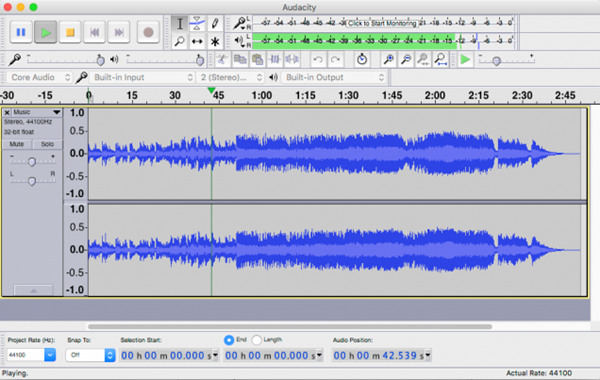 It's hard to believe that such a powerful open-source audio editing program has been free for years. For users who are looking for an Audio Hijack free alternative, Audacity is a perfect choice. It is able to record audio from the system speaker and the microphone at the same time, which is just what many users want. As for post-recording processing, Audacity is able to trim or cut the tracks, remove background noises, adjust volume, and much more, and any of those features is useful. This program can even be an introduction to the professional audio recording and editing world.
Still, we cannot ignore a major drawback of this app. Audacity is unable to select a specific app to record, meaning that all the sounds you record from the system will mix up together. Also, many users complain about the learning curve being too steep.
Pros:
1. Free of charge
2. Record system audio and the microphone at the same time
3. Useful audio editing features
Cons:
1. Unable to record from specific apps
2. Relative steep learning curve
3. Recording audio not lossless
Conclusion
There are various reasons for people to look for Audio Hijack alternatives. They may need to switch operating systems, find a more easy-to-use and cleaner app, or just not very happy with the price. To suit the need of different customers, we have provided alternative options with generally lower prices in different operating systems, including macOS, Windows, and Linux. We are sure that one of the software in this list will be perfect for you.