TunesKit Audio Capture Crack: What You Should Know
Posted by Adam Gorden on May 12, 2020 6:30 PM • Category:
Record Audio
4 mins read

TunesKit Audio Capture is a full-featured and professional audio recorder that can capture any audio playing on the computer and save the recorded audios in several popular audio formats with lossless audio quality and ID tags preserved. With its help, you can not only get audio from streaming services like Tidal, Pandora and more, but also customize your personal audios with built-in extraordinary audio editor.
Due to its practicability and popularity, there are a bunch of crack version of this software online. Most of them are advertised as to deliver the same performance and functions as the original program without costing you a single penny. But of course, the risks of using any crack version of TunesKit Audio Capture are very great, because there's no free lunch. Here we'll talk about TunesKit Audio Capture crack, as well as, the advantage of using the copyrighted one.
What Exactly Is Cracked TunesKit Audio Capture?
Software cracking is the modification of software to remove or disable features which are considered undesirable by the person cracking the software, especially copy protection features or software annoyances. The copy protection features include protection against the manipulation of software, serial number, hardware key, date check, and disc check.
Therefore, the crack version of TunesKit Audio Capture is an unauthorized copying of the original one that has been removed the copy protection features. Once people make use of the means of achieving, the cracked TunesKit Audio Capture comes into existence so people can manipulate the program for free without authorization.
Is It Legal to Use Cracked Version of Software?
The distribution of cracked copies is illegal in most countries. If you are caught using cracked software, you could face a range of consequences. One of the more minor consequences is that you may be blocked by the software vendor temporarily or permanently. Alternatively, if you are caught with pirated software you might receive a fine.
Another problem might arise with your internet service provider. If it catches you pirating software, they could report you to the software vendor. Or they could choose to block your internet connection. This can also lead to massive problems that you cannot use your internet for work or entertainment.
What Are the Dangers of Using Pirated TunesKit Audio Capture?
The dangers of using pirated software are evident but there are still people who don't know them. Let's explore the dangers of using pirated software programs including cracked TunesKit Audio Capture.
1. Cause Malware Infections
According to a study, most of pirated software downloaded from unknown websites are embedded with malware. Once you install a pirated software, your computer will be exposed to the malware which contains ransomware, Trojans and other viruses, resulting in the identity theft, data loss, destruction and others.
2. May Not Work as Well
When you come to the most important step, you might find out that the pirated software doesn't work with your device. This is because they are cracked versions of the original ones. These programs are likely to alter the accuracy of your results if they end up working. Meanwhile, when you get into troubles using pirated programs, no one can give you help.
3. Cannot be Updated
In order to let you use the software, most of pirated programs will disable the update of your computer and change the Firewall rules on your computer. Updating your software as new patches or updating your program to the latest version allow you to get a better experience from it, but it's impossible to enjoy this from pirated version.
Why You Should Use Copyrighted TunesKit Audio Capture?
We've laid out some of the security risks of using cracked software. From facing fines to acquiring malware infections, there are many risks which comes from using illegal software. To avoid any possible risk, it would be better to use the official version of TunesKit Audio Capture. Here're some advantages you can get if you use the copyrighted one.
1. It works stably and safely without any malware infection.
2. With one license, you can have the right to use the software for life.
3. It is available free of charge to purchasers regarding any software upgrade and technical support ever since.
4. A valid license will deliver full features of the program to enable you record any audio you want and save them in various popular audio formats.
5. Registered users of TunesKit Audio Capture are able to enjoy some exclusive discounts for other products from TunesKit.
How to Get Discounts by Using 100% Valid Coupon Code?
If you truly need to use TunesKit Audio Capture with all its features, and it's the best in its class for your purpose, then buy a license for using it legally. TunesKit offers free trials for all users, and you could decide whether you need to continue to use the software after the testing. In order to make it more affordable, here we'd like to give a discount of the program at 20% off. With this coupon, you can save some money when buying a license for TunesKit Audio Capture full version.
20% Off Coupon Code: TKPROMO
How to Use TunesKit Coupon Code for Getting Discounts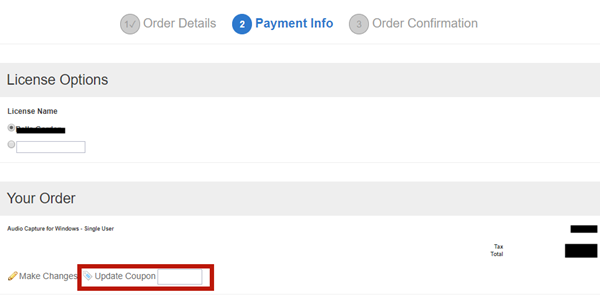 1. If you plan to buy a license for using TunesKit Audio Capture, just navigate to the buy page of TunesKit Audio Capture and select one version you want to use.
2. Click the [Buy Now] button and you'll be taken to the order page where you need to write down your personal information.
3. After you enter your personal information, you will see the concrete details of payment at the payment page.
4. Now you can enter TunesKit off Coupon Code, click the [Update Coupon] button, and then you will get a discount.