[Comparsion] Tenorshare ReiBoot VS TunesKit iOS System Recovery
4 mins read
You probably won't be willing to get involved in these scenarios: your phone gets stuck while negotiating with your client; your phone suddenly has a blackout during updating, or you forget your passcode accidentally. Any of these situations could put you in dire strait, which then becomes a struggling battle with your intimate iOS friend. Then you will have to find the easiest way to address the problems as soon as possible.
Facing with dozens of iOS system recovery tools searched from the internet, you run into another battle of "which of these is the best?" Today, we're going to take the battle for you, comparing between two selected best iOS system recovery tools: Tenorshare ReiBoot VS TunesKit iOS System Recovery. Who will take the throne?
TunesKit iOS System Recovery
The TunesKit iOS System Recovery is an easy quick tool to help you solve your iOS system glitches. With a straightforward dash board, it will direct you to fix more than 150 iOS problems, such as iPhone stuck in a boot loop, white Apple logo, upgrade failure, etc. You just need to enter iOS recovery mode by only one click, and start repairing right away. Within easy steps, no expertise needed, your device will recover back to normal. The key point is, it is fully compatible with the latest iOS 17, running on both Windows and Mac.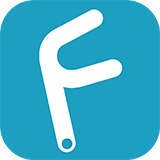 TunesKit iOS System Recovery Key Features
Repair 150+ iOS problems
Simple interface & Easy to use
High success rate & Unlimited usage within validity period
Supports different iOS devices and iOS versions
Try It Free
600,000+ Downloads
Try It Free
600,000+ Downloads
Tenorshare ReiBoot
Tenorshare provides the ReiBoot iOS repair tool, which aims to simplify the resolution of various mobile device issues. ReiBoot software is available for both Android and iOS devices. Instead of waiting or seeking professional help, you can easily resolve booting issues with just a few clicks using ReiBoot. It simplifies the process and saves you from the hassle of troubleshooting on your own.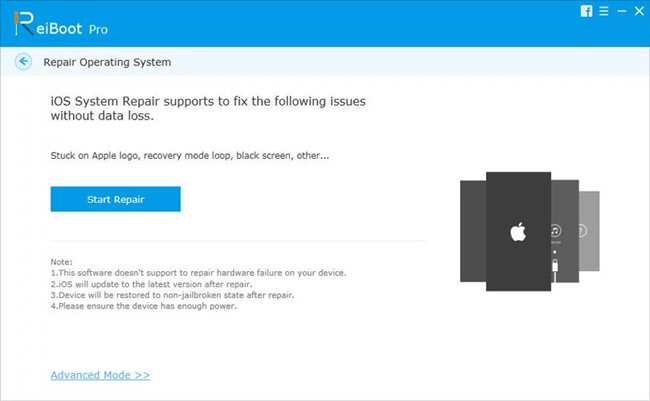 So now let's have an in-depth review of TunesKit iOS System Recovery and Tenorshare Reiboot.
Round One - Function
The TunesKit iOS System Recovery fixes more than 150 types of iOS system failures, covering screen issues such as white Apple logo, black screen, boot loop screen; device bugs like iPhone/iPad won't turn on, battery drain, screen touch not working, no service; iOS mode failures like recovery mode, DFU mode and headphone mode stuck; iTunes issues such as store connecting error, device syncing/backup/upgrading/restoring failures. It also works to reset your passcode and unexpectedly has an exclusive function of degrading your iOS system. And it is also able to solve even more complicated tvOS errors. What a versatile tool!
The Tenorshare Reiboot. It assists to repair 150+ iOS system problems like stuck on Apple logo, screen won't turn on, recovery mode loop, etc. And seemingly it also repairs many tvOS stuck issues on Apple TV, but the description on its application page doesn't clarify whether it can or can't reset your forgotten passcode, which is a bit of a drawback for Tenoshare Reiboot.
Round Two - Are They Data Loss-Free?
Under the standard mode, the TunesKit iOS System Recovery is totally data loss-free, which is the same as Tenorshare Reiboot. While in advanced mode, or so called "deep repair" in Tenorshare Reiboot, both of them will erase all data on your device. So this round would be a draw for me.
Round Three - User-Friendliness
In TunesKit iOS System Recovery, you can easily notice the buttons you have to click on the panel, which only takes you three steps to complete your repairing.
While in Tenorshare Reiboot, you have to unlock your passcode in advance before fixing your device, and the directions on its pages are comparatively unclear. So this time, I'll go for the TunesKit.
Round Four - Pricing
They offer similar options and pricing structures for users, with potential variations for any sales or promotional activities. You can get Liftime License for $79.95, which includes lifetime free upgrades. 1 Year License will cost you $49.95. The most popular license option is the 1-Month License, priced at $24.95.
Still can't get enough? We've listed a thorough comparison between these two tools.
| | | |
| --- | --- | --- |
| Programs | TunesKit iOS System Recovery | Tenorshare Reiboot |
| Repairing features | 150+ | 150+ |
| Data Loss | no data loss | no data loss |
| Auto-recognize your device | Yes | Yes |
| One-click enter/exit recovery mode | Yes | Yes |
| Safe or Not | very safe | safe |
| Speed | very fast | fast |
| Steps taken to repair | 3 | 5 |
| Ease of use | very easy | not so easy |
| Lifetime Free Upgrade | Yes | Yes |
| Price | $49.95/Month | $49.95/Month |
Summary
You can enjoy data loss-free service while repairing your iPhone on standard mode provided by both TunesKit and Tenorshare, but it takes fewer steps when using TunesKit to get your iDevice back to normal, which is pretty time-saving. Last but not least, TunesKit costs 10 dollars less than Tenorshare. So for saving time and money, I'll definitely go for TunesKit iOS System Recovery.