iTunes Stuck on Extracting Software? Here's Why & The Fix!
5 mins read
"When I try to restore my phone in iTunes, it gets stuck on the very first process which is 'Extracting software'. My phone is completely functional while this is happening. How can I fix this?" — From Apple Communities

Generally, iTunes-related errors are annoying, especially when they do not prompt a specific notification. An example is iTunes stuck on extracting software. This error occurs when the progress bar of iTunes is stuck in the middle of the way. In the case where the progress bar does not move an inch within a few hours or days, it means the software is stuck in extraction.
Waiting for this annoying error to go away is a waste of time since it is not going to go away by itself. In order to solve this error, you must find a solution. The following article explains how to fix this isssue. To get rid of this bothersome error using these great fixes. Let's move on to them without further ado!
Part 1. Why Does iTunes Stuck on Extracting Software?
Identifying the causes of iTunes extracting software getting stuck is necessary before presenting a solution. The following are the most common reasons why this error occurs.
The iTunes authority is blocked by a firewall or antivirus program.
Your PC has a terrible network speed.
iTunes stuck on extracting software on iOS 15/14, for it doesn't up to date.
Having a slow computer or not enough storage may cause problems.
An external security program causing iTunes to malfunction.
There is a system glitch on your device.
After knowing why iTunes stuck on the extracting software issue when restoring, it's time to proceed to the troubleshooting step.
Part 2. How to Fix iTunes Stuck on Extracting Software?
The Best & Easy Way to iTunes Restore Stuck on Extracting Software
If you face this sort of problem on a regular basis, then you might first consider opting for a premium solution such as TunesKit iOS System Recovery to resolve such iOS issues once and for all. It's a great alternative to iTunes when you need to restore iPhone/iPad for the issues like iPhone won't restore, iPhone keeps restarting, iPad won't reset, and several other common problems. Any problem can be solved with this tool in less than 10 minutes, no matter what it is.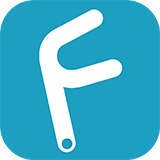 Why Choose TunesKit iOS System Recovery?
Fix the "iTunes stuck on extracting software" easily
Repair over 150 iOS system issues successfully
Trusted by numerous customers and famous media
Work well on all iOS models and versions like iOS 15
The program is simple to operate
Try It Free
600,000+ Downloads
Try It Free
600,000+ Downloads
Use it correctly by following the underneath steps to successfully fix the "iTunes stuck on extracting software" problem.
Step 1
Install TunesKit iOS System Recovery
Download, install, and launch the program on your computer, and then connect your iPhone with a USB. Click "Start" in the main window.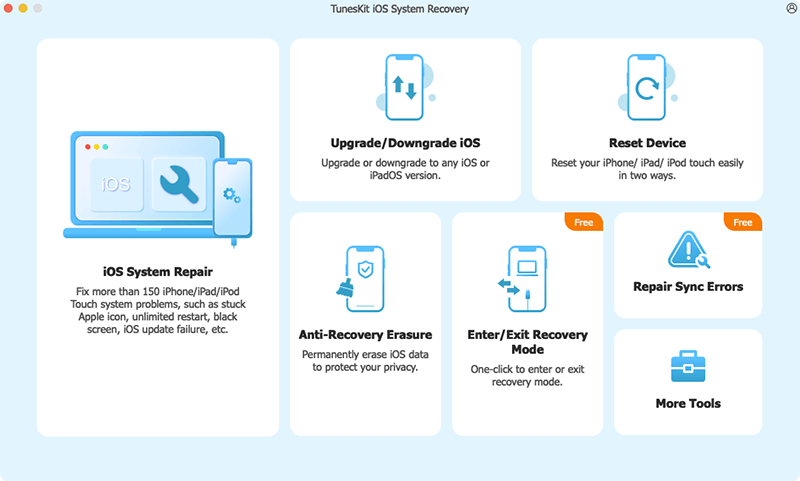 Step 2
Choose Standard Mode
"Standard Mode" is a boon to those users who need to fix some common iOS or tvOS issues on your device without losing any of your data. "Advanced Mode" can help you restore iPhone to factory settings without iTunes, but will erase everything on your device.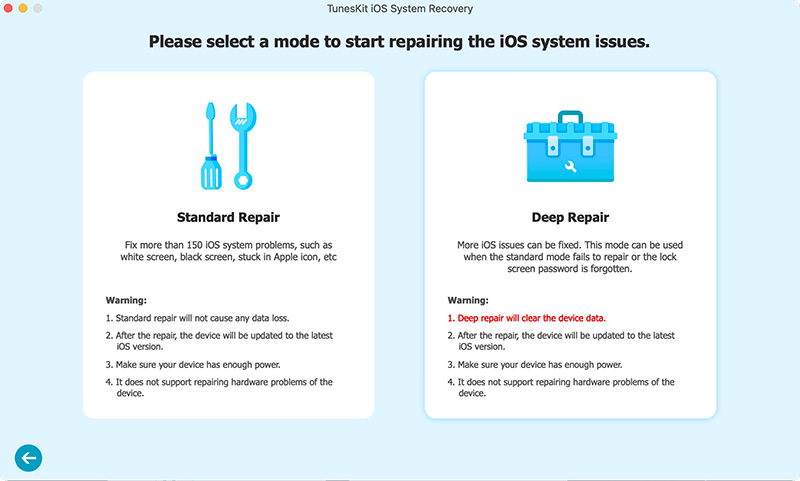 Step 3
Download Firmware Package
After you take your device into DFU mode as the instructive steps, the matching firmware for the device is provided by the program. Choose the "Download" button.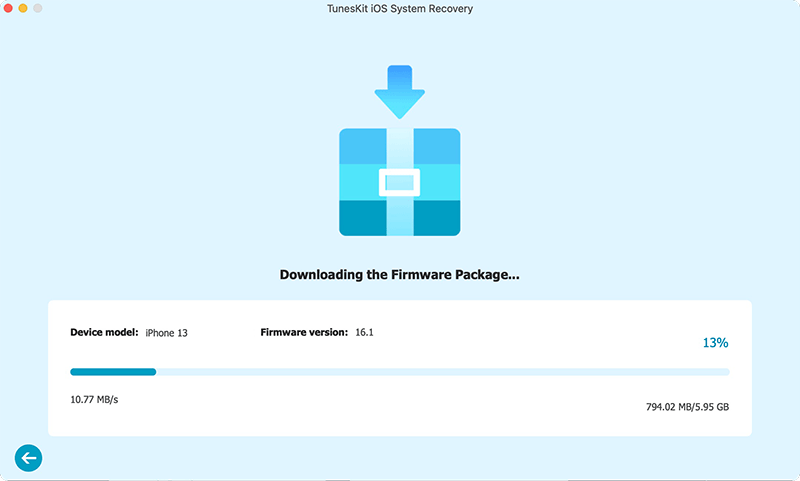 Step 4
Fix iTunes Stuck on Extracting Software
Click on the "Repair" button right after completely downloading the firmware. Then, it will start to automatically fix this iTunes restore issue.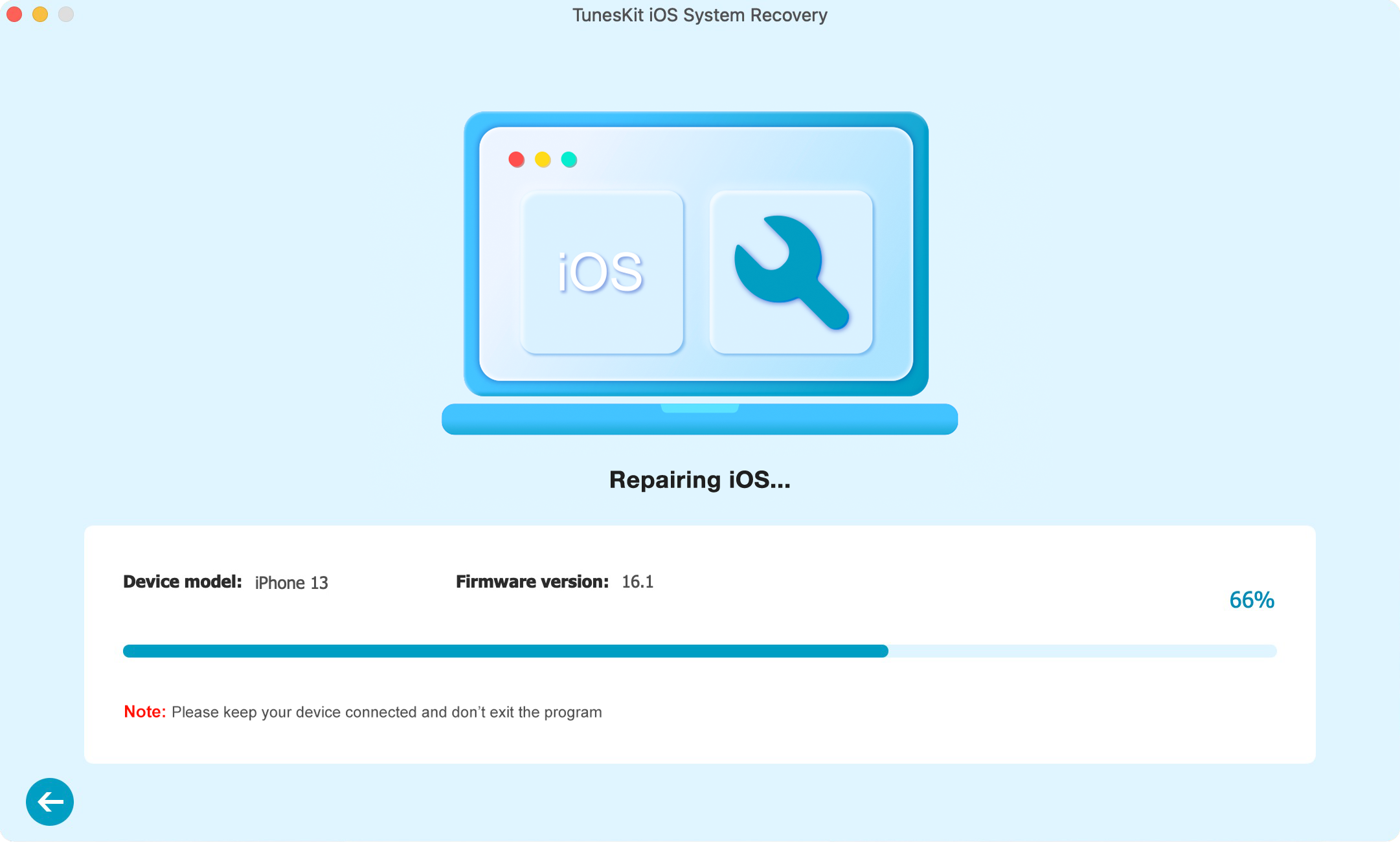 Other Ways to Get Rid of the Issue
Solution 1. Reboot Computer or Try Another PC/Mac
iTunes/iPhone stuck at extracting software may be rescued with this simple tip. Moreover, iTunes may be affected if other programs are opened at the same time. You can, however, try a different computer with a superior system if iTunes is still stuck on extracting software.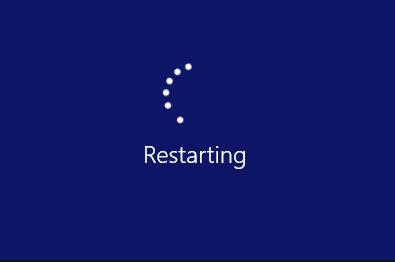 Solution 2. Check You Internet Router or Wi-Fi
It is vital to check if the router condition and internet connection go well. Ensure that your computer's network is working smoothly. Switch to another WI-FI and try again later if you are connecting to WIFI on your PC/Mac.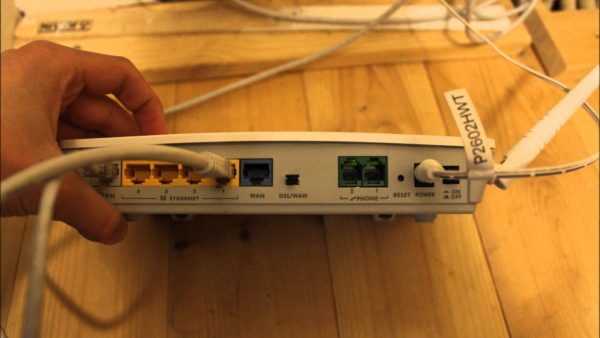 Solution 3. Update iOS Firmware on Device OTA
By updating to iOS via OTA (over the air), you will avoid iTunes getting stuck on extracting software and freezing up. So, you must pull out the USB cable from the computer. Connect to the Wi-Fi network afterward. After that, go and tap "Settings → General → Software Update" and then you can get the latest iOS firmware and download it.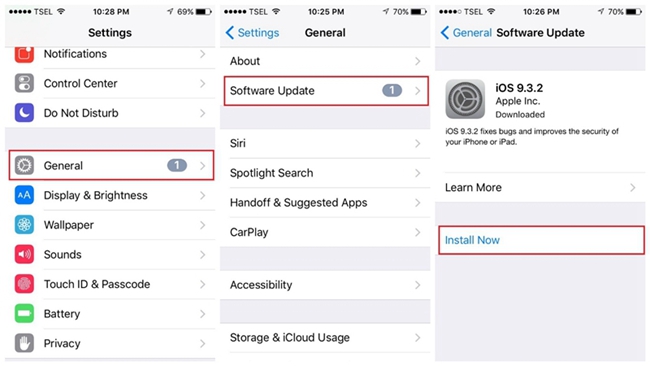 Solution 4. Install the Latest Version of iTunes on Computer
It's always a good idea to update iTunes if you haven't done that yet to fix iTunes stuck on extracting software while restore. Therefore, it is essential to verify that iTunes is not out of date. Following are some ways to check if your iTunes updated to the newest version:
For Mac:
Step 1. Run the App Store and you should see its window.
Step 2. Click on "Updates" to start the process of updating.
Step 3. Download and install the latest version.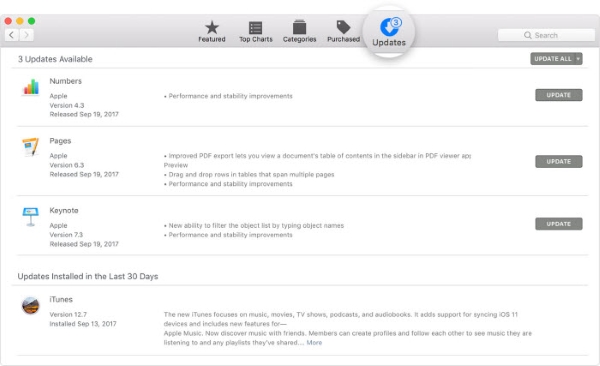 For Windows:
Step 1. On iTunes, click "Help" at the right of the menu bar.
Step 2. Choose the "Check for Updates" option. If you see any available update version, download and install it on your PC.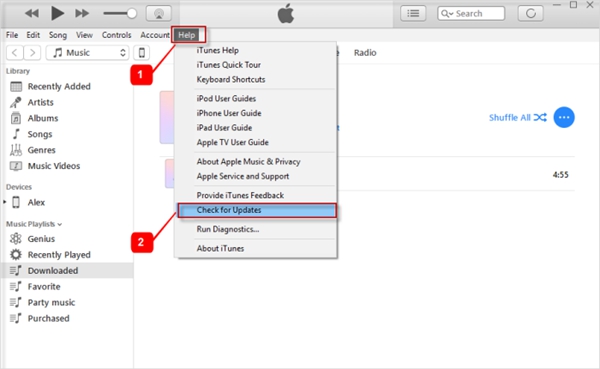 Solution 5. Turn off Firewall and Anti-Virus Software Program
According to the reasons stated above, security software or anti-virus software such as Quick Heal may interfere with the connection between Apple servers and iTunes. Therefore, the firewall or security software needs to be temporarily disabled.
If you are a Windows user,
Step 1. Head to Start → under Settings → choose Update & Security → Windows Security → click on Firewall & network protection.
Step 2. On this page, hit Windows Defender Firewall and then choose an appropriate network from the list on the right.
Step 3. Toggle off Windows Defender Firewall.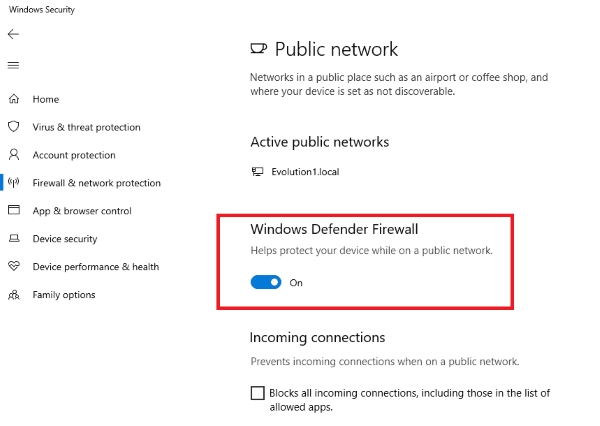 If you are a mac user,
Head to Apple Menu → select "System Preferences" → Security & Privacy → Turn off Firewall.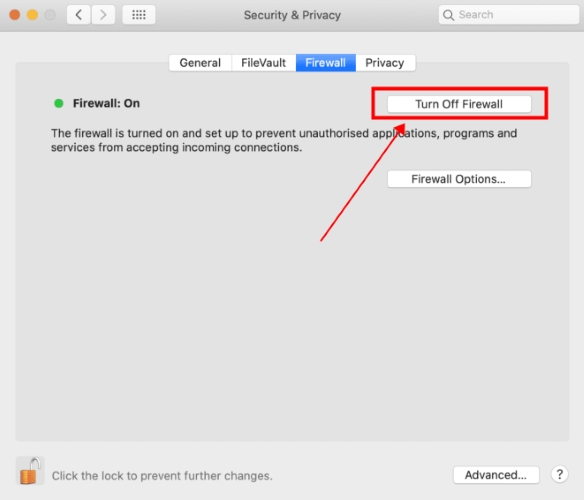 Part 3. Final Verdict
It could be somehow a bit more complicated to deal with it when you are less technically skilled to use "Other Ways". Though, no one needs to be wagged off as a quick and easy way instructed above — TunesKit iOS System Recovery. Simply, you are required to take a sneak peek into it. I just hope that at least one of these proffered solutions works out for solving iTunes Stuck on Extracting Software problems.