"Suddenly, the screen of my iPhone goes black, and then the issue of that iPhone spinning wheel of death occurs. It seems that it will stuck on this interface forever. Is there any workable method that can overcome this annoying problem? Appreciate all the suggestions."

We cannot argue with the fact that the iPhone is the best smartphone in terms of performance. Even though we would to think of the iPhone as perfect masterpiece, there is always a dark spot somewhere. The dark spot in this case is the iPhone black screen spinning wheel problem. The issue became more popular after the launch of iOS 10. There are many complains that the 'spinning wheel of death' is taking longer time and hence inconveniencing the users. Are you one of them? Worry not! This post will help you understand the particulars of the problem and the probable solutions.
What is iPhone Spinning Wheel of Death and Reasons Behind it
What is the Spinning Wheel Problem on iPhone?
This issue normally revels itself when you turn on or restart you iPhone. First the Apple logo appear and a few seconds later the screen turns black and the iPhone stuck on black screen with spinning wheel. According to some iPhone users, this iPhone spinning while problem also occurs after unlocking their iPhone. Typically, the 'spinning wheel' is a loading circle that could take more than 15 seconds to disappear. At this time the screen is unresponsive.
Reasons Behind the Spinning Wheel Problem
The presence of software bugs has long been sighted as the main reason for the boring spinning wheel issue. Software bugs affect both Android and iOS operating system. These bugs are most common on iOS 10 and 11. They tend to interrupt the user from using the phone. In the recent past, a number iOS 12 users have also reported similar problems.
The spinning wheel of death may appear to be complex issue requiring advanced technological know-how. However, fixing this misfortune is very easy and may only take a few minutes.
6 Solutions to Fix iPhone stuck on Black Screen with Spinning Wheel
There are several ways in which we can try to solve to issue. The solutions provided in this post are well researched and tested. All methods are simple, fast and effective. All you need is to test them out from the simplest troubleshooting technique to somewhat complex methods. The guide below lays out comprehensive procedures that will make life simple for you!
Method 1. Force Restart iPhone
It is the easiest technique to solve the iPhone black screen spinning wheel issue. Apple has for a long time asked its clients to embrace and use this method to solve less complex software glitches especially in iPhones. There is always a better chance that a force restart on iPhone will fix this problem. It will automatically fix iOS bugs. Always make sure that the iPhone is charged to reasonable capacity before initiating a force restart.
For iPhone 6S and earlier models: press and hold both the Power and Home buttons until the Apple logo appears on your screen.
For iPhone 7 and 7 plus: Press and hold the Power and the Volume Down button simultaneously until the Apple logo appears on your screen.
For iPhone 8, 8 Plus and the X series: Press Volume Up and let go and do the same for Volume Down button; Press and hold the Power button until the Apple logo appears.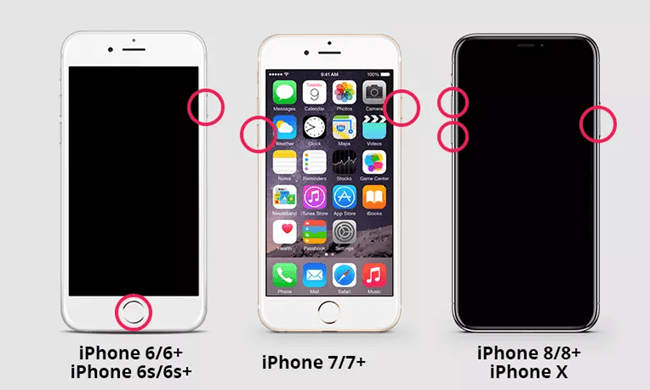 Method 2. Turn off App Notifications
If force restart does not work try disabling App notification. The spinning wheel problem is sometimes caused by App notification. To disable simply;
• Go to Settings, click Notifications;
• Click specific App and drag the 'Allow Notifications' backwards to turn off.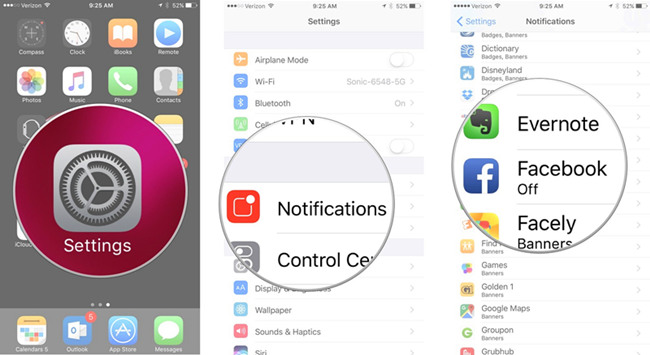 Method 3. Initiate iOS Updates
Apple Inc. is very consistent in providing software updates, all in the efforts to better and solve software glitches. It is possible that your iPhone is running on old updates and hence causing the 'iPhone spinning wheel of death problem'. iOS updates come with bug fixes. Therefore, it is paramount that you regularly update your iPhone software. To update simply;
• Click on 'Settings' and turn on the Wi-Fi or cellular data;
• Go back to 'Settings' window and scroll down and tap 'General';
• On the new windows click "Software Update" ;
• Click 'Download and Install' you phone will restart after the process.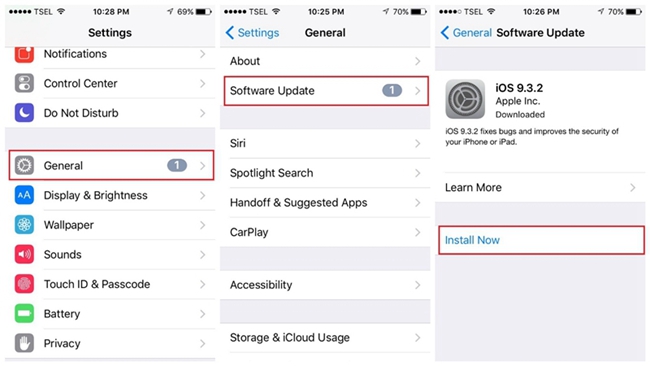 If your iPhone is up to date you should consider the next solution for the spinning wheel problem.
Method 4. Restore iPhone via iTunes
Using iTunes would be a wise choice to resolve this iPhone black screen spinning wheel issue. Though it will erase all your iPhone content, it can resolve this issue effectively and bring your iPhone back to its normal state. Before restoring, please make sure that you are using the latest version of iTunes or Finder. Here is a step for How-to.
Step 1: To begin with, put your iPhone into Recovery Mode. Then, connect it to a computer and launch iTunes.
Step 2: iTunes will start to detect your iPhone until a small iPhone icon appears on the toolbar. Click it to the next step.
Step 3: Navigate to the Summary and there would be a tab that says Restore iPhone. Click it to restore your iPhone.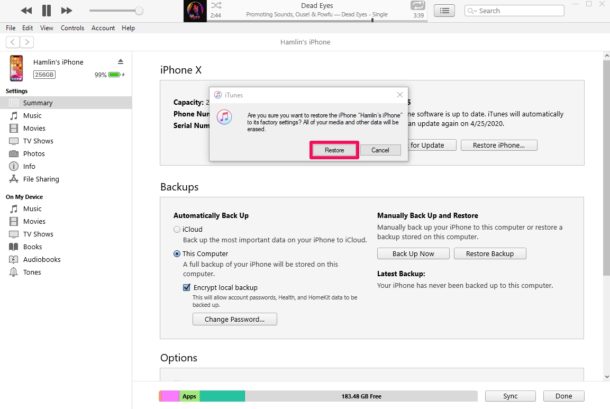 Method 5. Reset All Settings
It is one of the most effective methods to solve the spinning wheel problem. Lots of users have made breakthroughs by simply resetting all iPhone settings. To reset, tap on Settings > General > Reset > Reset All Settings. Provide the passcode to allow for action. If it does not work try it out again before proceeding to the next method.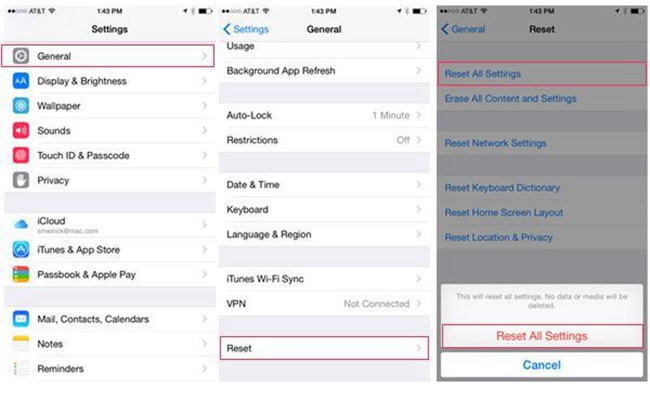 Note: By using these above 2 methods, you may lose all the data on your device. Please make sure you have backed up your data before reseting. Otherwise, you can try use TunessKit iPhone Data Recovery to restrieve the lost data.
Here is the guide: How to Recover Lost iPhone Data after Factory Reset Restore
Method 6. Use Third Party Software to Fix Spinning Wheel Problem Without Data Loss
If all the above solutions are not working, you should consider using TunesKit iOS System Recovery tool. There so many tools in the Internet today, some of them, however, are crappy. That why we got you covered with a well-designed, up to standard tool to help you solve the spinning wheel problem without necessarily having to lose your data. TunesKit guarantees you a 100% fixing as well as data safety.

Highlights of TunesKit iOS System Recovery
You can fix 150+ iPhone issues, like iPhone spinning wheel of death
Fix various iOS issues with no data loss
Support all kinds of iOS devices including iPod/iPad/AppleTV
Fully compatible with the latest iOS versions
User-friendly and intuitive interface
All you need to do is download the software on your PC or Mac and follow the following steps.
Step 1

Launch TunesKit and connect iPhone to computer

Launch TunesKit software and then connect device to your computer using a USB cable, and allow for device to detect. Click 'Start' and the select 'Standard Mode' on the next window and the click 'Next'. Select device model you have connected and put your iPhone into recovery mode or DFU mode and click 'Next' button to proceed.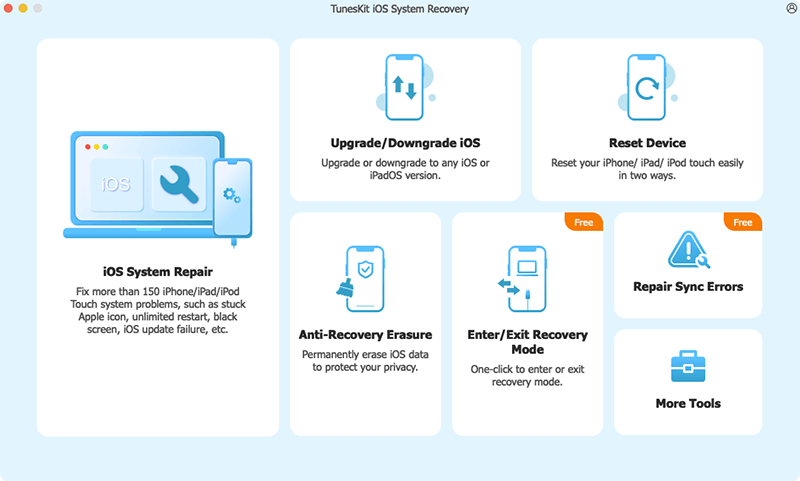 Step 2

Download firmware package

Make sure that device detains on the screen are correct. Click 'Download' to initiate download action and then verify the firmare package.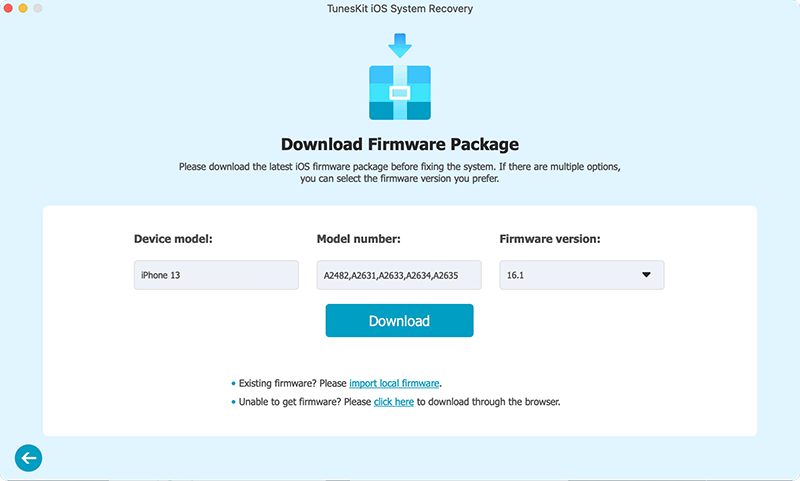 Step 3

Start to fix iPhone black screen spinning wheel

After complete download, click 'Repair' to begin the recovery process. Do not unplug the device until process is over. Consider your problem now fixed.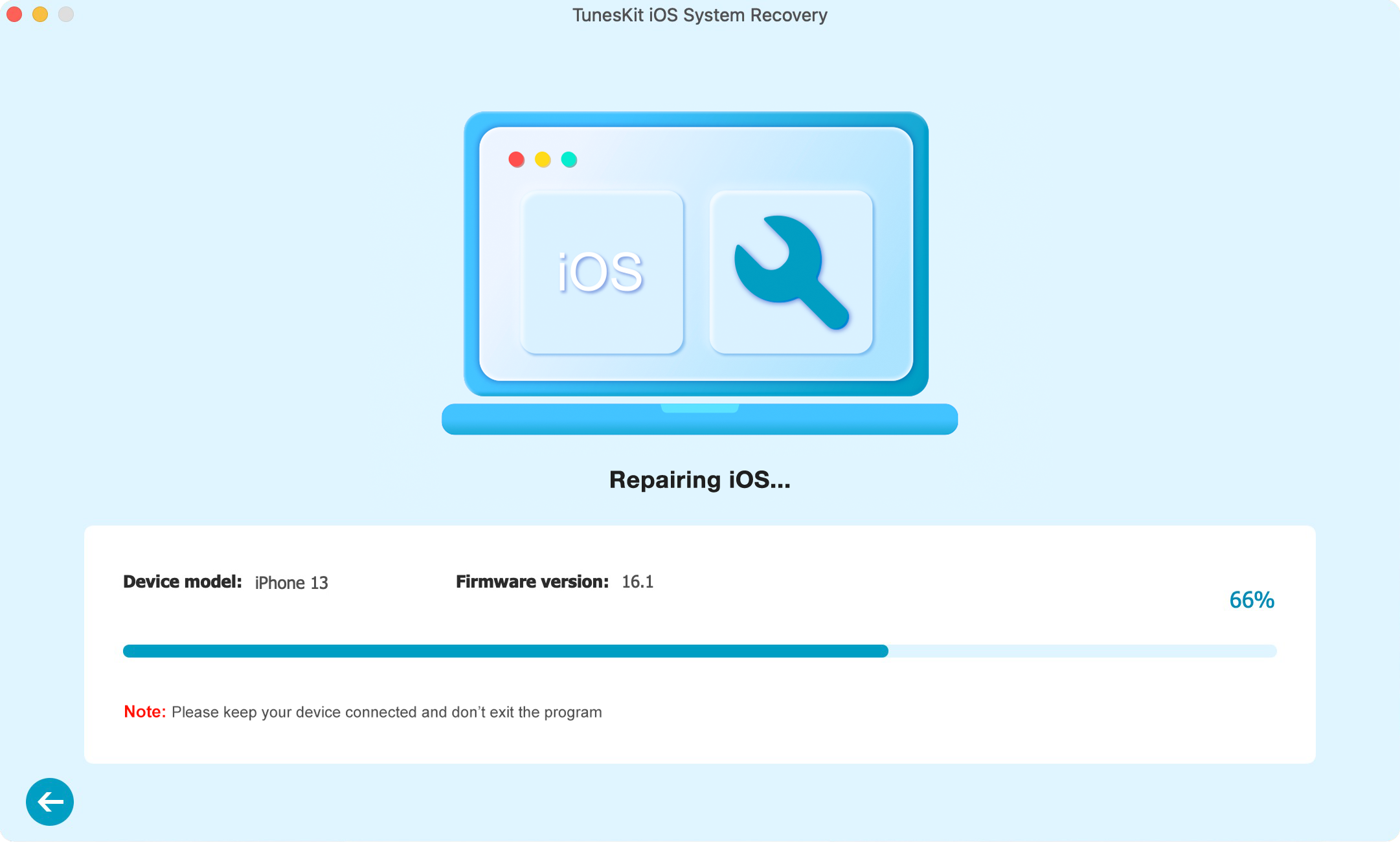 Conclusion
"iPhone spinning wheel of death" is undeniably a common problem for iPhone X users. The above six solutions are workable with the use of TunesKit iOS System Recovery tool being the most recommended method. If the problem persists, which is rare, you should consider calling Apple Customer. They will definitely help you out. Try out TunesKit and do not forget to share you experience below!

Brian Davis has covered tech and entertainment for over 10 years. He loves technology in all its forms.