How to Fix iPhone Orange Screen of Death?
Posted by Brian Davis on Nov 8, 2021 5:47 PM • Category:
Fix iOS Issues
5 mins read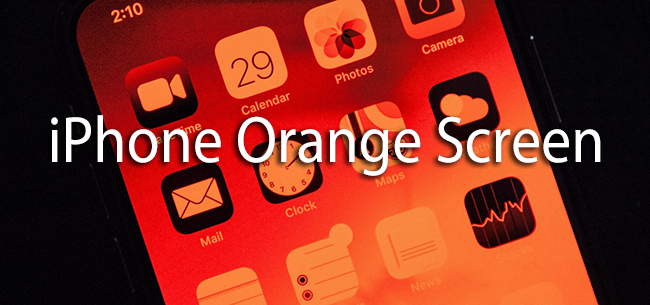 Does your phone become locked on the orange screen? According to several users, the issue began following an iOS upgrade. Others said that the red screen appeared when they attempted to switch on their smartphone after the battery had died and the phone had shut off.
Following the issue's public exposure, several remarks have been made. Many speculated that it was a software problem, while others believed it was a hardware problem. There aren't many options to attempt because the screen isn't responding. Try rebooting your phone before we offer two of them that could work. If the problem persists, follow this guide to learn everything about the iPhone Orange Screen of Death and how to fix it!
Why My iPhone Orange Screen of Death
Before we go into numerous iPhone orange screen fixes, it's crucial to understand what triggered the problem in the first place. The iPhone 6 orange screen issue might be caused by various hardware and software issues.
• An iPhone red screen might occur when your smartphone has received a poor update.
• One of the causes might be a defective battery or any other critical hardware issue.
• If the SIM tray is not correctly inserted, the iPhone may show an orange light.
• Whenever a smartphone is infected with malware, the iPhone 5s orange screen might appear.
Whatever caused the iPhone 6 to become stuck on the red battery display may be fixed by following the steps below.
Tip 1. Force Restart
Force rebooting your iPhone is amongst the best ways to repair the orange apple logo issue. It can cure most of the main difficulties related to the device since it resets the current power phase. There are several methods for forcing an iPhone to restart, depending on the phone's generation.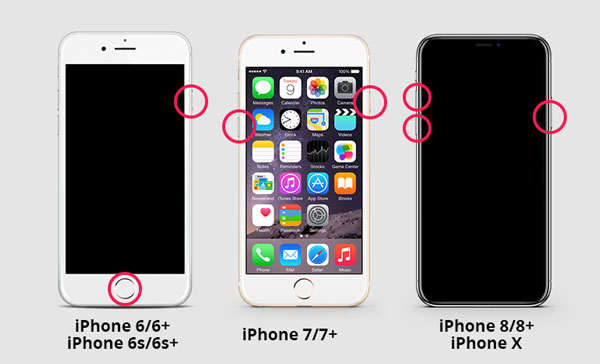 Step 1: When your smartphone gets stuck on the orange Apple logo, tap the Home and Power (wake/sleep) buttons simultaneously. For at least 10 seconds, keep pushing both buttons. The smartphone would be forced to restart.
Step 2: Use the Volume Down and Power (wake/sleep) buttons rather than the home button. Continue holding both buttons simultaneously for at least 10 seconds until your smartphone restarts.
Tip 2. Update iOS System
A faulty iOS version is by far the most common cause of the iPhone X/8 orange screen problem. Upgrade your smartphone to a stable version of iOS to fix the problem. Because your phone's screen isn't working correctly, you'll need to enlist iTunes' help. To fix your iPhone's orange screen, follow these instructions.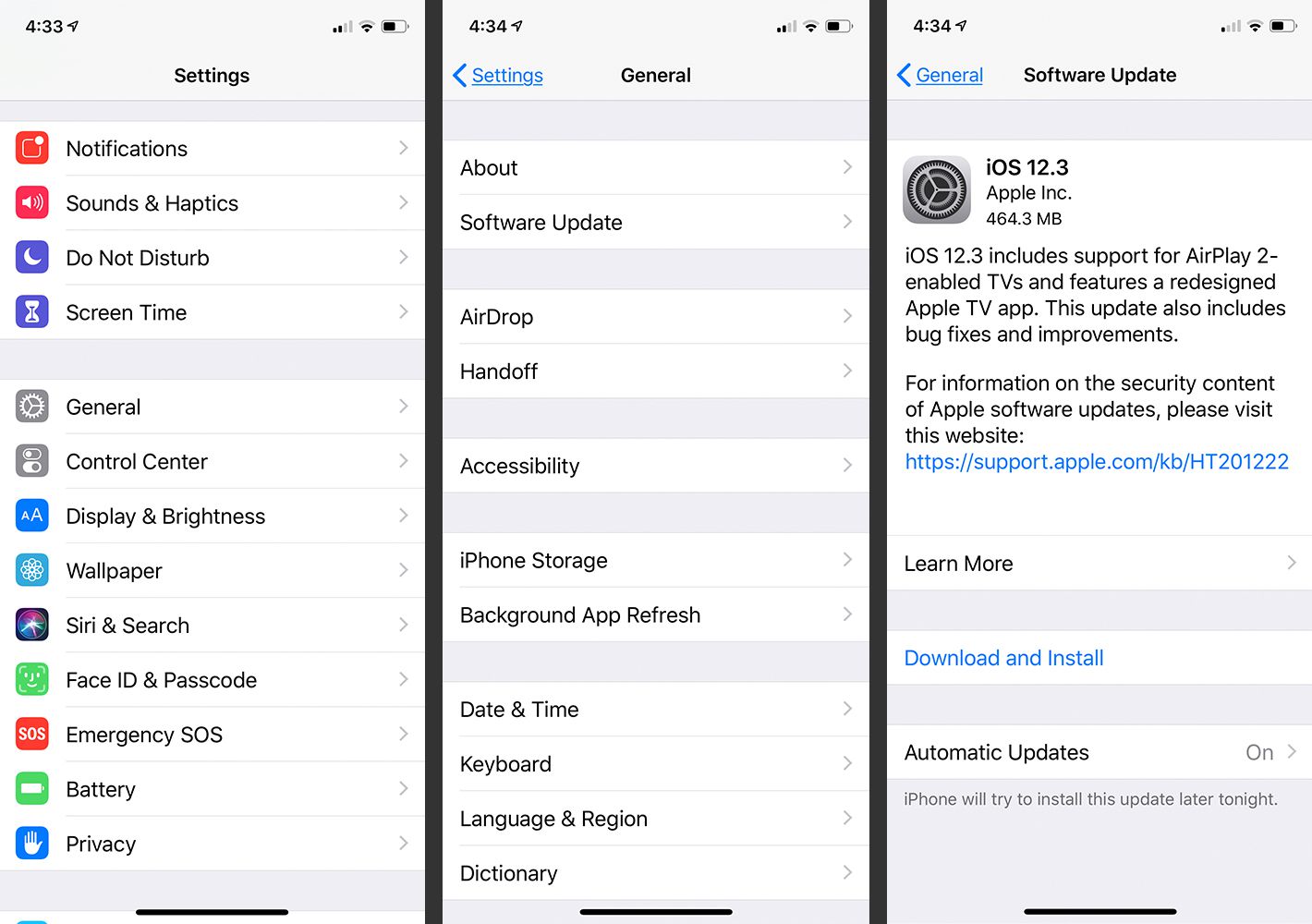 Step 1: Begin by downloading and installing the most recent version of iTunes on your computer.
Step 2: Connect your iPhone to your computer now and Open iTunes.
Step 3: You may choose your iPhone from the menu of devices connected when iTunes detects it.
Step 4: From the left panel, go over to the Summary tab.
Step 5: Various settings may be found on the right—select Check for Updates from the drop-down menu.
Tip 3. Turn off the Night Shift Feature
Disabling Night Shift mode is among the most prevalent solutions for the iPhone screen turned orange problem. To those unaware of Night Shift, it is an option on the iPhone that modifies the colors and excludes blue light, providing the display an orange hue.
Step 1: There are two ways to turn off the Night Shift feature. The first step is to enter the Control Centre, then press firmly on the control symbol to turn off Night Shift Mode.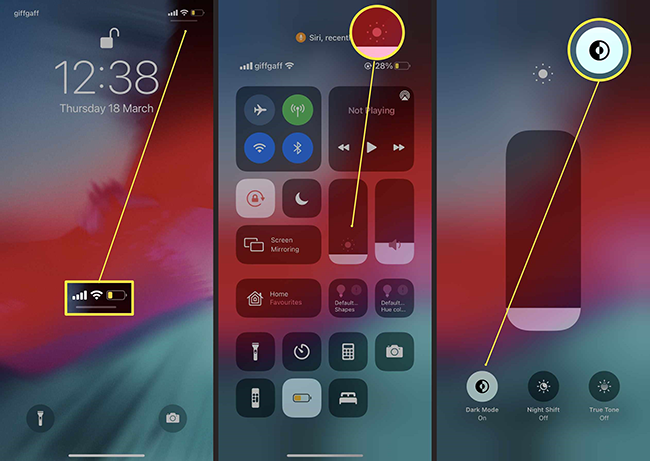 Step 2: Head to Settings, Display, and Brightness, and then Night Shift may be toggled appropriately to Disable Night Shift.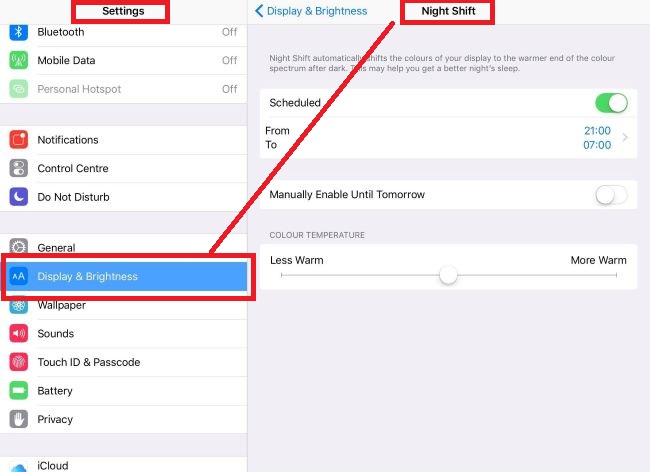 Tip 4. Enter into DFU Mode
Another option is to boot your iPhone into the DFU method and then reinstate it when fixing the iPhone orange screen of death. For the most part, this resolves the issue. Remember that resetting your iPhone would erase all of your information, but that might be the only option to repair the problem. Skip this step and approach Apple when you wouldn't want to restore your iPhone. Ensure you have some of the most current editions of iTunes installed on the system before beginning. To activate DFU mode, follow these steps: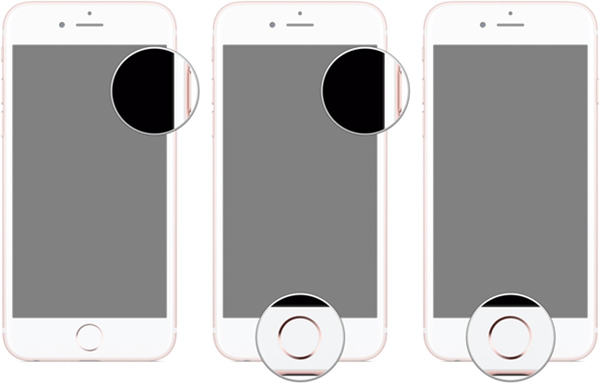 Step 1: Connect your smartphone to your computer via a USB cable. Now turn your phone off.
Step 2: Then, for 10 seconds, press and hold the Sleep/Wake switch and the Home button simultaneously.
Step 3: Keep pushing the Home button for 10-15 seconds after releasing the Power button.
Step 4: Your iPhone's display will go black, and the phone will enter DFU status.
Step 5: In iTunes on your laptop, you'll get the following message: "iTunes has discovered an iPhone in recovery mode." This iPhone should be restored before it can be used with iTunes."
Step 6: Select OK. After that, choose Restore iPhone.
Step 7: Restore and Update should be selected. Allow iTunes to restore your iPhone while it is linked to your desktop.
Step 8: After that, follow the on-screen instructions to set up your iPhone as a new phone.
Tip 5. TunesKit iOS System Recovery
Although there were numerous solutions available when your iPhone screen turned orange, many iPhone owners still can't determine the root of the problem. Luckily, there is software that helps you diagnose issues with your iPhone quickly and easily.
TunesKit iOS System Recovery may detect more than 50 issues, including iPhone boot loops, red screens, and green screens, among others. What's more astonishing would be that TunesKit won't wipe your data throughout the repair procedure. It works quickly and effectively. It may be used to fix problems with iPads, iPods, Apple TVs, and iPhones.
Let's look at how to utilize TunesKit to fix your iPhone stuck on orange screen.
Step 1. Connect your iPhone to your pc with a USB link. Start TunesKit.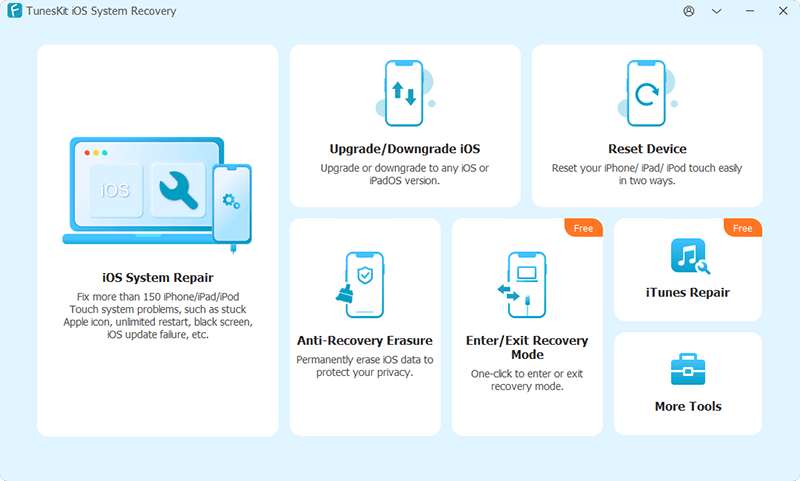 Step 2. Now select a repair mode by clicking Start. It is strongly suggested that you choose the Standard Mode. Once you've made your decision, press the Next button.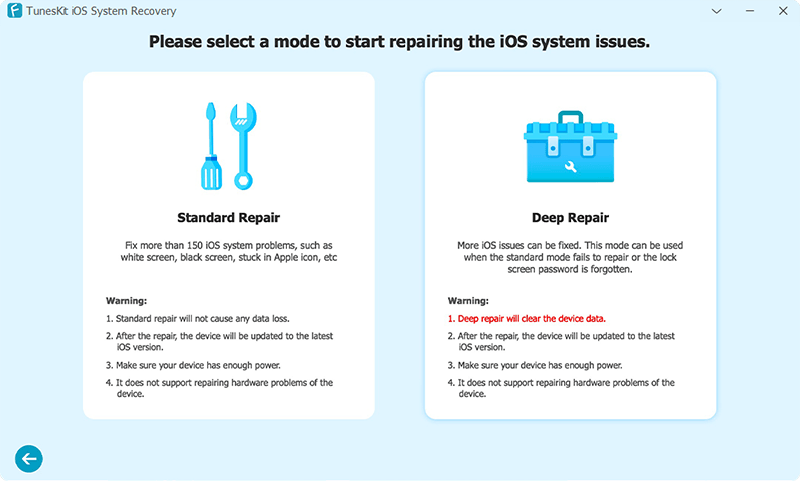 Step 3. The firmware must be completed in this phase. You may verify the device information before downloading. Next, to start the download, select the Download option.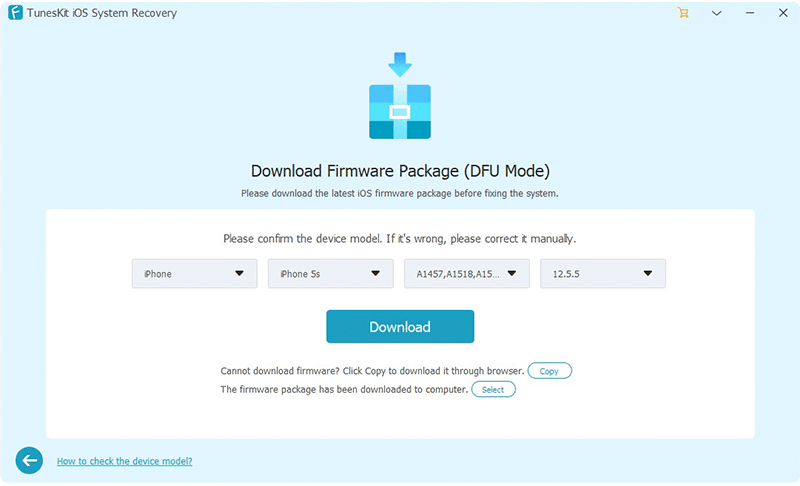 Step 4. The Repair feature will appear once the firmware package is available. To start the repair procedure, click on it. Your iPad would be fixed correctly in a matter of seconds. Remember that although the iPhone is being repaired, you must keep it linked to the laptop.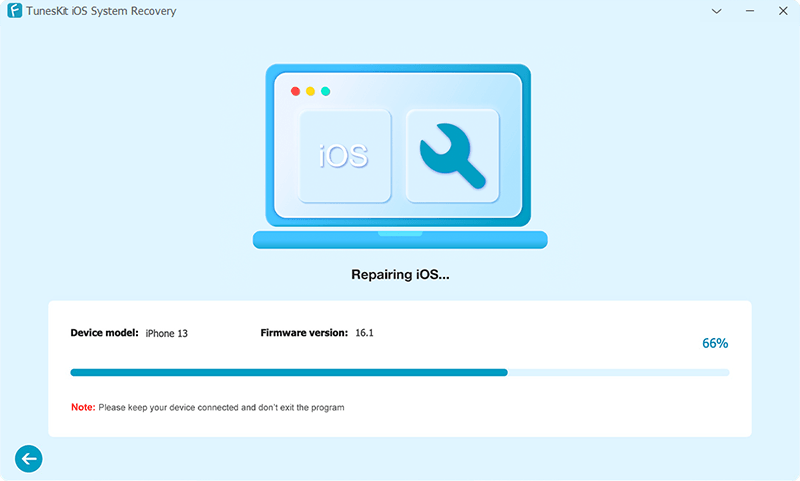 Conclusion
Well, there you have it – your ultimate guide to fixing the iPhone Orange Screen of Death. Not only have we listed the many problems that lead you to fix iPhone orange screen of death, but we have also provided solutions to all those issues.
However, if you're still unable to solve the problem, we would highly recommend using the TunesKit iOS System Recovery software. We have also provided a step-by-step guide to ensure you follow the proper steps in figuring out the solution!