Top 6 Fixes for iPhone Gboard Not Working
5 mins read
Launched by Google, Gboard is a fully-featured virtual keyboard that comes with voice typing, emoji search, stickers, glid typing, GIFs, and much more. Gboard is available for Android and iOS devices. Using the input app, you can discover weather updates, sports, movies, and news headlines by tapping the toolbar on the keyboard. Isn't that great? And while Gboard remains a favorite input application for many iPhone users, they have been lots of concerns on internet forums about Gboard not working on iPhone. Therefore, if your Gboard keyboard suddenly freezes and crashes or does not load completely, you are not alone!
So, you might be wondering, why does the Gboard error occur? And are there any amicable solutions to the problem? Well, the answer is YES! This article will briefly bring to your attention some possible causes and several solutions that can help you fix the Gboard problem. Let's solve it!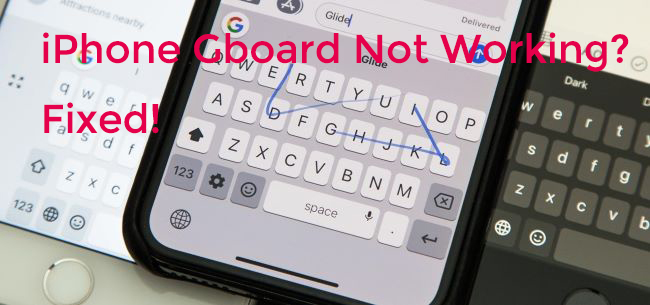 Why Is My iPhone Gboard Not Working?
Tech experts have suggested that the iPhone Gboard stopped working on iPhone problem may emanate from several causes, which include the following:
• Lack of regular app updates.
• App - OS conflict.
• Poor internet connectivity.
• Conflict with other applications.
How to Fix Gboard Not Working on iPhone?
Solution 1: Clear Keyboard's Cache Files
This is a quick and easy solution to remedy your iPhone Gboard not working issue. Typically, apps store regularly used files as caches to serve faster and efficiently. However, if the caches accumulate for long, it becomes difficult for the app to retrieve and use them, derailing the app function and occasional crashes. Clearing cache helps Refresh the app, and here is how to go about it!
Go to Settings > Apps and Notifications > Gboard. Scroll down to find Gboard, tap on Storage, and then select Clear Cache. Launch Gboard and confirm if it is working properly.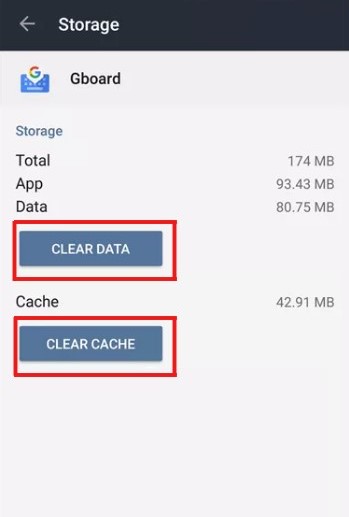 Solution 2: Set Gboard as Default Keyboard
Sometimes, iPhone users use Gboard as their secondary input keyboard, and this could be the reason why your keyboard keeps freezing and crashing and stopped working. Literally, you have to make it clear for the app that you want to use all the time. To do this, you need to set Gboard as your default keyboard for your iPhone. Here are few steps on how to do it.
Go to Settings > General > Keyboard > Keyboards, then click on Edit at the top of the screen. From the list of available keyboards, select Gboard and put it at the top.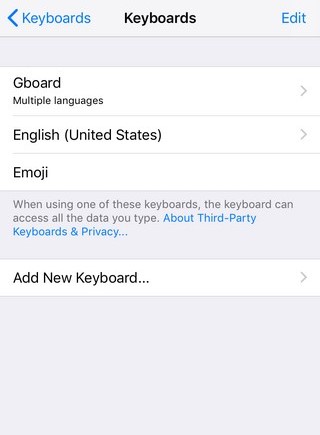 Solution 3: Force Stop Gboard Keyboard
Like any other software, it is possible that your Gboard keyboard application is lagging and hence the occasional crashing behavior. Therefore, a quick restart of the application can go a long way in triggering the normal function of the application. To do that, you will need to force stop the app and then start it again. Let's do it!
Go to Settings > Apps and from the app list, find the Gboard option. Tap on the Force Stop option. Wait for one minute and relaunch the Gboard and check whether the Gboard not working on iPhone problem is fixed.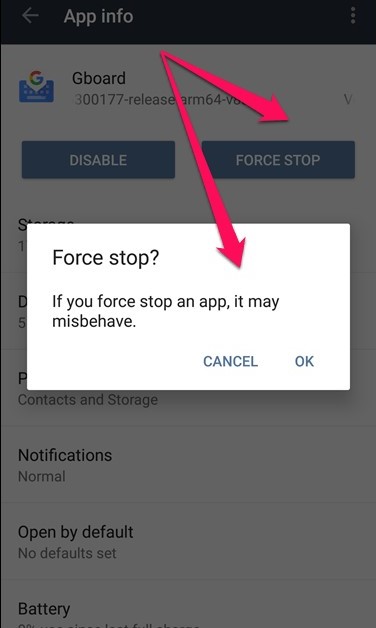 Solution 4: Restart Your iPhone
iPhone rebooting has proven to be an excellent fix for thousands of iPhone problems. It, therefore, imperative that your try rebooting your iPhone- it can help resolve the problem. Essentially, a reboot provides your iPhone with a new start and harmonizes all conflicting applications that could be causing the annoying behavior with your Gboard keyboard application. Below is a simple procedure to reboot your iPhone depending on your model.
• iPhone X, 11, or 12: Press and hold either of the volume buttons and the wake button until a slider appears. Drag the slider to power off. Please wait for 2 minutes and use the wake button to power it on again.
• iPhone 8,7, and 6: Press and hold the sleep button on the side until a power-off slider shows. Drag the slider to turn off the iPhone. Wait for 2 minutes and use the same button to turn it on.
• iPhone 5 and earlier models: Press and hold the top button until a slider to power off displays. Drag the slider to power off the device. Wait for a few seconds and use the top button again to turn it on again.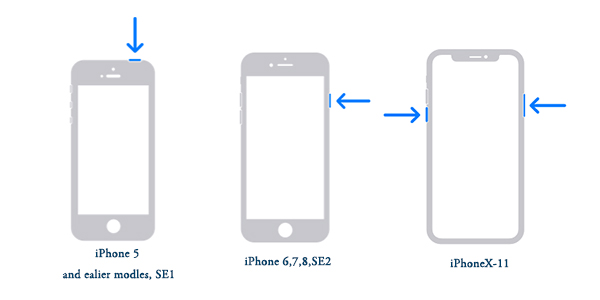 Solution 5: Update Gboard
Gboard regularly receives software updates from Google. So, if you do not regularly update your Gboard, you certainly could be running an obsolete app version. You need to perform regular updates to enjoy the app's optimal functions. Here is how to update your Gboard app via App Store.
Go to App Store > Account Icon (right-hand corner). Scroll down the app list to find Gboard. If there is an available update, tap Update to fix the Gboard stopped working on iPhone problem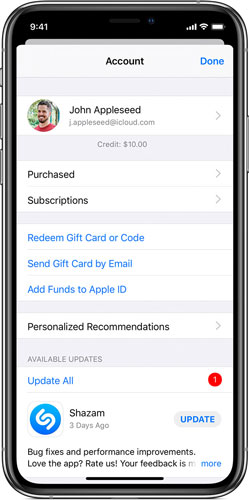 Solution 6: Repair iOS Without Data Loss
If none of the above solutions work to resolve your iPhone Gboard not working problem, then the chances are that your iPhone has developed an iOS glitch that requires a prompt fix. To do that, you will need third-party iOS fixing software. Here, we will introduce you to the market's finest iOS recovery tool - TunesKit iOS System Recovery software.
The TunesKit iOS System Recovery software is a professional iOS tool designed to fix over types of iOS-related problems, including iOS update failure, black screen, screen freeze, boot loop, and can help you resolve the Gboard not working on iPhone problem. The software is easy to use, fast, and lets you fix iOS related problems without losing your data. It is also compatible with all iOS versions.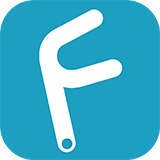 Characteristics of TunesKit iOS System Recovery:
Fix iPhone Gboard not working without data loss
Repair different tvOS/iOS issues by yourself
Provide Standard Mode and Advanced Mode
Easy to use with friendly interface
Try It Free
600,000+ Downloads
Try It Free
600,000+ Downloads
Below is a tutorial guide on how to solve the Gboard keyboard problem using the TunesKit iOS System Recovery tool without data loss.
Step 1: Launch TunesKit iOS System Recovery software on your computer. Connect your iPhone to the computer using a USB cable and select the Start button to begin. On the next window, select Standard Mode and click the Next button.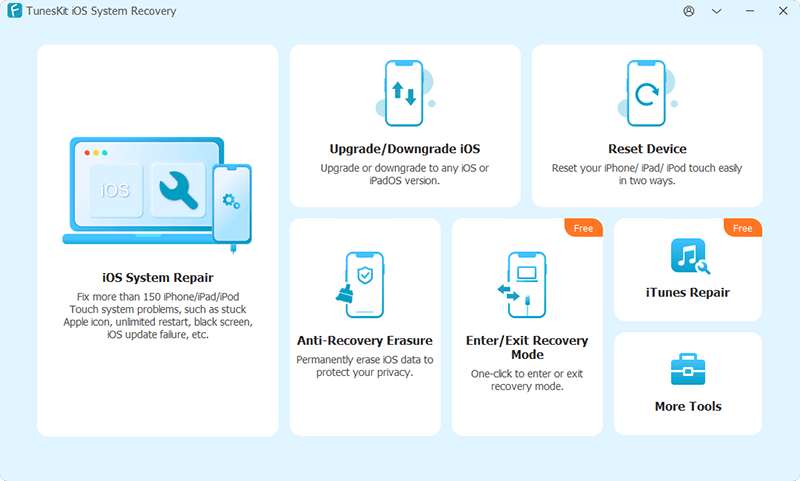 Step 2: On the new window, confirm whether the details of the firmware match those of your iPhone. Then, proceed to hit the Download option to initiate the download process.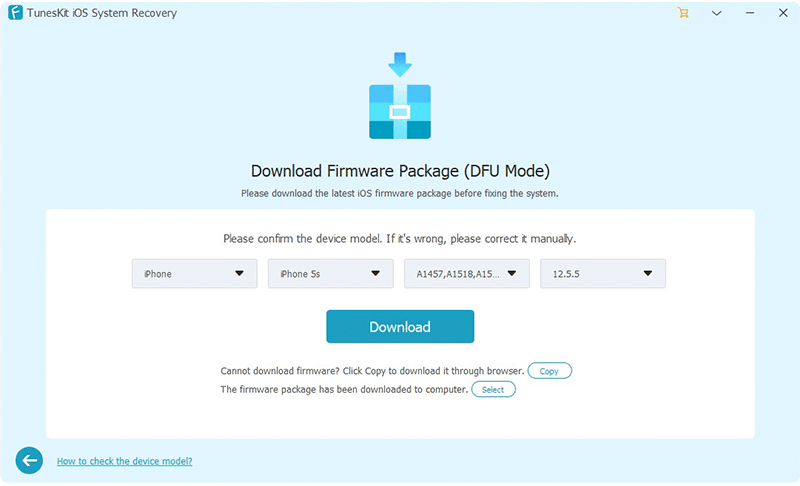 Step 3: When the download is complete, click the Repair option to start the iOS recovery process. It will only take a few minutes. Check your iPhone to make sure it is connected during the entire process. After it is complete, turn on your iPhone and check if the Gboard not working on iPhone problem is resolved.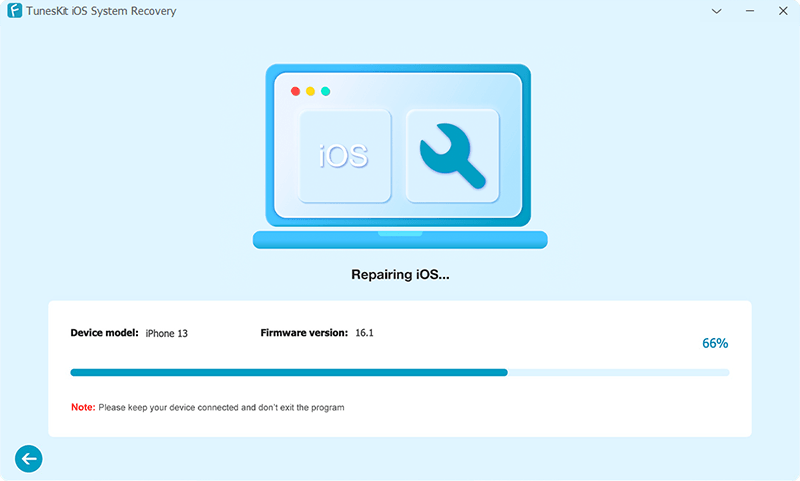 Conclusion
From the above-listed solutions, you can quickly fix the Gboard not working on iPhone without much hassle. It is now your job to try them out and find which one works best to resolve the issue. In that regard, we highly recommend that you try out the TunesKit iOS System Recovery tool. It is a far much easier, fast, safe, and effective solution to fix any iOS related problem. All you have to is download, install and follow the guide provide above to fix all your system software problems.