iPad Won't Sync with iTunes? Solved!
5 mins read
Have you recently connected your iPad to iTunes only to discover that your iPad fails to sync with iTunes? Well, that is what we refer to as an iTunes sync failure/error. In such a maddening situation, it is impossible to sync iPad contents from music, photo, and even more between your iTunes library and your iPad, and vice versa is also true. It is an annoying situation, but you can take refuge in knowing that it is a common failure and that this article will equip you with excellent solutions to fix the iPad won't sync with iTunes problem.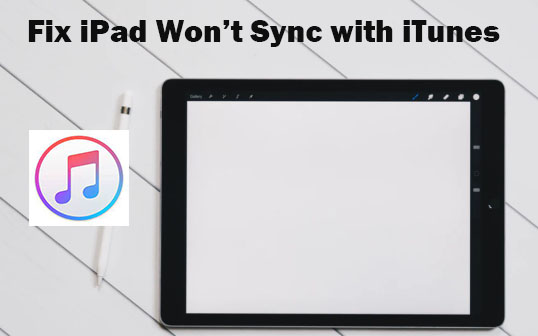 Why Won't My iPad Sync with iTunes?
Before that, however, I will attempt to explore and highlight a few reasons why you might be encountering the problem. The issue is linked to not just one but a few underlying causes. Some of the most potential reasons are as follows.
• Outdated iTunes version;
• Unauthorizing your iTunes;
• Corrupt iTunes /iPad library;
• Out of date Apple Mobile Device USB drivers;
• Faulty USB cable;
• Computer problem;
• iOS software glitches.
6 Solutions to Fix iPad Not Syncing with iTunes
Way 1: Check USB cable
It is possible that your iPad cannot sync to iTunes because of a loose USB connection. Try re-plugging your iPad to PC. And while doing that, check to ensure that the USB port on your PC is tight. If it does not work, try using a different USB cable to eliminate the probable cause that your USB cable is faulty. You can use different ports to connect your iPad.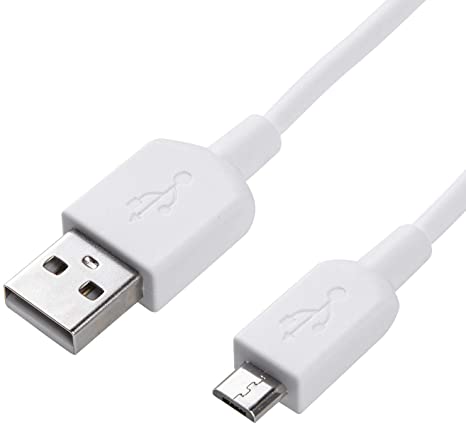 Way 2: Update iTunes
After checking your cable, you should also check out the iTunes app version you are using. Sync your iPad content on an outdated iTunes could be the primary reason why your iPad won't sync with iTunes. Therefore, you need to make sure that you are working with an updated iTunes app version. Here is how you get it done.
• On Mac
Option 1: Go to the iTunes menu > Check for Updates. Then follow instructions to tap Download iTunes > Update.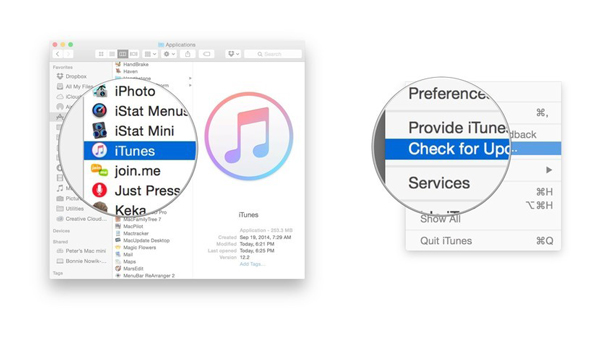 Option 2: Open App Store on your Mac computer. Moving on, and tap on Updates. If there is a new update, click on Yes and let the update process begin.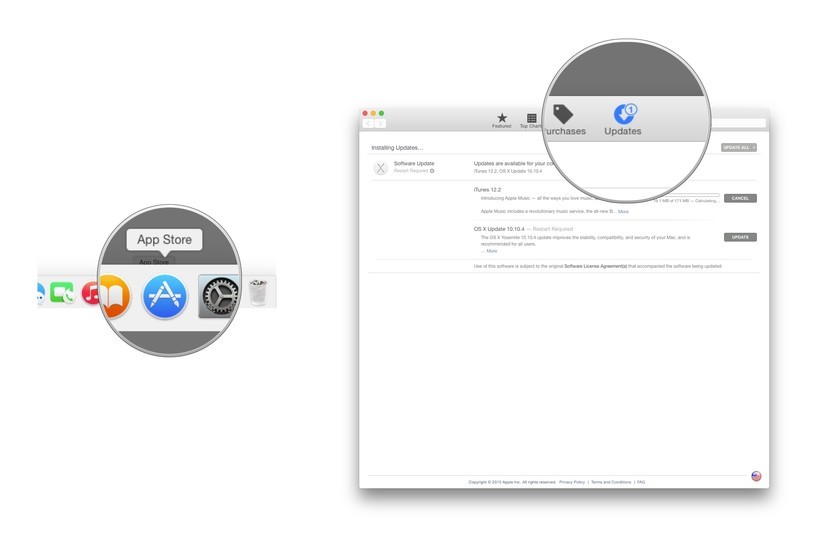 • On Windows
Launch iTunes > Help > Check for Updates. Check to find any available iTunes updates.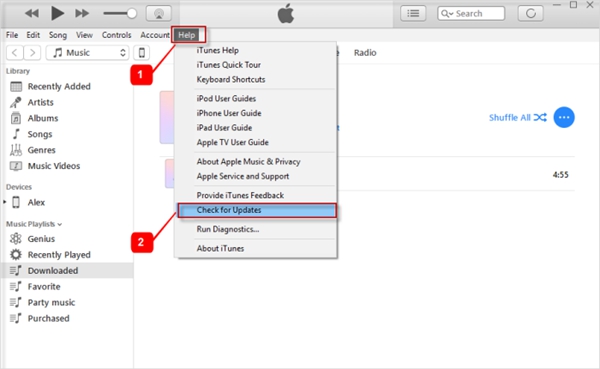 Note: You should also consider updating your iPad to the latest iOS version to help eliminate software bugs that may be causing the problem. To do that, go to Settings > General > Software Update. Look for any available iOS updates
Way 3: Re-authorize iTunes and computer
Typically, your iPad will not be detected on iTunes if your computer is not authorized. At this point, you need to re-authorize iTunes and your PC, assuming that your computer may have been previously authorized. You have to do it; otherwise, the iPad won't sync to iTunes will remain persistent. Follow the steps below to re-authorize your PC.
Step 1: Launch iTunes and connect your iPad.
Step 2: Click the Account or Store (depending on iTunes versions) option at the top and select Authorizations (some do not have the option) > Deauthorize This Computer. Click on the Account/Store menu again and select Authorize This Computer.
Step 3: Provide your Apple ID and passcode and then select Authorize. It should fix the problem.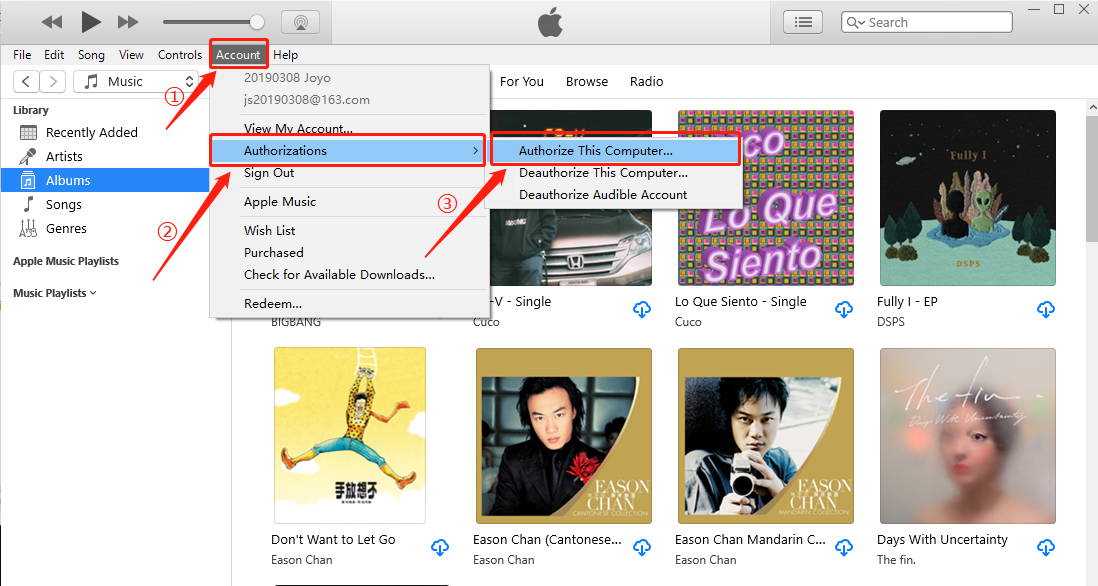 Way 4: Restart computer and iPad
A quick restart of your PC and iPad might go a long way in fixing your iPad won't sync with iTunes issues. It is a quick and effective way to provide your devices with a fresh start, eliminating any occurring application bugs and conflicts that may be causing you the nightmare. The following are the detailed steps to reboot your iPad.
Step 1: Keep pressing the Power button. When you see power off slider, drag it to turn off the device.
Note: For iPad without the Home button, you need to simultaneously press and hold the Power button and either Volume button.
Step 2: Wait for minutes and then press the Power button to turn on the device again.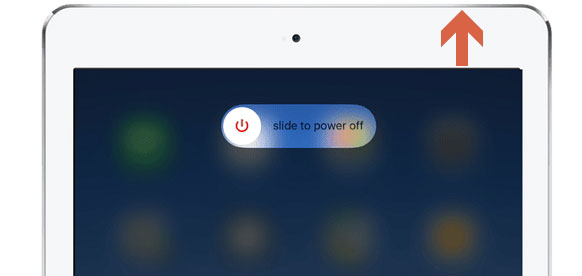 Way 5: Try wireless syncing
If the iPad syncing via USB connection is still not working, we recommend that you seek an alternative method to link your iPad to your PC for solving iPad not syncing with iTunes issues. Thanks to wireless technology, you can now sync your iPad to iTunes via Wi-Fi. However, the method only works if your PC and iPad are connected to the same network. To use this option, go to your iDevice summary dialog on iTunes and tick Sync with this iPad over Wi-Fi. Then, on your iPad, go to Settings > General > iTunes Wi-Fi Sync and select Sync Now.

Way 6: Fix iPad with TunesKit iOS System Recovery
If none of the aforementioned solutions work to ease the problem, it is beyond doubt that your iPad may have developed iOS glitches that may be the root cause for your iPad won't sync with iTunes issue. In that light, we would like to introduce you to a top-professional and powerful iOS repair tool - TunesKit iOS System Recovery software.
The software is designed to fix all iOS and tvOS related problems, including black screen, update failure, locked screen, restore failure, headphone mode, iPad iTunes syncing issues, etc. TunesKit is incredibly easy to use, and one does not need advanced training to navigate and use it. It works fast to resolve all iOS issues without compromising or deleting data from your iPad. Besides facilitating iOS repairs, you can use the app to downgrade iOS, enter and exit recovery mode, and fix all iTunes errors. More so, it is 100% safe and comes with a lifetime of free software upgrades.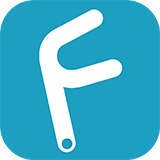 Characteristics of TunesKit iOS System Recovery:
Fix iPad not syncing with iTunes without data loss
Repair different tvOS/iOS issues by yourself
Provide Standard Mode and Advanced Mode
Easy to use with friendly interface
Try It Free
600,000+ Downloads
Try It Free
600,000+ Downloads
Here is a quick tutorial guide on fixing the issue without data loss.
Step 1: Fire up TunesKit on your PC. Connect your iPad to the PC via a USB cable. The program will automatically detect your device. Click the Start option to proceed.
On the new interface, select Standard Mode as the repair mode option - it guarantees you 100% data safety. Then click Next.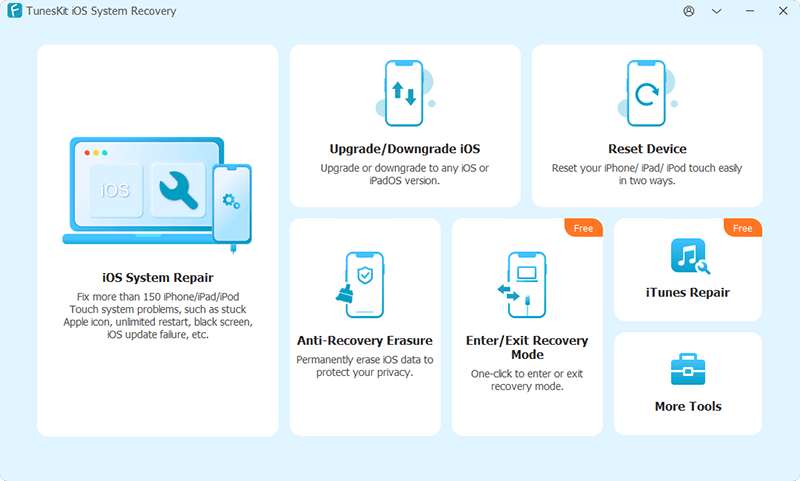 Step 2: First, check to confirm if the firmware package details match your iPad device information. If there is anything wrong, you can always make changes where necessary. Next, select the Download option at the bottom to begin the download process.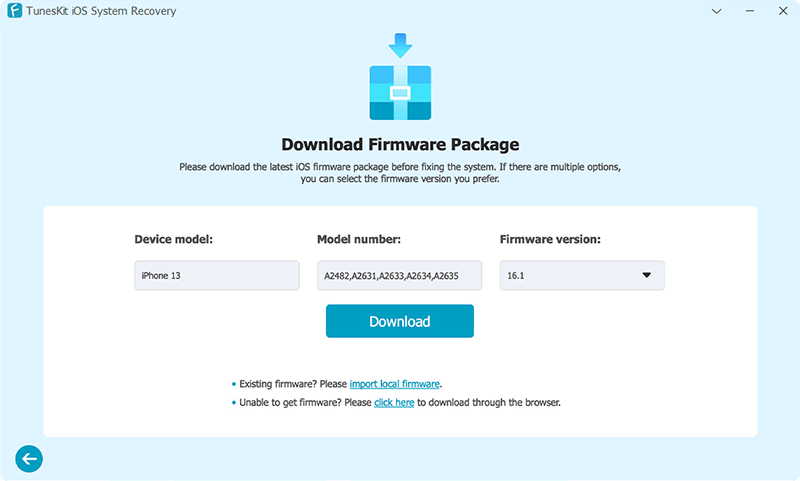 Step 3: Once the download process is complete, click Repair to start the iOS repairing process. It will only take a few minutes to complete. Make sure your device is connected during the entire process to avoid any unnecessary software issues. The repair should fully resolve your iPad won't sync to iTunes problem.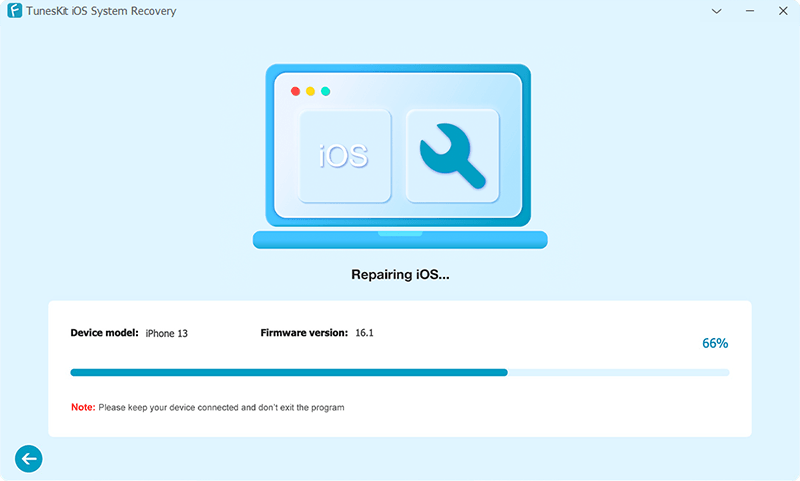 Summary
Featured above is the ultimate guide to resolving your iPad won't sync with iTunes problem. We have downright illustrated all the workable solutions to ease your misery. You try out each of the solutions and find out which remedies your issues. Equally, we highly recommend that you try out our TunesKit iOS System Recovery tool. It is a quick, safe, and far much easy fix. Download the app today and enjoy a lifetime of flawless iPad usage.