Top 5 Ways to Fix iOS 16 HDMI Not Working Problems
5 mins read
There is a common trend to use streaming activity on your phone. HDMI plays a vital role in streaming. HDMI also has great significance for the iPhone. Many users complain that iOS HDMI is not working. It is easy to solve the problem of iOS. Users can detect the issues and follow the solutions according to the problem.
In this article, there is a detailed discussion about the common problems and solutions of HDMI. If the cause is small and easy to handle, you can solve it within seconds; even if the reason is excellent, there are solutions to solve iOS 16 HDMI not working problems. You can follow the easy instructions, and with the help of TunesKit, you can resolve this issue. In this post, there is a discussion about how to mirror the iPhone to HDMI and the common problems and causes of HDMI. Besides this, you will also know about the standard solutions for HDMI. Finally, this section also deals with TuesKit iOS recovery.
Part 1: How to mirror iPhone to HDMI
There are simple ways by which you can easily mirror the iPhone to HDMI. Here are the steps you need to follow.
Step 1. Plug in the digital adapter. In the first step, you need to see the charging port, which you can find at the bottom of the device. After this, you can plug into the VGA adapter.
Step 2. Connect your HDMI to the adapter. In the second step, connect your HDMI or the VGA cable to the adapter. If you want a secondary display, then you can click another end of the VGA cable or HDMI.
Step 3. Switch on the secondary display. In the final step, you need to turn on your secondary display. Then, you can easily switch to your accurate source of the video. Of course, you can also use the manual settings if required.
Part 2: Common iOS HDMI Mirror problems and the causes behind them
There are some common iOS HDMI problems and the reasons behind these problems. For iOS users, here are some issues with iOS HDMI mirroring.
Outmoded Operating Software
The most common problem with iOS HDMI mirroring is the outmoded operating system. The cause behind it is that your phone's operating system is old. It will become the reason for the error in mirroring your screen. The bugs in the operating system are also the reason for the problem in mirroring the screen.
Connectivity Problems
Another common problem in screen mirroring by your iPhone is the connectivity issue. The poor internet connection causes problems like screen mirroring. Another cause behind it is that there is a great distance between your internet device and the iPhone.
Incorrect Settings
Another vital cause of screen mirroring is the incorrect settings. Many users set HDMI instead of mirroring the screen option. In addition, many users need to remember to turn off sleep mode. It will be a problem with screen mirroring.
Device Incompatibility
The critical problem which can cause trouble in mirroring the screen is that your device needs to be compatible with the screen mirroring. Screen mirroring is only applicable to some devices.
Part 3: Standard solutions to fix iOS 16 HDMI not working problems
Fix 1: Reboot the iOS Device
If you face iOS HDMI failure, you can quickly fix it by restarting your device. The method and the ways are simple.
Step 1: In the first step, you need to press and hold your phone's power button. It would be best if you pressed the power button till the appearance of the power button on your phone.
Step 2: In the second step, you must slide to the Power Off slide. After doing it, you need to press and hold the power button to restart your device.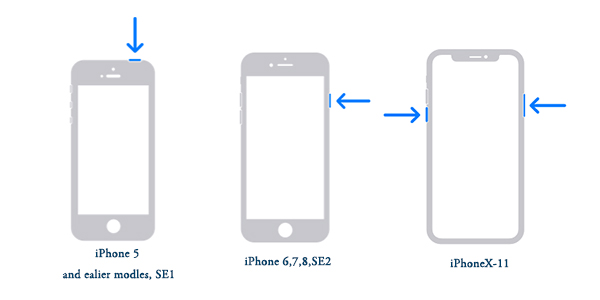 Fix 2: Change your iOS Device and the HDMI Adapter
Another solution to your HDMI problem is changing your iOS device and the HDMI adapter. If there is any damage to your HDMI adapter, it will become a problem. You need to change your iOS device or the HDMI adapter to fix this problem.
Fix 3: Update the iOS Version
Another solution to solve the iOS HDMI problem is to update your iOS. If your iOS needs to be updated, you can sometimes face difficulties with iOS HDMI. But, again, you can go to your settings. In the public option, you will see the update software option by which you can easily update your iOS Version.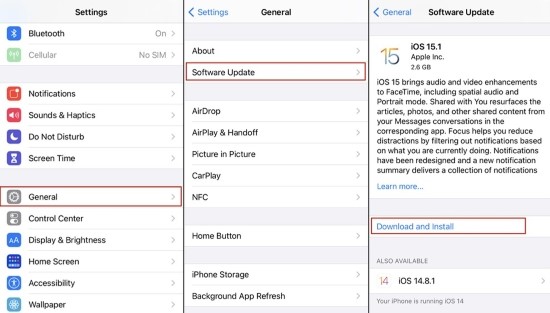 Fix 4: Set Automatically Airplay to TVs Never
There can be a problem with your settings. If it is never marked, you need to change it and then keep the automatic. It will display the videos automatically. It will resolve your issue.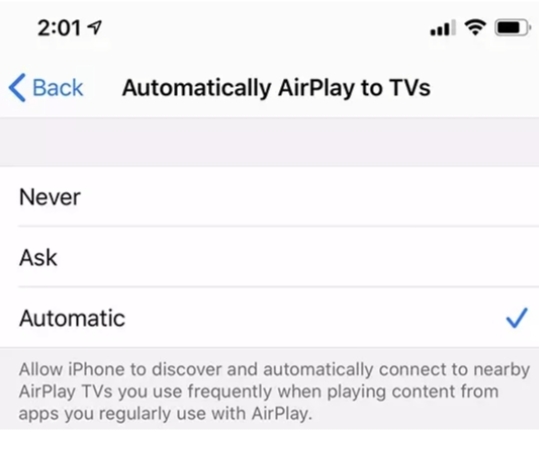 Fix 5: Use TunesKit iOS System Recovery
TunesKit iOS System Recovery is the best option to fix any iOS problem. It is a powerful iOS program that can help user fix more than 150 iOS problems including iOS 16 HDMI problems. The TunesKit iOS System Recovery will also help solve the problem in the mirroring of your screen. If there is any bug, this powerful software can also solve it with ease. It has an easy-to-use interface, and you can fix the matter yourself. It will provide the solution in a short time. It means your recovery and resolution of your problem are easily possible.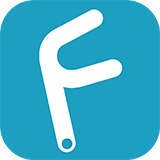 Key Features of TunesKit iOS System Recovery:
Fix Find My iPhone unable to connect to server in a lossless way
Supports iOS devices including iPhone, iPad, iPod and Apple TV
Compatible with all iOS versions including the iOS 16
One-click to enter/exit Recovery mode and upgrade/downgrade system
Easy fixing steps and user-friendly interface
Try It Free
600,000+ Downloads
Try It Free
600,000+ Downloads
Step 1

Connect iPhone to PC

To begin with, connect your iPhone to your computer and launch TunesKit iOS System Recovery. Click on the iOS System Repair option and then hit on the Start button.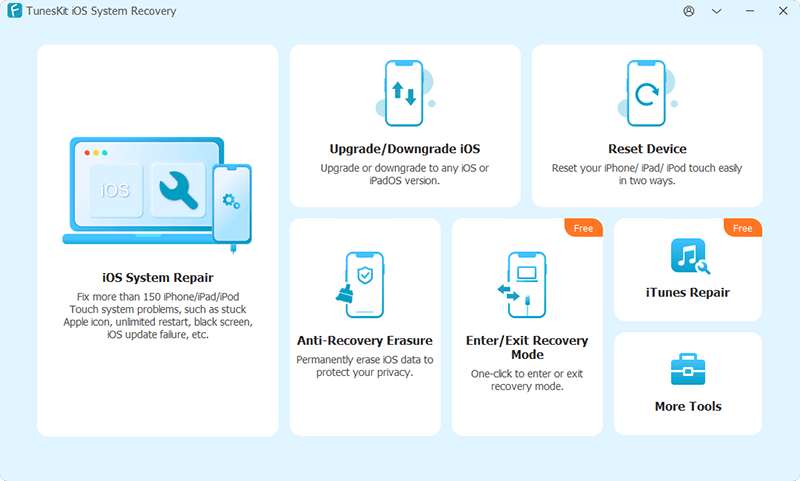 Step 2

Choose Standard Repair

Select the Stanard Repair mode to fix iOS 16 HDMI not working problem. The Deep Repair mode will erase all the data and content on your iOS device. If you are going to use it, please make a backup first. Then, download the firmware package.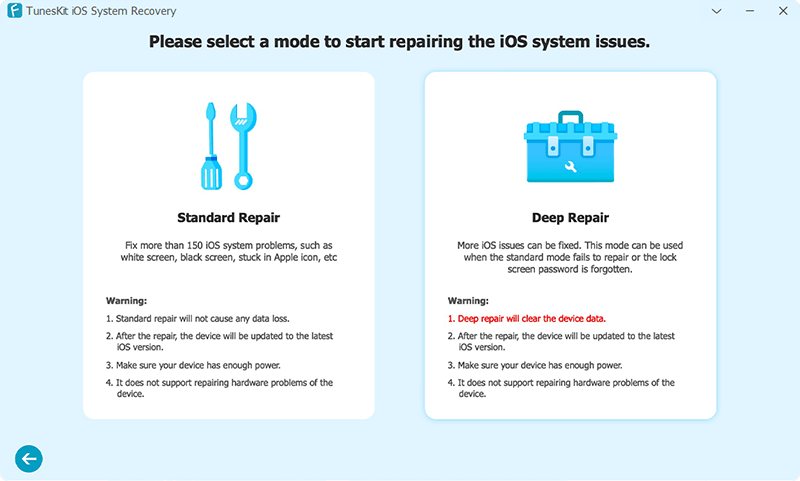 Step 3

Fix iOS 16 HDMI Not Working

After downloading the firmware package on your iPhone, TunesKit iOS System Recovery will start to fix the iOS HDMI not working problem. And your iPhone will go back to its normal state soon.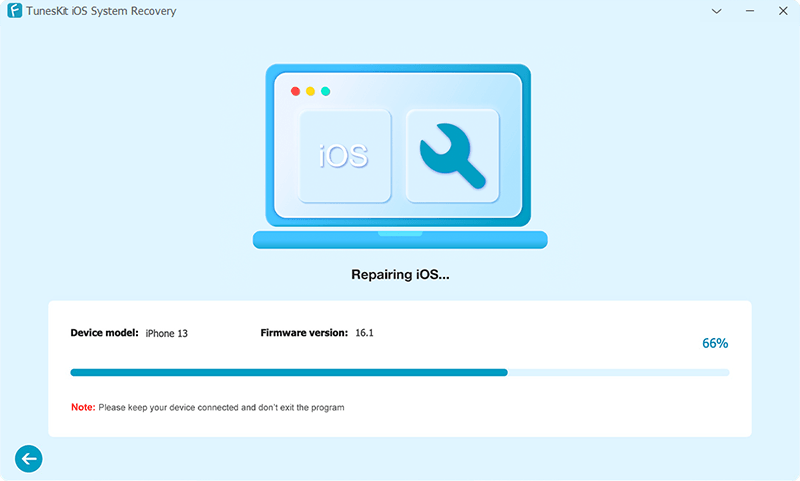 Part 4: The Bottom Line
Some users commonly use the iOS 16 HDMI. They sometimes complain that iOS 16 HDMI is not working. There are easy ways to solve the iOS 16 HDMI failure. There are some causes behind it. Firstly, you can detect the problems, and then you can quickly resolve those fixes. You can check the issues in your settings and then fix them through settings.
The solutions of iOS HDMI are flexible. If there is still any bug, you can seek help from TunesKit iOS System Recovery. It will enable you to solve your problem in a short time. It is easy to use, and you will be able to resolve it freely and quickly.