Top 6 Methods – How to Fix 5G Not Working on iPhone
5 mins read
"Help! I bought a new iPhone 13 recently, but I can't use 5G network on this device. Why is my 5G not working on my iPhone? What can I do to fix 5G not working on iPhone 13?"
As we all know, 5G is the world's fastest wireless network technology now. Apple has also launched several models of iPhones that support 5G network, which allows users to experience faster network connection. However, some people complain at the forum that 5G doesn't work on their iPhones. What are the reasons for these 5G errors? How to fix 5G not working iPhone? Read on this article and find answers and solutions.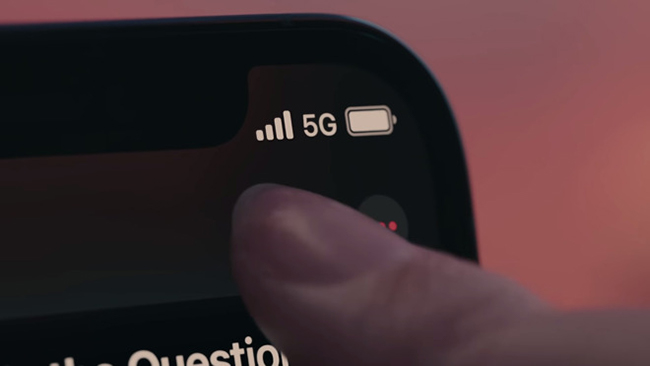 Part 1: Why Is My 5G Not Working on My iPhone?
1. Your iPhone model or carrier doesn't support 5G connectivity. You need to check if you meet the requirements of 5G before you fix it.
2. The SIM card you use is not 5G compatible. Some old SIM card don't allow your iPhone to use Wi-Fi network.
3. The region you are located in is unavailable for 5G. Although 5G covers almost all over the world, there are still some places unable to use 5G network.
4. Some system errors on your iPhone affect the 5G connection of it.
Part 2: Simple Checks Before Fixing This Issue
1. Check your iPhone model. Apple offers 5G support from iPhone 12 and later models, including all models of iPhone 12, 13, 14, and iPhone SE 2.
2. Check if 5G service is active in your region. You can check it via a quick Google search.
3. Check if your carrier, SIM, and Data Plan support 5G. You can contact the carrier support center to get information related to 5G.
4. Ensure that 5G is enabled on your iPhone. Launch the Settings app on your iPhone and head to Cellular > Cellular Data Options. Then, choose Voice & Data and make sure that 5G On or 5G Auto is enabled.
Part 3: How to Fix 5G Not Working on iPhone 13
Fix 1: Use TunesKit iOS System Recovery
When you meet this 5G error on your iPhone, you are recommended to fix it with a professional iOS system fixing tool first. That is TunesKit iOS System Recovery. As a powerful repair program, it is able to repair about 150 iOS system-related errors, such as iPhone 5G not working, iPhone not connecting to Wi-Fi, iPhone stuck on black screen, iPhone won't turn on, and more. Thanks to its straight interface and clear guidance, it's rather simple for you to fix your iOS devices with this program. More importantly, you won't lose your data if you choose Standard Repair. Standard Repair can help you fix almost all of system errors you encounter.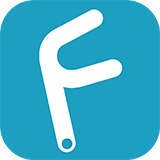 Characteristics of TunesKit iOS System Recovery:
Fix 5G not working on iPhone without data loss
Repair different tvOS/iOS issues by yourself
Provide Standard Repair and Deep Repair
Easy to use with a friendly interface
Try It Free
600,000+ Downloads
Try It Free
600,000+ Downloads
Step 1

Connect iPhone to PC

First of all, please download and run TunesKit iOS System Recovery on your personal computer. Then, plug your iPhone into the computer via a fitted cable. Then, choose the iOS System Repair option to the next page when your iPhone is detected.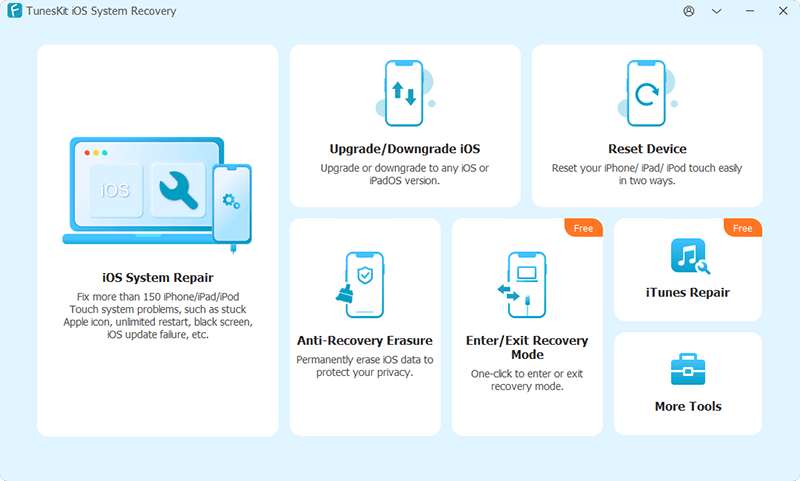 Step 2

Choose Standard Repair

In this step, you will be asked to choose a mode to repair your iPhone. Select Standard Repair that enables you to fix your iPhone without losing data. If the Standard Repair doesn't work, you need to turn to Deep Repair after saving your data.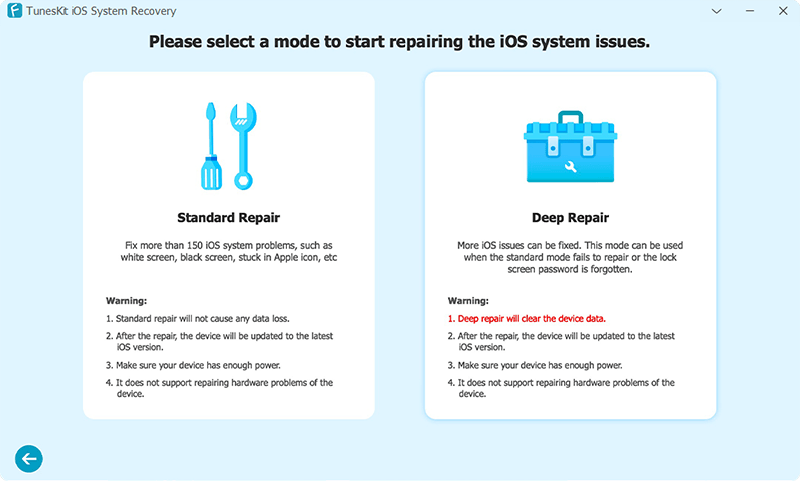 Step 3

Download firmware package

Now, you need to check whether the on-screen device information is matched with your iPhone. Then, hit on the Download button to initiate the downloading process of the firmware package.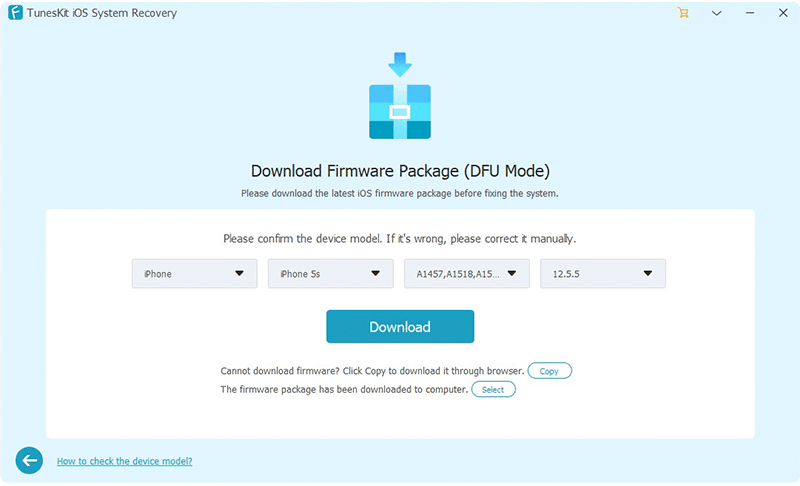 Step 4

Fix 5G not working on iPhone 13

TunesKit iOS System Recovery will begin to fix your iPhone 13 when the downloading process is finished. After that, your iPhone will be able to connect to 5G network successfully.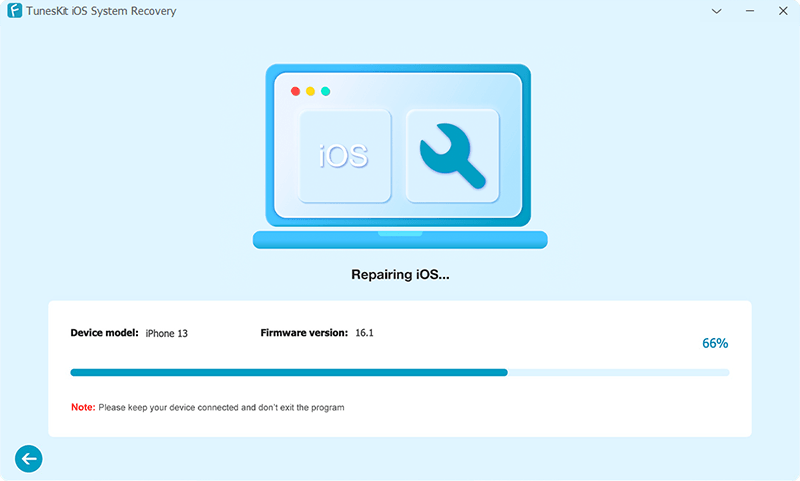 Fix 2: Allow More Data on 5G
Sometimes, your 5G doesn't work when you update apps or watch videos. This is because you don't turn off Low Data Mode. To fix this, head to Settings > Cellular Data Options, and then tap on Low Data Mode. Then, choose Allow More Data on 5G to fix 5G not working on iPhone.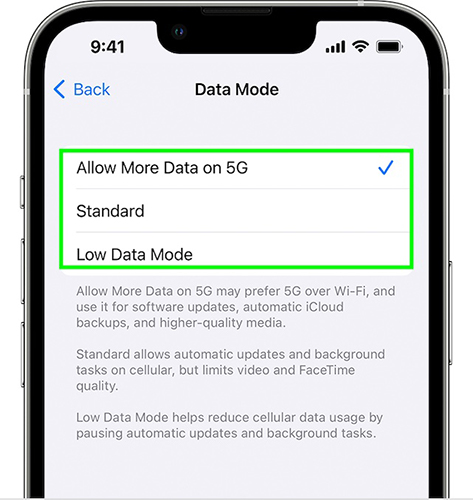 Fix 3: Refresh Airplane Mode
Refreshing Airplane Mode is also a good solution for you to fix 5G not working on iPhone 13. Open the Control Center on your iPhone, and then tap on the icon of Airplane Mode to turn it on. Then, tap on the icon again to turn it off and check if you can use 5G on your iPhone now.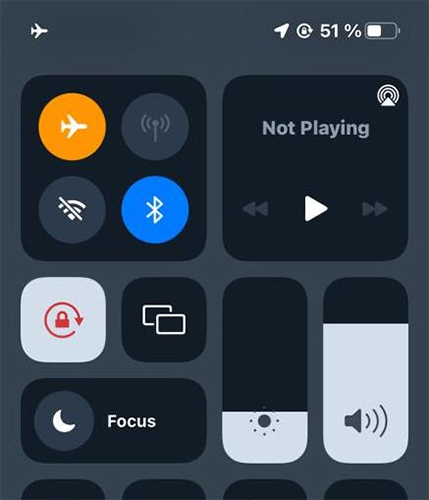 Fix 4: Disable Low Power Mode
In general, 5G will consume more data and power compared with other networks. If you have turned on Low Power Mode on your iPhone, 5G may be disabled. To fix this, you need to charge your iPhone and ensure it has enough power first. Then, go to the Settings app > Battery, and then tap on the toggle next to Low Power Mode to disable this mode.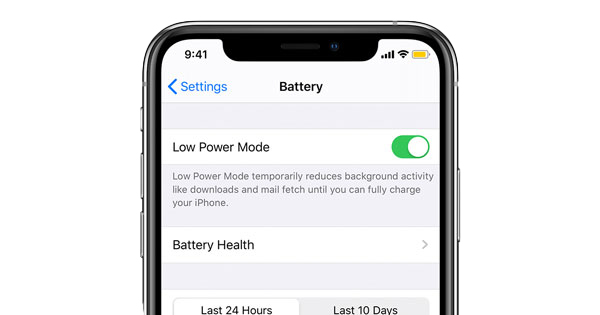 Fix 5: Reinsert SIM Card and Restart
In some cases, the iPhone 5G not working issue is caused by a SIM card detection error. Generally, this issue can be fixed by reinserting your SIM card. Use a SIM card ejector to remove the SIM card and insert it again, and then keep holding the Side button to restart your iPhone. If 5G still fails to work, you can consider changing to another SIM card.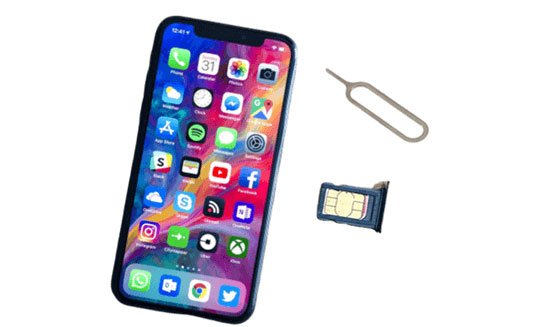 Fix 6: Reset Network Settings
Another method to fix 5G not working iPhone is to reset network settings. Head to Settings > General > Transfer or Reset iPhone, and then select Reset followed by Reset Network Settings. After the reset finishes, your 5G network will be restored to the default settings. When it completes, you can try to use 5G on your iPhone again and check if it can be used now.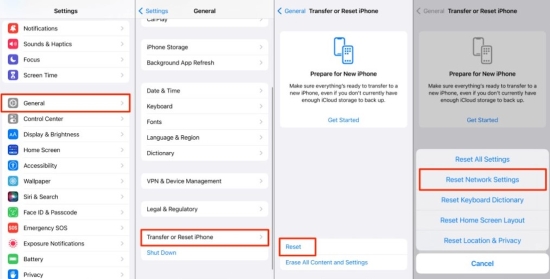 Part 4: Related FAQs about iPhone 5G Not Working
Q1: How to check if I am using 5G?
It's not hard for you to see what kind of network your iPhone is using. Go to the Home screen, and then check the status bar in the top-right corner. If you see 5G, 5G E, 5G+, 5G UW, or 5G UC in the status bar, it means that your iPhone is using 5G network.
Q2: How to turn on iPhone data roaming when it's connected to 5G?
You need to first ensure that your data plan and location support data roaming. Then, navigate to Settings > Cellular, and then choose Cellular Data Options. Next, turn on the toggle next to Data Roaming.
Part 5: The Bottom Line
After reading this post, you must have learned more about 5G not working on iPhone and how to fix it. All solutions listed above are effective and proven. If what you want is an easy and efficient method to fix this 5G issue, we recommend you to try TunesKit iOS System Recovery. This advanced tool can help you deal with almost all common system-related errors on your iOS device without data loss.