[5 Ways] How to Fix iPhone X Keeps Freezing
5 mins read
"Basically sometimes I can not wake the Iphone X, no matter how many taps, button presses, etc its just dead. Then eventually it comes back alive. Second example, while Im on the phonecall, naturally screen goes black when you hold it against your ear, but for some reason it remains like that, the screen is solid frozen black, I cant do anything, hang up nor power it off, etc until the Iphone becomes responsive again. I don't know what to do." — From Apple Discussion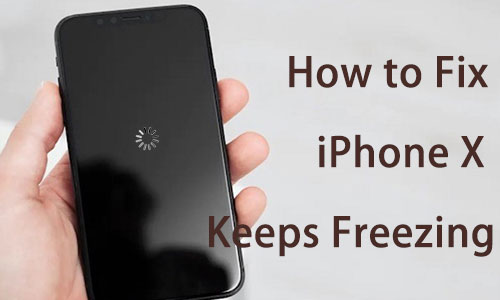 In fact, not just this user, but many iPhone X users have also experienced the issue of the iPhone X keeping dying. If you wonder how to get it fixed, do not leave this page. We will present you with effective methods to fix iPhone X keeps freezing up. To begin with, we'll learn why your iPhone suddenly freezes.
Part 1: Why Does My iPhone X Keeps Freezing?
There are several common causes that can explain this condition, such as outdated system software, system errors, or hardware damage. However, based on comments from iPhone X users, the most usual reason is due to system failures. When your iPhone X system is faulty, it is common for it to be unresponsive, freeze, or even crash. Therefore, we would like to suggest five effective solutions to fix iPhone X keeps freezing for your reference.
Part 2: 5 Methods to Fix iPhone X Keeps Freezing Up
Method 1. Force Restart Your iPhone X
Always remember that a forced reboot can solve ninety percent of simple iPhone system problems. This is the simplest and quickest for every smartphone user to get their device problem fixed. So when your iPhone X suddenly freezes, what you need to do first is to force restart your device as soon as possible.
Step 1: Press and release the Volume Up button, press and release the Volume Down button.
Step 2:
Side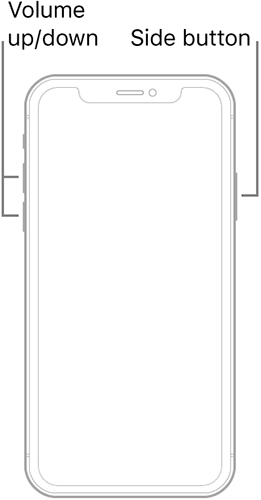 Method 2. Update iPhone X iOS Software
The latest iOS 16 release from Apple so far includes a number of patches and bug fixes, in addition to new features, just like the previous versions. If you suspect that your iPhone X screen keeps glitching and freezing up because of a bug in the system version, then you should update your iOS software in time, but don't forget to back up your data beforehand.
Go to Settings > General > Software Update and click on Download and install.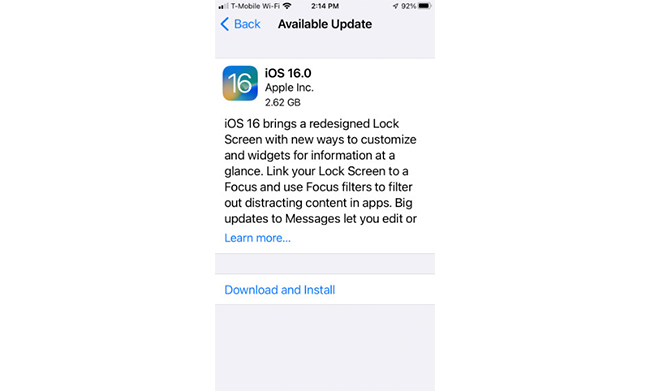 Method 3. Uninstall the Faulty App
When you find that iPhone X frequently freezes after opening an app, then it's likely that the app is causing your iPhone X to not work properly. There may be a virus in the app that makes your phone slow, unresponsive, or even dead, or there may be a bug that causes your phone to crash. In this case, try uninstalling the problematic app and reinstalling it from the App Store. Then re-launch the app to see if the iPhone X still keeps freezing up.
There are two ways for you to unistall the problematic app.
1. Long-press the App until it becomes shakes, then tap the delete icon.
2. Go to Settings > General, iPhone Storage, and select the app that you want to delete.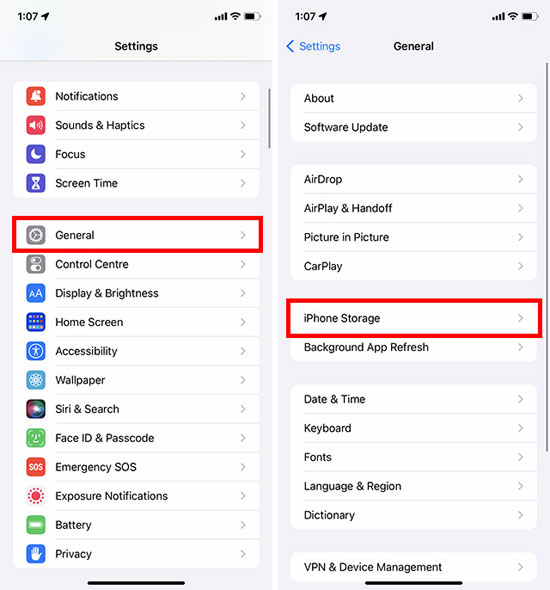 Method 4. Restore iPhone via iTunes
The next option you could try is to use iTunes to recover your phone. It will wipe out all the settings, data, and content on your device, thus removing the unknown error that causes your iPhone X to keep freezing. We recommend that you use iTunes to perform this operation as the constant freezing of your phone will not allow you to use the device without problems. Please make sure that you are using the latest version of iTunes and that you have backed up all your data and content via iCloud or iTunes before restoring your iPhone X.
Step 1: Open the latest iTunes on your computer. Then connect your iPhone X with computer via a lightning USB cable.
Step 2: Next, click on your device icon and tap Summary on the sidebar, then choose Restore iPhone to start the restoring.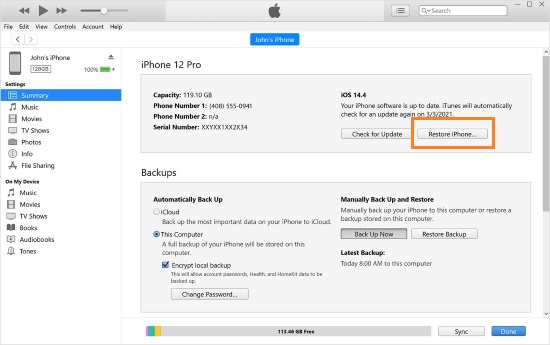 Method 5. Fix iPhone X Screen Keeps Freezing Caused by System Issue
As mentioned above, restoring your iPhone X via iTunes will result in data loss. It will be depressed if you forget to back up your device before you perform the restore. So, to get rid of the hassle, you are suggested to TunesKit iOS System Recovery, which makes no data loss when you fix or restore your iPhone X via its Standard Repair.
Moreover, this iOS repairing tool is compatible with various iOS devices, including iPhones, iPad, iPods, Apple TVs, and more, and is capable of fixing multiple system issues like iPhone freeze when texting, iPhone stuck on searching, iPhone suddenly die, etc. Read more below to get how to fix iPhone X that keeps freezing up via TunesKit iOS System Recovery.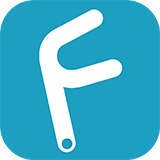 Highlights of TunesKit iOS System Recovery
Comes with a intuitive and user-friendly interface
Fix iPhone X keeps freezing up
Offers 100% success rate
Will not cause any data and content loss
Supports iPhone, iPad, iPod, AppleTV
Try It Free
600,000+ Downloads
Try It Free
600,000+ Downloads
Step 1

Launch TunesKit iOS System Recovery

After installing the software, you'll need to launch the TunesKit iOS System Recovery tool. Then select iOS System Repair and tap the Start button.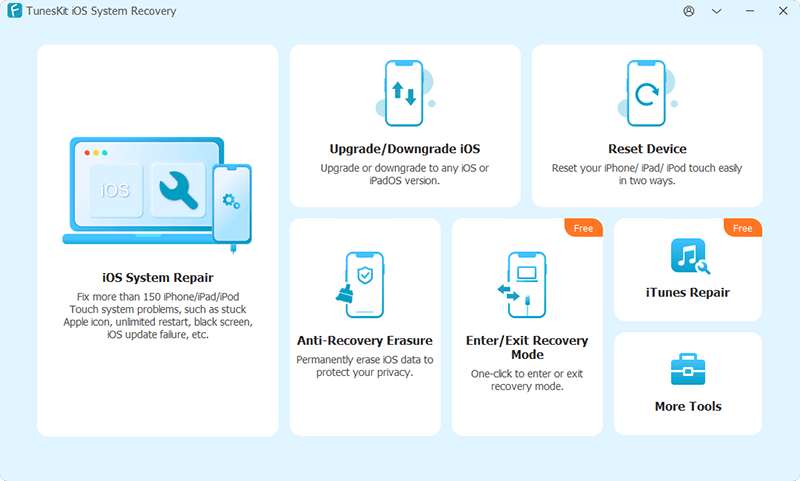 Step 2

Select Standard Repair Mode

Next, select Standard Repair Mode and put your iPhone X into recovery mode according to the prompts.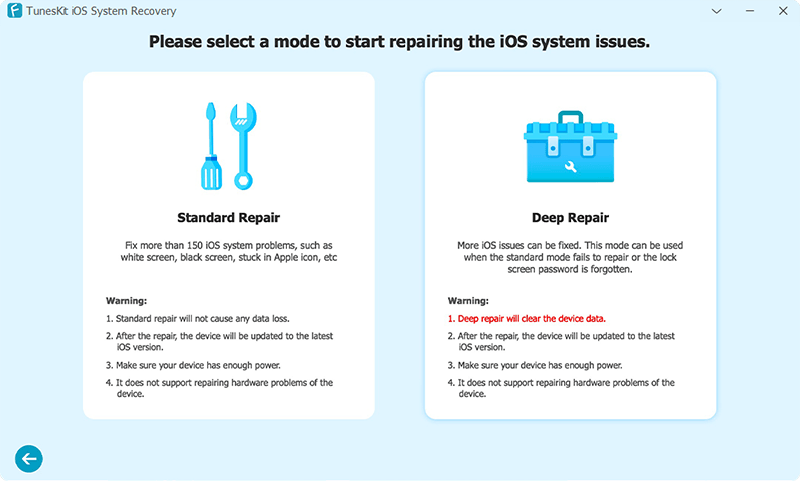 Step 3

Download Firmware Package

In this step, select and comfirm your device info and click on the Download button to download a preferred firmware package.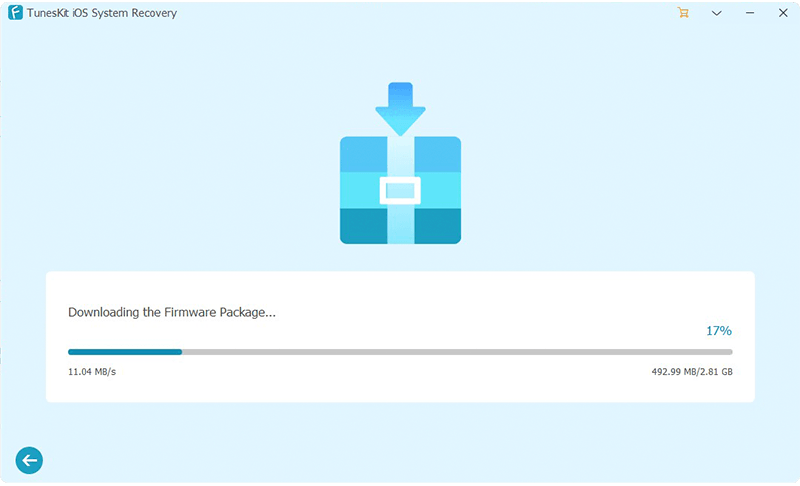 Step 4

Repair iPhone X Keeps Freezing

After that, hit the Repair button and it will start fixing and restoring your iPhone X.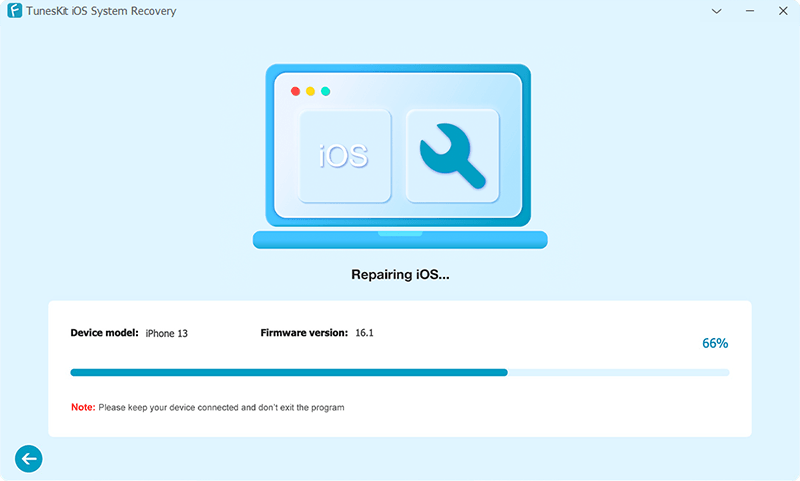 Part 3: Conclusion
This article should be good enough to help you fix the iPhone X keeps freezing issue as we've concluded some feasible solutions. All the options you'll find here are surely worth a try. If none of them work, you should send your iPhone X to Apple Service Center and get it repaired. By the way, if your iPhone in any system problem, you can go for TunesKit iOS System Recovery, which is professional software that helps you fix any iOS issue quicker than you think.