Why is AOL Email Not Working on iPhone? Causes and Solutions
6 mins read
The AOL company offers free and amazing mail services—AOL email. People around the world use AOL Mail for security and reliability. With an all-in-one desktop software, you can use mail, instant messaging, web surfing, and much more. There is, however, an issue with AOL email not working that is becoming prevalent for all users.
So in this blog, we will explore why is AOL email not working on iPhone and how to fix this problem. So, without further ado, let's get started and check out the reasons and measures to fix it in detail.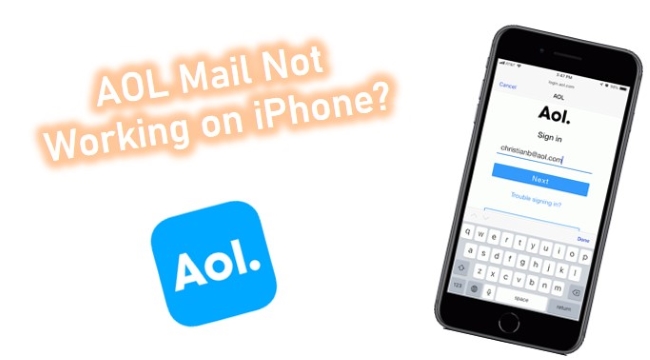 Part 1. Why Is My AOL Mail Not Working on My iPhone?
Let us look at potential reasons why AOL mail not working on iPhone before we explore solutions.
Incorrect Login Credentials
It's a no-brainer. It is possible to enter an extra character into the password field with a mere slip of the finger, rendering your credentials invalid. Be careful when entering your email and password to avoid any silly mistakes that may prevent your AOL email from working.
AOL Email App Is Outdated
It is common for us to not realize that our applications are out of date until they are updated. Certain aspects of the application may be bricked due to this, resulting in functionality errors.
iOS System Bugs
An iOS glitch or bug may prevent you from uploading your listing or accessing the AOL mailing service.
Part 2. How to Fix AOL Email Not Working on iPhone?
Method 1. Hard Restart the AOL App
Firstly, perform a hard restart for the AOL app, which is the easiest way. The hard restart refers to force closing the app. There are times when we close the app thinking it has closed, but it is still running in the background. Do the steps to make sure that the app closes:
For the iPhone without the Home button, swipe up from the bottom of the screen and move the app off the top.
For the iPhone with a Home button, double-click the Home button instead, then drag the app up.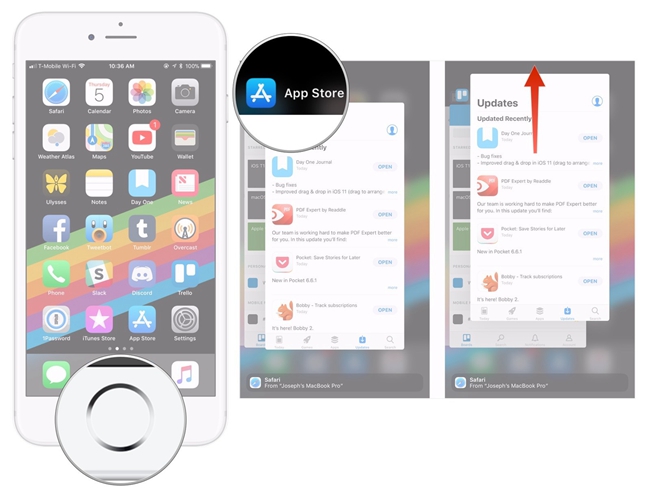 Method 2. Delete and Re-Add AOL Email Account
If your AOL not working on iPhone on your iOS device, you may need to remove it and then re-add it.
Step 1. Fire up the Settings app on your iPhone.
Step 2. Scroll through and select the Mail, Contacts, Calendars option.
Step 3. Select the pre-existing AOL account from the Accounts section of the screen, then proceed to tap on Delete Account
Step 4. Now return to the Mail settings page and tap on the Add Account option. Touch the Delete from My iPhone button to confirm that you want to delete your AOL email account from your iPhone.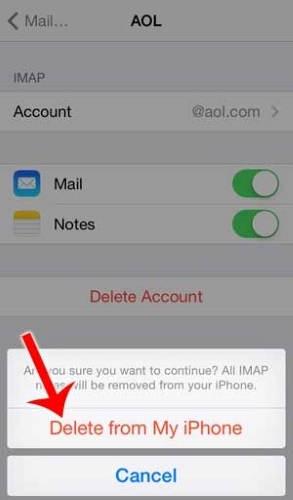 Method 3. Reset Multiple Accounts Through Settings
You might find it cumbersome to remove each account individually if you have multiple AOL accounts in the AOL app. Fortunately, you can reset all the accounts at once. You may also be able to resolve any app issues by doing this.
You can do this by opening Settings and scrolling down until you see AOL. Next, select AOL and choose Reset All Accounts. By doing so, all your accounts are re-set within the app. After that, you'll need to sign in to each one individually.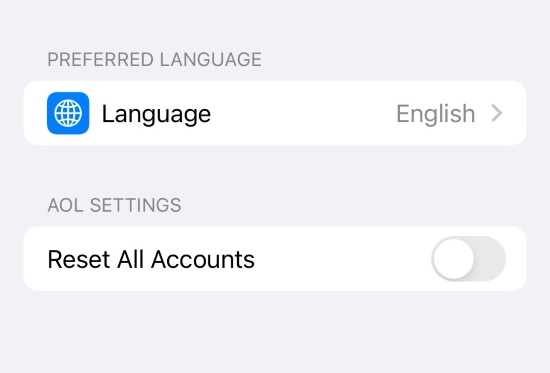 Method 4. Update the AOL App
It is possible for AOL to be buggy from time-to-time due to a system error, that's another reason why is AOL mail not working on iPhone. But there is something you can do about it. Thanks to the AOL team, software bugs are not a difficult for them so that they can be fixed in regular software updates. You might be able to fix the bug by updating the AOL app if you haven't updated it for a while.
Step 1. On your iPhone, tap Settings.
Step 2. Scroll down to navigate to App Store, and tap on it.
Step 3. Touch the slider next to App Updates.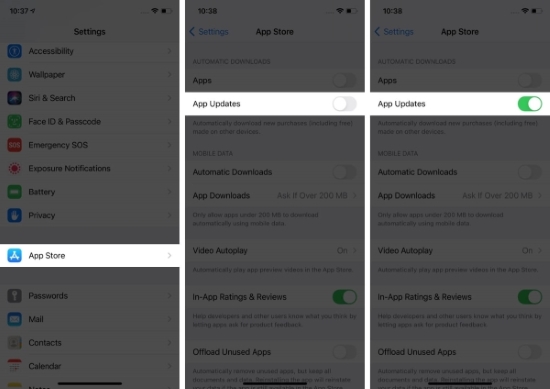 Method 5. Use Best-in-Class Tool—TunesKit iOS System Recovery [Clean & Safe 100%]
Whenever such a problem occurs, people use a piece of professional iOS system recovery software. There is no need to worry if you don't have previous experience with software or other technologies. Apple device owners from all around the world testify to this method's simplicity and effectiveness. It was created by a reputable company and is called TunesKit iOS System Recovery. It provides a lossless solution to resolve more than 150 iOS-related issues. In fact, there are a few programs that will help you repair while preserving your valuable data.
Simply put, this software does not require tedious operations since it was developed over thousands of hours. This means you don't have to spend time trying to figure out what's going on; it detects unknown errors automatically for you. Is Hotmail not working on iPhone? Is iPhone Mail app not working? Is the Gmail app not working on iPhone? As easy as pie!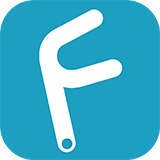 Key Features of TunesKit iOS System Recovery:
Fix AOL Mail Not Working on iPhone in a lossless way
Supports other devices including iPhone, iPad and iPod
Compatible with all iOS versions including the iOS 15
One-click to enter or exit Recovery mode
Easy fixing steps and user-friendly interface
Try It Free
600,000+ Downloads
Try It Free
600,000+ Downloads
To help you use TunesKit iOS System Recovery quickly, you should go through the below-instructed lines:
Step 1

Preparation: Download and Installation

The program can be downloaded and installed on the official website. There are versions available both for Macs and Windows. In addition, you can download a free trial version before purchasing the full version.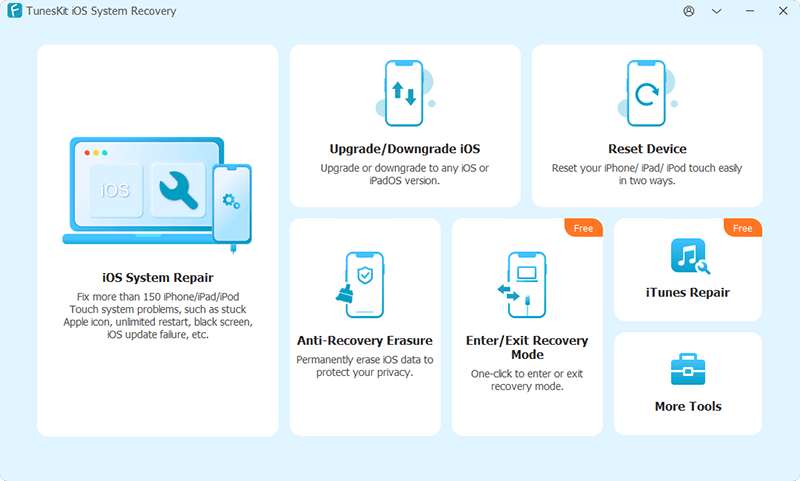 Step 2

Connect iPhone and Set Standard Mode

Launch the program and plug your iPhone into the computer with an original USB cable. On the program screen, you should see the "Start" button and then choose Standard Mode on the new page.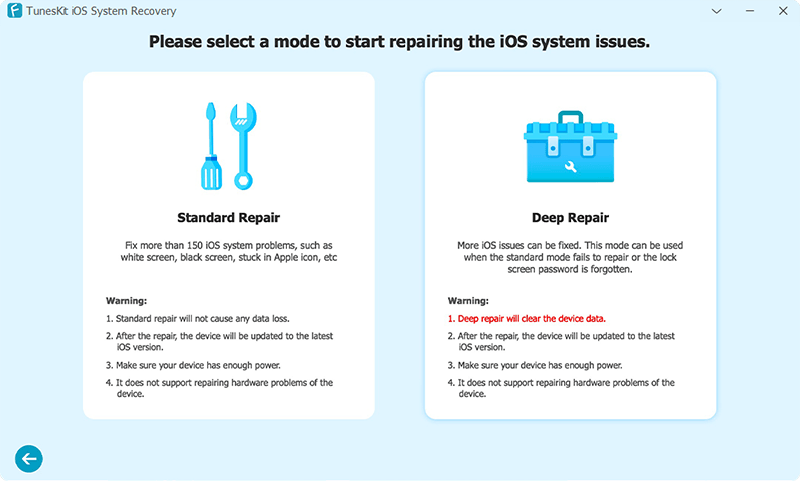 Step 3

Download iOS Firmware

After checking the info of your device, "Download" the proper firmware package.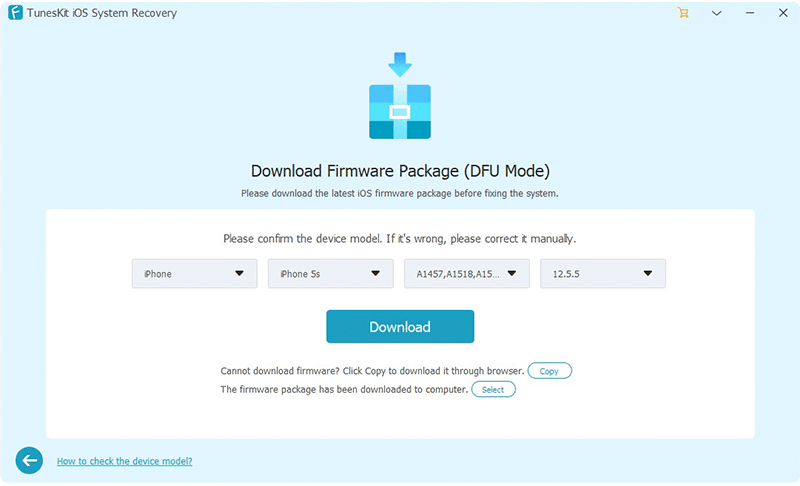 Step 4

Fix AOL Mail Not Working on iPhone

As soon as the download is complete, tap "Repair" to fix any issues. With this program, we believe your AOL email is ready to work again. If rebooting doesn't work, try the steps a second time.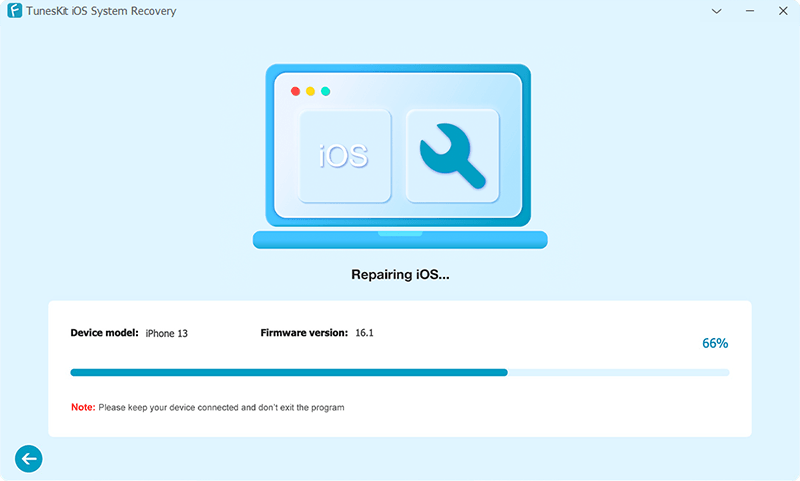 Method 6. Update Your iOS Version
Often there are bugs in iOS, which impact how third-party applications fetch the mail, but this does not apply to the AOL app directly. There are also instances when an outdated version of iOS may interfere with certain apps. Check if your iPhone has been updated to the latest version by going to Settings → General → Software Update. You don't need to do anything if it says your iOS is up to date.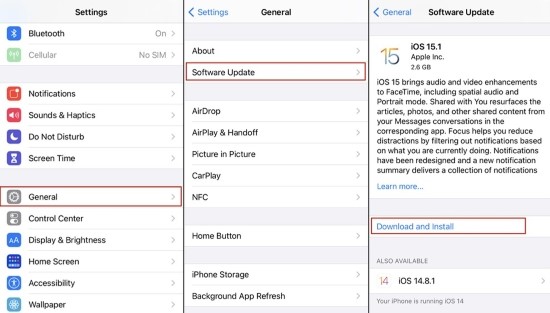 Method 7. Check AOL Server
Alternatively, if AOL mail not working on iPhone today, it might due to server-side technical problems. There is no way for users to solve this problem. Mail systems might be being updated by AOL, or there might be a server issue somewhere on the system. In this case, the only thing you can do is to wait until AOL update it back to normal.
Part 3. Final Verdict
It has been reported that AOL's app has a number of issues for users. The majority of problems have lessened over time, although some remain. If you're encountering AOL email not working on iPhone, we believe the above fixes have helped you out.
If you don't want to try all of them one by one, consider using TunesKit iOS System Recovery. Also, be sure to contact the TunesKit support team to help you resolve any problems. We bet that it works perfectly. Now don't forget to your Home screen and find your Mail app. Give it a tap and see whether it works.