iMessage Doesn't Say Delivered? Fixed!
Updated by Brian Davis on May 14, 2021 3:20 PM • Category:
Fix iOS Issues
5 mins read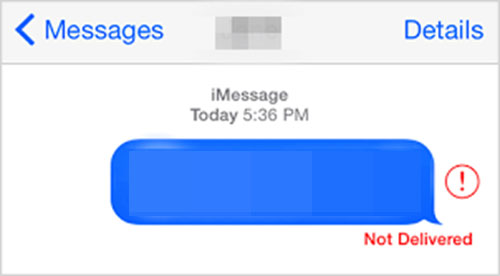 iMessage is an iOS messaging service that almost all iOS device users are familiar with. Many people use iMessage daily, but sometimes they find that iMessage doesn't say delivered when they send the texts. Does that mean the messages failed to be sent to others? If so, how can we get the messages sent? You will find the answers to those questions in this guide.
1. FAQs
1.1 What does it mean when iMessage doesn't say delivered?
A: Delivered means that the recipient successfully receives the message you send. When you text somecne and the iMessage doesn't say delivered, it means that person hasn't received your texts on his/her device.
1.2 Why iMessage doesn't say delivered?
A: If iMessage texts doesn't say delivered, it is not necessarily the problem of your phone. The text won't say delivered when the one you are talking to is on the phone, the phone is off or out of the connection. Nevertheless, if the same things happen to you, the messages cannot be delivered either. The problem can result from more complicated problems, which we will address in the next part.
To test whether your phone is problematic, just see if you can successfully send iMessage texts to others. If the text delivery only fails to several people, it's probably their problem. But if you cannot send iMessage texts to anyone, then you should fix your own phone.
1.3 What to do when iMessage doesn't say delivered?
A: Like we just said, there is nothing you can do if the other's phone is problematic. But there is still something to do to check and fix your own iOS devices, and you can find the solutions in the next part.
2. How to Fix iMessage Doesn't Say Delivered
2.1 Use iOS System Recovery software to fix permanently
If you are sure that the iMessage problem has something to do with your iPhone or iPad malfunctions, then you might want to try this solution. TunesKit iOS System Recovery is probably the easiest way to fix the iMessage doesn't say delivered issue. This program is a powerful iOS repair tool that can help fix your Apple devices quickly right at your home. What's more, it can get rid of almost all iOS related problems such as iPhone suddenly died with no data loss at all. Its excellent user-friendliness enables new users to get used it in minutes.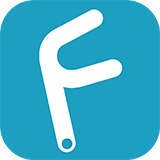 Characteristics of TunesKit iOS System Recovery:
Fix iMessage doesn't say delivered without data loss
Repair different tvOS/iOS issues at home
Fix iOS system issues at a fast speed
Easy to use with friendly interface
Try It Free
600,000+ Downloads
Try It Free
600,000+ Downloads
Tutorial to Use TunesKit iOS System Recovery
Step 1: Download TunesKit iOS System Recovery from the links above and install it. Use an Apple USB to connect your iPhone or iPad to the computer, and it should be recognized by the program. Press the "Enter Recovery Mode" button to put the device into the recovery mode, which is essential to the repairing process. Press the "Start" button to proceed.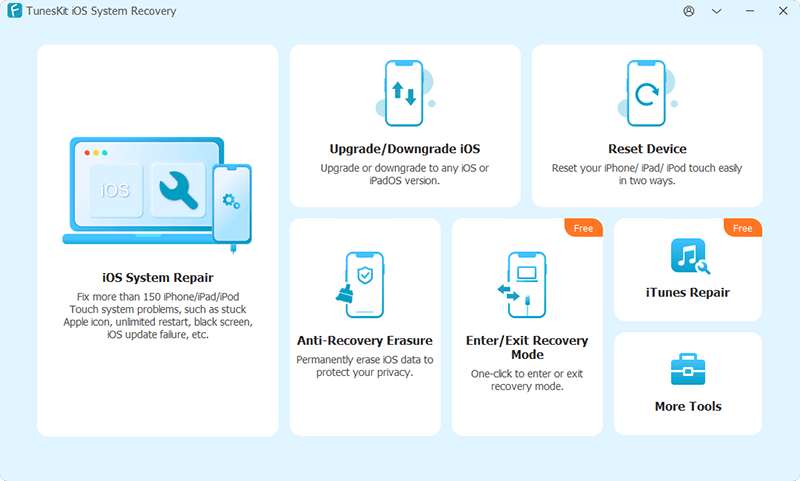 Step 2: You can see two repairing modes on the screen – Standard Mode and Advanced Mode. Select the Standard Mode to repair your iPhone without data loss. If you run into very serious problems next time, you can try using the Advanced Mode (Be careful that you need to backup your data before using the mode). Press the "Next" button to go to the next step.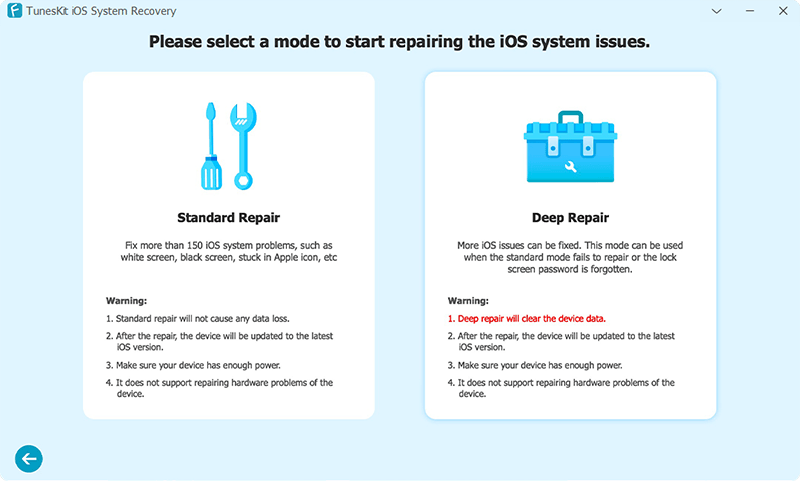 Step 3: The program will identify some basic info of your device and show it on the screen so that it can download the correct matching firmware for your device recovery later. Therefore, please ensure that the info is all correct. After that, press the "Download" button to download the firmware.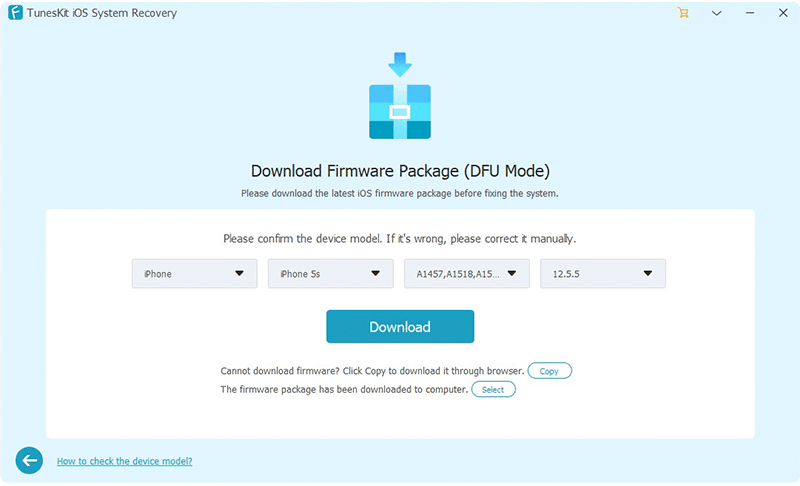 Step 4: Finally, push the "Repair" button to start the repairing process, which will take only a few minutes. By the time it ends, the phone will automatically reboot. Unplug the iDevice from the computer and check if the iMessage texts can be delivered properly.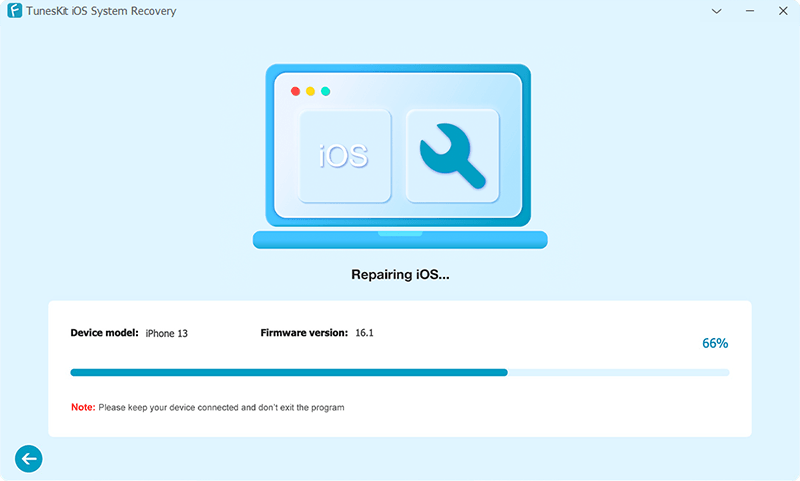 2.2 Check the cellular and WiFi Connection
iMessage needs a network connection to perform its functions, including deliver and receive text messages. If your device can neither deliver iMessage texts nor receive them, then it's high time you should check your Internet connection in the Settings.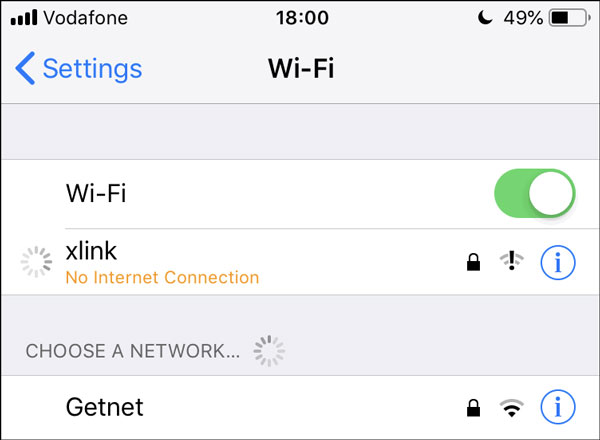 To check your WiFi, just go to Settings > WiFi. If you are not connected to the WiFi or you see a caption saying "No Internet Connection" under the WiFi, that means your WiFi needs to be fixed.
To check your cellular connection, just go to the Cellular in the Settings. The cellular data switch should be turned on. The other thing you shouldn't ignore is the cellular data balance. To check the balance, tap on the Usage option under the cellular switch.
2.3 Turn on Send as SMS
We should know that iMessage should be sent between Apple devices. If the recipient uses the non-Apple device like Android phone, you may face iMessage doesn't say delivered. To solve it, you can turn on Send as SMS. To enable the option, you need to open Settings > Messages > Send as SMS. Tap the button to turn it on.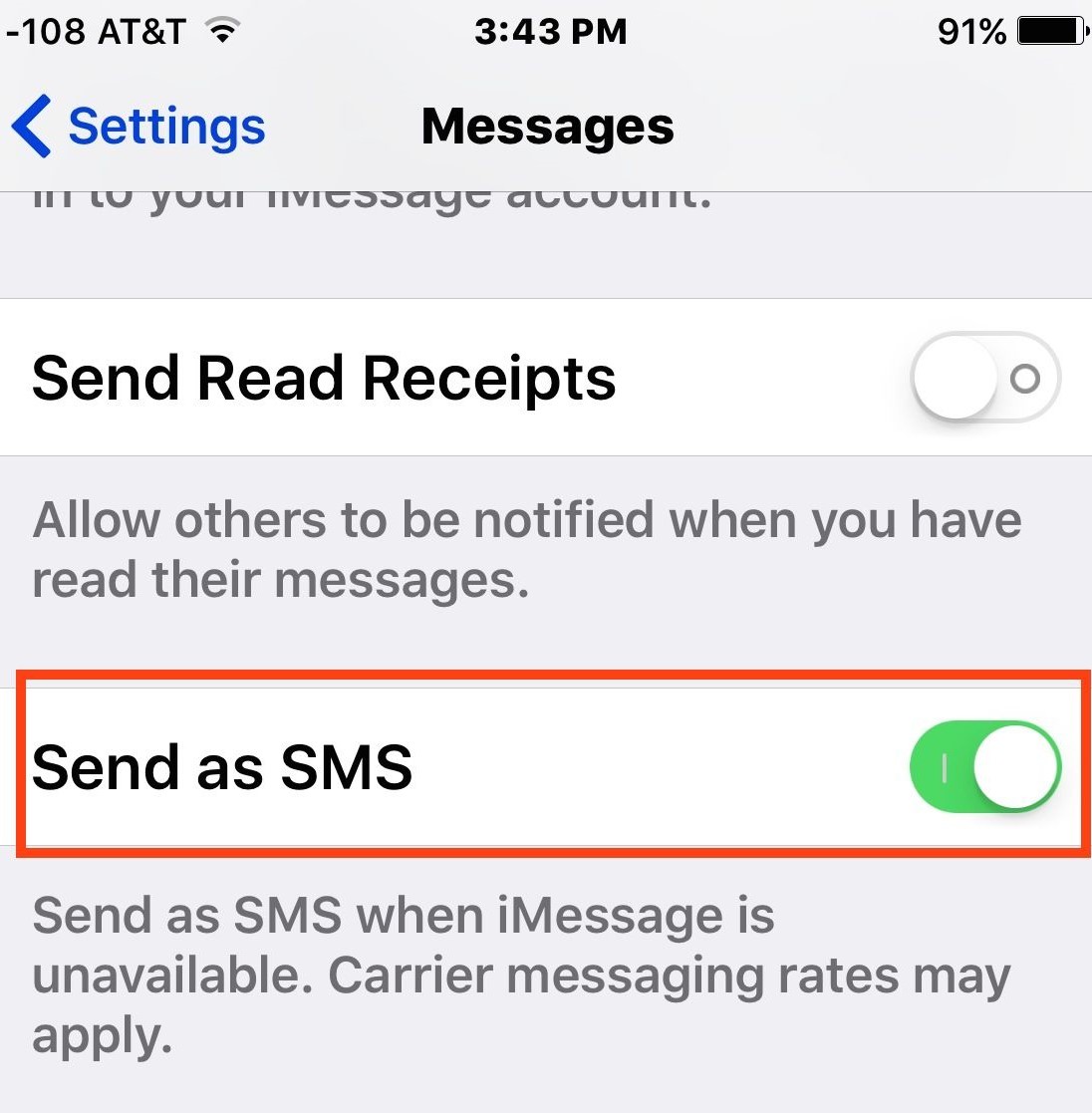 2.4 Restart the iMessage option
Many might not know that the iMessage can be turned off and on. It will re-activate your iMessage and might just fix some temporary glitches. If you have tried the solutions provided above and the messages still cannot be sent successfully, this method might help.
Here is what you should do. Go to "Settings" and tap the "Messages" tab. Then, turn off "iMessage" and wait for minutes. Turn on iMessage again and you should be able to send iMessage now.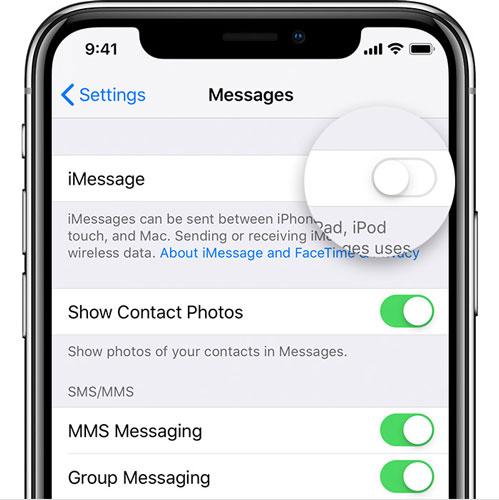 2.5 Sign in the iMessage again
Sometimes, the temporary glitches can be resolved by re-signing in your iMessage account. To do that, go to Settings > Messages. Tap on the Send and Receive option. Next, tap on the Apple ID: (your Apple ID) and click the Sign Out button. Sign back in with your Apple ID and check if iMessage can be delivered properly.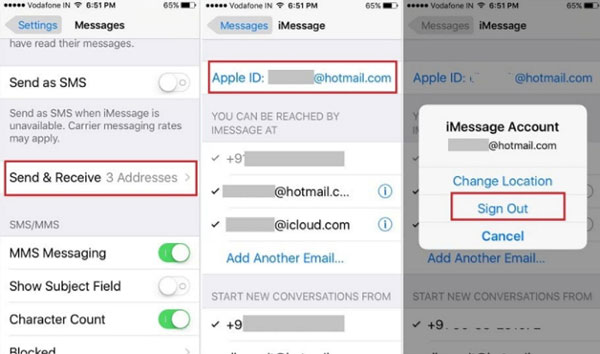 2.6 Contact Apple support
If you have tried all the solutions above and the problem persists, it is time to seek help from Apple Support and your carrier. They are especially helpful when your device is suffering from a hardware or network malfunctions. They will provide you the best and easiest way to fix the iMessage doesn't say delivered problem.
3. Summary
In this guide, we have illustrated most of the causes to iMessage doesn't say delivered problem as well as effective solutions. We sincerely hope that this guide can help you get rid of the annoying problem and that you have the best experience chatting with others over iMessage.