iOS 16 Update Stuck on Estimating Time Remaining? [Fixed]
6 mins read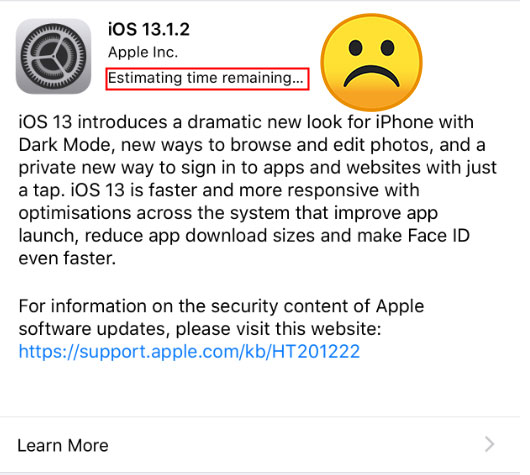 Do you ever come across this situation that your iOS 16 gets stuck on "estimating time remaining" screen when you tried to update or restore the iOS system? Are you confused why the iOS update won't work? Are you also wondering if there is a way to successfully install and update the iOS 16? Don't worry, as in the subsequent context we are gonna provide corresponding answers to your questions.
Part 1: The reasons that cause iPhone/iPad stuck on estimating time remaining
Although you don't know the specific causes that lead to iOS 16 stuck on estimating time remaining, yet some potential situations as below can be used to explain this error.
1. Wi-Fi or internet disconnection. Ensure that your device is under a stable internet connection.
2. Lack of storage space. Updating the iOS version requires enough device storage. If your iPhone is stuck on estimating time remaining, please free up your iOS device space.
3. Battery life of below 50% or abled low battery mode. If you don't have enough power, your iOS device will stop your software update. Please charge your iOS device.
4. VPN connectivity availability. Disabling the VPN will be helpful when you can't update your iOS device successfully.
5. The busy server. If the Apple server is busy, it will keep stuck on this interface no matter how long you wait.

Part 2: 100% working way to solve iOS update staying at estimating time remaining [No data loss]
Besides the above general common reasons that bring about iOS 16 stuck on estimating time remaining bar, there is another circumstance, which is the iOS system itself meets with issues. If it is this case, you have to use professional iOS system recovery tools such as TunesKit iOS Recovery, to get rid of this trouble. Unlike updating the iOS system with iTunes, employing TunesKit iOS System Repair won't cause any data loss.
TunesKit iOS System Recovery is a multifunctional iOS fixing tool that helps solve more than 150 iOS problems, including iOS stuck estimating time remaining, iPhone won't update, iPhone stuck on update requested, etc. With the intuitive user interface, you will be able to unlock your iOS device within several simple clicks.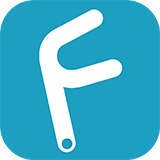 Highlights of TunesKit iOS System Recovery
Fix all iOS and tvOS system issues safe and secure.
Supports all iOS devices including iPhone, iPad, iPod touch, etc.
Compatible with the latest iOS version.
Fix more than 150 iOS issues including iPhone stuck on estimating time remaining
Downgrade from iOS 16 to iOS 15 with ease
Try It Free
600,000+ Downloads
Try It Free
600,000+ Downloads
Come and follow the step-by-step guides of this application.
Step 1: Launch TunesKit iOS System Recovery for Windows/Mac on your computer and connect your iPhone/iPad. After your device is detected, tap on the "Start" button and select the "Standard Mode". Then follow the guides from the interface and let your device is into DFU mode. lastly, hit the "Next" button.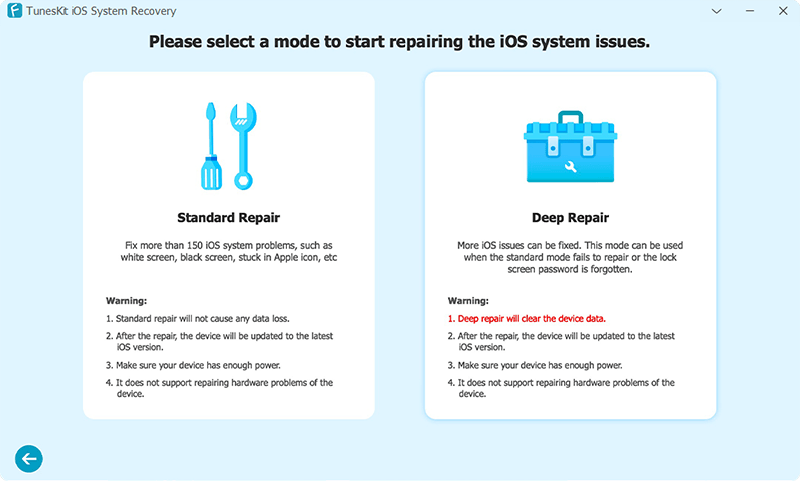 Step 2: At this time, the firmware package according with your device will be download ed and verified. But first you have to check your device info, such as the model version, iOS version, etc. Finally, click the "Download" button.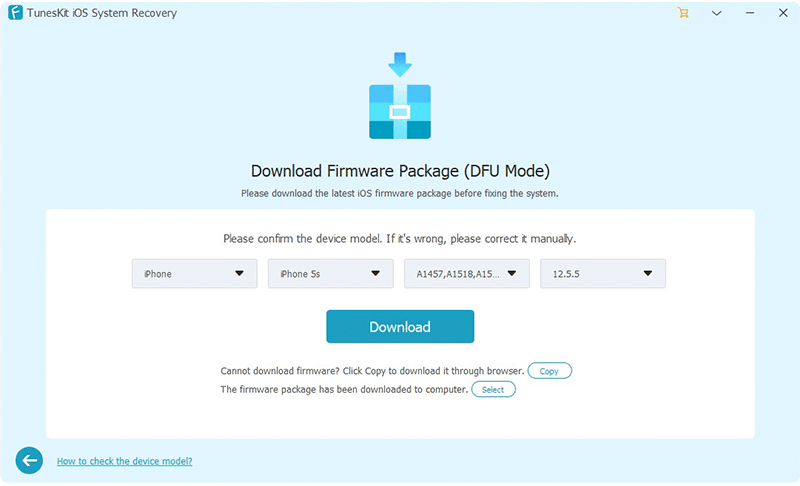 Step 3: When the firmware has been downloaded successfully, hit on the "Repair" button and your device will be fixed. After the iOS is fixed, your iPhone/iPad will update iOS system without any problem.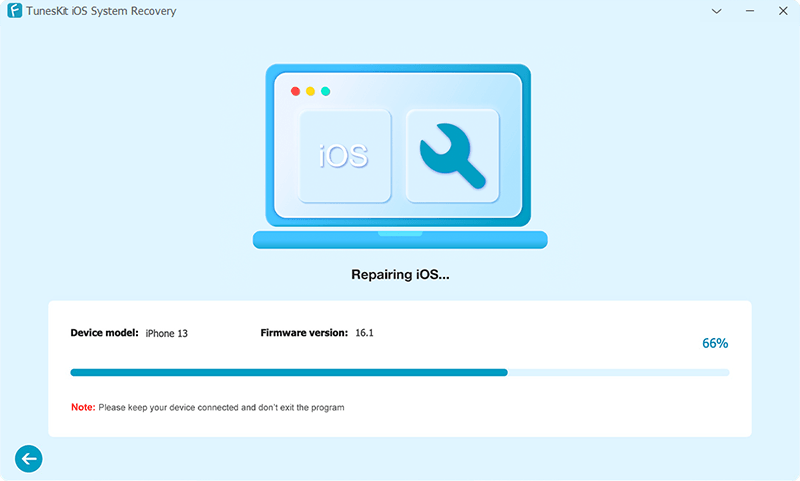 Part 3: Common methods to fix iOS 16 stuck on estimating time remaining error
If you are not sure about the reason that definitely result in iOS update failure due to estimating time remaining error, you can try out the following possible methods one by one.
Solution 1: Check the network
It is necessary for an iPhone or iPad to update the iOS system with a stable Wi-Fi network or internet connectivity. So if the iOS update becomes stuck on estimating time remaining, to check the network connectivity is needed. You can simply re-connect the internet or go to iPhone/iPad's Settings > General > Reset, and click on the Reset Network Settings button to make sure the network is connected normally.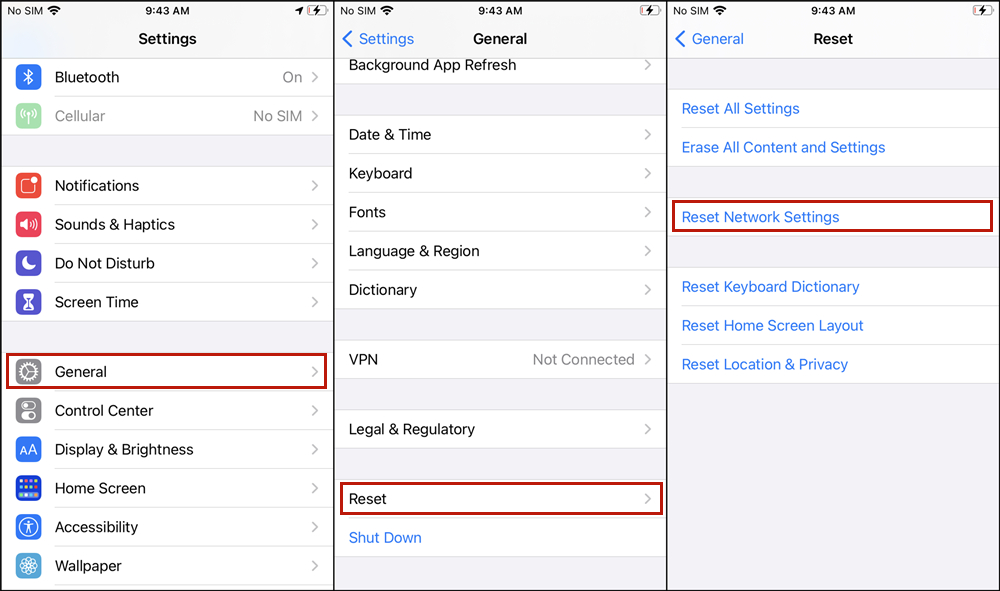 Solution 2: Clear up iPhone/iPad storage
The full storage space on iPhone or iPad may give rise to many issues including the iOS update stuck problem mentioned in this article. In this case, you have to clear up the memory space and then to proceed the update. To clear up the storage space, you can directly remove some unwanted applications, delete the cache or some photos on the device by yourself.
Solution 3: Reinstall iOS system
If the iOS update goes wrong during the process of updating the iPhone or iPad, deleting the update and downloading it again is the most immediate solution to the estimating time remaining stuck problem.
Step 1: Head to Settings > General > Storage.
Step 2: Find the iOS 16 software and tap on the Delete Update button.
Step 3: After restating the device, click Settings > General > Software Update.
Step 4: Hit Download and Install button.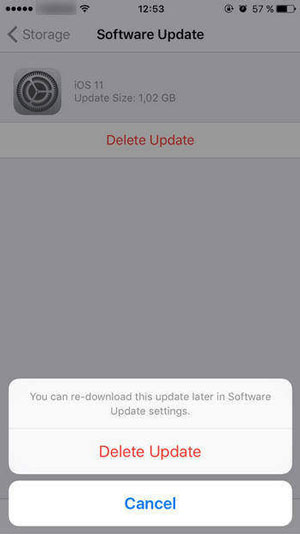 Solution 4: Force restart iPhone or iPad
Force restarting iOS devices can also help you to deal with iPhone/iPad stuck on estimating time remaining. Try the following methods according to your device model.
Force restart iPhone
#iPhone 8 and newer# Quickly hold and release the Volume Up and the Volume Down buttons respectively. Lastly press the Power button until the Apple logo appears.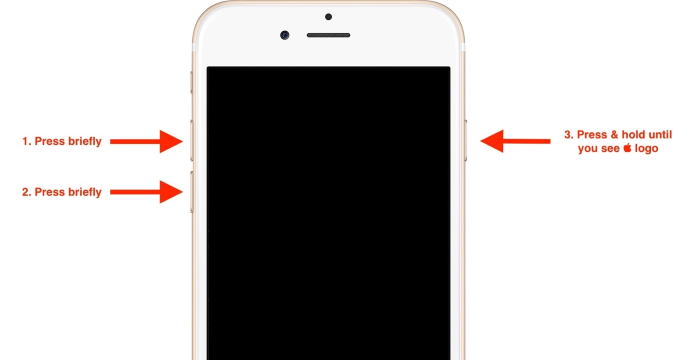 #iPhone 7 and 7 Plus# Tap the Power and Volume Down buttons until the Apple logo pops up.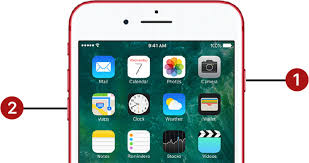 #iPhone 6 and older# Hold the Power and Home buttons until the Apple logo appears on the screen.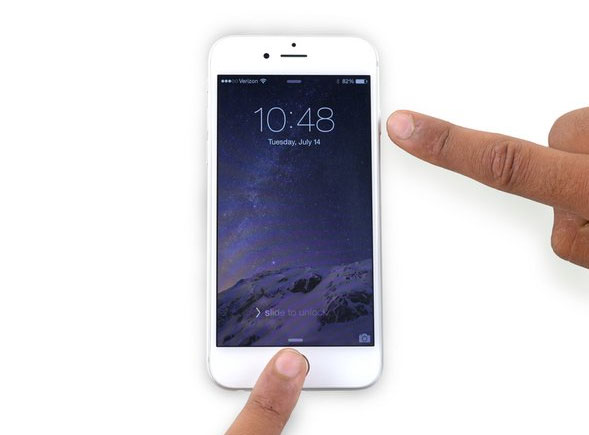 Force restart iPad
#iPad with Home button# Press down the Home and Power buttons till the Apple logo shows.
#Other iPad models# Swiftly press and let go of Volume Up and Down buttons respectively, then hold the Top button until the Apple logo is displayed on the screen.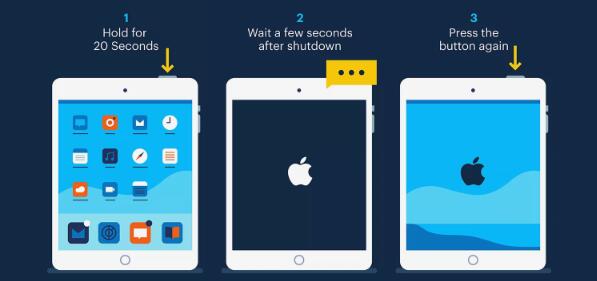 Solution 5: Update iOS by iTunes [Data loss]
If all the above methods you have tried yet failed, then you can attempt to update the iOS system through the iTunes. But before you proceed in the steps below, it's worthwhile remaindering that this will erase all of your data on the device.
Step 1: Connect your iPhone/iPad with your personal computer.
Step 2: Open the latest iTunes and tap the device icon.
Step 3: Hit Check for update under the Summary tab.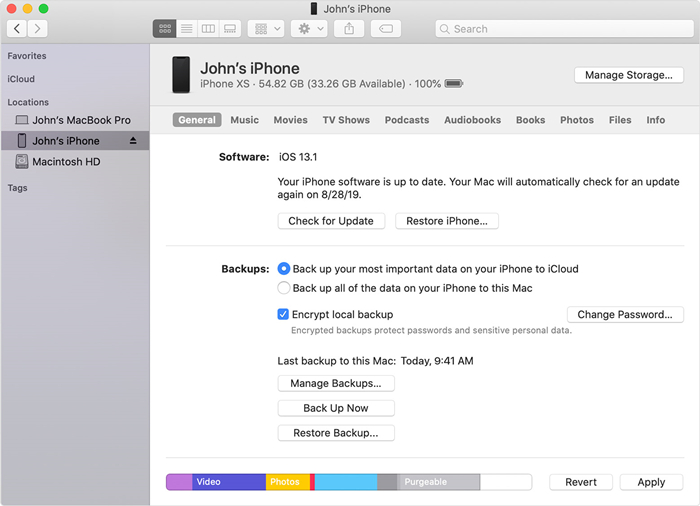 Part 4: FAQs about iPhone Stuck on estimating time remaining
There are also other questions related to iOS estimating time remaining that people are concerned about. Read to get more information.
1. Why does iPhone backup become stuck on estimating time remaining?
This problem can be attributed to some programs blocking the backup. To fix it, you should click Settings > Account > iCloud > Manage Storage > Backups, and then hit Show All Apps under the Backup tab. Finally, close all applications and back up again.
2. Why does iPhone restoring from iCloud stick on time remaining estimating?
Well, this issue is difficult to resolve and the Apple is working hard to figure out the bug. If you have more questions, you can connect with Apple Care and they will give you a hand to solve this problem
Part 5: Conclusion
In this post, you have learned the best solutions to fix the iOS stuck on estimating time remaining issue. Hope that you can fix your iPhone/iPad without encountering any hassle after reading this post. If you have other iOS problems, please try using TunesKit iOS System Recovery. Besides, you are welcome to leave us a comment below.