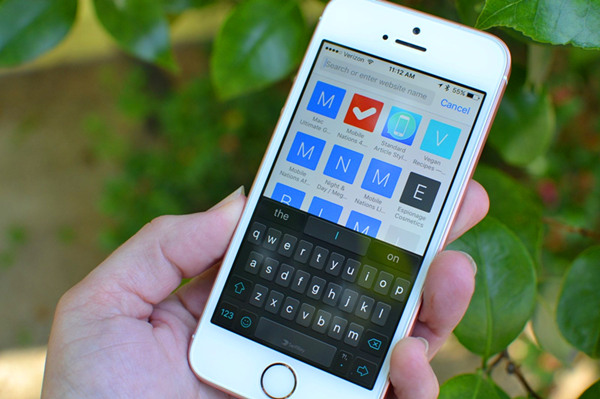 We can all agree that Apple Inc. is one of the most innovative mobile phone manufacturing brands across the world. Over the years, the company has consistently made advancement to their iPhone models as well as their operating system. Today, the iPhone is the most convenient and smartest smartphone in the market. Even though rare, you might find that your iPhone keyboard not working issue occurs and you can barely reply to a text message. Well, worry no more! This piece will help you understand the probable causes as well as comprehensive solutions for the problem.
Reasons for iPhone Keypad Not Working
Here are the most common reasons behind IPhone keyboard malfunction. They include:
• The app you are using the keyboard has crashed
• iPhone software breakdown
• Hardware problems or unresponsive display and touch screen features
The iPhone keypad malfunction is not a problem for any particular model or OS, however, any iPhone device is prone developing the problem. Here are the most common keyboard problems and their solutions.
Video Tutorial to Fix iPhone Keypad Not Working
Common Keyboard Issues and Their Fixes
1. Keyboard Lag
So, what is keyboard lag? It is certainly the most prevalent keyboard issue inconveniencing iPhone users today. It can be easily describe as a situation where you are trying to reply to a text message and the keyboard cannot keep up with the typing speed i.e. the keyboard becomes sluggish when registering the content of your text.
Solution: Reset Keyboard Dictionary
Step 1: Open your iPhone and proceed to launch the Settings menu;
Step 2: Scroll and select General and Click on Reset;
Step 3: Scroll down and click on Reset Keyboard Dictionary. Enter your password to confirm the action.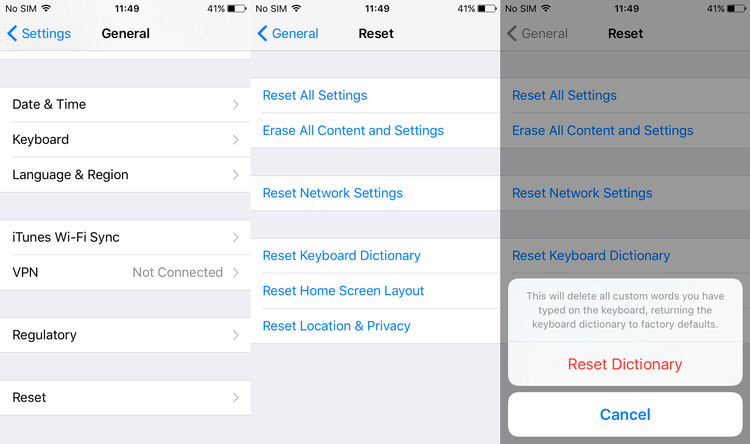 2. Frozen Keyboard
Have you ever experienced a sudden unresponsiveness of the keyword when writing a message? Well, that what we regard to as a frozen keyboard. Last time it happened to me, I almost smashed my iPhone against the wall. Luckily, there are easy way to solve the iPhone keypad not working issue. You can either restart or hard reset the iPhone.
Solution: Force Restart iPhone
For iPhone 6s and earlier models, press the Power button and slide power off on your screen and then restart it. If you iPhone cannot shut normally press simultaneously press the Home and the Power button as illustrated below.
For iPhone 7 and 7 Plus, press and hold the Power and the Volume Down simultenously for about 10 seconds until the Apple logo appears on your screen.
For iPhone 8 and later series, press the Volume Up then the Volume Down and finally hold the Power button until the Apple logo appears.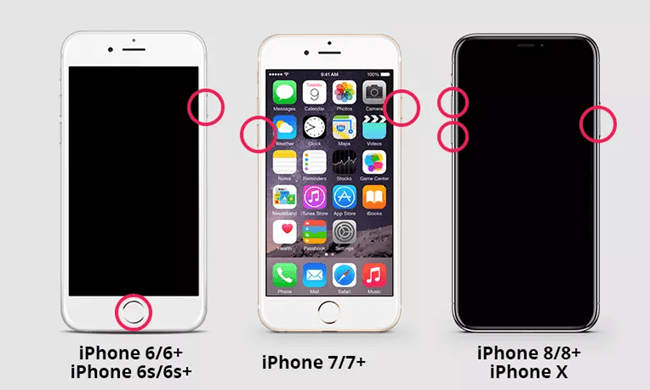 3. Keyboard Not Appearing at All
Sometimes it does happen when you typing and there you are left staring on a dark screen. It may happen to any iOS.
Solution 1: Try Other Keyboards
Probable third party keyboards on your list may include the following but not limited to:
• Minuum
• Gokeyboard
• Flesky
• GBOARD
To add a third party keyboard, simply go to app store and select your preferred keyboard, enter your Apple ID and password to download and install and finally add the new keyboard to your phone.
Solution 2: Try Rebooting Your iPhone
The detailed step-by-step guide is the same with the aforementioned solution to frozen keyboard, and it varies according to the models of your device. A reboot can fix most minor glitches including iPhone keypad not working.
Solution 3: Restore iPhone through iTunes or iCloud
• Restoring using iCloud
Step 1: Go to Setting menu and click on General, scroll down to Reset and choose option Erase All Content and Settings.
Step 2: Provide you password to erase everything.
Step 3: Make sure your iPhone is connected to Wi-Fi and do as the onscreen setup requests until you see choose backup option. Select a back up to restore you phone.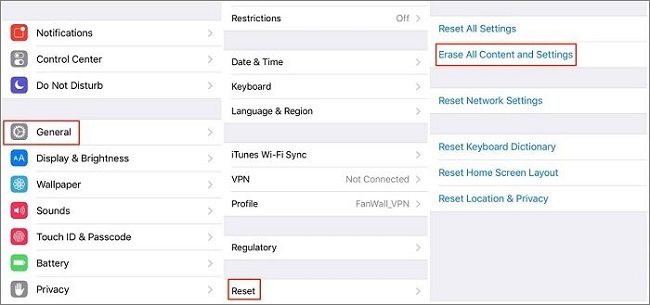 • Restoring using iTunes
Step 1: Using USB cable connect you iPhone to the computer where you have stored your backup.
Step 2: Launch iTunes and go to Summary > Restore iPhone.
Step 3: Confirm Restore option and wait for the process to complete.

Note: A restoration will erase all data and content on your iPhone, please make a backup if you want to keep your iPhone data still after fixing the iPhone keypad not working issue.
Fix iPhone Keyboard Not Working without Data Loss (Recommended)
It is important to note that you will lose all your existing data in both cases. However we go on that. Instead of going through tassel to recover the data, it is highly recommendable to use well tested iOS System Recovery tools such as TunesKit. TunesKit iOS System Recovery will help you fix the iPhone phone keypad not working problem without necessarily having to lose your data, no matter whether your iPhone keyboard is sluggish, frozen or not appearing at all.

Key Features of TunesKit iOS System Recovery
Fix iPhone keypad not working with no data loss
Repair 150+ iOS system problems on iPhone, iPad, iPod
Fully support the latest iPhone models including iPhone 13
Intuitive interface and simple to operate
Available for both Windows and Mac platforms
To fix the problem you need to download and install the software on your PC. The Standard Mode is highly recommended in fixing common iOS issues like this one. TunesKit guarantees a 100% data safety. Here is a comprehensive guide with regard to it usage.
Step 1

Connect iPhone to PC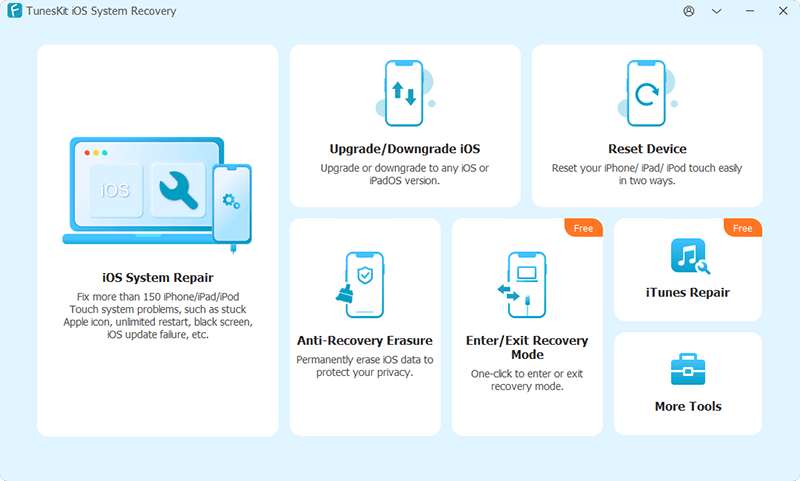 Launch the TunesKit software and proceed to connect your phone to the PC using a USB cable. Wait till it detects the phone. Click Start and then select "Standard Mode" and click 'Next'. Selected the device model, follow the instructions and put your device on DFU mode and click "Next".
If the device cannot be put into DFU mode manually, click the "Enter Recovery Mode" or "Exit Recovery Mode" in the TunesKit window. This way you can easily put your iOS device into/out of recovery mode.
Step 2

Download firmware package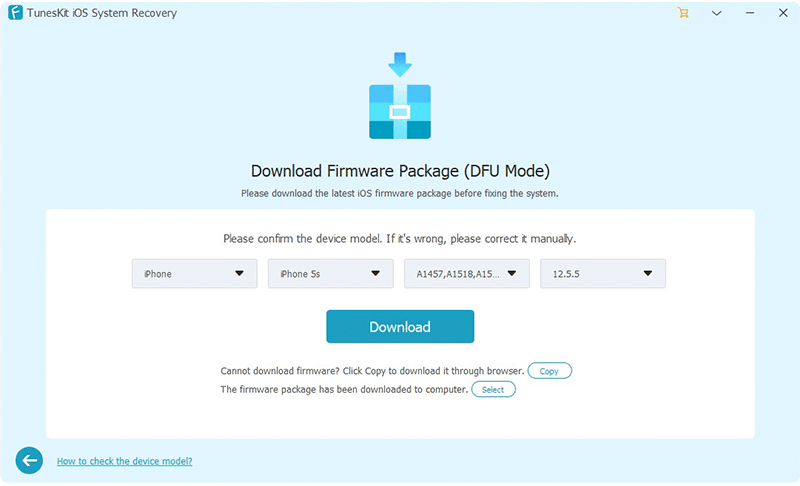 Before downloading, make sure that the displayed devices details are correct i.e. model version, iOS version and others. Initiate download action by clicking "Download".
Step 3

Fix iPhone keyboard not working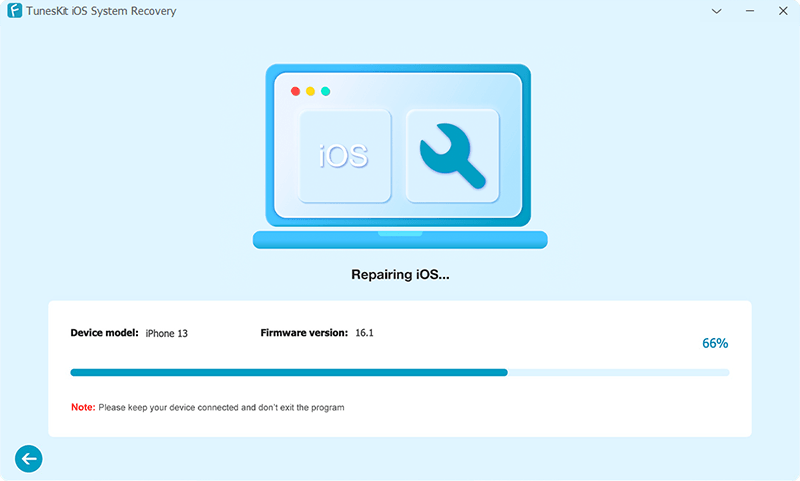 After complete download, simply click on "Repair" option. The repair process will automatically begin. Wait until it is complete. Make sure that your device is connected and is not unplugged before the process completes. In any case, unplugging may brick the device.
Once the process is complete, you are assured the keyword malfunction is over and your data is intact.
Conclusion
If you use the above provided solutions you can be rest assured that your iPhone keypad not working problem will be completely solved. However, it is highly recommended that you consider using the TunesKit iOS System Recovery tool to solve the issue. TunesKit guarantees you 100% glitch fixing as well as data safety. It works for all IPhone models.

Brian Davis has covered tech and entertainment for over 10 years. He loves technology in all its forms.