Ultimate Guide to Solve iPhone Keyboard Not Working
6 mins read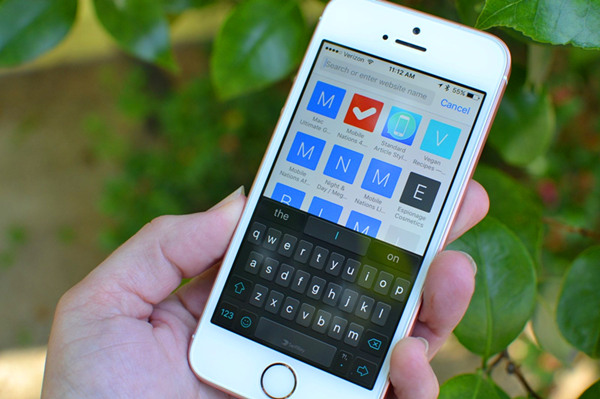 We can all agree that Apple Inc. is one of the most innovative mobile phone manufacturing brands across the world. Over the years, the company has consistently made advancement to their iPhone models as well as their operating system. Today, the iPhone is the most convenient and smartest smartphone in the market. Even though rare, you might find that your iPhone keyboard not working issue occurs, and you can barely reply to a text message. Well, worry no more! This piece will help you understand the probable causes as well as comprehensive solutions for the problem.
Part 1: Why Is My iPhone Keypad Not Working?
Here are the most common reasons behind iPhone keyboard malfunction. They include:
• The app you are using the keyboard has crashed
• iPhone software breakdown
• Hardware problems or unresponsive display and touch screen features
The iPhone keypad malfunction is not a problem for any particular model or OS, however, any iPhone device is prone developing the problem. Here are some useful solutions to fix keypad not working on iPhone.
Video Tutorial to Fix iPhone Keypad Not Working
Part 2: Fix iPhone Keyboard Not Working Without Data Loss (Recommended)
It is important to note that you will lose all your existing data in both cases. However we go on that. Instead of going through tassel to recover the data, it is highly recommendable to use well tested iOS System Recovery tools such as TunesKit. TunesKit iOS System Recovery will not only help you fix the iPhone keypad not working problem, but also assist you to fix haptic keyboard not working, iPhone won't turn on, iPhone ghost touch, and more. You can finish the whole repair process without necessarily having to lose your data, no matter whether your iPhone keyboard is sluggish, frozen or not appearing at all.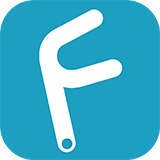 Key Features of TunesKit iOS System Recovery
Fix iPhone keyboard not working with no data loss
Repair 150+ iOS system problems on iPhone, iPad, iPod
Fully support the latest iPhone models including iPhone 14
Intuitive interface and simple to operate
Available for both Windows and Mac platforms
Try It Free
600,000+ Downloads
Try It Free
600,000+ Downloads
To fix the problem you need to download and install the software on your PC. The Standard Repair is highly recommended in fixing common iOS issues like this one. TunesKit guarantees a 100% data safety. Here is a comprehensive guide with regard to it usage.
Step 1

Connect iPhone to PC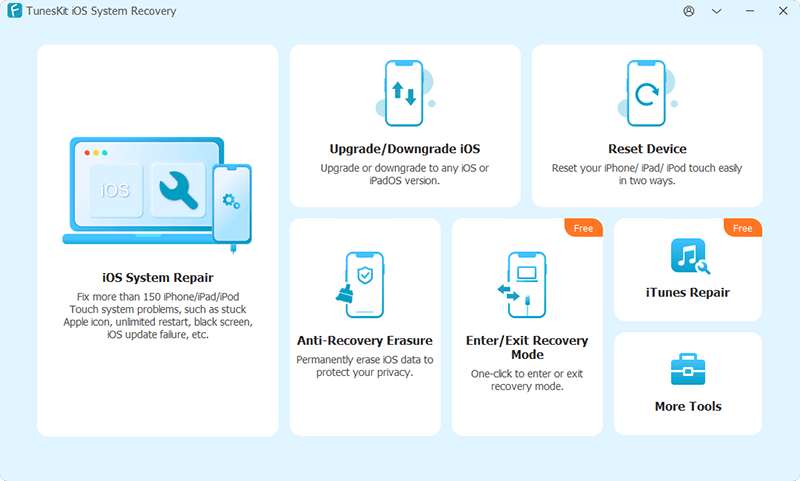 Launch the TunesKit software and proceed to connect your phone to the PC using a USB cable. Wait till it detects the phone. Click iOS System Repair and then select Standard Repair.
Step 2

Download firmware package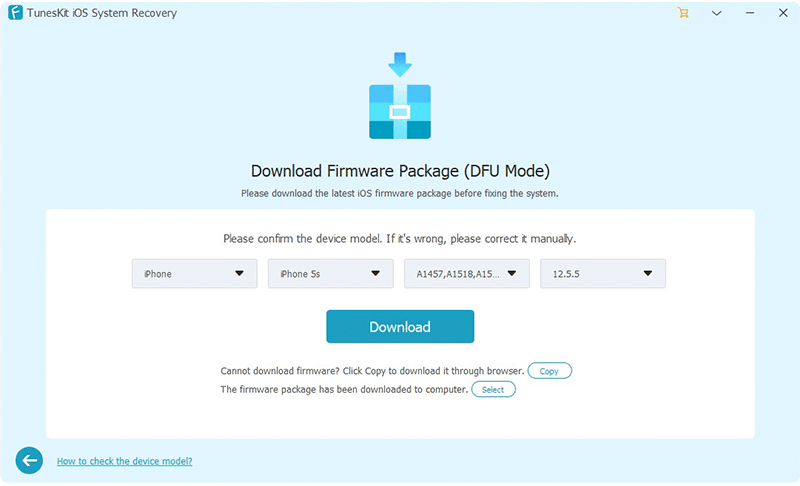 Before downloading, make sure that the displayed devices details are correct i.e. model version, iOS version and others. Initiate download action by clicking Download.
Step 3

Fix keyboard iPhone not working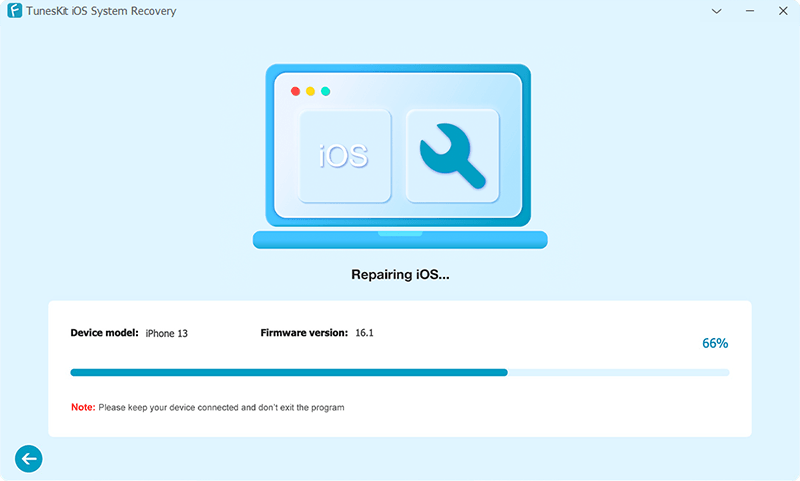 After completing the downloading, simply click on Repair option. The repair process will automatically begin. Wait until it is over. Make sure that your device is connected and is not unplugged before the process completes.
Once the process is complete, you are assured the keyword malfunction is over and your data is intact.
Part 3: Other Common Fixes for iPhone Keypad Not Working
Solution 1: Force Restart iPhone
The first method you can try to fix keyboard on iPhone not working. A force restart can help you refresh the settings of your iPhone without affecting your data. Here are the detailed steps for you to force restart your iPhone according to the model.
For iPhone 6s and earlier models, press the Power button and slide power off on your screen and then restart it. If you iPhone cannot shut normally, simultaneously press the Home and the Power button as illustrated below.
For iPhone 7 and 7 Plus, press and hold the Power and the Volume Down buttons simultenously for about 10 seconds until the Apple logo appears on your screen.
For iPhone 8 and later series, press the Volume Up then the Volume Down button, and finally hold the Power button until the Apple logo appears.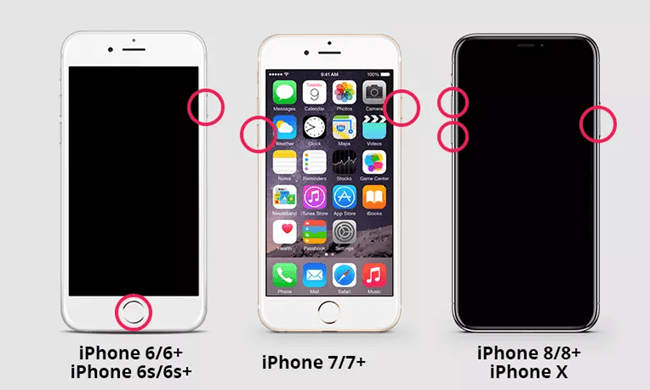 Solution 2: Close All Apps
If this issue only occurs in some apps on your iPhone, you can try to fix it by closing all apps through the app switcher. If you use iPhone 8 and earlier, you can double press the Home button to open the switcher. If you use iPhone X and newer, you can swipe up from the bottom of the screen. Then, switch up all of your Apps to close them until there was nothing on the app switcher.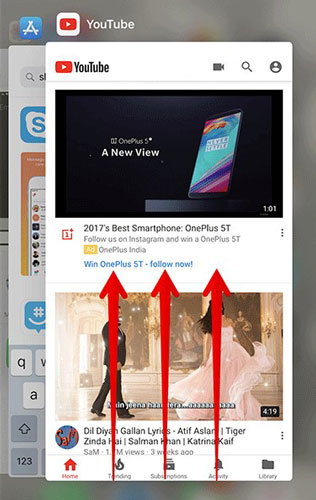 Solution 3: Reset Keyboard Dictionary
Resetting keyboard dictionary is a good way for you to fix different kinds of keyboard-related errors. This method can prevent your keyboard from acquiring dictionary words for too long, thus it can work more smoothly with less errors. Here are the detailed steps for you to reset keyboard dictionary.
Step 1: Open your iPhone and proceed to launch the Settings menu;
Step 2: Scroll and select General and click onTransfer or Reset iPhone followed by Reset;
Step 3: Scroll down and click on Reset Keyboard Dictionary. Enter your password to confirm the action.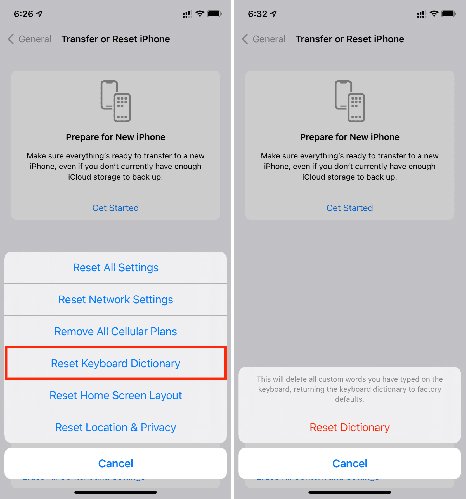 Solution 4: Reset All Settings
Another method to fix iPhone keypad not working is to reset all settings on your device. This can return settings on your iPhone to their defaults without affecting other data. Before you choose to reset all settings, you had better back up your iPhone first. Then, head to Settings > General > Transfer or Reset iPhone, and then choose Reset followed by Reset All Settings.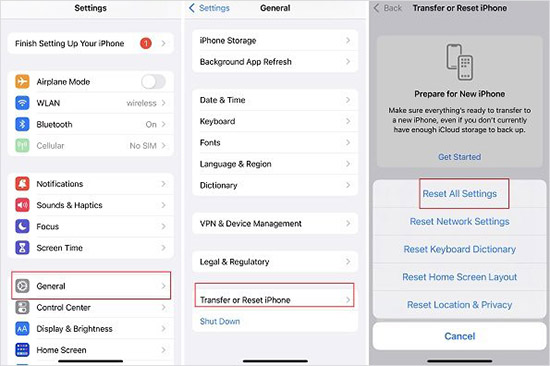 Solution 5: Try Other Keyboards
Sometimes, if there is something wrong with the keyboard you are using now, changing to another keyboard can be conducive to you. You can choose some reliable third-party keyboard and download them from the App Store. After downloading and installig a new keyboard, you can try to use it and check if it can work properly now.
Solution 6: Restore iPhone through iTunes
Restoring iPhone through iTunes is a commonly seen way to solve system-related problems such as keypad not working on iPhone. If you don't know the specific steps for how to restore iPhone, the guidance below can help you conduct the restoration.
Step 1: Using USB cable connect you iPhone to the computer where you have stored your backup.
Step 2: Launch iTunes and go to Summary > Restore iPhone.
Step 3: Confirm Restore option and wait for the process to complete.

Note: A restoration will erase all data and content on your iPhone, please make a backup if you want to keep your iPhone data still after fixing the iPhone keypad not working issue.
Part 4: Hot FAQs about Keypad Not Working on iPhone
Q1: What are common keyboard issues that may occur on iPhone?
There are three common keyboard errors that are often met by iPhone users, including keyboard lag, frozen keyboard, and keyboard not appearing at all. If you meet these issues, you can also use the methods listed above to fix your iPhone keyboard.
Q2: How to fix hardware damage on iPhone keyboard?
iPhone keyboard hardware issues include faulty graphics subsystem, weak sensor at the edge of the screen, cracked device screen, etc. Generally, these hardware-related issues can't be fixed by common users. If you meet them, you had better seek help from Apple Support or a reputable repair shop to fix your device.
Part 5. Conclusion
If you use the above provided solutions, you can be rest assured that your iPhone keypad not working problem will be completely solved. However, it is highly recommended that you consider using the TunesKit iOS System Recovery tool to solve the issue. TunesKit guarantees you 100% glitch fixing as well as data safety. It works for all iPhone models.