Top 5 Tips to iPhone 3D Touch Not Working
4 mins read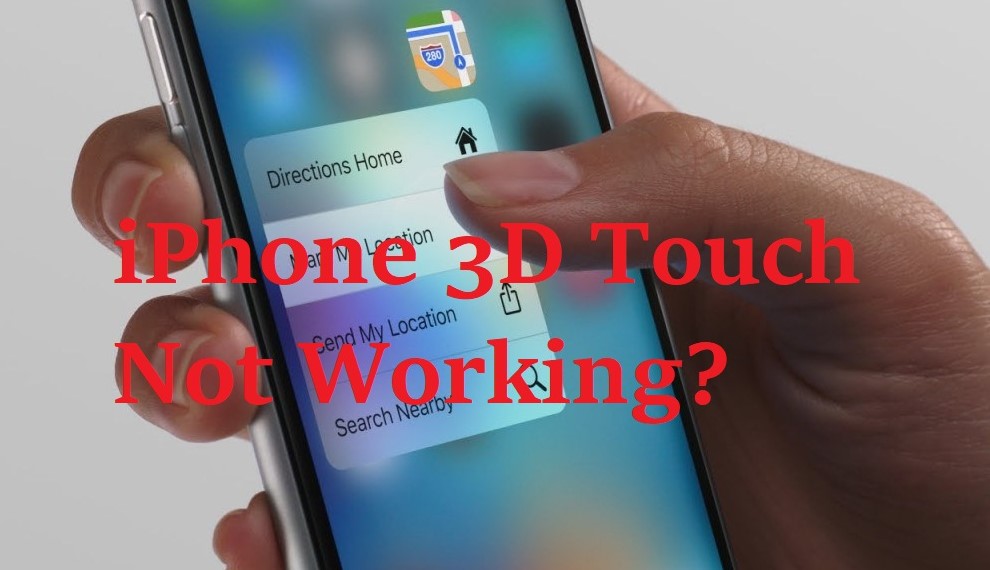 3D Touch is a useful function developed by Apple. This function enables iPhone to recognize force users pressing on screen. Thanks to it, users can pull up a menu to search, send location, or reply in the notification by pressing and holding the icons without opening apps. It is quite convenient when we only want to do some basic operation through some apps quickly. Nevertheless, this technology has a bug recently. Some users complain that their iPhone 3D Touch does not work well. The screen is fine, but the pressure cannot be recognized.
If you have an iPhone 3D Touch not working problem, please read ahead. This tutorial will tell you all you want to know.
Tip 1. Check 3D Touch Button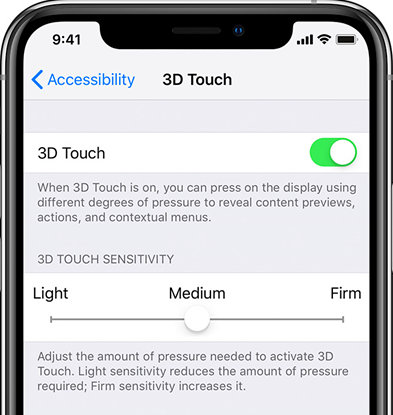 It is necessary to check whether the 3D Touch button has been open on your iPhone. Some users may just forget to open it or accidentally close it. If you find that this is the cause of the 3D Touch problem, you can simply fix it by open the 3D Touch button. Here are some steps to remind those who don't know where to find the 3D Touch button.
Step 1. Find the Settings.
Step 2. Click the Accessibility button.
Step 3. Choose Touch and 3D Touch.
Step 4. Turn on 3D Touch.
Tip 2. Adjust 3D Touch Sensitivity
Some of those who cannot use 3D Touch may misunderstand how to use this function. You should not drag the app icon or just slightly tap on it. Instead, you should press and hold it using stronger force. If you think the force that this function needs is not suitable for you, you can just adjust it on your iPhone. Follow the steps of tip 1. When you open the 3D Touch page, you can find a 3D Touch Sensitivity adjuster under the 3D Touch switch. You can adjust it as you want. Light sensitivity reduces the amount of pressure required and Firm sensitivity increases it.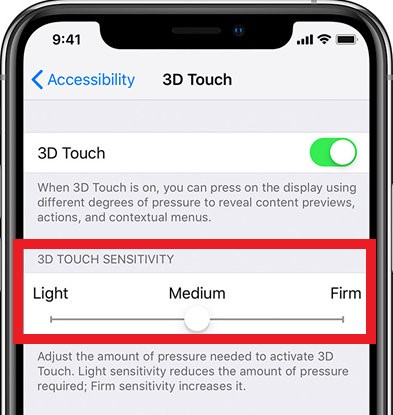 Tip 3. Make Sure iPhone and Apps Support 3D Touch
An important thing you must know is that 3D Touch is not supported by all the iOS devices. 3D Touch is accessible on these models: iPhone 6S, iPhone 6S Plus, iPhone 7, iPhone 7 Plus, iPhone 8, iPhone 8 Plus, iPhone X, iPhone XS, iPhone XS Max. On the other hand, iPad, iPhone XR, and iPhone SE do not offer this function to users.
So, if your device does not support it at all, of course, your iPhone 3D Touch does not work. By the way, not every app supports this function, so you need to figure out on which one supports this function.
Tip 4. Solve iPhone 3D Touch Not Responding Problem Without Data Loss
There may be some iOS system glitches leading to this problem. How to fix iOS system glitches? You can use an iOS system repair program like TunesKit iOS System Recovery. TunesKit can fix more than 50 kinds of iOS system issues, including iPhone stuck in Apple logo, recovery mode, or iPhone error 21, 29, 2009, and other issues. If your iPhone, iPad, iPod touch, even Apple TV have any system problem, you can always ask for help from it. What' more, it can degrade iOS easily and let iPhone enter or exit the Recovery Mode with just a click. It provides two modes: Standard Mode (general issues) and Advanced Mode (issues hard to resolve). The common problems like 3D Touch not working on iPhone 7 and other versions can be fixed by Standard Mode and no data loss will be produced.
Besides, it is quite easy to use. You only need 3 steps to fix your problem. Before everything, you need to download and install it.
Step 1

Launch TunesKit

Connect the iPhone with computer. Start TunesKit and you can enter the Recovery Mode if tap on the Enter Recovery Mode button. (You can use this function of TunesKit if iPhone stuck in Recovery Mode.) Click the Start button.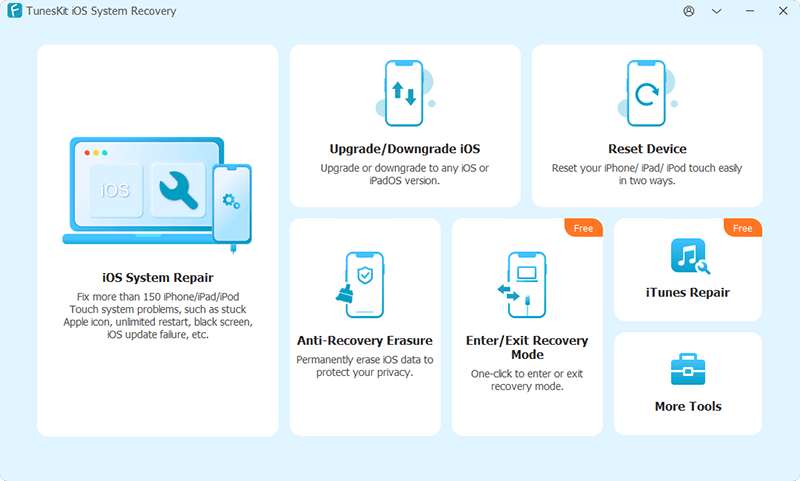 Step 2

Choose Mode

Choose the Standard Mode and the Next button at the right corner to move forward.

Note:The Standard Mode will not bring any data loss.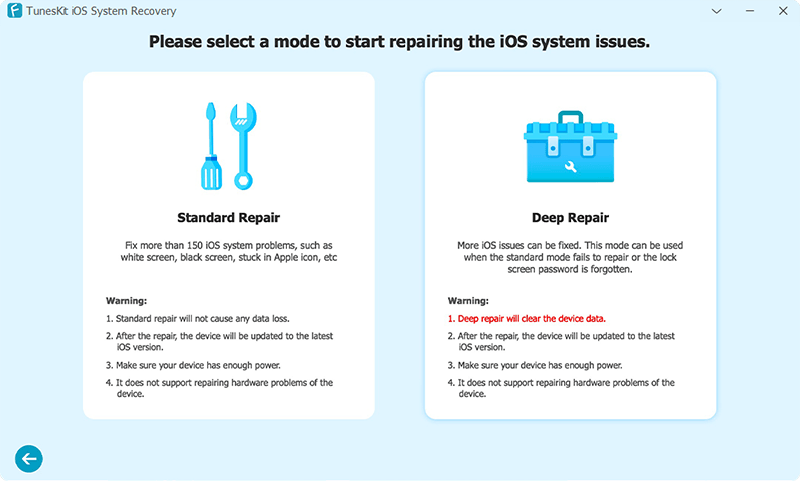 Step 3

Download Firmware and Fix Your iPhone

Read and edit the information of your iPhone and tap the Download button. Then the software will download firmware for you. When it is over, click the Repair button and wait for the repair.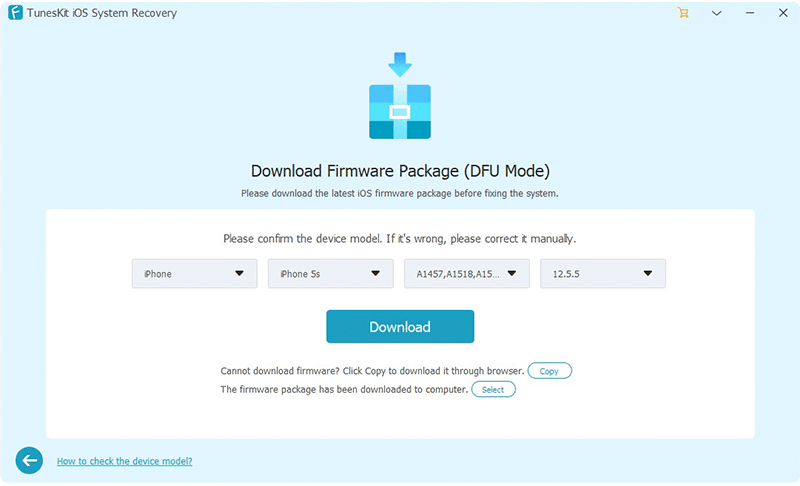 Tip 5. Update iOS on iPhone
Maybe the reason for 3D Touch not responding on iPhone is the outdated iOS. If you don't update your iOS to the latest version, many bugs may appear on your iPhone. 3D Touch issue can be one of them. You can check your iOS version on your iPhone and update it if you find it is not the latest version.
How to: Go to Settings and then General. Find Software Update option and check.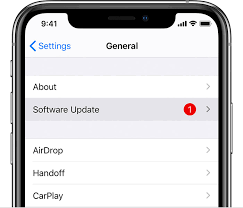 Conclusion
These are the 5 tips to fix iPhone 3D Touch not working. You'd better check the 3D Touch setting first. If the problem still cannot be fixed, use TunesKit iOS System Recovery is the best option for you. You will not lose any data using it. And it can fix many iOS system bugs except for 3D Touch bug. Why not have a try!