Your Facebook Notification not Working on iPhone?
4 mins read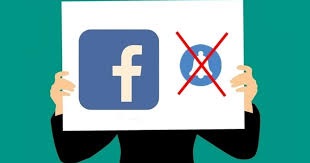 As we all know, Facebook is a famous online social media and also a social networking service. We use it to connect with our friends and create a community to share our life and exchange ideas. It is increasingly difficult for us to leave it during our daily life. Nevertheless, some glitches of this app itself make us crazy. For example, its notification disappears.
Recently, some users found that their Facebook notification not working on iPhone, though there was some news they needed to know. To solve this problem and fix Facebook to normal, we provide 7 solutions. If you cannot receive notification from Facebook, never miss this article.
#1. Turn on Facebook Notification
This is the simplest situation: You just closed Facebook notification accidentally. The solution to this possibility is the simplest, too. What you need to do is open it at the Settings of your iPhone again.
Go to: Settings > Notifications > Facebook > Allow Notifications
#2. Update Facebook
If you have used the old version of Facebook for a long time, the reason for Facebook notifications not loading maybe the outdated version of this app. The apps, not only Facebook, like to remove some glitches of those apps in their new version of apps. On the other hand, not a few keep using the old version for some special functions they love or just feeling familiar with the old one. This will make them have a high probability of encountering these glitches.
If you are one of them, go to the App Store right now and click the Update button next to Facebook to update it.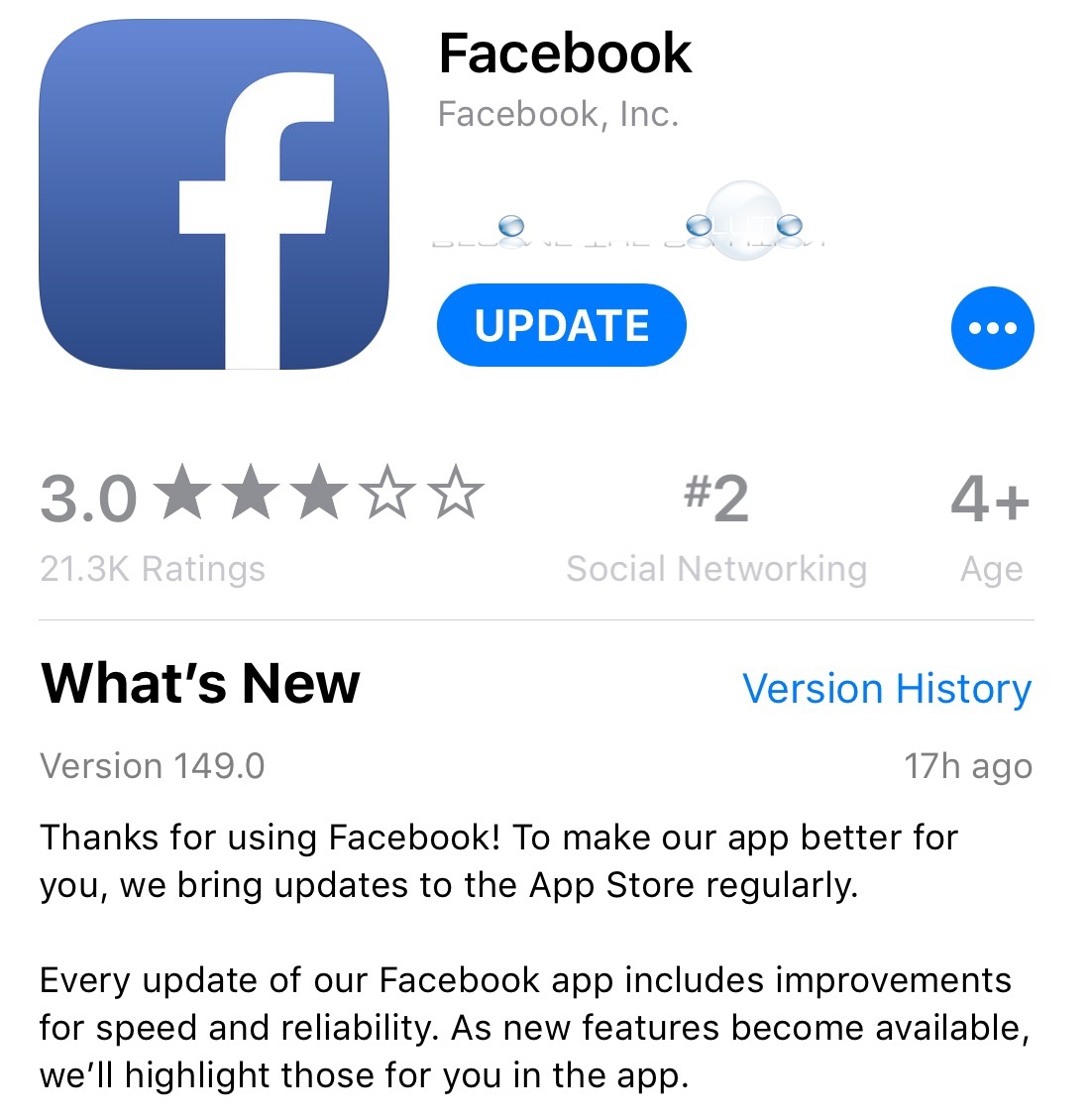 #3. Fix Facebook Notifications not Showing Without Data Loss
The methods above cannot fix your iPhone? Why not use iOS system recovery software like TunesKit iOS System Recovery. This software boasts of solving the system errors of iOS. It can fix 50+ iOS system problems as iPhone stuck in black screen, iOS update failure, restore error, etc. if your iPad has some system glitches, you can use it, too. That is because it supports iPhone, iPod touch, iPad, and Apple TV. It offers two modes for you: Standard mode and Advanced mode. Users are suggested to use the first one first for it will not cause data loss.
Now let me introduce 3 steps to fix your Facebook problem by using it.
Step 1. Connect the iPhone with Computer
Use a USB cable to connect them. Open TunesKit iOS System Recovery. You can enter or exit Recovery Mode by clicking the corresponding button. Do not forget the Start button.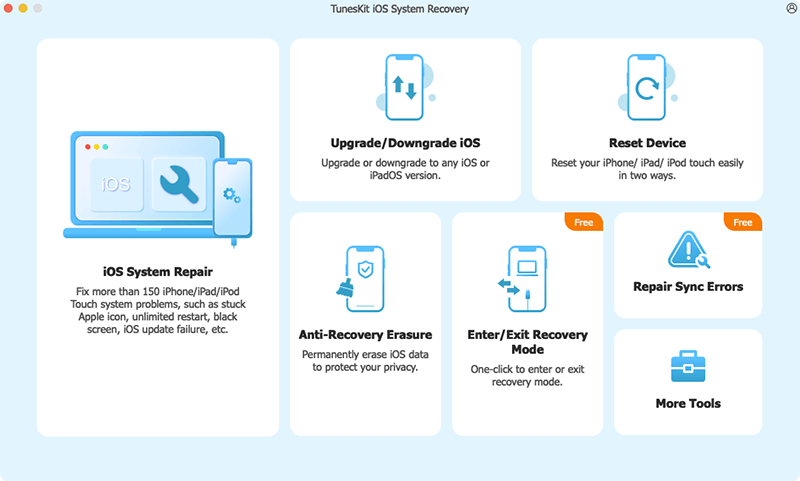 Choose the Standard Mode button and the Next button. Under this mode, no data loss will be caused. So, do not worry to lose them.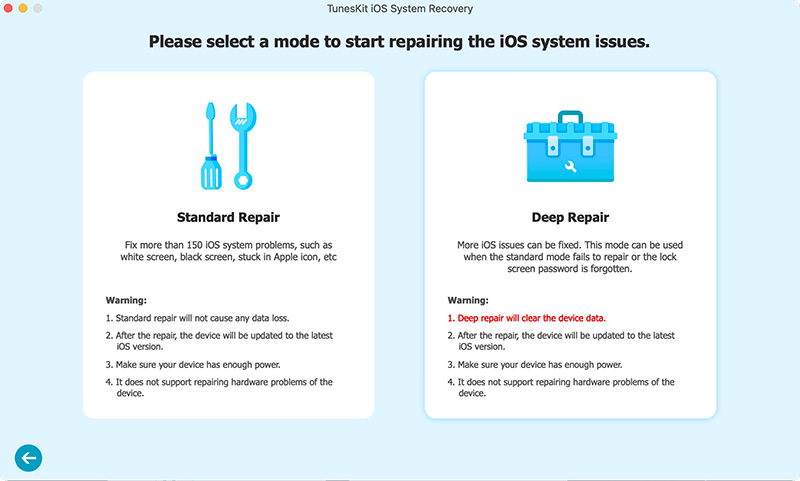 Step 2. Fill Information and Download Firmware Package
This program will show the information of your iPhone by default. But you must check them again and correct the wrong ones. Click the Download button then you can download the firmware package.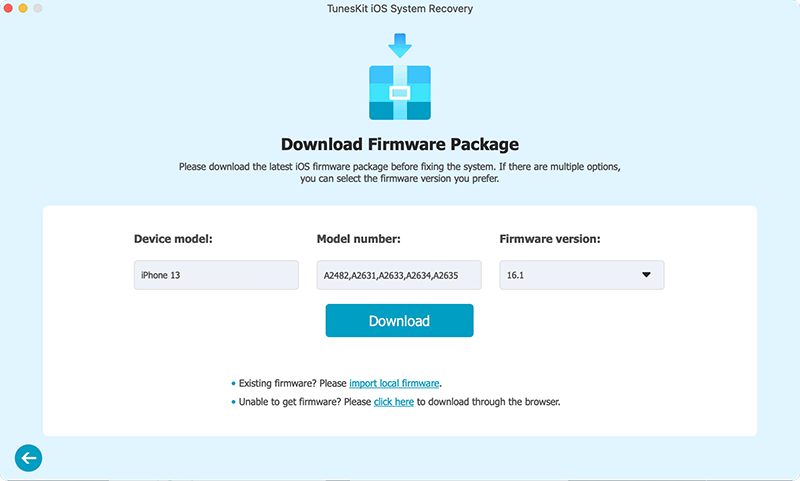 Step 3. Fix Facebook Notification
Just click the Repair button to fix Facebook notification on your iPhone.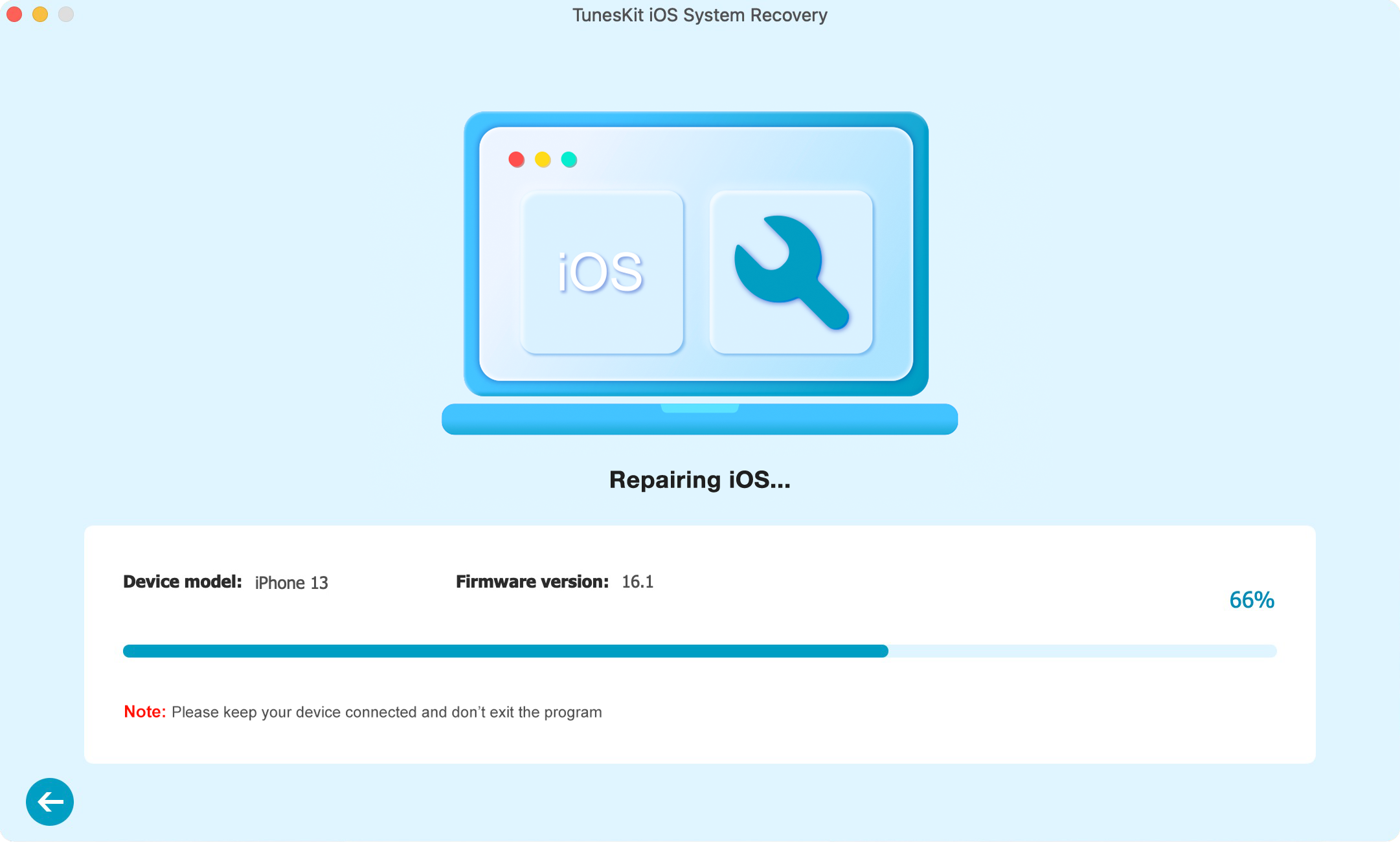 #4. Reinstall Facebook
Maybe you just need a new Facebook. In addition to update it, you can reinstall it. First, delete the old one by pressing and holding for a while the icon of this app and then tap the Delete button. Another way of deleting it is by going to the Settings and App and choosing the Uninstall button. Next, go to the APP Store to install it.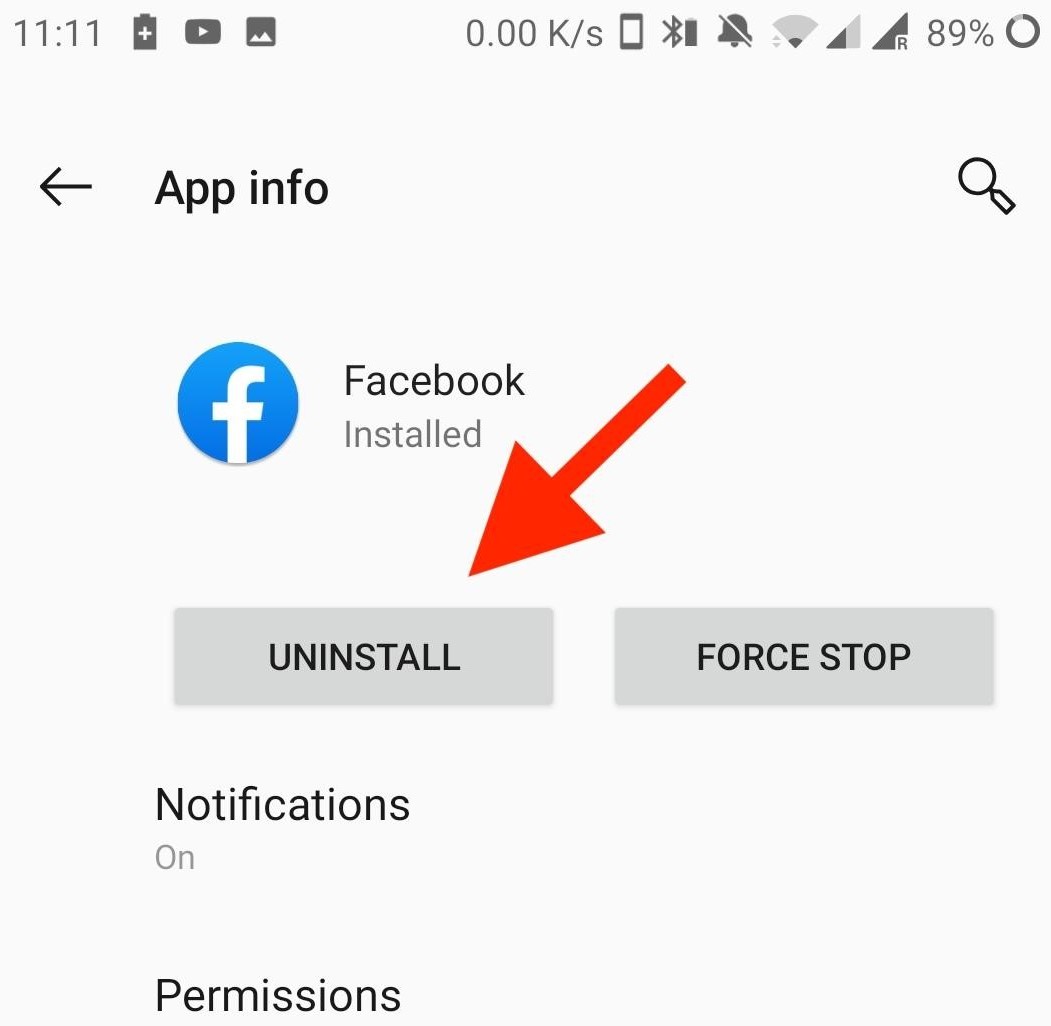 Sometimes, the iOS may be outdated and lead to Facebook notifications not loading on iPhone. Guess! What we should do? Yes, update iOS of iPhone.
Go to Settings > General > Software Update; If you find that there is a notification of updating, just click it to download and install the update.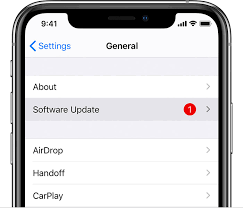 #6. Disable the Do Not Disturb
When your Facebook notification is blank, another possibility is that you open the Do Not Disturb function of your iPhone. And it closes all the notification of apps since your iPhone thinks they will disturb you. How to: Find the Do Not Disturb button at the Settings and close it.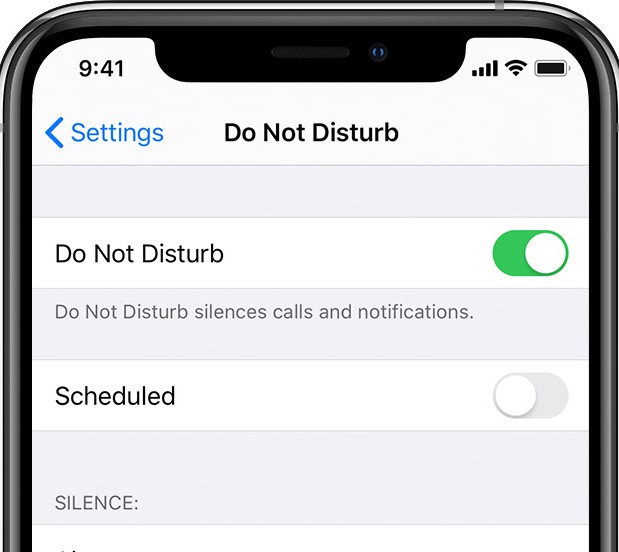 #7. Clear the Stored Cache of Facebook
Clear the stored cache of Facebook and spare more space to run better. You can open Facebook and find out Settings, Account Settings and Browser. Finally, click the Clear Data button to remove data of this app.

The Final Thought
You are easy to find we list 7 solutions for you to fix Facebook notifications not working on iPhone. You should use different solutions according to your actual situation. If you find you did not update iOS, just go to update it. If you cannot figure out which should you choose, it is recommended that you use TunesKit iOS System Recovery. It can fix 50+ iOS system problems without data loss. By using it, your problem will definitely be solved.