How to Downgrade Apple TV? 2 Ways
4 mins read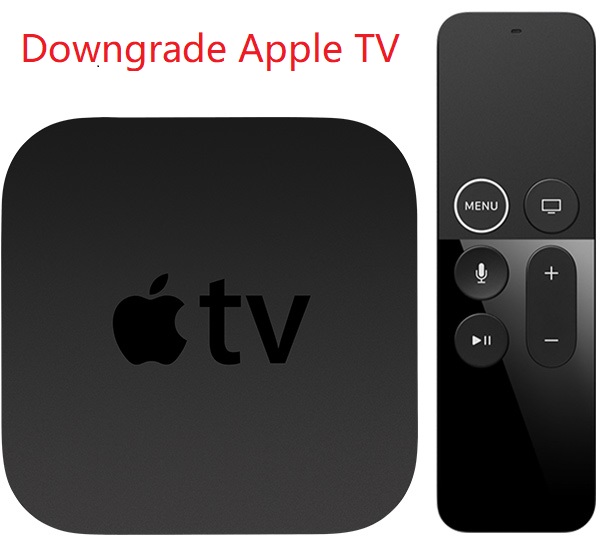 In most cases, a latest iOS version gives users a richer experience. Before launching its official stable operating system, Apple will provide a pre-release beta version for users to have a test. However, people may discover that the latest beta version is not so good as the older system version. Accordingly, some users are more willing to use the previous version.
Apple TV, just like iPhone and iPad, has been recognized by people. It is an important entertainment device for people to receive any digital content such as YouTube video, pop music or video games and play them on a connected television. If the latest tvOS beta verison does not match up to users' expectation and they want to let Apple TV go back to its older system, what should they do? People may hear the most common way: iTunes helps. As this fix will erase all data, they are also haunted by its defects. People may wonder a better but functional solution to downgrade Apple TV without iTunes. Here, except for the iTunes fix, another one is presented for you to have a try.
Option 1: Downgrade Apple TV with Third-party iOS System Recovery Software (No Data Loss)
Although such a software is mainly designed to repair iOS issues, its another special role is to downgrade Apple TV. TunesKit iOS System Recovery is one of the powerful tools. Compared with iTunes, the most significant advantage of the repair tool is to fix all system issues by easy steps and avoid losing data in some cases.
What TunesKit has?
Besides downgrading the latest beta version to the last stable version, TunesKit also fixes more than 50 iOS system issues. For instance, in terms of Apple TV, it is a functional tool to help you solve Apple TV stuck in Apple logo, black screen, recovery mode, etc., or keeps restarting. Of course, users may care much for its effects. By providing two modes, it is 100% safe and can successfully fix your device at a fast rate. Moreover, one click to enter or exit recovery mode is its special feature.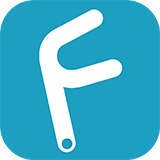 Characteristics of TunesKit iOS System Recovery:
Downgrade Apple TV without data loss
Repair different tvOS/iOS issues by yourself
Provide Standard Mode and Advanced Mode
Easy to use with friendly interface
Try It Free
600,000+ Downloads
Try It Free
600,000+ Downloads
Steps to downgrade Apple TV by TunesKit
Next, I' d like to introduce the detailed steps to downgrade Apple TV. Only three simple steps are required. Users can try its free trial version to understand the following instructions.
Preparation before downgrading:
1. download and install the Mac or Windows version of TunesKit iOS System Recovery
Step 1: Open the software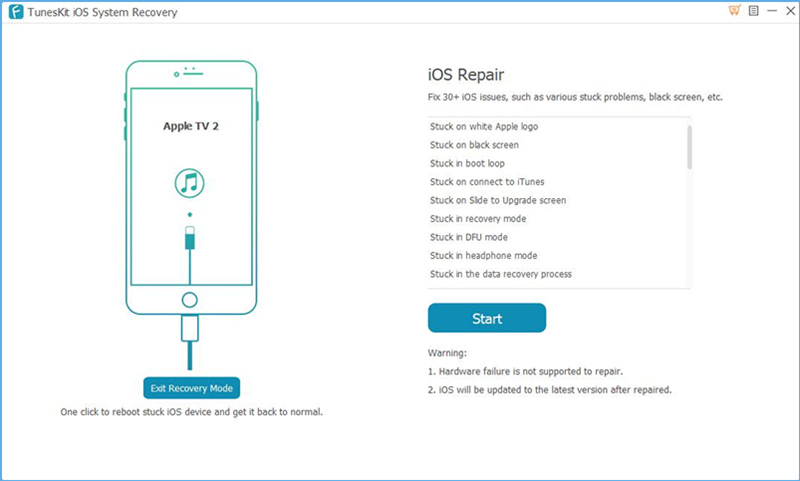 Once you launch the software, just use a USB cord to connect Apple TV to your computer. If your device is detected, just click the Start button.
Step 2: Select the Standard Mode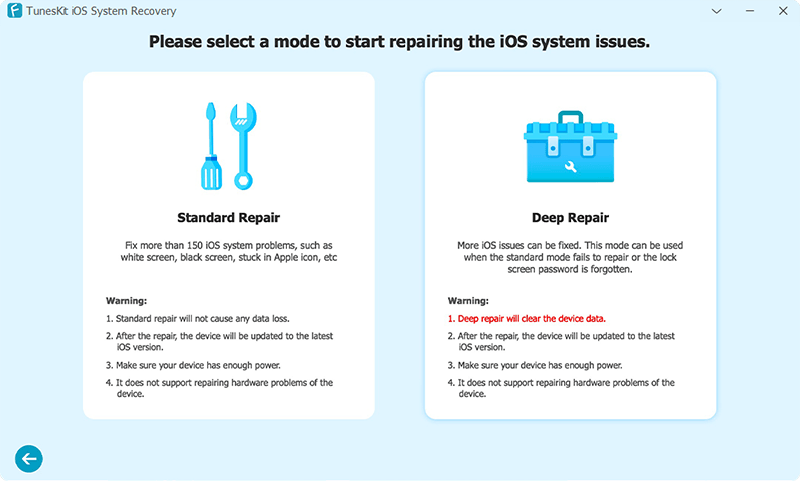 Next, you will see two modes, just click the Standard Mode to avoid data loss. Click Next to start the following step.
Be careful that Advanced Mode will erase your data, and the Standard Mode is able to successfully downgrade Apple TV. Of course, if the Standard Mode fails to downgrade, just choose the second mode and do not forget to back up your data in advance.
Step 3: Download the firmware package.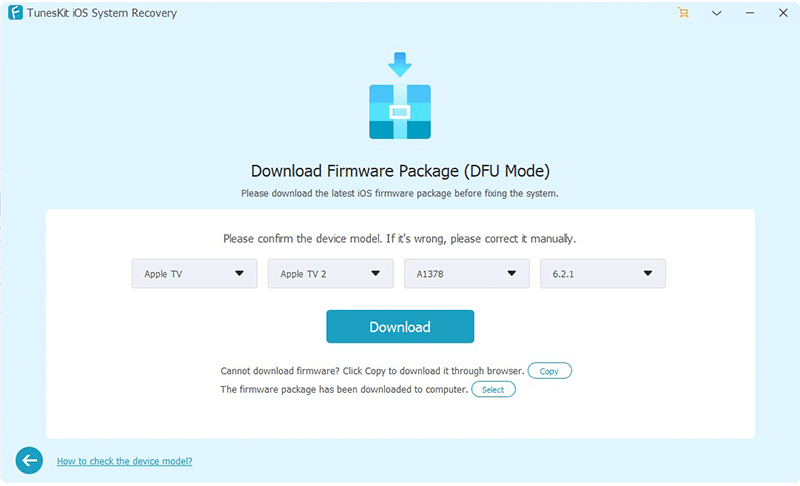 When you enter the download interface, just check the device information and then click Download. It will spend you several minutes downloading firmware package. Lastly, press the Repair button to start downgrading your Apple TV.
After all these steps are finished, you are likely to find the latest tvOS is changed to the last version.
Option 2: Downgrade Apple TV with iTunes (Data Loss)
Of course, if some people have already restored their Apple TV data on iCloud or other devices, they can try this way to see whether it works well.
Steps to downgrade Apple TV with iTunes
Preparation before downloading:
• Make sure iTunes is downloaded and installed on your computer
• Download IPSW file and choose a signed firmware you want to your computer

Step 1: Use a power cord to let iTunes detect and connect your Apple TV
Step 2: Next, you are likely to find two buttons: Eject Apple TV and Restore Apple TV.

While on Windows, hold the Shift key and then click on Restore Apple TV. While on Mac, hold down the Alt key and then click on Restore Apple TV button.
Step 3: A pop-up window will be shown to ask you to choose the IPSW firmware file that you plan to install on your Apple TV device. Next, click Open to import your IPSW file to iTunes.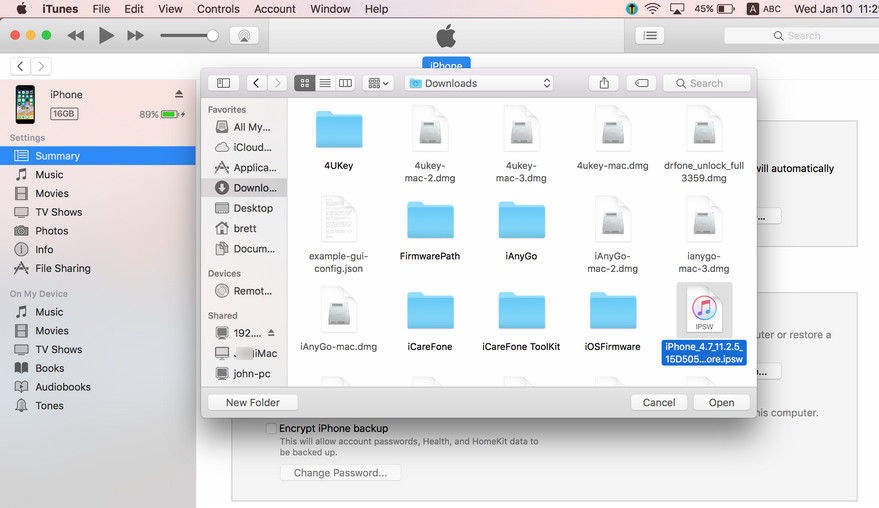 Step 4: Now, when a new message appears, click Restore to downgrade your Apple TV. Then, after the restoration process is finished within several minutes, a new message window will tell you that Apple TV has been restored to factory setting, and you can find your tvOS version is downgraded.
3. Final Words
After reading the above information, I guess readers may figure out which way suits them most.
One of stark difference between the two ways is that iTunes requires you to download an additional IPSW file from a new website, which can make the whole downgrading process more complex. Of course, this is not the significant issue. In some cases, when using iTunes to restore or upgrade, people may face another iTunes errors if iTunes suddenly fails to work well. In contrast, iOS system recovery software can be regarded as a one-step yet powerful tool to fix all common system troubles. As for the fix to downgrade Apple TV, TunesKit can work miracles and will never depress you. Even if your Apple TV or other Apple devices get stuck in other system issues, it still can produce effective results.