5 Solutions to Apple TV Keeps Crashing Problem
5 mins read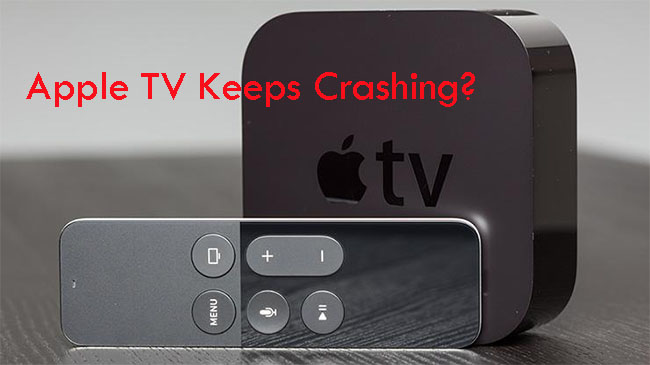 When it comes to TV set top box brands, Apple TV ranks among the best in the market. Its top ranking is, however, not an assurance that the device is perfect. Like any other device, your Apple TV is prone to facing problems; one of them is crashing.
Although this situation is frustrating, the good news is that you don't have to get worked up if your Apple TV keeps crashing. All you need to do is incorporate some techniques to solve the issue. Highlighted and explained below are five steps that you can use to fix your Apple TV keeps crashing problem.
1. Restart Your Apple TV
Often, users find themselves restarting electronics once these tools showcase any abnormal function. Well, guess what? The same technique is applicable when your Apple TV keeps crashing. So how do you go about while you want to restart your television and fix its crashing problem? It is simple! Just follow these three procedures: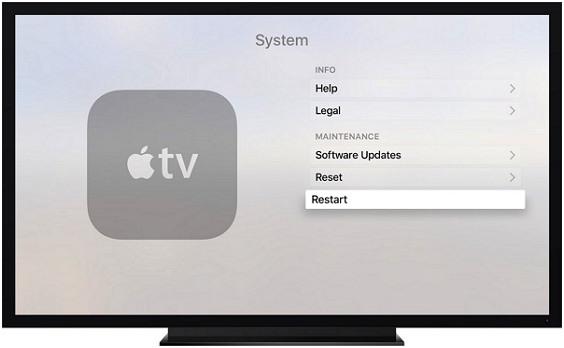 Step 1: On your television, go to the Setting area, proceed to the System location;
Step 2: Of all the options that appear in the system page, select the Restart option which is located at the end of the options that display.
It is important to note that this technique works best for simple Apple TV crashing problems. If you perform this procedure severally and you do not have any positive results, experts recommend considering the following options.
2. Update Your Apple TV Firmware
Did you know that Apple TV's firmware's get outdate? In case you did not know, stay informed that not only are the firmware of Apple TV prone to getting outdated. Their outdated state also triggers the crashing of your TV set. As a result, the next solution to fixing the apple TV keeps crashing problemis updating its firmware through these easy guidelines:

Step 1: Go to Settings on your television and select the option System;
Step 2: On the system page, choose the Software Updates option. After this, tap on the Update Software button;
Step 3: Once you do this, a screen will appear indicating an available firmware update. Notably, it will ask you to download and install new firmware and choose this option. Wait until the download and installation process is complete and test your Apple TV to see if the crashing problem has been solved.
3. Restore Your Apple TV
Tried the two methods above but your Apple TV 4k keeps crashing? Don't sweat it out because you have not yet reached the dead end. You can still fix the problem with the restore your Apple TV option. Here, all you have to follow are four direct steps:

Step 1: Go to your computer and open the iTunes. Using a micro USB cable or a USB, connect your Apple TV to your computer;
Tips: If you are using the 2nd generation Apple TV, do not unplug your TV; If you are using a 3rd or 4th generation Apple TV, leave your power cord plugged in.
Step 2: Once you have done the above according to the Apple TV model you are using, a summary page of the Apple TV is bound to appear in iTunes. Click on it and select Restore Apple TV... option;
Step 3: Wait as the Apple TV automatically gets restored, unplug the cords and restart your device.
Note: Restoring Apple TV will erase all the settings and data on your device. If you don't want any data loss, you can move forward to the next solution.
4. Use Tuneskit iOS System Recovery [No Data Loss]
There are many reasons why Apple TV keeps crashing, one of which deals with the software. As a result, the best way to handle the issue is by using an all-in-one software or program. The recommended program for fixing your device is the Tuneskit iOS System Recovery.
This is a smart yet professional tvOS repair tool that dedicated to fix all kinds of tvOS system problems on Apple TV 2nd generation, 3rd generation, HD or 4K. The best part of TunesKit iOS System Recovery is that it can securely fix your system problem without causing any data loss at all.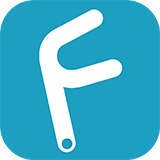 Features of TunesKit iOS System Recovery:
Fix Apple TV keeps crashing problem without data loss
Fix all types of tvOS or iOS issues efficiently
Offer two repair modes - Standard/Advanced Mode
One click to enter the recovery mode for free
Work well for Apple TV 2nd/3rd, HD, 4K
Try It Free
600,000+ Downloads
Try It Free
600,000+ Downloads
To use this program, you have to install and launch it on your computer. Once you are sure that the installation is complete, adhere to the following three easy steps:
Step 1

Launch TunesKit iOS System Recovery

Open the program and chose the Standard Mode option that you see. Proceed to connect your TV to the computer as you wait for it to become detected by the TunesKit OS System Recovery. Ensure that the program is running while you engage in this process.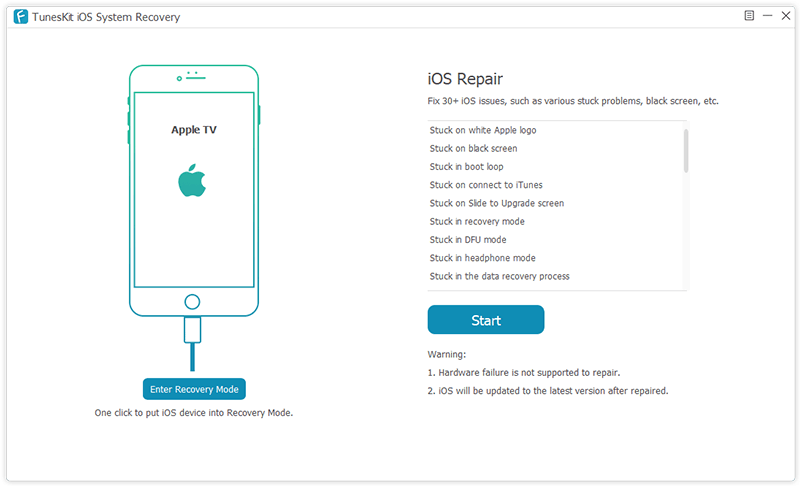 Step 2

Download Firmware Package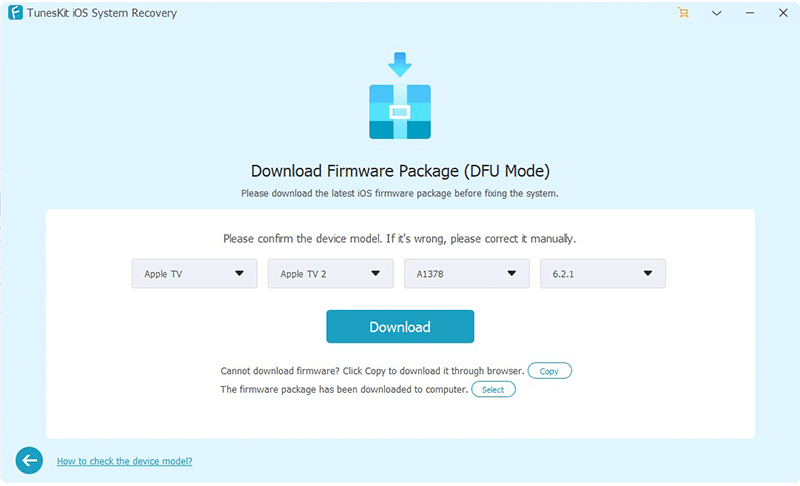 After the program detects your TV and indicates through the computer screen, select the download option that appears.
Step 3

Start to Fix Apple TV Keeps Crashing

Click on the Repair button that pops up once the download process of the firmware is done. Doing so initiates the fixing of the problem, and before you know it, the problem is already fixed!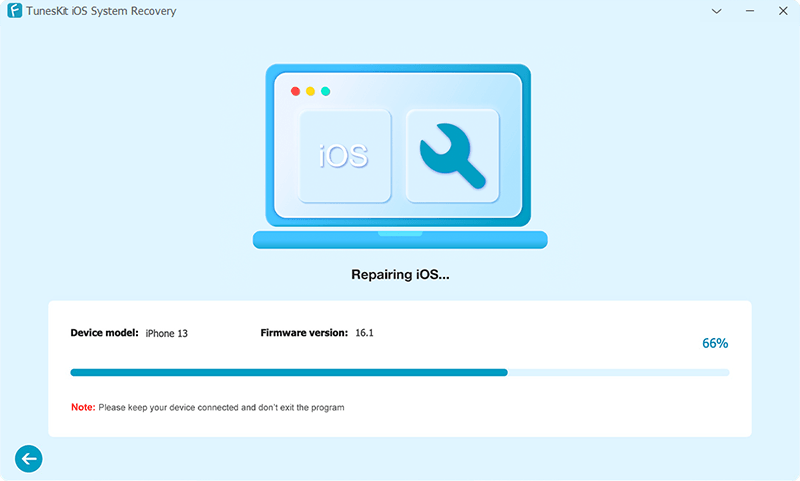 Video Tutorial: How to Fix My Apple TV Keeps Crashing
Users shy from using programs to fix their device problems because the process can become complex. Luckily for the TunesKit iOS System Recovery, the interface is easy to use by anyone, including the novice. Additionally, the program is compatible with all versions of iOS, and importantly, it gets the job done without losing any data.
5. Get in Touch with Apple Support Centre
It is possible that after trying out all the above options, your device still keeps crashing. However, you should not lose hope because there is one remaining option. It involves communicating directly with the support centre of Apple. You can either do this by phoning them directly, through sending them a message on their active social media pages or visiting their shops.
Before doing this, you will want to better understand the genesis of the problem, how long the problem has lasted and information about your television for easier communication with the team. To contact Apple support Centre simply visit their website and select your preferred communication channel.
Conclusion
Why does my Apple TV keep crashing? This is probably what you have been asking yourself. With these given options, you can trust that you will be able to fix the problem in no time. Also, do not feel bad or blame yourself for the occurrence. The reason is that Apple TV crashing has been listed as a major problem by most of the users. Thus, this should tell you that the problem is something common. Share your exprience with us now if you also have this problem.