Is Your Apple TV Stuck on Apple Logo? Solved
4 mins read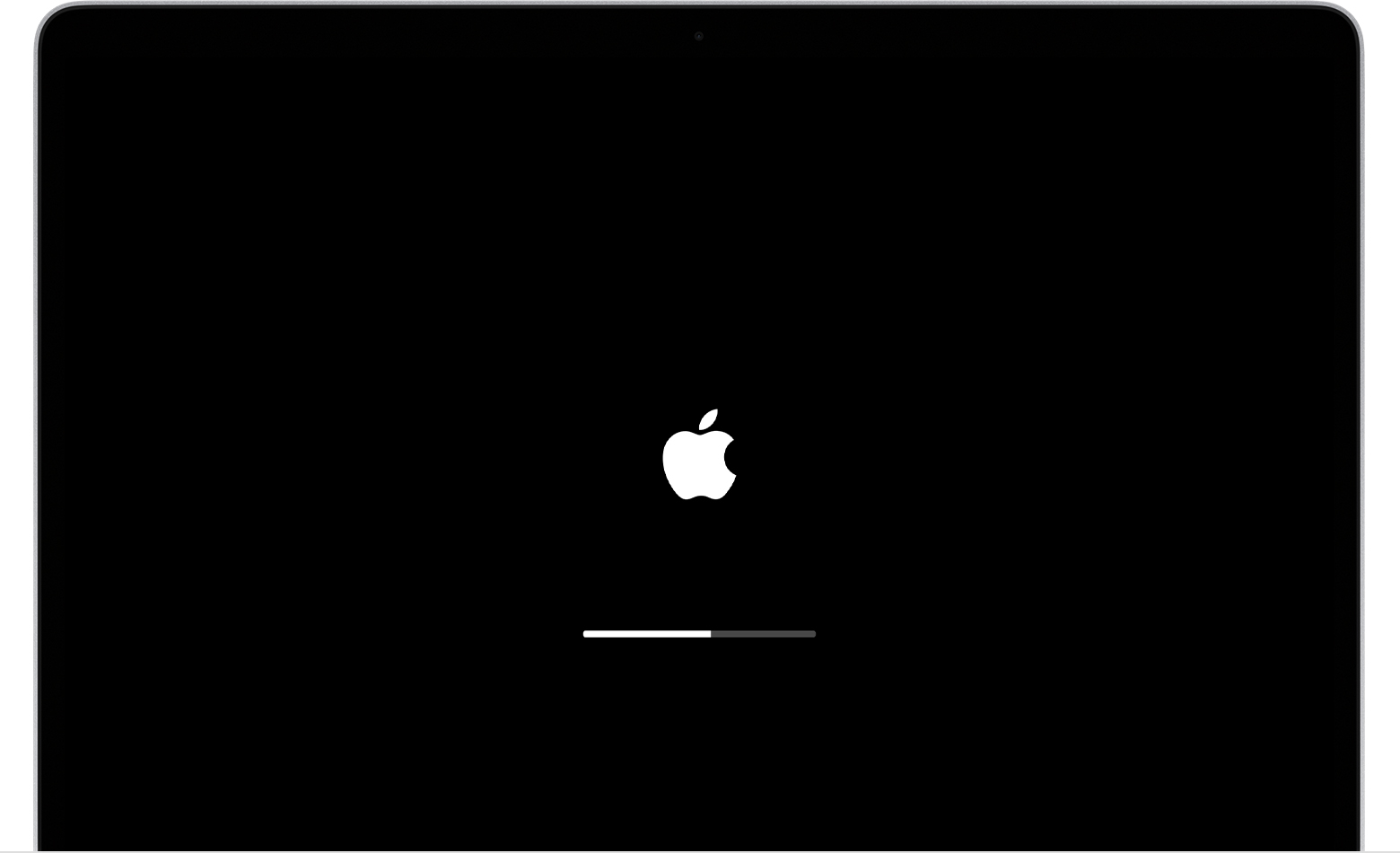 Sometimes, we humans can not get rid of ills or pains. Let alone those lifeless electronic devices. The same is trure for Apple TV,  a small network appliance and entertainment device. It is normal for them to suffer from defects, and therefore they cannot work well. It is a truism that solution accompanies problem.Do not be confused. By focusing on reasons and solutions, this article will shed a light on Apple TV stuck on Apple logo screen for readers.
1. Why Does Apple TV Get Struck on Apple Logo?
Apple TV is operated by the same OS system iPhone or iPad uses, and accordingly is mired in the similar issues. Of course, issues and problems vary and must be explained by different reasons. In this context, Apple TV stuck on Apple logo icon may be caused by:
• Hareware damage: sometimes, hardware failure may lead to serious consequences, which cause you TV system to fail to operate normally. This issue may involve broken screen, battery damage, etc.

• Software issue: the most common situation is that when you update the TV system from Apple TV settings or restore iCloud or iTunes backup files, your TV may not turn on or get sruck on Apple logo.

• Secutity issue: after your Apple TV have access to unsafe or unreliable internet resources, Apple TV stuck in Apple logo screen may occur.
2. The Most Effective Fix for Apple TV Stuck on Apple Logo
So, if Apple TV stuck in Apple logo is related to software issue, how to fix it? In the following part, I' d like to introduce several effective solutions for you.
#1 Use TunesKit iOS System Recovery to fix it at home
What is the benefit of TunesKit?
TunesKit helps you to solve all types of Apple TV system issues. Considered that the article is targeted at Apple Tv stuck on Apple logo, TunesKit iOS System Recovery can certainly give you a safe and efficient solution. It has user-friendly and intuitive interface. It can repair your Apple TV at a fast speed without any data loss. In additon, even if you encounter Apple TV stuck on black screen, home sharing or airplay screen, this software is also useful.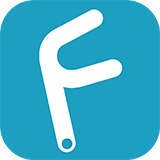 Characteristics of TunesKit iOS System Recovery:
Fix Apple TV stuck on Apple logo without data loss
Repair different tvOS/iOS issues by yourself
Provide Standard Mode and Advanced Mode
Easy to use with friendly interface
Try It Free
600,000+ Downloads
Try It Free
600,000+ Downloads
Three simple steps to help Apple TV stuck on Apple logo
Next, I' d like to introduce the three easy steps to get your iPad out of Apple logo. Before you follow the steps, try to download the app from TunesKit' s official website. TunesKit offers a free trial version for you.
Step 1: Connect your Apple TV to PC and click the Start button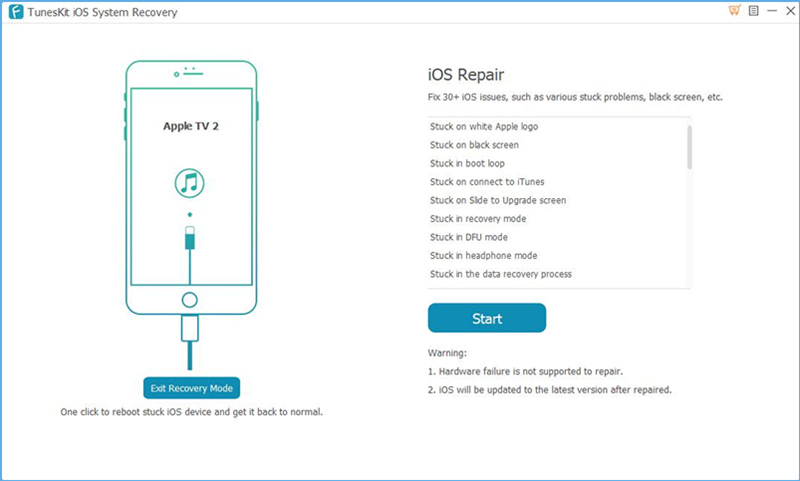 Launch TunesKit iOS System Recovery on your computer. Next, connect your Apple TV to the computer using a USB cable and wait for a few seconds for the Apple TV to be detected. Then, you can click the Enter Recovery Mode button to enter the recovery mode. Lastly, click the Start button to begin the next step.
Step 2: Select a mode to repair the system issue and click the Next to select your device mode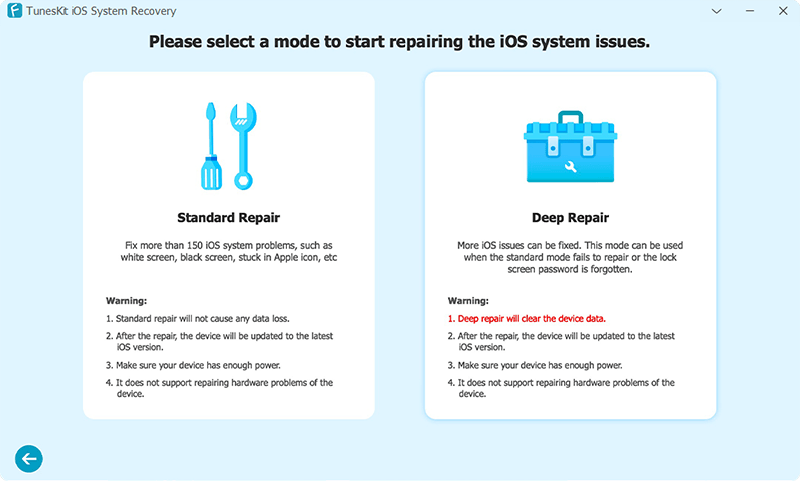 If you finish the first step, select Standard Mode. The Standard Mode aims to repair your Apple TV stuck in common issues without data loss. After choosing the mode, click Next to move forward. I' d like to remind you that if you fail to solve the issue by the Standard Mode, just try the Advanced Mode. However, you should be aware that the seconde mode will cause data loss.
Step 3: Download the firmware package.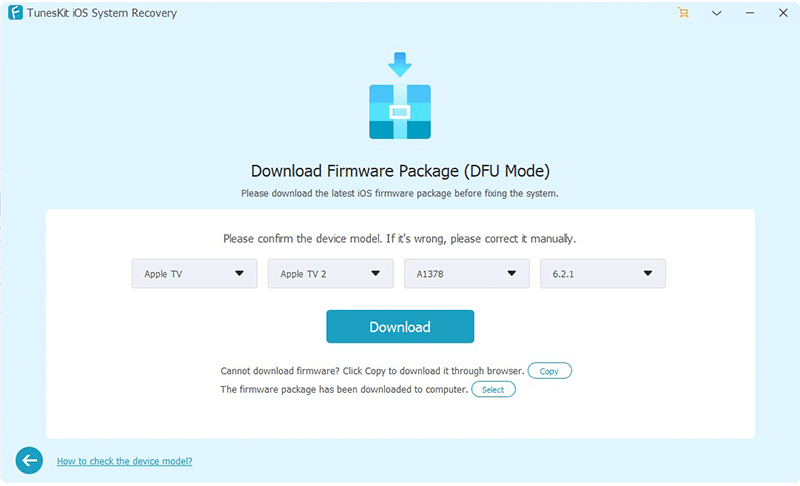 When the correct package is downloaded, click the Repair and begin to recover the Apple TV.
3. Other Alternative Fixes for Apple TV Stuck on Apple Logo
#1 Check the power cable
This is the simplest way. First, ensure that your Apple TV status light is on. If the light doesn' t appear, you can check the power cable by unplugging, waiting for about 1 minute, and then plugging the power supply. If this fix fails to take effect, just refer to the folllowing information.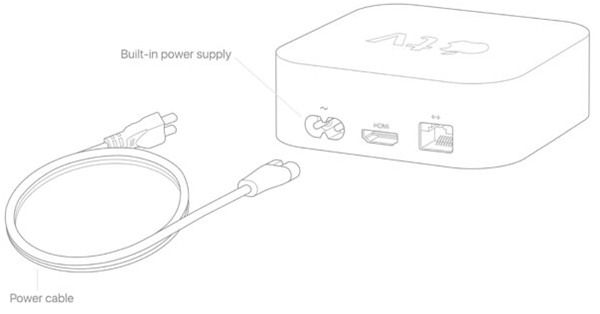 #2 Alter display mode
Changing the video resolution may also fix the problem of Apple TV stuck on Apple logo screen. Use the remote to change the display mode by altering video resolution.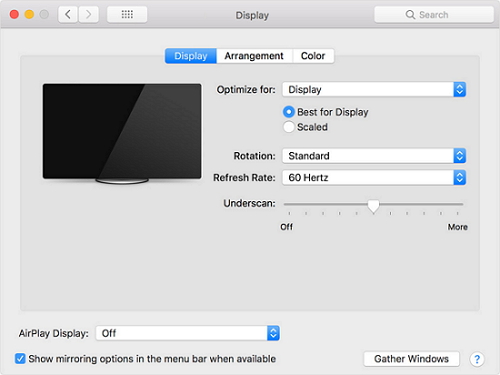 #3 Restore Apple TV through iTunes
If your Apple TV remains unchanged, there is another solutions by virtue of iTunes. Before using iTunes, make sure that your PC have the software. Steps to restore Apple TV stuck on Apple logo are as follows.
1. Connect your Apple TV to your Windows PC or MacBook by using a USB-C to USB cable;
2. Open iTunes and select Apple TV from the Devices menu;
3. Click on Restore Apple TV;

4. What You Can Do and Maintain in Daily Life
According to the first section discussed, readers may have already figure out what they can do in daily life to avoid this type of issue. Well, regular solutions can be concluded:
• Keep your devices intact and undamaged. If things happen, the right way is to contact the customer help center and repair any damaged hardware as soon as possible.

• Keep away from unknown resources or data. This ways always benefits your electronic devices.
5. Final Words
Problems and issues are not formidable. They have their enemy to defeat them. TunesKit is such a suitable tool for you. Do not miss and let the fine software runaway. It is able to render it all-round functions and services. It will never depress you.