Five Ways to Fix Apple TV Stuck in Recovery Mode
5 mins read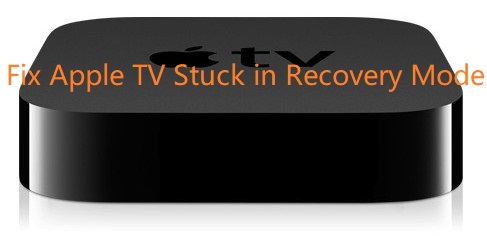 If mentioning the universal electronic devices, Apple tops the list for its high-quality products including iPhone, iPad, iPod and Apple TV. As a digital media player and entertainment device, Apple TV has caught Apple fans' eyes. Nevertheless, blessings accompany pitfalls. Some users have complained that their Apple TV may get stuck in some problems. Matters related to recovery mode is one of those issues. In some cases, this mode occurs during the process of performing a software update on Apple TV. If you encounter this issue, this article will be helpful. Here, I will describe several ways to assist you to fix Apple TV stuck in recovery mode.
1. What Does Recovery Mode Mean?
Recovery mode is a special state that your Apple devices goes into whenever there's a problem with the operating system. It refers to a failsafe troubleshooting mode that is used to revive your devices with a new version of iOS. Sometimes, if your devices suffer from more serious problems, you are required to put your device in recovery mode.
The most common reason Apple TV gets stuck in recovery mode is that there is a problem and error when updating software. Hardware issue is also a factor. Whatever the reason is, your Apple device will be frozen in recovery mode with the iTunes logo. Once in this mode, your device cannot operate normally. Worse, the mode may put your data in risk.
2. Five Ways to Get Apple TV out of Recovery Mode
After having a rough knowledge of definition and reasons of recovery mode, users may be eager to know how to fix this issue. Here, five ways are listed for you.
#1 Use free tools to exit recovery mode on Apple TV with one click
In order to solve a series of iOS system issues, iOS system recovery software have made inroads into the market. All these apps are very similar, but some software can stand out from others for its one-click entry/exit to recovery mode. To this end, I would like to recommend you to use TunesKit iOS System Recovery, which is equipped with one-click entry/exit button.
Before adopting this simple way, you need to download and install TunesKit on your PC. Next, you can follow the steps below.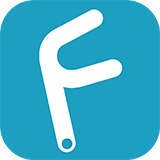 Characteristics of TunesKit iOS System Recovery:
Fix Apple TV stuck in recovery mode without data loss
Repair different tvOS/iOS issues by yourself
Provide Standard Mode and Advanced Mode
Easy to use with friendly interface
Try It Free
600,000+ Downloads
Try It Free
600,000+ Downloads
Step 1: Connect Apple TV to PC
Open the TunesKit software before connecting your Apple TV to the computer. Next, use a USB cord to finish connection and then wait the software to detect your device.
Step 2: Exit recovery mode
After your Apple TV is connected to the software, the screen will show that the Apple TV is already in recovery mode. Then, click the Exit Recovery Mode button on the left side, and wait for a while for the process to complete.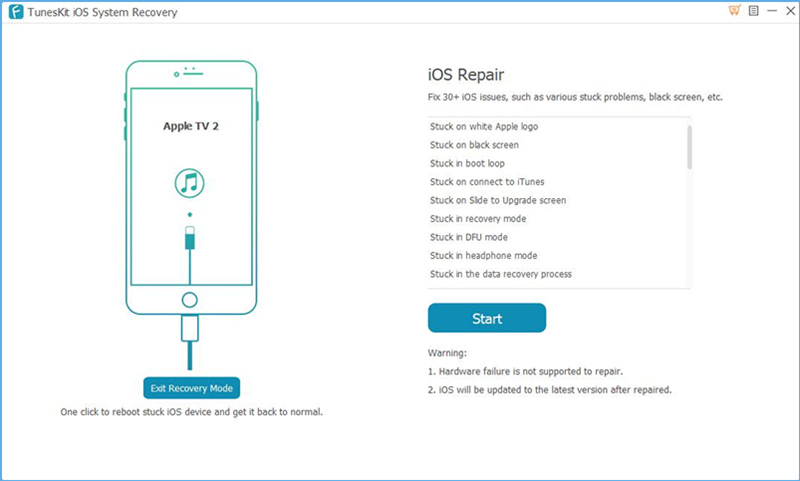 #2 Use the same tool to fix Apple TV stuck in recovery mode
If the first way above does not work well, use the second fix to get Apple TV out of recovery mode. Actually, this way is not complex, and only three steps are needed. In this case, we also need TunesKit iOS System Recovery.
Step 1: Connect Apple TV to the computer
This step is the same as the first way discussed before. Just use a USB cord to connect your Apple TV to your computer. Then, click the Start button.
Step 2: Select a mode to repair Apple TV
Normally, I' d like to recommend you to choose Standard Mode which will not lead to any data loss. Next, select a device you want to fix and then click Next to the start next steps.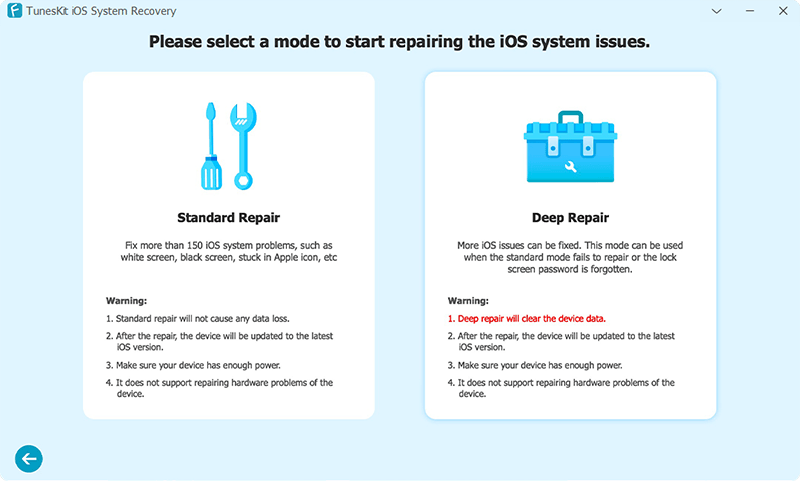 Note: If Standard Mode fails to fix, just try Advanced Mode. However, this mode will cause data loss.
Step 3: Download the firmware package.
The last step you need to do is to download the firmware package and then click Repair to let the software to repair your Apple TV.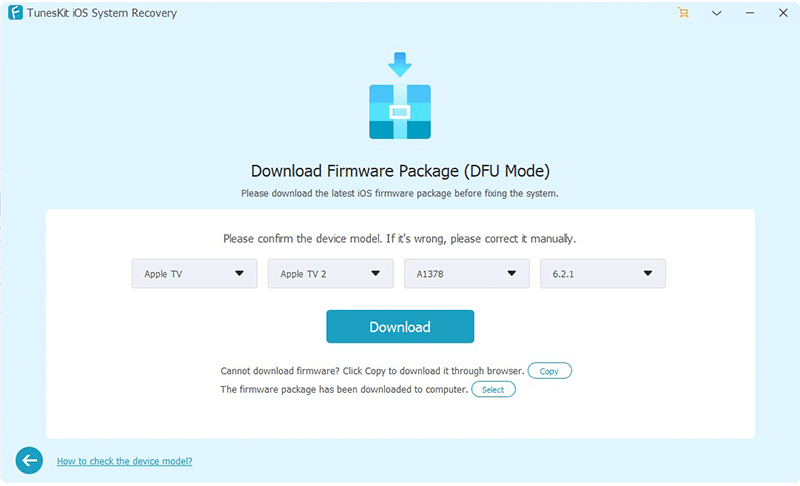 #3 Put your Apple TV to sleep
The following shows frequent and common ways to fix Apple TV stuck in recovery mode, which you may try these before using the first two ways based on individual needs.
You can get your Apple TV out of recovery mode by putting it to Sleep. Different generations of Apple TV adopt different ways.
For 3rd generation or earlier models: Press the Play/Pause Button for seconds. Then, turn the Apple TV light on by plugging the power cord back to your TV. Just leave your Apple TV inactive for some time, your Apple TV will go to sleep by itself. Use your remote to put your Apple TV to sleep from the menu is the alternative way.
For 4th Generation: Press and hold the button with the TV icon on your Apple TV Remote or Siri Remote for some seconds. From the menu option, choose Sleep or go to Settings and select Sleep Now.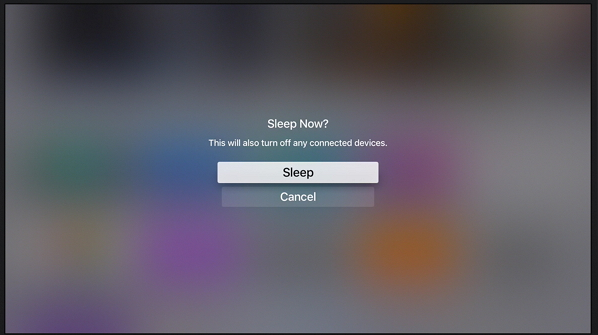 #4 Force restart Apple TV
In order to force restart your Apple TV, you only need to hold the Menu button and Down button at the same time before the LED light on your Apple TV starts flashing. Then, release the both buttons.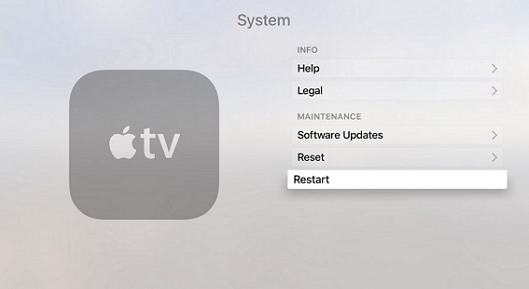 #5 Restore Apple TV through iTunes (data loss)
If the third and fourth fixes fail to return your Apple TV back to normal status, you have to resort to iTunes. The steps are as follows:
• Connect your Apple TV to your computer by USB cable after powering off Apple TV;

• Plug Apple TV back to power to let it restart. Launch iTunes on computer to wait it detect the Apple TV;

• Two options will be displayed for you. Click Restore Apple TV rather than Eject Apple TV and then select Restore and Update. After the process completes, eject Apple TV and reconenct to your TV to check if Apple TV gets normal.

3.Summary
This article prepares five comprehensive ways to fix Apple TV stuck in recovery mode for you. I hope that there is always a way out. Of course, compared with all other ways, TunesKit iOS System Recovery enjoys higher success rate and security. With its all-round functions, it also helps you fix other issues suffered by Apple TV, such as Apple logo, black screen, airplay screen, etc. Just download the free trial version of TunesKit iOS System Recovery now.