I just downloaded a nice MP3 track from YouTube for a project. There are some content I need to cut out from the song. But I'm not tech savy. So could you please recommend a reliable MP3 audio cutter or editor for beginners that can trim or extract MP3 audio without losing any quality? I'm using Windows 10. Thanks.
How to cut MP3 losslessly on Windows 10? You may also have the same request when you get a song and want to create a ringtone from it. Thankfully, there are plenty of MP3 trimmers that could cut the MP3 songs easily with high quality. Here we'll list the 3 most popular ways to trim MP3 on Windows 10, including free MP3 cutters.
Method 1. Trim MP3 Audio on Win 10 with VLC
Yes, you are reading this correctly. It's VLC, the well known media player. In addition to playing the media files, it also works great as a media cutter. With this smart tool, you can easily cut any audio as well as video into small pieces by recording the media. The following tutorial will show you how to cut MP3 music on Windows 10 with VLC media player step by step.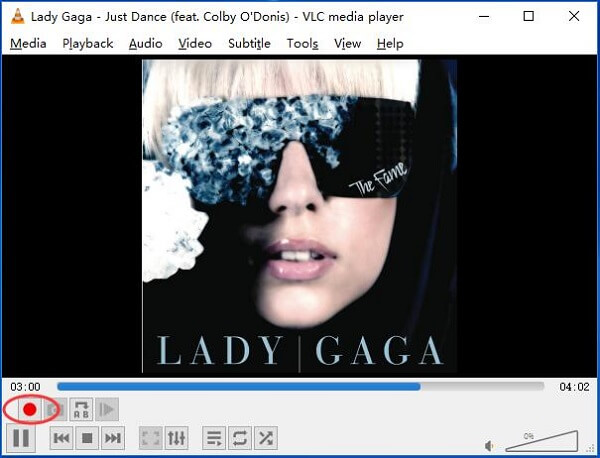 Step 1

Open VLC media player

Launch VLC player on your PC. Then move to top menu bar and click View > Advanced Controls.
Step 2

Import MP3 audio track to VLC

Click on Media >Open File to add the specific MP3 file that you want to split into VLC. Or you can drag and drop the track directly.
Step 3

Start playing and recording the MP3

Now play the audio in VLC and scroll around to the starting point from where you want to trim. Then click the Record button.
Step 4

Cut and export the MP3 song

Click on Record again when it reaches to the end point. Then it will save the trimmed MP3 automatically in My Music folder.
Method 2. Cut MP3 Music on Win 10 with Windows Movie Maker
If you have no VLC installed on your Windows 10, nor will you like to use it in the future, you can also trim the MP3 with Windows Movie Maker, a video editing software by Microsoft. Although it's named as a movie maker, it can also be used as a smart audio editor to cut MP3 music on Win 10 with easy steps.
Step 1

Add MP3 file to Windows Movie Maker

Launch Windows Movie Maker on computer and click Add Music option to import the target MP3 audio file you want to trim.
Step 2

Trim MP3

Right click on the MP3 and click Add to Timeline. It also supports adding the file via drag-and-drop. After that, move the cursor to mark the start and end points.
Step 3

Verify and save the cutting

Now simply save the splitted MP3 in WAV format to complete the cutting.
Method 3. Trim MP3 on Windows 10 with Dedicated MP3 Cutter
With VLC or Windows Movie Maker, it's easy to cut off any MP3 audio even for beginners. However, the downside is that there might be some quality loss when cutting MP3 with those tools. If you are looking forward to a more professional solution that can preserve original quality while trimming the MP3 files, you are highly recommended to try a dedicated MP3 splitter instead, such as TunesKit MP3 Cutter.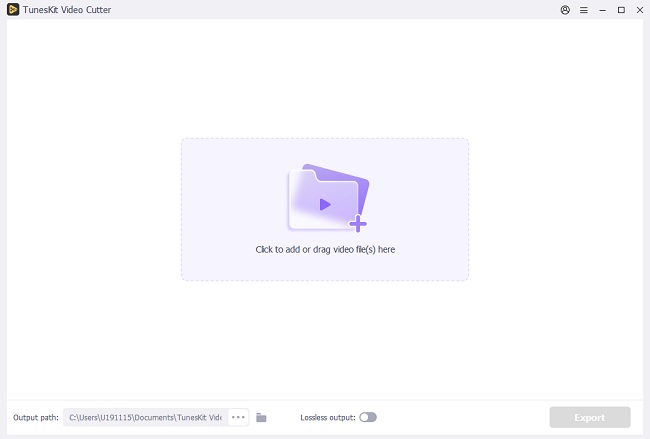 TunesKit MP3 Cutter for Windows is a full-featured media cutting tool that can losslessly trim any audio and video including MP3, WAV, WMA, MP4, MOV, AVI, etc. on Windows 10/8/7. It enables you trim the MP3 into small clips and save the cuttings in other formats and devices. You can also extract multiple parts from the MP3 audio track and merge them into a new song. Besides, with the built-in audio editor, you are provided with the additional effects to make the audio more personalized.
Tips: You may simply use TunesKit Free Video Cutter if you only need to cut the MP3 losslessly without converting the file to other formats.
Key Features of TunesKit MP3 Cutter
Cut MP3 and other audios/videos on Windows 10 without quality loss
Export and save the splitted clips to other formats
Merge multiple parts cut from the source video into a new file
Edit the audio/video flexibly with customized effects

Now the following guide will show you how to trim the MP3 audio on Windows 10 with TunesKit Video Cutter for Windows.
Step 1

Add MP3 file to TunesKit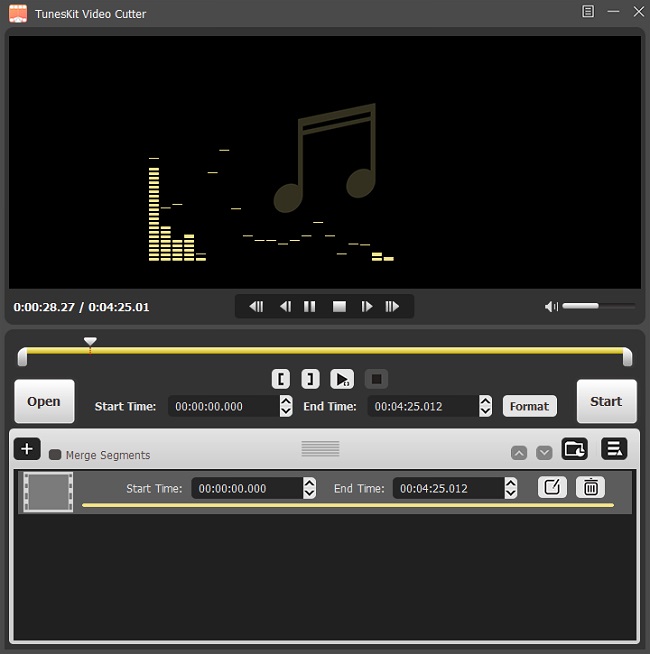 Launch TunesKit Video Cutter and click 'Open' button to add the MP3 file. You can also import the track directly via drag-and-drop.
Step 2

Set start time point and end time point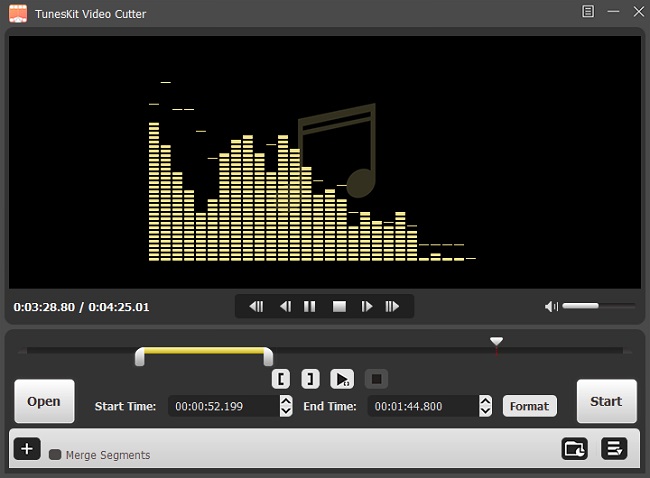 The MP3 will begin to play once imported. Then you should set the duration of the segment you want to cut via slider bar or time board. If you want to extract multiple portions from the song, simply click the "+" icon and it will create a new segment for you to cut off.
Step 3

Edit the audio as you want (Optional)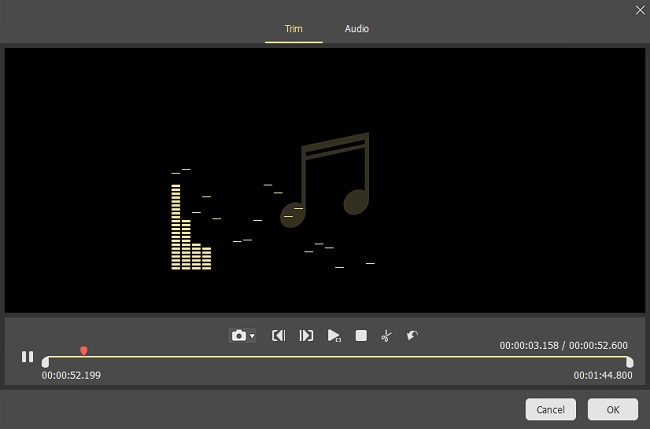 If you want to edit the MP3, you can click the 'edit' icon of each clip to enter the audio editor interface where you can trim, crop, add audio effects to the MP3.
Step 4

Set output profile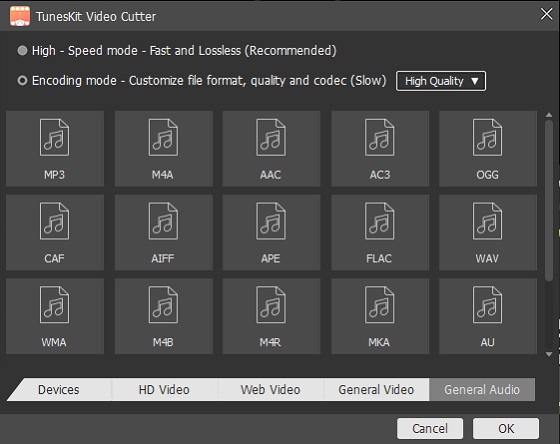 To leave the format as MP3, simply skip this step. But if you want to change the format of the audio, you should click 'Format' button and select Encoding Mode in the popup window. Then pick up the one as you like, such as AAC, AC3, M4A, OGG, etc.
Step 5

Start trimming the MP3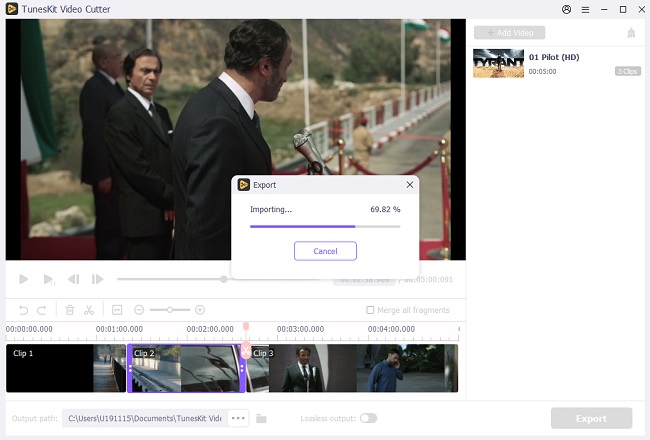 Now simply start the MP3 trimming process by clicking the 'Start' button. Wait for a while till the whole process completes. Then locate the splitted audio from the converted folder.
Video Tutorial: How to Use TunesKit to Losslessly Trim MP3 on Windows 10
In the following video demo, you can see clearly how to trim an MP3 file on Windows 10 quickly and losslessly with the help of TunesKit Video Cutter.
The End: More Options to Split MP3 on Windows 10
In addition to TunesKit Video Cutter, Windows Movie Maker and VLC media player, there are some other free MP3 splitting tools which can help you trim MP3 losslessly on Win 10, including online MP3 cutters, such as AudioTrimmer.com, MP3cut.net, Cutmp3.net, etc. With those online solutions, you don't need to install extra software on computer in order to trim the MP3.
Have any suggestion for a better MP3 cutter for Windows 10? Share your thoughts in comments!