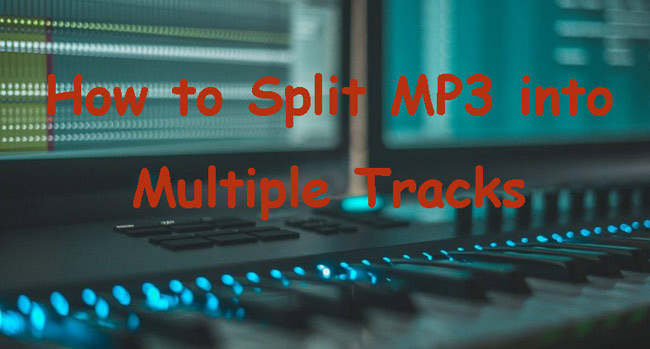 Most individuals do not want to learn how to split mp3 into multiple tracks, especially if it is a difficult task. Instead, they'd rather locate a good MP3 splitter or merger and spare themselves the trouble.
Even if you don't work in the media, you may find yourself in the pilot's seat in various situations. Where do you go when the necessity to mix MP3 files arises?
To split mp3 Files into separate tracks or perform other easy activities like this, you don't require specialised audio splitter software. This post will go through some of the greatest audio splitter software on the internet. Is there anything more infuriating than not having the proper tool for the job?
Part 1. Split MP3 into Multiple Tracks via TunesKit Video Cutter
How to split an mp3 into multiple tracks? TunesKit Video Cutter, a well-known lossless video splitter, is a capable audio cutter and joiner. It lets users split mp3 into multiple tracks and connect them to make a new one while maintaining the original quality. As a result, you may use this tool to cut out undesired sections of a music track, delete intros and outros, commercial commercials from a song, create a ringtone for your smartphone, edit and polish your audio recordings, etc.
TunesKit MP3 Cutter accepts a variety of audio files in addition to MP3s, including WAV, FLAC, OGG, M4A, AAC, AC3, AIFF, M4R, MKA, APE, and others. You may also transfer the refined audio File to numerous mobile devices, including the iPad, iPod, iPhone, Android phones and tablets, gaming consoles, Windows Phone, etc.

Key Features of TunesKit Video Cutter
The UI is intuitive and simple to use.
60X quicker cutting and conversion of audio files
MP3 music may be cut and combined without sacrificing quality
Provide more robust audio editing tools
Numerous file types and portable devices are supported
Want to know how to split MP3 with a TunesKit video cutter? Here's the guide:
Step 1

Open TunesKit and add the MP3 File you want to trim

Click the Open button to add the MP3 File you want to split.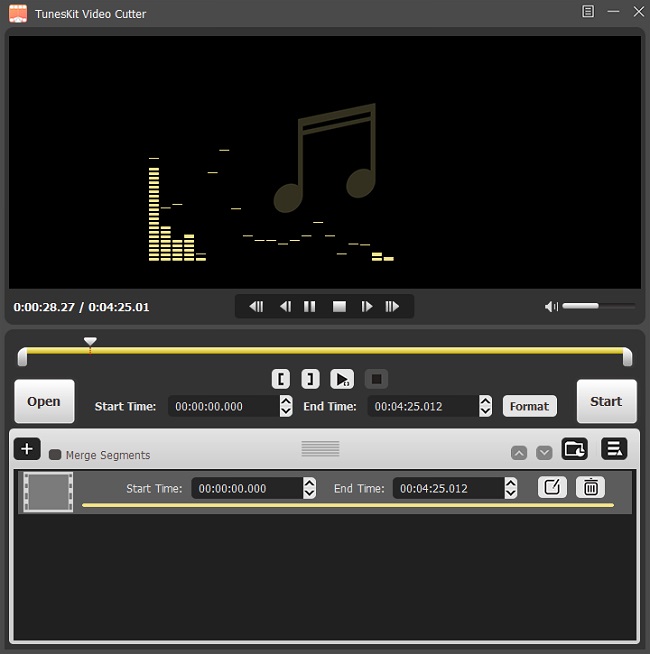 Step 2

Set cutting segments for splitting

You can drag the progress bar to cut the length, and click the play button to preview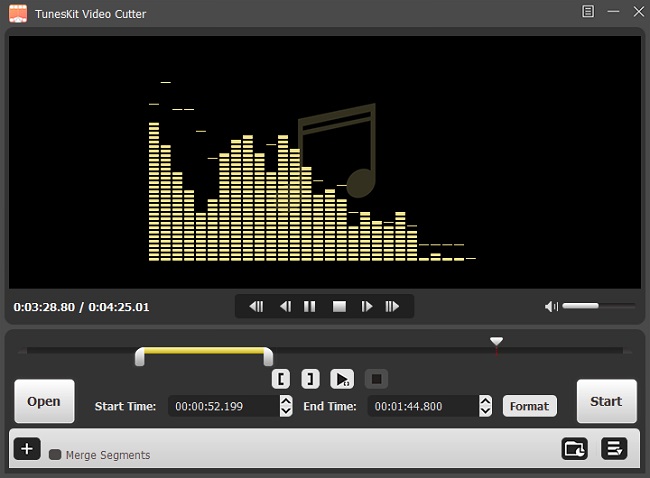 Step 3

Edit the MP3 File you want to edit (Optional)

Click the Edit button to open the editor. In the Trim side, you can set cutting segments for splitting. And you can also adjust the MP3 file, and add effect on this platform. Then click on OK.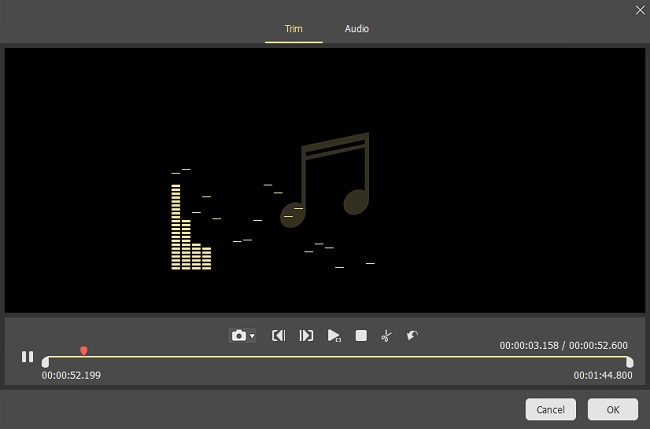 Step 4

Decide on an output format

Once you've done, click the Format button to set the MP3 output format. And click OK. Then click on the Start button, and the video will be saved in the folder.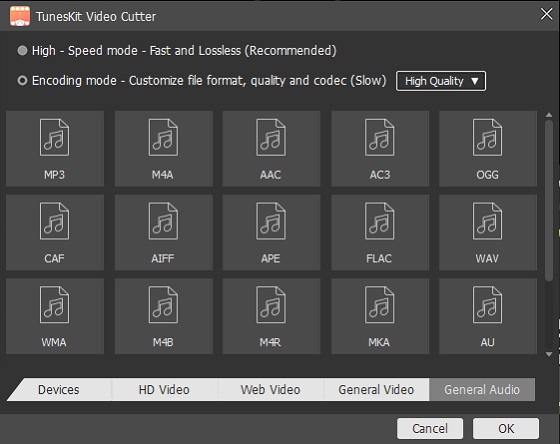 Part 2. Split MP3 into Tracks with Audacity
How to split the MP3 File into multiple tracks? Audacity is constantly used to process different audio files since it is a free audio editor compatible with Windows, Mac, and Linux. It lets you record and play sounds, decrease noise, mix multitrack, analyses the audio spectrum, and detect dropout issues, among other things. We'll teach you how to chop audio in Audacity using MP3 as an example, as this is a commonly asked question. Audacity is the best software for splitting mp3 into multiple tracks.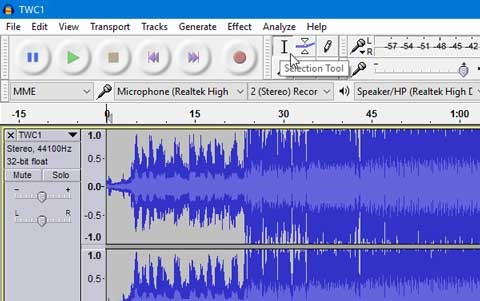 Pros:
• Free audio editing software that works on all platforms.
• Audio files of all types, including MP3, maybe precisely trimmed.
• With a variety of tools for editing and enhancing audios
Cons:
• AAC, WMA, AC3 and other restricted/proprietary formats are not supported natively.
Here's a step-by-step guide on how to split MP3 with Audacity.
Step 1: Open Audacity and import your MP3 File by clicking "File" - "Open...";
Step 2: Enable "Selection Tool" in the toolbar and highlight an MP3 track you want. To eliminate the beginning and conclusion, go to "Edit" - "Remove Special" - "Trim Audio." With the "Time Shift Tool," drag it to the very beginning of the timeline;
Step 3: Apply fade-in and fade-out effects to improve the MP3 file. Press "File" - "Export" - "Export Audio" or "Export as MP3" to save it.
Part 3. Split MP3 into Tracks with WavePad Audio File Splitter
MP3, OGG, FLAC, and WAV are among the lossy and lossless audio formats supported by WavePad Audio File Splitter. This programme is compatible with Windows, Mac OS X, iOS, and Android. It's completely free to use at home, with no time constraints.
The number of ways this application can split MP3 files into multiple makes it flexible. The usage of quiet detection is its most outstanding feature. This tool allows you to break a huge audio file with several music tracks into smaller pieces.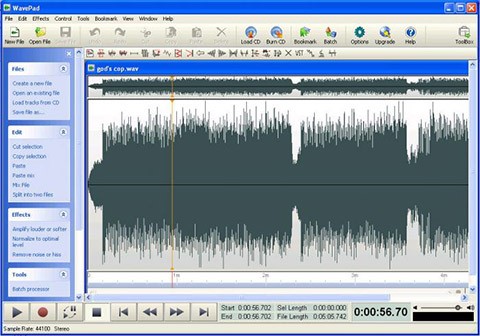 This programme is a decent alternative for producing individual tracks if you rip an audio CD to a single huge MP3 file. After that, you may use an ID3 tag editor to add track identification information, which is necessary if you want to know what track you're listening to.
Pros:
• Works with a variety of file types.
• There is also a mobile alternative.
Cons:
• It supports a limited format.
Here's a step-by-step guide on how to split MP3 with WavePad Audio Files Splitter.
Step 1: Open the software and click File > Open to add an MP3;
Step 2: Go to the toolbar and select "Edit" > "Split" to select a splitting mode.
Step 3: Set the time of the MP3 to be split into equal chunks or distinct songs, then click "Split" and "Save."
Part 4. Split MP3 into Tracks with Online MP3 Cutter
One of the most often used online programmers for splitting MP3 files is Online MP3 Cutter. Any cutting tasks are started straight in your browser. Apart from MP3, it supports various audio formats, has fade in and fade out settings, quality presets, and extracts sound from video, among other features. It's an excellent choice for newcomers because no talent is necessary.

Pros:
• Quickly access and begin splitting MP3s. Basic audio effects and quality modification are available.
• Support There are almost 300 different file types available.
Cons:
• If the File is huge, uploading might be sluggish.
Here's a step-by-step guide on how to split MP3 with Onlie MP3 Cutter.
Step 1: Drag or press on "Choose file" to add MP3 audio;
Step 2: Once it's been uploaded, use the sliders to create a segment or define the Start and End times;
Step 3: Add fade in/out effects, save as MP3, and export with "Cut" as the output option.
Part 5. Split MP3 into Tracks with Online Converter:
This mp3 cutter can split huge MP3 files into separate MP3 tracks and chop mp3 audio files. You may use this program to trim the mp3 to eliminate the silence or noisy parts or erase sections you don't want by adjusting the start and finish locations or length.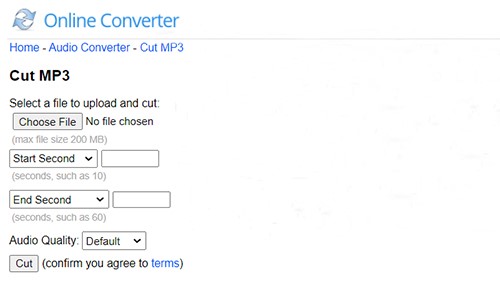 Here's a step-by-step guide on how to split MP3 with Online Converter.
Step 1: Choose an mp3 file.
Step 2: Choose from the start or enter a start second or time.
Step 3: Select to the end or enter an end second, end time, or duration second.
Step 4: Choose from various audio quality options, including default, 48 kbps, 64 kbps, 96 kbps, and 128 kbps.
Step 5: To begin uploading your files, click the "Cut" button.
Step 6: Once the upload is complete, the converter will send you to a web page that displays the cutting.
Pros:
• Split and chop MP3 files easily
Cons:
• Slow uploading if file size is big.
Final thoughts:
So now you know how to use this easy and effective TunesKit Video Cutter to split mp3 into multiple tracks without losing quality. Of course, other free online applications promise to aid trim and combine MP3 files, but after testing most of them, none compares to TunesKit. Some of them can just help you split single mp3 audio files into separate tracks, while others can only assist you to join MP3 files. Furthermore, uploading the target audio file online takes longer, and the technology is not always stable.