Best Guide 2022 - How to Unlock Old iPhone without Passcode
Posted by Brian Davis on May 24, 2022 2:30 PM • Category:
Unlock iOS
6 mins read
"Greetings. Can anyone provide me with the answer to how to restore an old iPhone without a passcode? My old iPhone X is locked because I forgot the passcode, and I cannot use it. It has useless data, so I don't mind restoring it to factory settings. All the help would be greatly appreciated."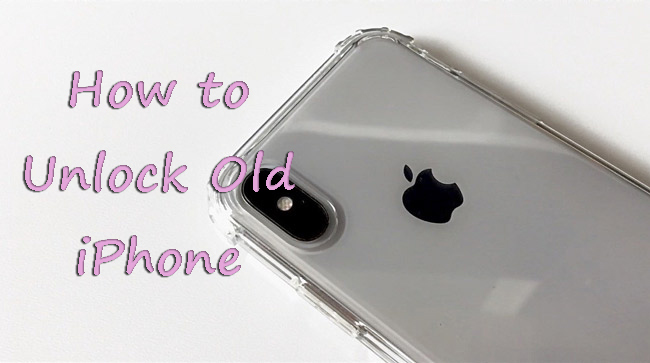 Are you having difficulty accommodating your old iPhone, and you want to restore it? If yes, this article will provide you with the best solutions, including unlocking the device with a carrier or using third-party software like TunesKit iPhone Unlocker to unlock an old iPhone model. Go through the whole article and unlock your old iPhone without a passcode.
Part 1: 4 methods to unlock an old iPhone
Many people try to move from their current network provider to a new one while keeping hold of their iPhone, or they pick a second-hand. In this situation, an iPhone user may find that his iPhone is locked to the current Carrier or a network provider. The process of unlocking a device was a massive difficulty in the past, but the good thing is that you can now easily unlock an old iPhone.
The process is easy and helpful; you can be done it by getting a network provider to unlock the iPhone, often for free. And you can also even do it yourself. Usually, when your iPhone is locked, you'll receive a message that 'SIM Not Supported' when you try to set up the device.
You might wonder what's the reason behind the locking of your device. Most likely, if you bought your iPhone second-hand or took it from a friend or family member, there is possible that your iPhone was underuse under a long-term contract, and now it's been locked. Or it might be that you have forgotten your iPhone's password, and now you cannot access your device. Don't worry; we have the best four possible solutions for unlocking your old iPhone.
Now we'll look deeper into each solution and have a step-by-step guide to solve the issue of how to unlock an old iPhone without a passcode.
Solution 1: Unlock the old iPhone from carrier
To unlock an old iPhone locked to a specific carrier or mobile operator, you'll need to contact the operator. The operator will unlock your iPhone by using the particular process of that Carrier, and after some days, you'll have your phone unlocked for use. But before rushing into a hurry, you have to check whether your old iPhone can run a sim card or not. Or do you use a sim card or not in your iPhone. If you use a SIM card, there is no complicated process for using your old iPhone again. You have to enter your SIM card, and your iPhone will unlock.
But there are some terms and conditions should be followed before entering the SIM card into your old iPhone. It all depends on which Carrier your old iPhone has because some carriers consider that your account should remain active for a certain amount of time before unlocking the device. You'll receive a confirmation message if you have successfully unlocked your old iPhone from the Carrier.
But if you don't use a sim card, you have to try some other solutions like using a third-party tool, iTunes, and iCloud for unlocking your old iPhone.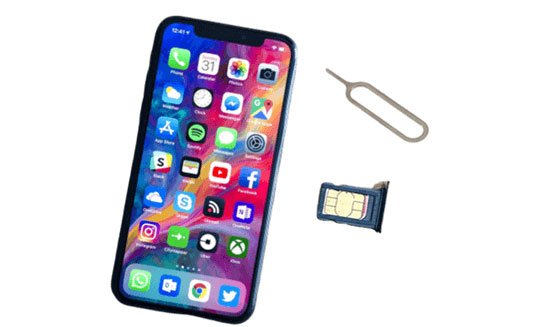 Solution 2: How to unlock old iPhone forgot password - TunesKit iPhone Unlocker
Most users use their Apple ID or screen passcodes to unlock and restore their devices. But if you forgot the iPhone Apple ID passcode or the screen passcode? You need to fix your iPhone without a passcode and use a third-party tool or software.
We highly recommend you to use TunesKit iPhone Unlocker. It is an incredible tool for unlocking any iPhone, iPad, or iPod touch without using passcodes. TunesKit iPhone Unlocker, with its great features, allows users to solve their issues regarding iOS devices. What's more, if you need to factory reset your iPhone but forgot the screen passcode. TunesKit iPhone Unlocker can help you with it as well.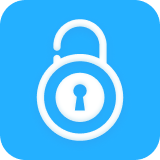 Main Features of TunesKit iPhone Unlocker:
Easy-to-use and intuitive user interface
Capable of unlocking all iOS devices including iPhone/iPad/iPod touch
Unlock your old iPhone within several steps
Enable to factory reset iOS devices without passwords
Supports the latest iOS version up to 15
Try It Free
600,000+ Downloads
Try It Free
600,000+ Downloads
Now move towards the process of using the TunesKit iPhone Unlocker to unlock your old iPhone without a passcode.
Step 1

Connect iPhone to the computer

Connect your iPhone to a computer with an iPhone cable. Install and launch TunesKit iPhone Unlocker and Click on the Start button to start the process.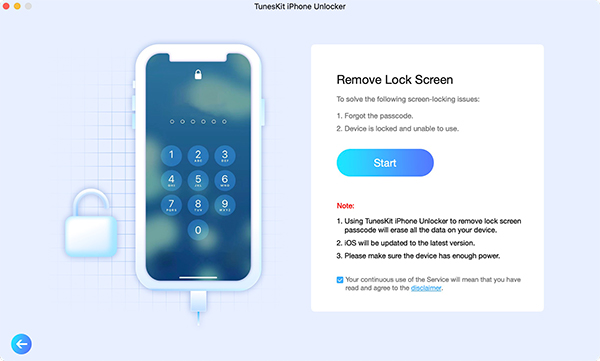 Step 2

Put iPhone into Recovery mode/DFU mode

After clicking the Start button, follow the instructions to put your iPhone into Recovery mode. And click on the Next button.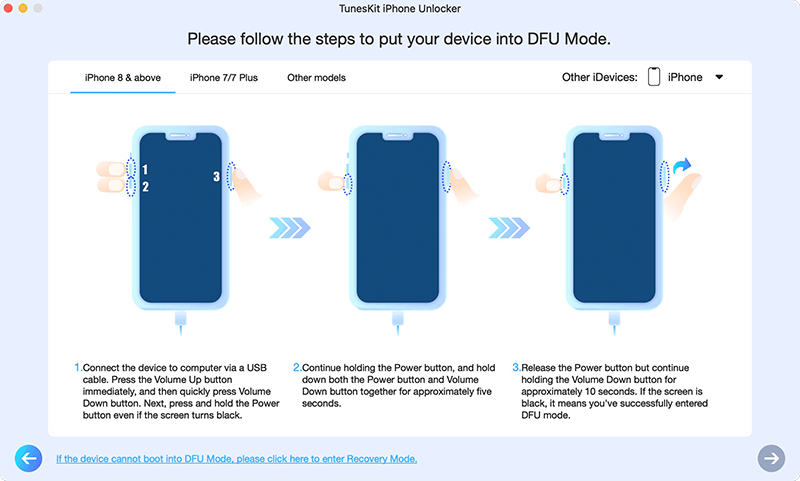 Step 3

Download the firmware package

In this step, you have to download the firmware package, but before starting the download, make sure that all the information about your device is correct or not. You can correct the wrong information if you find any. Click on the Download button.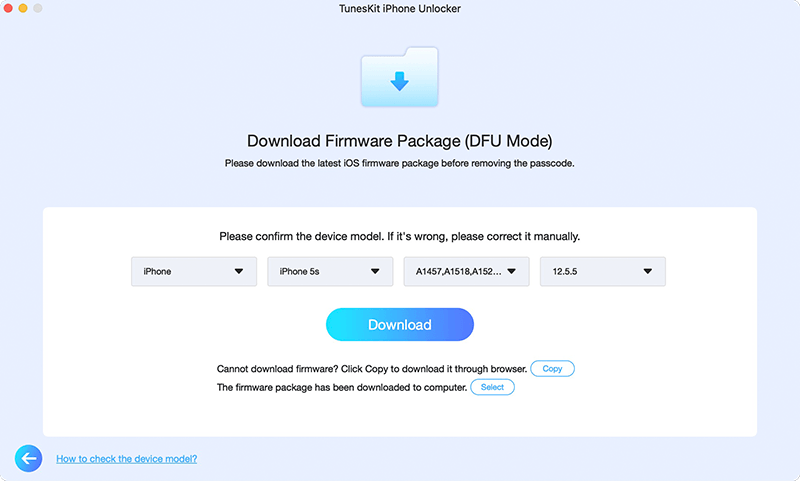 Step 4

Restore and unlock the device

After the downloading process, TunesKit iPhone Unlocker will restore your old iPhone. Wait until the process is complete. Now you have successfully unlocked your old iPhone without a passcode. But if you don't want to use the third-party software, you should try the other solutions.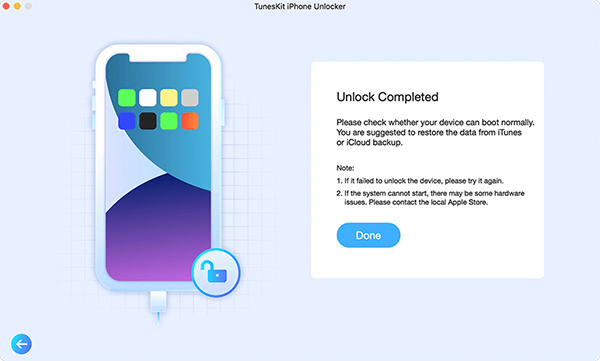 Solution 3: How to unlock old iPhone without passcode via iTunes
Restoring your iPhone with iTunes is always a powerful tool for iOS users. You can quickly restore your old iPhone by following the steps of using iTunes. Before starting the process, sync your device with iTunes for a better experience. The process to restore iPhone via iTunes is as follows:
Step 1: Connect your iPhone to iTunes via a workable iPhone cable.
Step 2: If a device icon appears on the top left toolbar on the screen, click on it to start the process. You can also use 'Settings' for this purpose.
Step 3: In the menu, there will be a Summary option. Click on it.
Step 4: Here, you'll see the Restore iPhone option. Click on it; iTunes will start restoring your old iPhone.
Point to remember: All your iPhone data and content will be erased after this process.

Solution 4: How to unlock old iPhone without passcode via iCloud
Most iPhone users turn off the Find My iPhone present in iCloud Settings because it locks your device and takes it to ghost mode. Users find it difficult to unlock their devices again and again. And the possibility of forgetting the password is always there. So if you have turned on Find My iPhone on iCloud, it will be helpful for users to unlock their old iPhone. You can use the Find My iPhone feature to unlock your iPhone, follow the given process:
Step 1: Search for iCloud.com and click Find My iPhone.
Step 2: Click on All Devices, then select your device that you want to unlock.
Step 3: Tap on Erase iPhone. Once the process is confirmed, you can enjoy using your old iPhone again.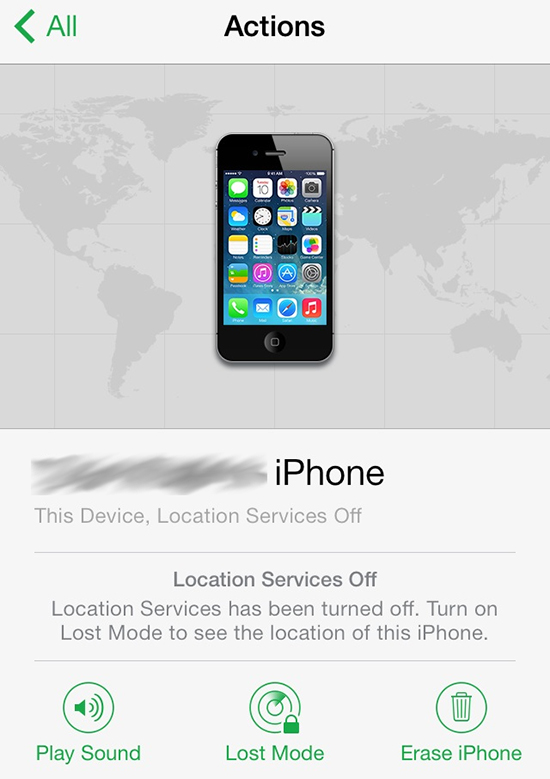 Conclusion
That's all for how to unlock old iPhone without passcode. Using or having an old iPhone is not bad, but users find it challenging to accommodate old iPhone models with advancements in new iPhone models. Old iPhones mainly were running on contract-based usage or connected with a carrier. It was challenging to solve issues like unlocking the locked old iPhones in the past, but now it's only some steps ahead.
We have provided you with valuable methods to unlock your iPhone, including with a carrier and using third-party software for which we recommend TunesKit iPhone Unlocker. Process all the solutions and solve your old iPhone issue with simple solutions.