How to Unlock a Refurbished iPhone [Full Guide]
Posted by Brian Davis on Aug 30, 2022 12:00 AM • Category:
Unlock iOS
5 mins read
Apple smartphones have always dominated the market. Their advanced features, sleek designs, and highly pixelated camera add to its increasing demand. But buying a brand new iPhone is completely out of the league for many people because all those incredible features make the product expensive. And so people who want to own an iPhone turn to a refurbished iPhone conveniently available on the market.
Refurbished iPhones deliver great performance and are much cheaper than a brand new iPhone. However, one needs to be careful while buying a refurbished iPhone as these Apple phones come with a passcode. Unlocking the device when you do not have the slightest idea about its passcode could be a real challenge. But this article will make things simpler for you. Continue reading if you wish to know how to unlock a refurbished iPhone.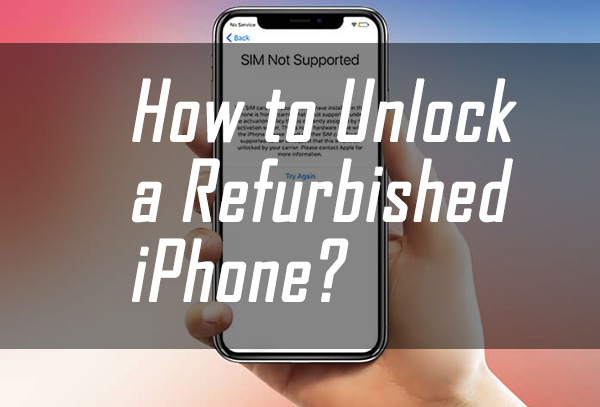 2 Ways For How To Unlock A Refurbished iPhone
Refurbished iPhones are a top pick by people on a limited budget. Although they are parallel to a new iPhone in terms of functionality, they are often password-protected. The below-mentioned methods will help you unlock your second-hand iPhone in just a few simple clicks.
Method 1: How to Unlock A Refurbished iPhone Via TunesKit iPhone Unlocker
If you have purchased an iPhone that is protected by a passcode or requires a Face ID, we recommend you to use the best iPhone Unlocker – TunesKit iPhone Unlocker. The distinct user interface makes the program suitable for users of all levels. Besides, TunesKit Unlocker also supports all iOS devices including iPhones, iPads, and iPods.
TunesKit iPhone Unlocker is a great tool that helps you remove passcode from your iPhone from varying scenarios. It can deliver optimum results in removing 4-digit passcode, 6-digit passcode, alphanumeric code, Face ID, and Touch ID. The software is safe to use and does not contain any malware or virus. Require no technical skills.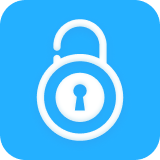 Key Features of TunesKit iPhone Unlocker
It is easy and user-friendly
Effectively bypass 4 kinds of passcodes
Unlock your iPhone when the screen is broken or the device is unresponsive
Remove Apple ID resetting your device to default
Support all iOS devices and models
Compatible with both Windows and PC
Try It Free
600,000+ Downloads
Try It Free
600,000+ Downloads
TunesKit has a straightforward interface. To unlock your refurbished iPhone using TunesKit iPhone Unlocker follow the steps listed below.
Step 1

Connect iPhone to Computer

Download and install TunesKit iPhone Unlocker on your PC. Use a USB cable to connect your iPhone to the computer. Click on the "Unlock iOS Screen" option. In the window, click on he "Start" option and the program will began to detect the model of your iPhone.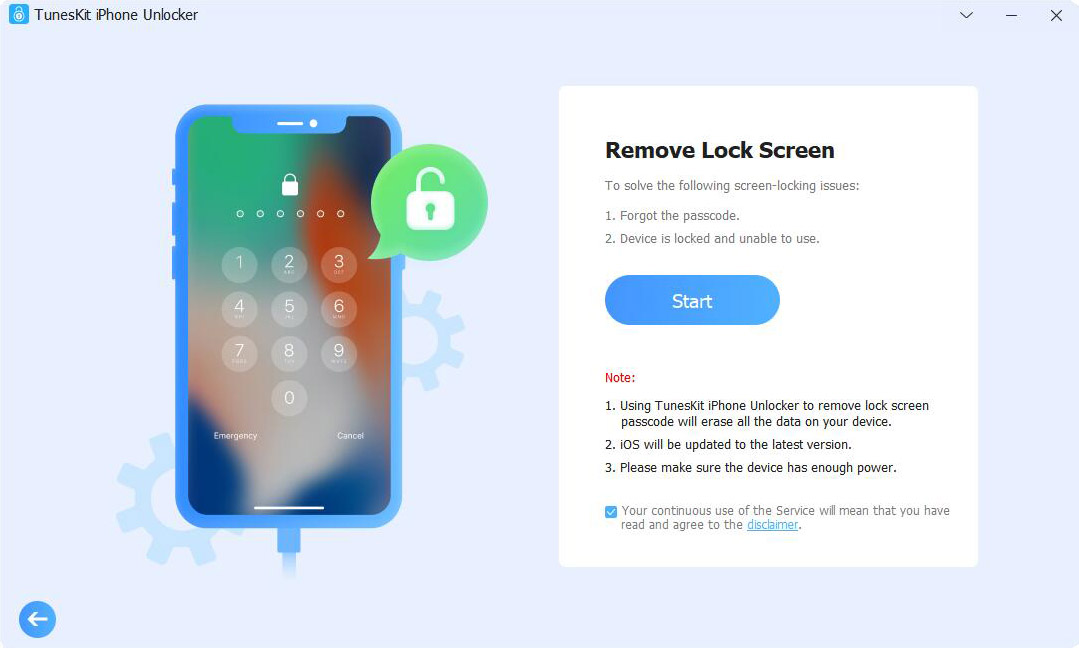 Step 2

Download Firmware Package

Download the firmware of your iPhone. Allow the firmware package to download before moving on to the next step.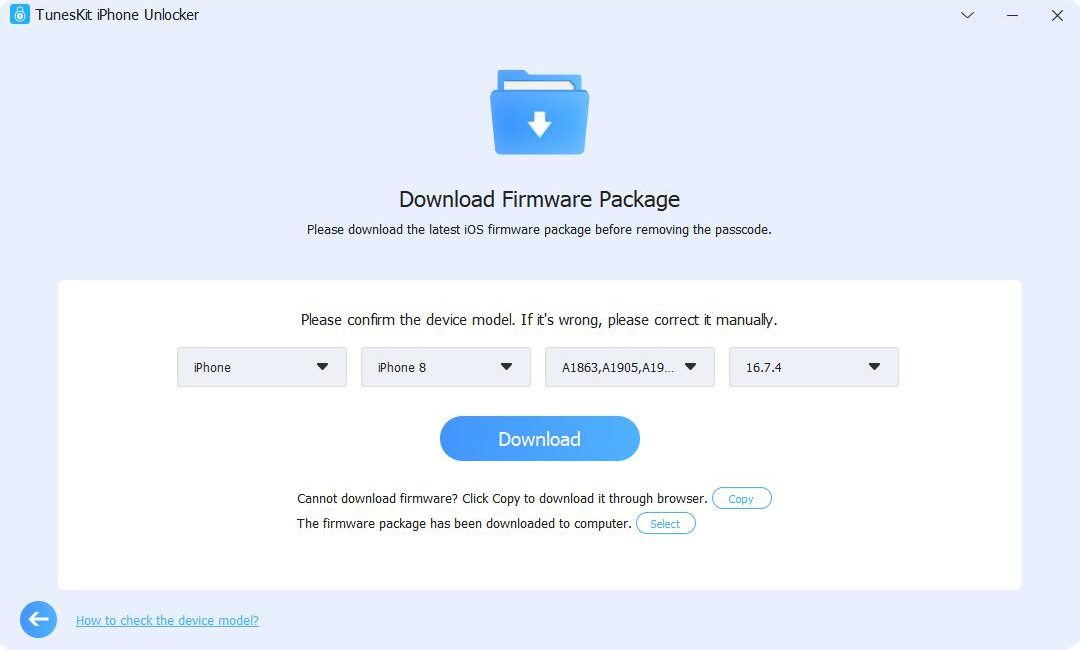 Step 3

Unlock a Refurbished iPhone

Now, click on the "Unlock" button to unlock your refurbished iPhone. After unlocking, you will need to set up your iPhone again and you can use it as a normal iPhone.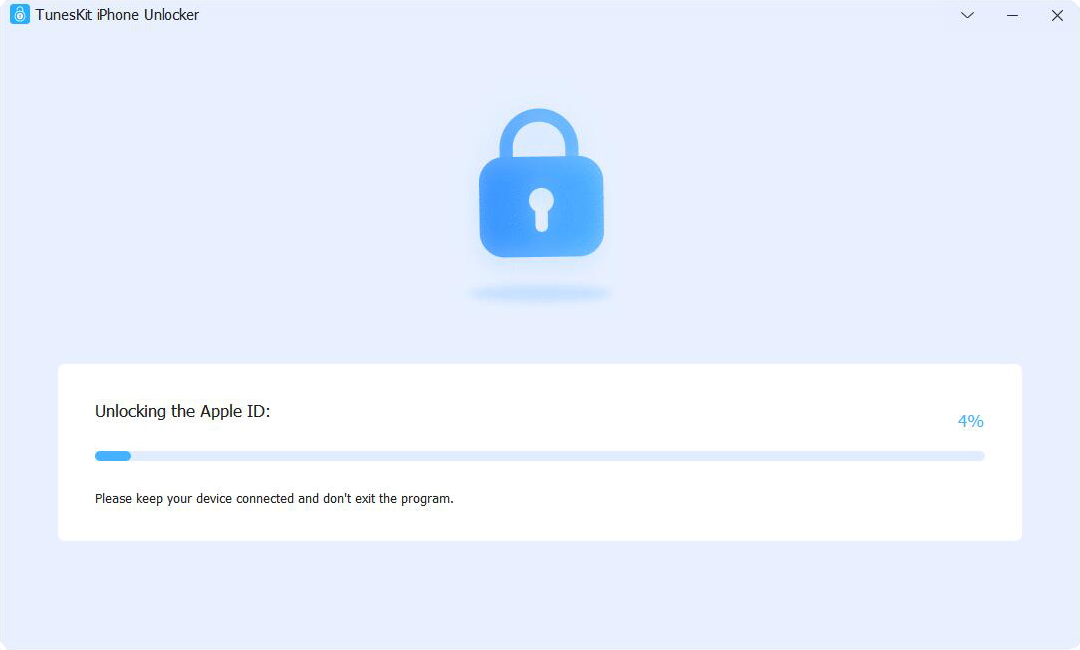 Method 2: How to Unlock A Refurbished iPhone Via Carrier
If you just find out that the refurbished iPhone is locked by the carrier, then you need to contact the carrier and request them to unblock the device. You will also have to pay a fee to unlock your iPhone. The fee will depend on which carrier your iPhone is locked to. Here is how you can unlock the sim from carrier.
Step 1. Contact your carrier and check if the carrier offers unlocking services. This is because only your carrier will be able to unlock your refurbished device.
Step 2. Find the IMEI number of your device before contacting the carrier. To find the number go to "Settings" > "General" > "About".
Step 3. The carrier will take a few days to deal with your application.
Step 4. Once your device is unlocked, the carrier will contact you for confirmation.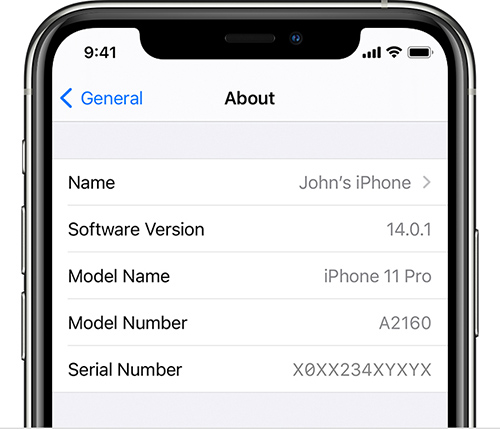 There are many online carrier services including AT&T, T-Mobile, Verizon, and Sprint. All these companies have various policies and terms regarding a refurbished iPhone.
Let's have a look at how you can unlock your device using the services of all these famous and reliable carrier services.
Unlock Refurbished iPhone Via AT&T Carrier Service
Step 1. Go to att.com and choose a device to unlock. Read the requirements and fill out the request form to unlock the refurbished iPhone.
Step 2. Sent out the request form and the carrier service will email you a confirmation email along with the request number.
Step 3. Click on the link in your email to confirm unlock request.
Step 4. AT&T will send you detailed instructions on how to unlock your refurbished iPhone.
FAQs About Refurbished iPhone
Q1. What is a Refurbished iPhone?
A refurbished iPhone is a re-sell iPhone from an Apple official. Most refurbished iPhones are those that can't work properly after selling and are replaced or exchanged by Apple experts. When you can buy a refurbished iPhone from Apple Store, it means that this device is repaired, and it can work properly just like a brand new one.
Q2. Is a Refurbished iPhone Safe?
YES! A refurbished iPhone is totally safe since it is sold by Apple Store officially. Therefore, you don't need to worry that the refurbished iPhone you bought is a damaged one. Besides, a refurbished iPhone doesn't mean that it is a second-hand iPhone, as it is reassembled.
Final Words
Finding a refurbished iPhone is no big deal. You can get one from the official Apple site where they offer a one-year warranty on all refurbished iPhones. You can also get a good refurbished iPhone from a local company. But if the pre-owned iPhone has a passcode, things might become complicated.
The article briefly discusses how to unlock a refurbished iPhone. Follow the steps carefully to unlock your iPhone successfully. Here the most reliable solution that comes with quick results is to download TunesKit iPhone Unlocker. The software is user-friendly and you won't have to wait for hours and days to get started with your new Apple smartphone. So, do give it a try!