How to Remove Passcode from iPad? 4 Best Methods
Posted by Brian Davis on May 25, 2022 5:00 PM • Category:
Unlock iOS
5 mins read
"Hello! Can anyone provide some help, I forgot the password of my iPad, and now I cannot access it. I am looking for ways to remove passcode from my iPad but in vain. All the solutions are useful if Passcode is available. So I am here to ask you all 'Is it possible to unlock my iPad without passcode?' Your help would be greatly appreciated."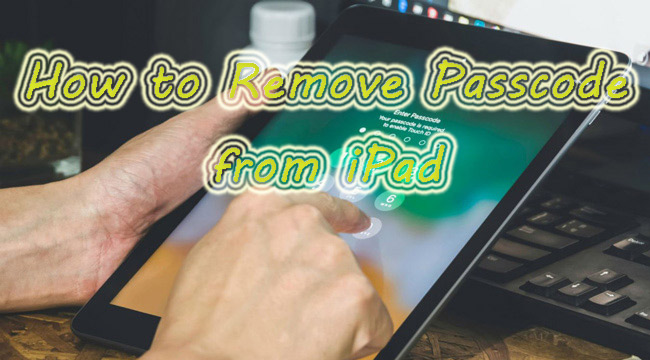 Are you the one struggling to find out whether you can unlock your iPad without a password? If yes, we are here to answer your queries and provide you with the best solutions, including TunesKit iPhone Unlocker to remove Passcode from iPad. This article will solve your issues regarding unlocking the iPad without a Passcode. Read the whole essay and solve your problems.
Part 1: 4 Methods to Remove Passcode from iPad
A passcode is like a guard that protects your iPad from prying eyes. You can save the content and use specific apps and your data using a passcode. The users who keep their data on the iPad or take the IPad with them on travelling should have a strong password on their iPads.
But iPad users don't necessarily need a passcode because the iPad is used to watch movies or entertainment content and keep some documents. It always comes after your handy gadget, whether iPhone or other advanced mobiles. And sometimes people consider it bothersome to open the Passcode again and again. For these reasons, you can remove the passcodes on your iPads. Now, the question is how to remove the passcodes on iPads. The answer is simple and straightforward. We have provided you with the best four methods to Remove the Passcode from the iPad.
Let's have a deeper analysis of each solution to understand better removing passwords from iPad.
Solution 1: Remove Passcode from Settings
The first and most helpful solution to Remove the Passcode from the iPad is to turn off the iPad Password from the internal settings.
To remove the Passcode from your iPad settings, follow the given steps:
Step 1: Navigate the "Settings" from your iPad.
Step 2: Select "General" from the settings.
Step 3: Find out the "Touch ID & Passcode" option from the list. Enter your Passcode on the screen that appears.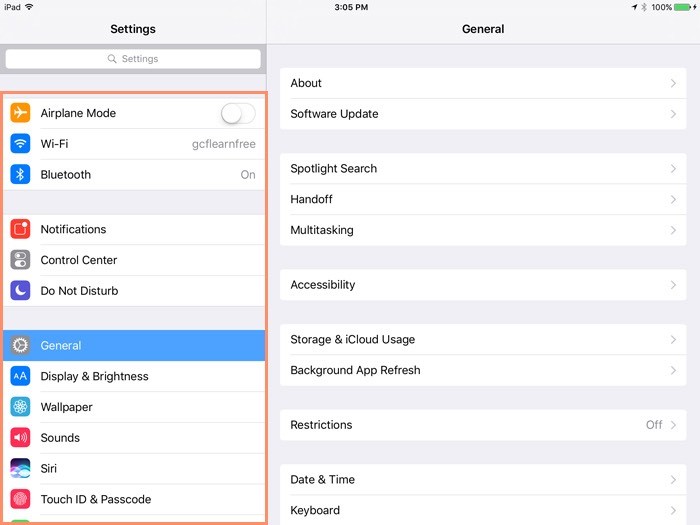 Step 4: Tap on "Turn Passcode Off".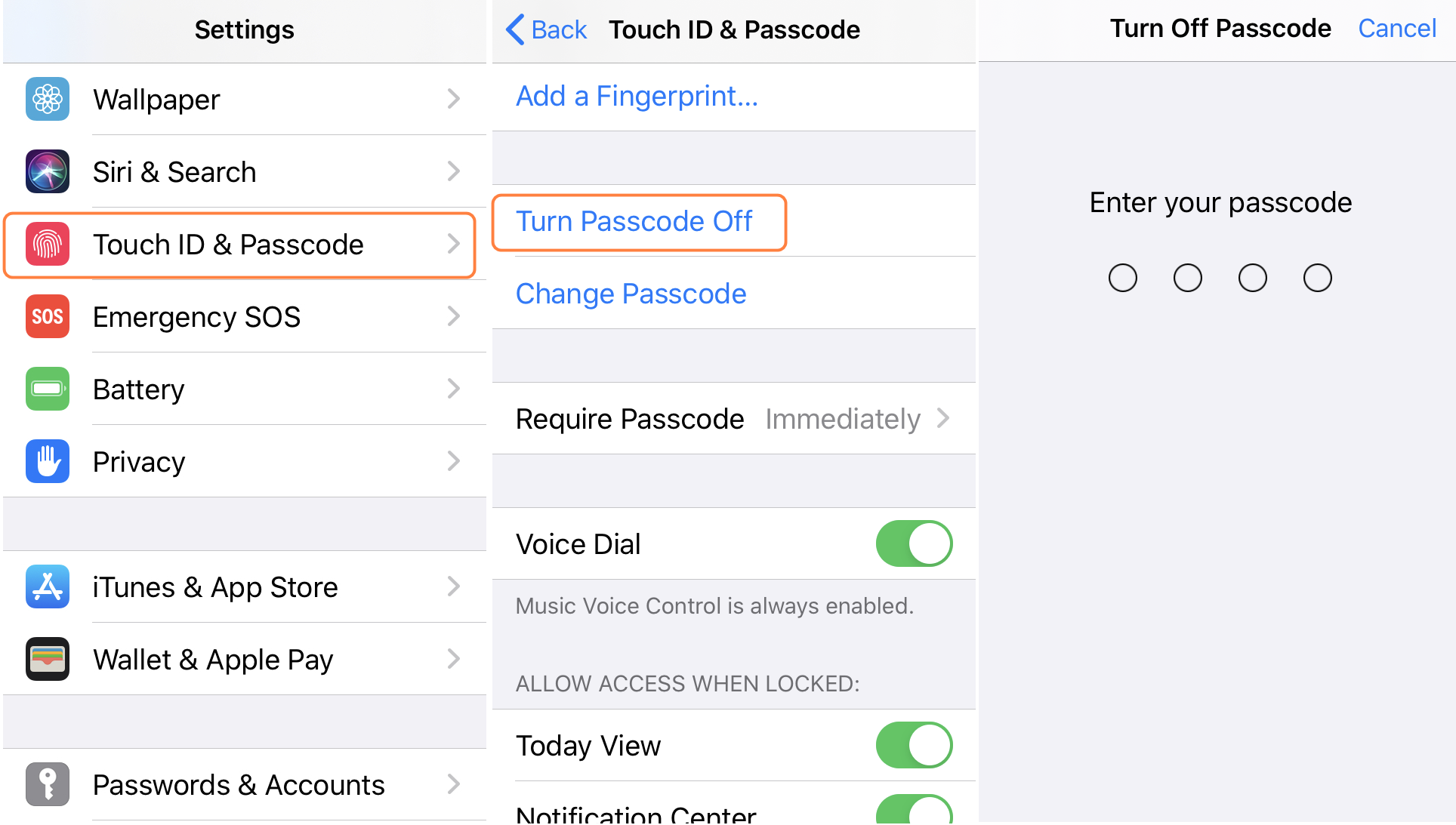 Step 5: To turn the Passcode off, you have to re-enter your Passcode for confirmation. After the confirmation, Passcode from the iPad settings will be deactivated.
Enjoy your freedom as you have turned off the Passcode from settings. But if you have forgotten your password, you have to use a passcode removal tool that can help you easily remove your iPad password.
Solution 2: Using TunesKit iPhone Unlocker
If you have forgotten your iPad passcode and cannot remove it, you need software or a tool that will help you unlock your iPad. We recommend you to use the TunesKit iPhone Unlocker. It is the best unlocker software that enables you to solve all unlocking problems related to your iOS devices. TunesKit iPhone Unlocker is different and unique from other tools based on some distinguishing features. It allows users to factory reset their iPads within several steps, and users can remove the fingerprint and Face ID from their iPad. This program is applicable on both Windows and macOS system, and supports the latest iPhone models and iOS versions.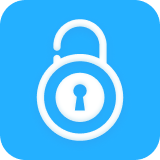 Main Features of TunesKit iPhone Unlocker
Easy to Use Interface: It has simple and easy to use steps. The user can solve his issue in a few minutes, and no technical knowledge is needed to run it.
Secure to Use: TunesKit iPhone Unlocker is harmless for solving all issues. You can freely rely on it to unlock your device.
For All Devices: TunesKit iPhone Unlocker solves all issues and problems related to iOS devices.
Try It Free
600,000+ Downloads
Try It Free
600,000+ Downloads
Now you are aware of the characteristics of the TunesKit iPhone Unlocker. It's time to learn to remove iPad Password using TunesKit iPhone Unlocker.
TunesKit iPhone Passcode Unlocker can safely remove your iPhone lock screen with easy and simple steps:
Step 1

Connect your iPad to a computer

Please connect your iPad to a computer to start the process. Install and launch TunesKit iPhone Unlocker on your device. Click on the Start button.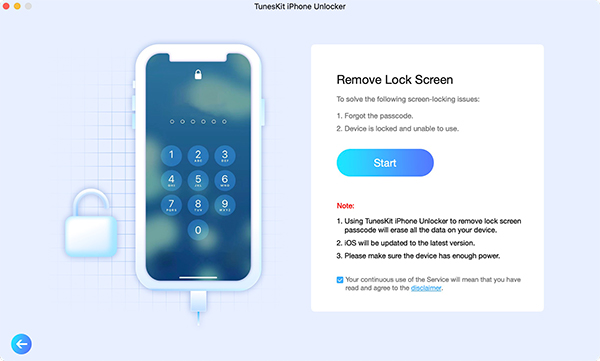 Step 2

Put iPad into DFU or Recovery mode

TunesKit iPhone Unlocker will show a window with instructions to follow for entering your iPad into Recover mode. Follow the steps and then click on the Next button.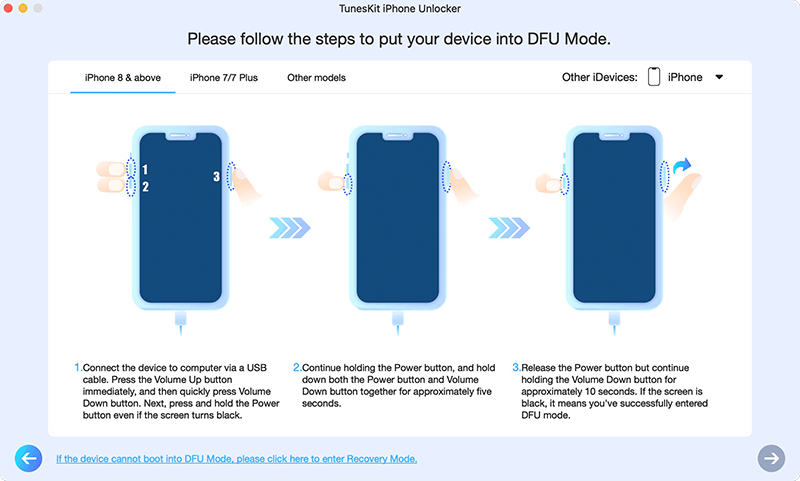 Step 3

Download firmware package

All information about your iPad will appear in this section. Make sure all the given information is right. You can correct the wrong information if there is any. If everything is correct, click on the Download button to start the downloading process.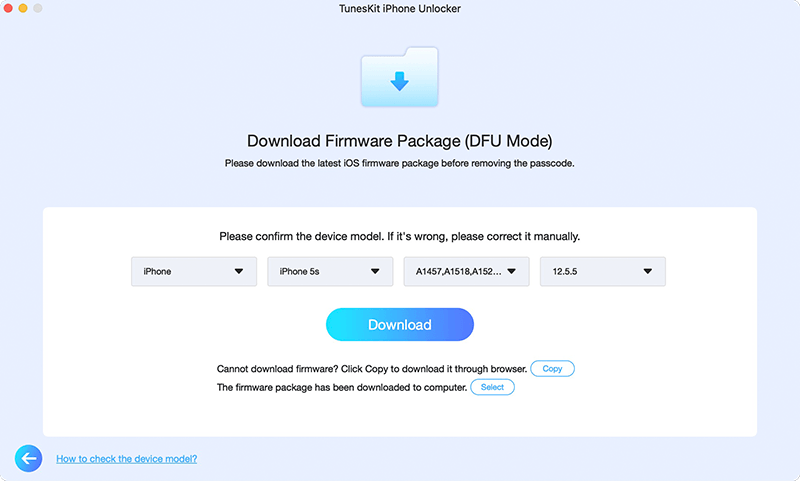 Step 4

Remove the passcode from iPad

Once downloading the firmware package is complete, the TunesKit iPhone Unlocker will unlock your iPad. When the unlocking process is done, you can reaccess your iPad.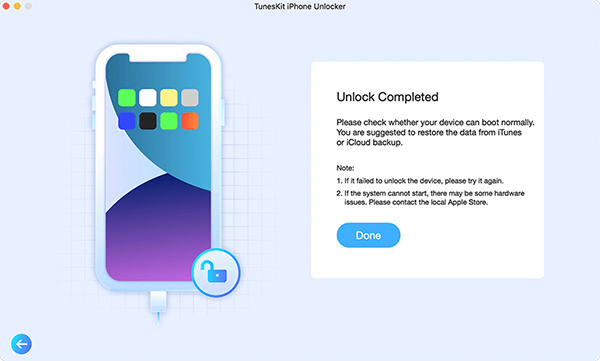 If someone doesn't want to use software, we have the option of restoring the iPad via iTunes.
Solution 3: Remove password from iPad via iTunes
When you forget your iPad passcode, the best solution is to connect your iPad to iTunes to unlock it. Before using iTunes to remove the iPad passcode, sync iTunes on your device. The process for using iTunes to restore the iPad is below:
Step 1: Run the latest version of iTunes on your computer. And then, connect your iPad to the computer using a USB cable.
Step 2: Tap on the device icon and navigate the "Summary" tab. Then, click on the "Restore" option to restore your iPad.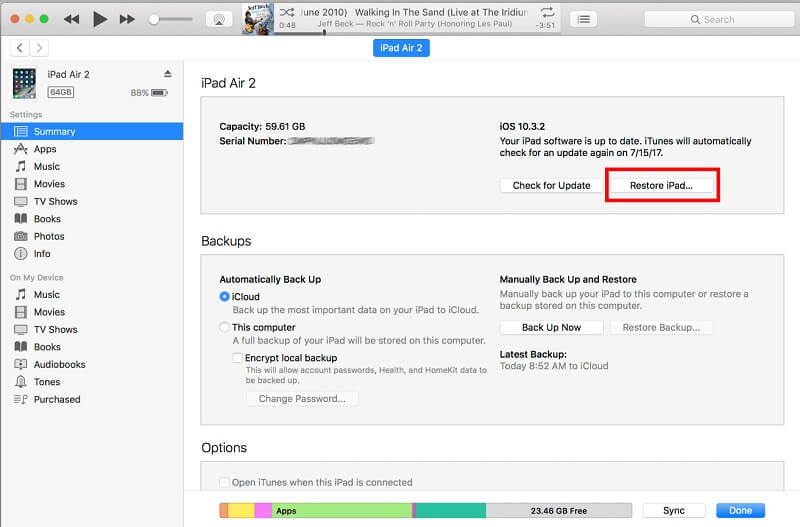 Step 3: Wait patiently until the restoration process is not finished. Once it is completed, your iPad will reboot automatically.
Now you have successfully restored your iPad. And the issue of removing the Passcode from the iPad is resolved now. But if you still face difficulty or want to try another solution. We have the restoring the iPad option via iCloud.
Solution 4: Remove passcode from iPad via iCloud
Restoring the iPad using iCloud is a valuable method for solving the issue of iPad passcode and if you have lost your iPad. Ensure to have a stable Wi-Fi network before starting the process.
The steps for restoring the iPad from iCloud are as follows:
Step 1: Unlock your iPad and open iCloud.com.
Step 2: Tap on the "Find my iPad" option and click on "All Devices".
Step 3: Select the iPad you want to erase from the list of devices.
Step 4: After selecting your iPad, click on "Erase".
Step 5: You have to enter your Apple ID and password to erase your device. Once you have entered your account, you must follow some on-screen instructions. And after that, your device is erased, and your device is now a new one.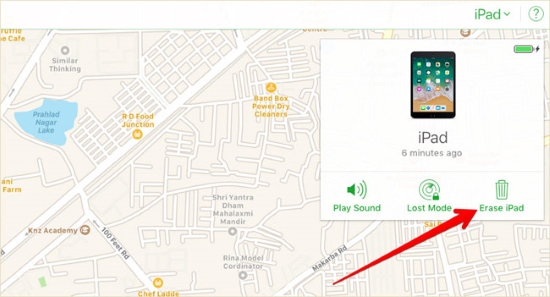 Conclusion
Most people don't add passcodes to their devices because they find it difficult to remember the passwords. But some people use iPads outside their homes. And use a Passcode to keep their data and content safe. You can add and remove your iPad password by following the given instructions.
We have brought the most helpful solutions on removing password from iPad, including the best passcode removal software, the TunesKit iPhone Unlocker, and restoring devices via iTunes and iCloud. These methods will surely help you unlock your iPad so try them.