5 Effective Methods to Fix iPhone Passcode Expired
Updated by Brian Davis on Oct 18, 2023 4:00 PM • Category:
Unlock iOS
6 mins read
"Every time I enter the passcode on my iPhone, a message pops up saying the iPhone unlock passcode has expired. Despite trying a few tricks, it didn't get better to help my cause. How to fix this issue"? - Tommy from Quora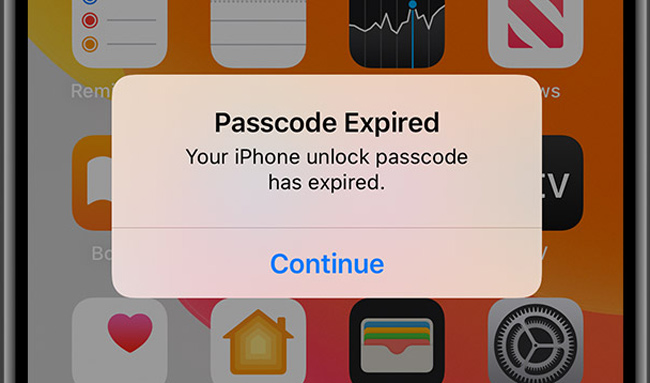 Where iPhone is a pretty popular device, and many people tend to use this incredible device, but at the same time, this device can throw some tough challenges to new users.
For instance, after entering your password, you may be told that your iPhone passcode has expired. By its look, some people mistake it as a data breach case, but surely it isn't the case you'd have been thinking of. Unfortunately, many people face this issue and want to solve this problem. Luckily, we've come up with the idea of introducing the 5 best methods to solve this issue.
Part 1: What is passcode expired, and why does it appear?
You don't need to change the iPhone passcode, and it would remain valid until you want it to be. However, if you receive an expired iPhone passcode message on your screen, it might be due to email sign-ins or third-party apps. Email or many third-party apps tend to ask you to set a new iPhone passcode for security reasons. The reason apps ask you to set up a new password is that all the third-party apps use the same password for access control.
Therefore, when you need to update your password, they will send you a message you're getting on your screen. On the other hand, getting an iPhone unlock passcode expired message may be due to configuration settings as the settings sometimes ask you to update the passcode for better functionality.
Whatever the reasons are, you can fix this issue as we'll discuss the methods that will fix the issue.
Part 2: 5 methods to fix this iPhone passcode expired message
Method 1. Change the expired passcode
The first solution you should use to solve the iPhone password expired problem is to change the passcode. You can follow the below steps to make it.
Step 1. Open Settings on iPhone.
Step 2. Click on the Touch/Face ID & Passcode option.
Step 3. Enter your old passcode. Scroll down and hit on Change Passcode.
Step 4. Enter the old passcode again when prompted. Set up a new passcode and get rid of the iPhone passcode expired message.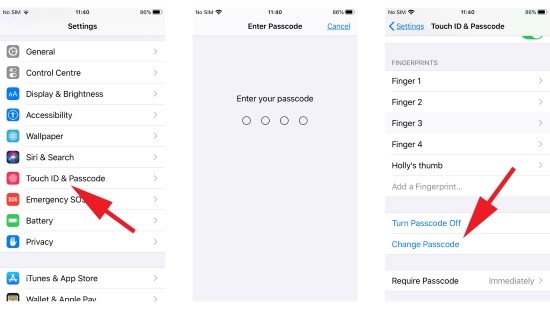 Method 2. Reset the expired passcode via iCloud
The second method you can try is to take the assistance of iCloud. Using iCloud, you can restore your iPhone, and this process will erase your expired passcode. Then you're able to reset a new passcode for the device. However, before performing this action, you'll need to turn the Find My iPhone feature on. Here's how to restore iPhone via iCloud.
Step 1: Visit iCloud website after using another iPhone device. Next, you'll need to log in with your Apple ID there.
Step 2: All you need to do is tap the All Device option in this phase.
Step 3: Now, you'll need to select the device you'd want to erase.
Step 4: After selecting the file, you can hit the Erase icon.
Step 5: After performing this operation, the iPhone settings and everything will get removed. Later, you can launch iPhone settings and set up the new iPhone passcode.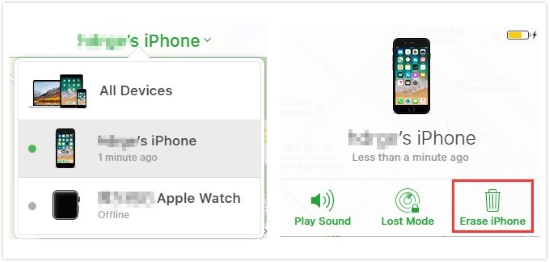 Method 3. Change the expired passcode using TunesKit iPhone Unlocker
If you're unable to unlock your iPhone, courtesy of the iPhone passcode expired message; you can acquire the services of TunesKit iPhone Unlocker. It is a monumental third-party unlocker that helps you unlock your iOS devices in most situations like iPhone is disabled, iPhone screen screen broken, forgot iPhone passcode, etc. Apart from offering an easy-to-use interface, TunesKit iPhone Unlocker allows you to serve your purpose quickly.
Moreover, as an all-in-one iOS unlocking tool, this software is capable of removing Apple ID accounts and passwords, bypassing Screen Time passcodes, and getting rid of MDM restrictions with ease. Whichever situation you're in, it will help you out immediately.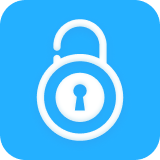 Why Choose TunesKit iPhone Unlocker?
Fix your iPhone unlock passcode has expired issue effectively
Unlock any iOS locking problems with a 100% success rate
Easy to use and the interface is intuitive
Allows you to eradicate Fingerprint recognition and Face ID
Compatible with all iOS versions and models
Try It Free
600,000+ Downloads
Try It Free
600,000+ Downloads
Next, let's see the following steps of fixing iPhone passcode expired problem with TunesKit iPhone Unlocker.
Step 1

Launch TunesKit iPhone Unlocker

After getting the software installed on your PC, launch the software straightaway. Next, connect iPhone to your Windows or PC via a USB cable. Select Unlock iOS module and then click Start button to begin.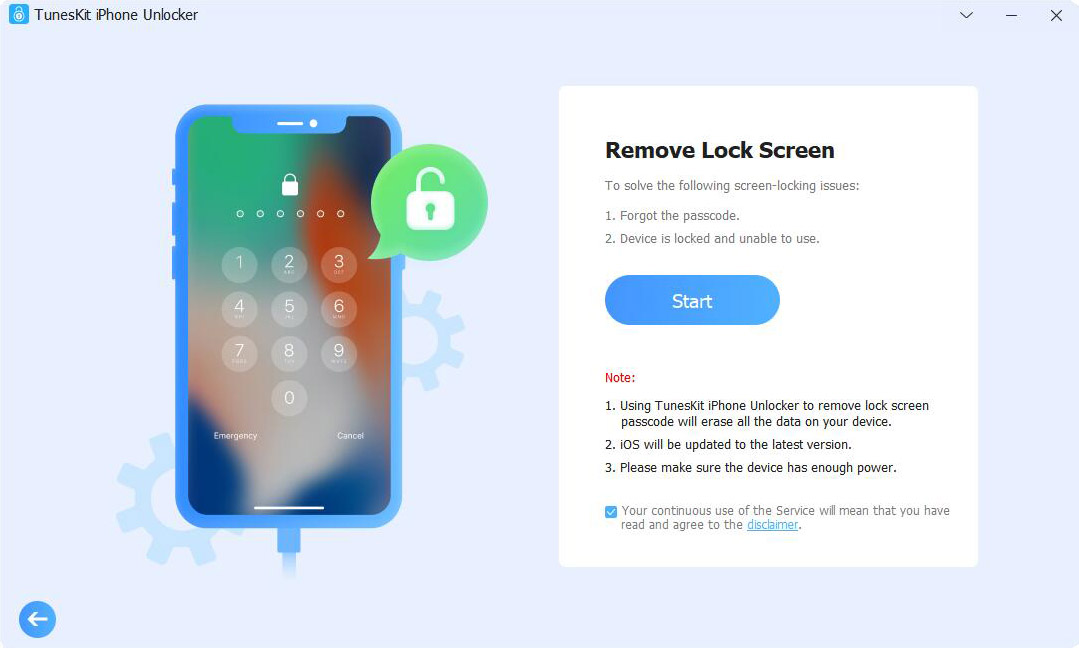 Step 2

Follow on-screen instructions

Put iPhone to DFU mode by following the instructions written in the image below.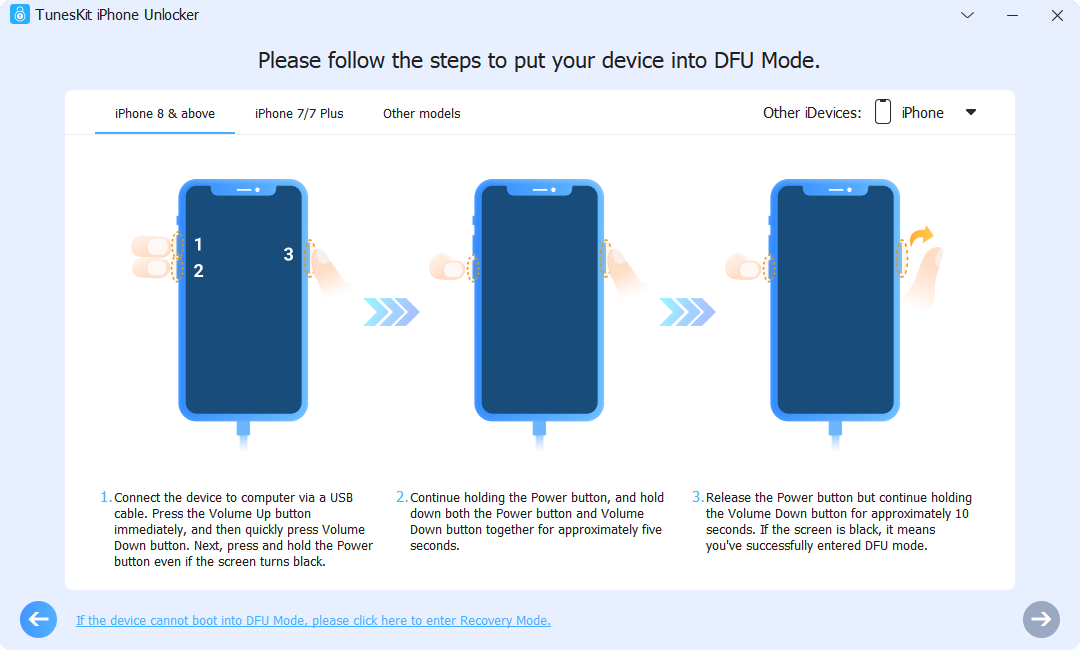 Step 3

Download firmware package

Download the firmware package before unlocking your iPhone. Ensure that all the given information is corresponding to your device.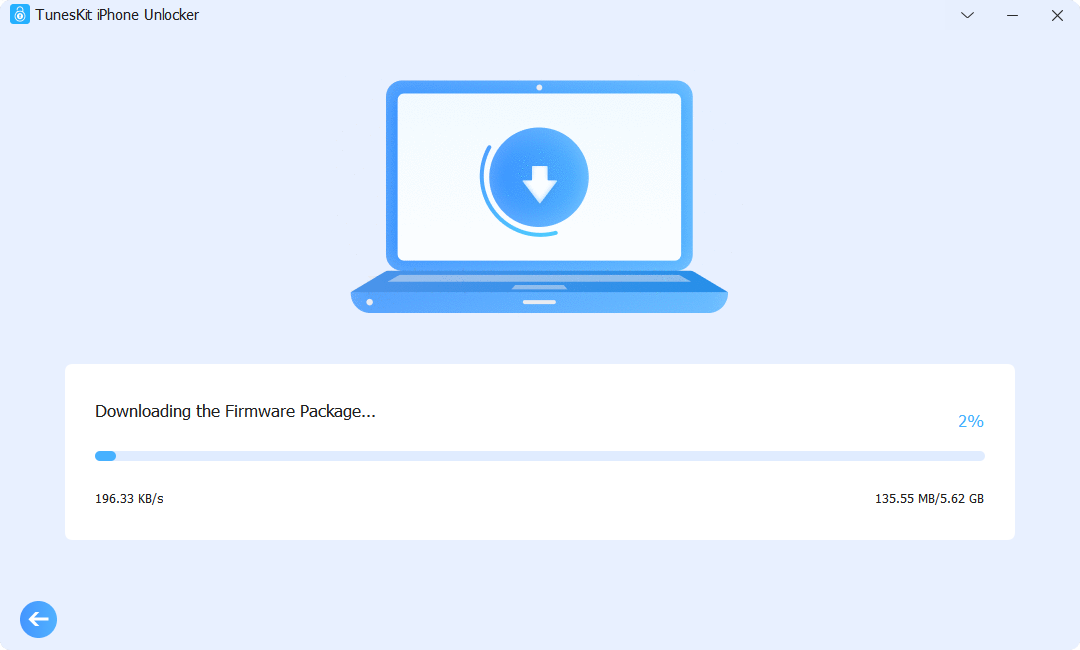 Step 4

Fix iPhone passcode expired

After downloading the firmware, all you need to do is start unlocking iPhone. And you can access your iPhone after several minutes, and set a new passcode for the device.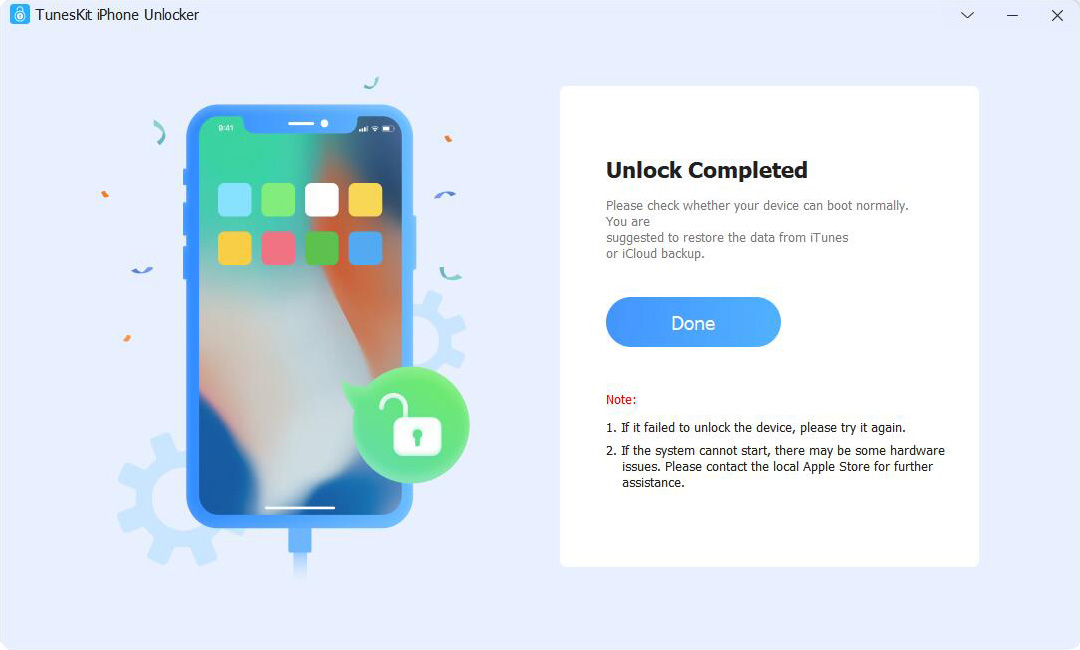 Method 4. Force restart iPhone
When you see the iPhone passcode expired message on your screen, you can try to get rid of this situation is by force restarting iPhone. Rebooting iPhone tends to help you fix any iOS issues most of the time. However, it doesn't guarantee to fix your problem, but it is worth trying. You can follow the methods below to restart iPhone based on different models.
For iPhone 8 and later
To begin with, you'll need to hit the Volume Up and Down button and quickly release them afterward. Next, you'll need to click and hold the Side button until you see the Apple logo. After a few minutes, your iPhone will start up again, and all you need to do is try changing your iPhone's passcode and see whether you see the iPhone passcode has expired message.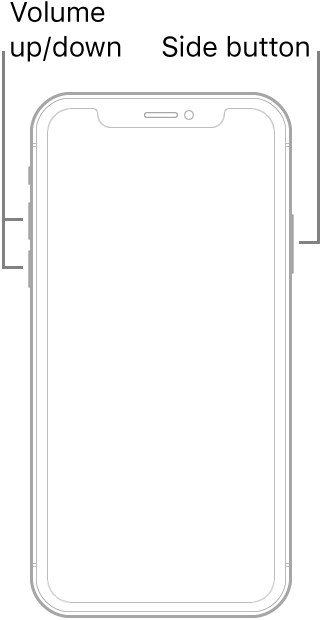 For iPhone 7 and 7 Plus
After pressing the Sleep/Wake and Volume Down button, you'll need to hold these two buttons until the Apple logo appears. When it appears, you'll need to leave the button to allow iPhone to restart. The process is most likely to fix the issue you're currently having.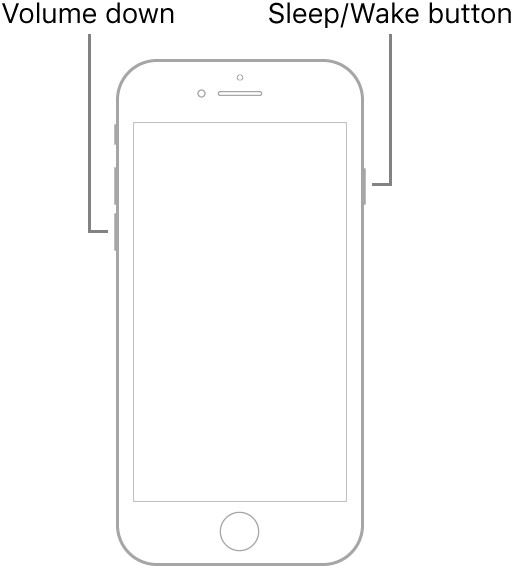 For iPhone 6 or earlier versions
Click and hold iPhone Home and Sleep button until the Apple logo appears. Leave the buttons afterward and ask iPhone to start up again. After starting your iPhone, try to know whether the issue you were facing has been solved or not.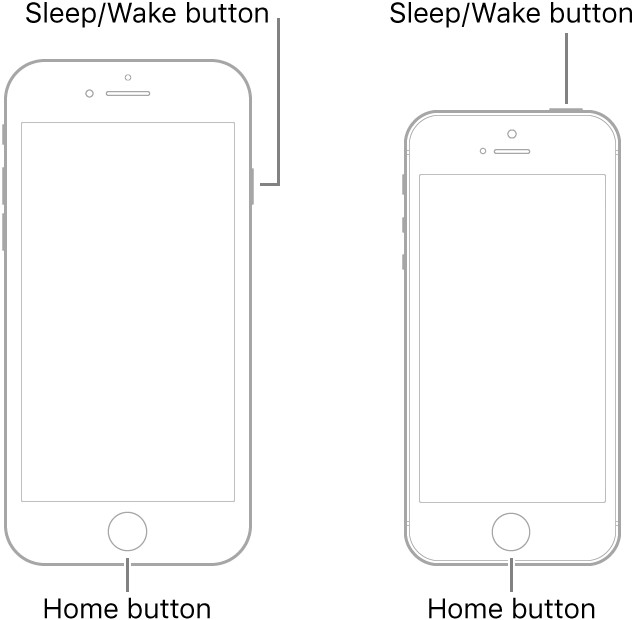 Method 5. Update iPhone to the latest iOS Via iTunes
If you continue getting passcode expired iPhone issue, you can try updating the iOS device to get rid of the mess you've been dealing with. However, you can't update the iOS device by visiting iPhone settings, and you'll need to enter your passcode to get your job done, but here, you can't enter the passcode due to error messages. Hence, you can update your iOS device without a passcode via iTunes.
Although you can lose your important data, performing this task can help you fix your current issue. Moreover, you can also backup your important information to avoid losing any data by updating your iOS device.
Here's step by step method to update iOS System via iTunes.
Step 1: In the first gig, all you need to do is install iTunes from its website and then start it without any hesitation. Next, you'll need to connect your iOS device to your PC through a genuine lightning cable.
Step 2: iTunes will automatically detect your iPhone after connecting the iOS device to the PC. Moreover, you can also backup your data before downloading a new update. You'll need to tap the Back up Now icon for this. In this way, you'll be able to back up your data.
Step 3: After selecting your iPhone, navigate the Check for Update option.
Step 4: Now, a new Window will probably pop up, and all you need to do is hit the Download and Update icon to install the new update.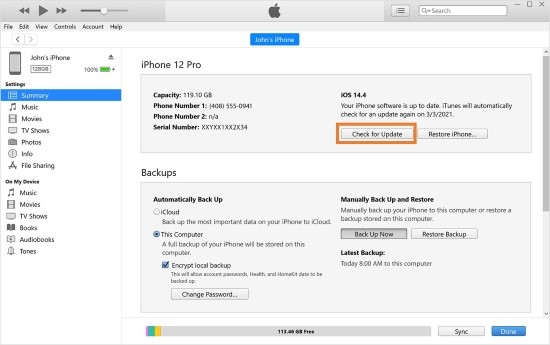 Conclusion
After getting an iPhone passcode expired message, you can be logged out from your iPhone. However, you can fix this issue by following the options discussed in this guide.
Every method we've highlighted here comes with a unique ability to fix your issue, but the best method to fix your issue is by using TunesKit iPhone Unlocker. An incredible iPhone Unlocker comes with 100% success, followed by an effortless user interface. We highly recommend this software due to its remarkable ability to unlock your iPhone.