How to Undisable an iPod? 4 Solutions Here
Updated by Brian Davis on Mar 27, 2023 6:00 PM • Category:
Unlock iOS
5 mins read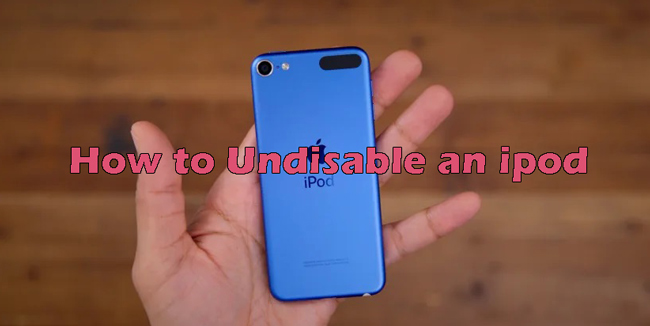 When it comes to music devices, the iPod touch, one of Apple's most popular products, is at the top of the list. Users adore them since they can store a large amount of music on them or use them to transmit data such as music from one device to another. However, just like any other device, the iPod touch is not without its flaws. One of the most prevalent problems is forgetting the password to their iPod touch, or repeatedly entering the password incorrectly. This can be extremely aggravating for users as they get confused on how to undisable an iPod?
Fortunately, here are the answers on how to get an iPod undisabled in the simplest and most efficient manner available. So, if your iPod Touch is locked, stay reading this post and we'll guide you out how to undisable an iPod.
4 Amazing Ways to Undisable an iPod
This article is for you if you received the message "iPod is disabled, try again in 23614974 minutes!" or anything similar, and you're wondering how to unlock your iPod Touch.
Method 1. Restore a Locked iPod via TunesKit iPhone Unlocker
TunesKit iPhone Unlocker is a straightforward tool for removing passcodes from iPod touch screens on Windows and Mac. TunesKit iPod Unlocker can unlock your iPod passcode in just a few simple steps, regardless of how your device is disabled or locked, or what form of screen locks it has. To bypass the iPod lock screen, first, download TunesKit iPhone Unlocker and install it on your Windows or macOS computer. This method is the perfect answer for how to undisable an iPod without iTunes.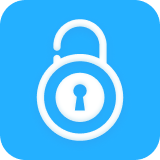 Main Features of TunesKit iPhone Unlocker
Undisable an iPod within several minutes
Available on the latest iOS version including 15
Enable to factory reset iDevices without passwords
Unlock iPhone/iPad/iPod touch with ease
Help to remove Face ID and fingerprint recognition at ease
Try It Free
600,000+ Downloads
Try It Free
600,000+ Downloads
Step 1

Connect your iPod to your Computer using TunesKit

Once you've finished installing TunesKit iPod Unlocker on your PC, run it. Then connect your iOS device to the PC with an original USB cable. The program will then automatically detect your device model when you press the "Start" button.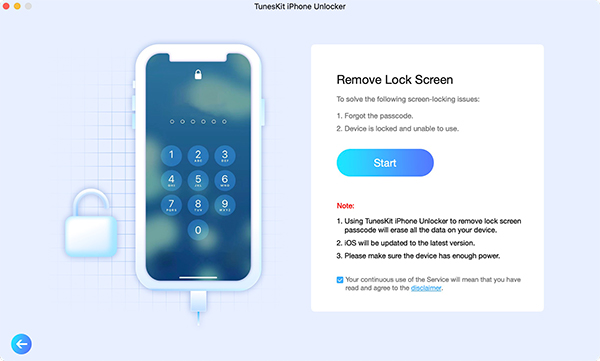 Step 2

Enter DFU or Recovery Mode on your iPod touch

In case your device is not detected, you have to manually enter DFU or Recovery mode to make it recognized. To enter DFU or Recovery mode, merely follow the given instructions on the TunesKit interface.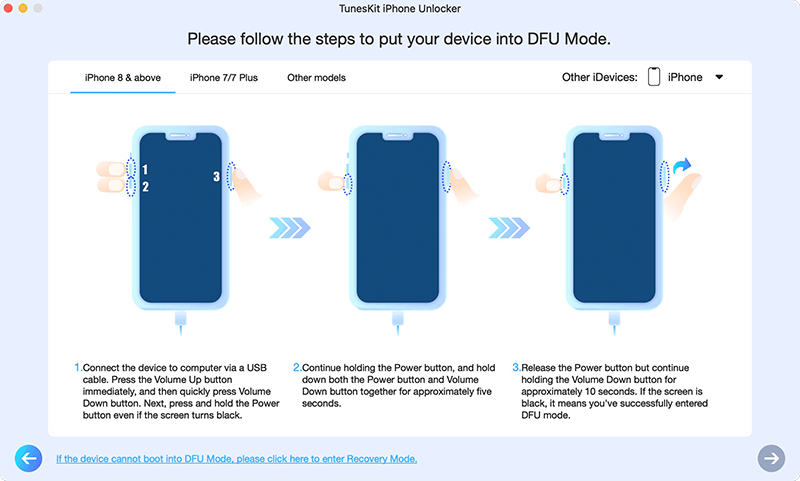 Step 3

Confirm the device's particulars and download the firmware package

If TunesKit effectively recognized your iOS model, you have to now confirm your iOS device information, for instance, model version, iOS version, and so on. Otherwise, simply correct it manually. Then click the "Download" button after selecting the firmware version.

If the firmware package does not download, click the "Copy" link in your browser to download it. If you've already downloaded it to your computer, simply click the "Select" button to include it.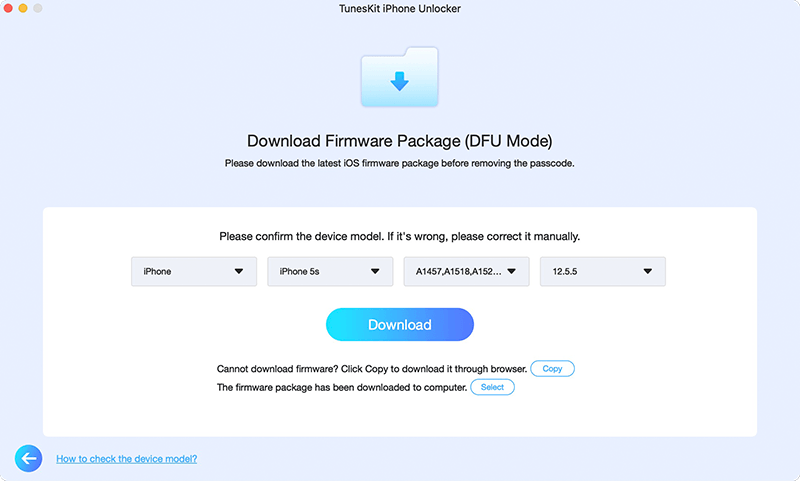 Step 4

Undisable your iPod

Wait for the firmware package to be completely downloaded. Now, click the "Unlock" button to remove the passcode from your iPod touch. After a few moments, the screen lock on your iOS device will be unlocked successfully.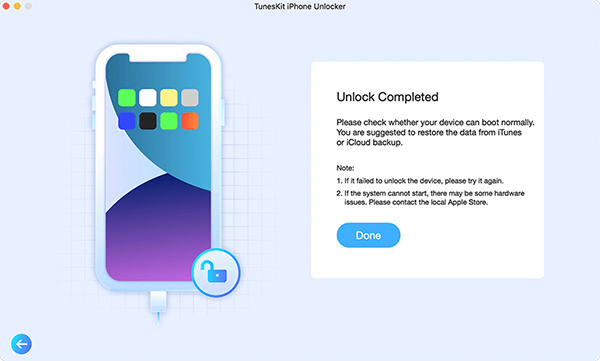 Method 2. Restore a Locked iPod via iTunes
Aside from the first approach we've shown you, there are a few other options for unlocking your iPod Touch such as How to undisable an iPod with iTunes? If you've previously synced your iPod with iTunes, it's recommended that you use iTunes to unlock a disabled iPod when it says connect to iTunes. (If Find My iPod is turned on, you'll need to check-in using your Apple ID and password). When the iPod is disabled, follow these procedures to connect to iTunes:
Step 1: Plug your iPod Touch into your computer and update iTunes to the most recent version.
Step 2: On the iTunes main screen, locate your iPod icon and click it after it has been successfully detected. (If a password is required during this phase, please use recovery mode).
Step 3: Go to Summary and then Restore iPod.
Step 4: Be patient while waiting for it to unlock your iPod.
Step 5: To restore the backed-up data to the device, follow the instructions and select "Restore from iTunes backup".

Method 3. Restore a Locked iPod via iCloud
This is a major technique for unlocking the iPod Touch, provided that 'Find My iPhone' is turned on. The passcode can be removed by simply wiping the device clean. Follow the steps below to use iCloud to unlock a disabled iPod without using iTunes or a computer.
Step 1: Navigate to the iCloud website using an alternative computer or device. Go to www.icloud.com/find to get started.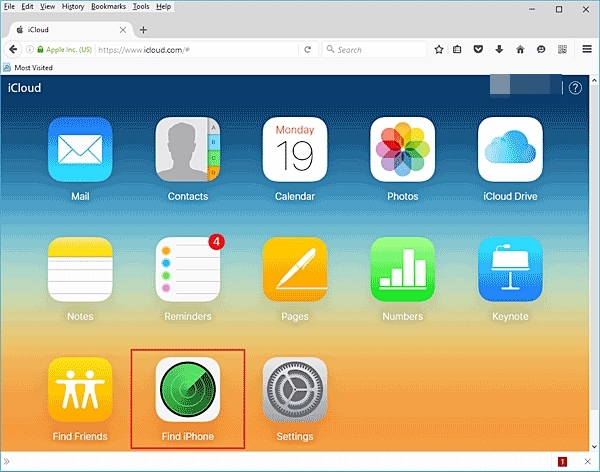 Step 2: Next, input your Apple ID and password to gain access to the website. You must ensure that you are logging in with the Apple ID associated with your iPod Touch device.
Step 3: On the following page, select the "All Devices" option from the menu bar at the top of the window screen. This screen will also show you all of the Apple ID-enabled devices.
Step 4: Select your iPod Touch from the list that appears on your screen.
Step 5: Finally, click the Erase button to complete the action. You will be able to send a signal to your iPod Touch device using this method, and the procedure will begin.
Step 6: Set up your iPod Touch in. After the reset procedure is completed, you will be prompted to set up your iPod Touch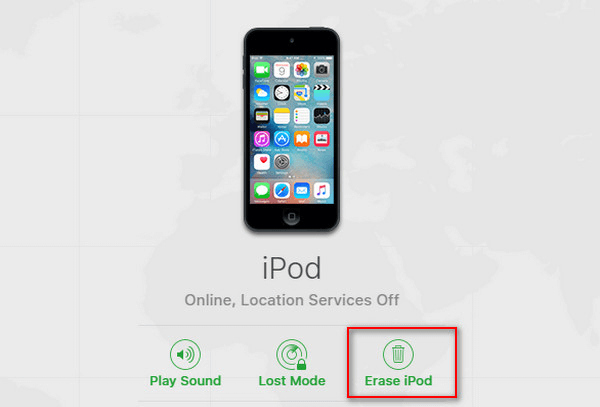 Method 4. Restore Locked iPad via iOS 15.2 Feature
Users will be able to wipe a locked iPod without having to connect it to a computer, as was previously the case through this method.
Step 1: Traditionally, a locked iPad that needed to be erased (for example, if you lost the password) had to be linked to a computer to be deleted and then restored
Step 2: If you repeatedly input your passcode incorrectly, a new 'Erase [Device]' option will emerge in the bottom right-hand corner of the screen.
Step 3: When you tap this, you'll be prompted to enter your Apple ID and password for the device.
Step 4: When properly input, you'll be able to completely erase all of the device's data and configurations before restoring it from a backup and establishing a new password.
Conclusion
How to undisable an iPod? A locked or disabled iPod Touch can be really inconvenient, especially if you use it frequently.
We can tell you that all the above methods are capable of repairing your broken iPod. But if you want to reclaim your iPod Touch, utilize TunesKit iPhone Unlocker. It is purely the most effective and well-organized way, merely follow the instructions indicated above to unlock your iPod Touch. These manageable methods will allow you to unlock your iPod Touch device in no time.