Can't Remember iPhone Passcode? 4 Methods to Solve it!
Posted by Brian Davis on May 30, 2022 4:00 PM • Category:
Unlock iOS
5 mins read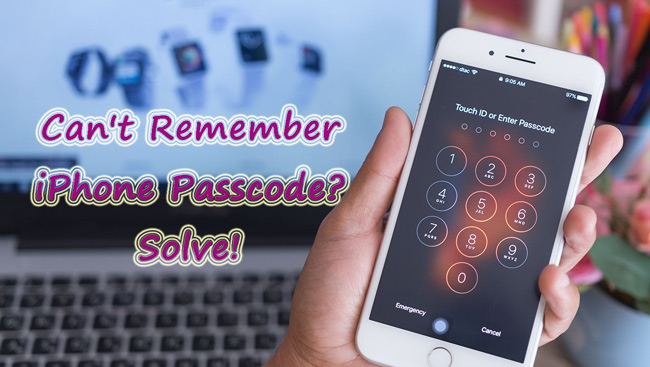 You have probably met yourself in a situation where you cannot use your iPhone because you forgot your Passcode or somebody who knows your code changed it without your concert. This may cost you a lot, especially If you encounter an emergence where you need help. So what steps would you take if you meet yourself in a situation like this?
It might be hard to understand how you could forget your Passcode, and you are tempted to repeatedly renter the password until your iPhone gets blocked. IPhones happen after you have entered the wrong Passcode ten times, and it pops a message indicating that your phone has been disabled. In this article, we will provide a step-by-step guide on how to unlock your iPhone without a Passcode by utilizing the TunesKit iPhone Unlocker, iTunes, iCloud, and the iPhone recovery mode.
Part 1. Unlocking iPhone via TunesKit iPhone Unlocker
TunesKit iPhone Unlocker is a robust iOS unlocking tool that works effectively in most situations, including unlocking iPhones by inputting erroneous passwords, unlocking iPhones with broken displays, and unlocking second-hand smartphones. TunesKit iPhone Unlocker only takes one click to circumvent a 4- or 6-digit passcode, Face ID, Touch ID, and other security features. It also lets you factory reset your iPhone without needing a password or iTunes. You might think of it as emergency unlocking insurance for your iPhone. TunesKit iPhone Unlocker requires only a few simple steps to unlock your iPhone, as outlined below.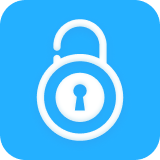 Why Choose TunesKit iPhone Unlocker?
Fully compatible with most iOS device models
Unlock iPhone without passcode with simple steps
Easy-to-use feature and user-friendly interface
Supports the latest iOS version including iOS 15
Try It Free
600,000+ Downloads
Try It Free
600,000+ Downloads
Step 1

Connect your iPhone to a PC

Connect your iPhone to a computer using a lightning USB cable. Then it would help if you started the TunesKit iPhone Unlocker, which will automatically detect your iPhone once it is linked to the computer.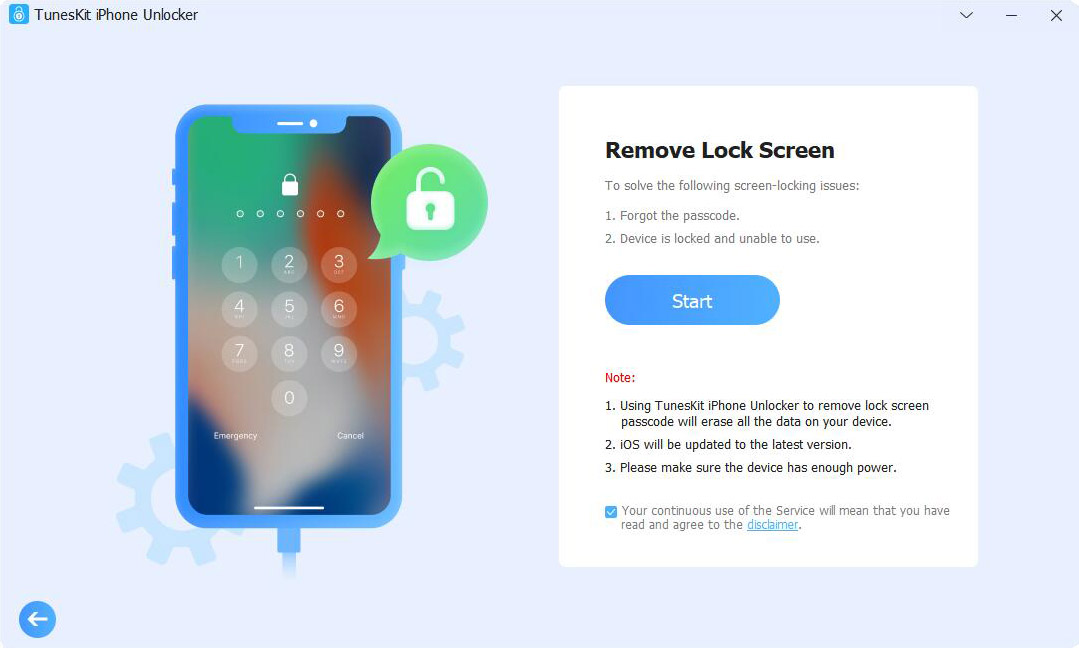 Step 2

Put the iPhone in DFU mode

IFollow the instructions as guided to put your iPhone in DFU mode to proceed to the next part.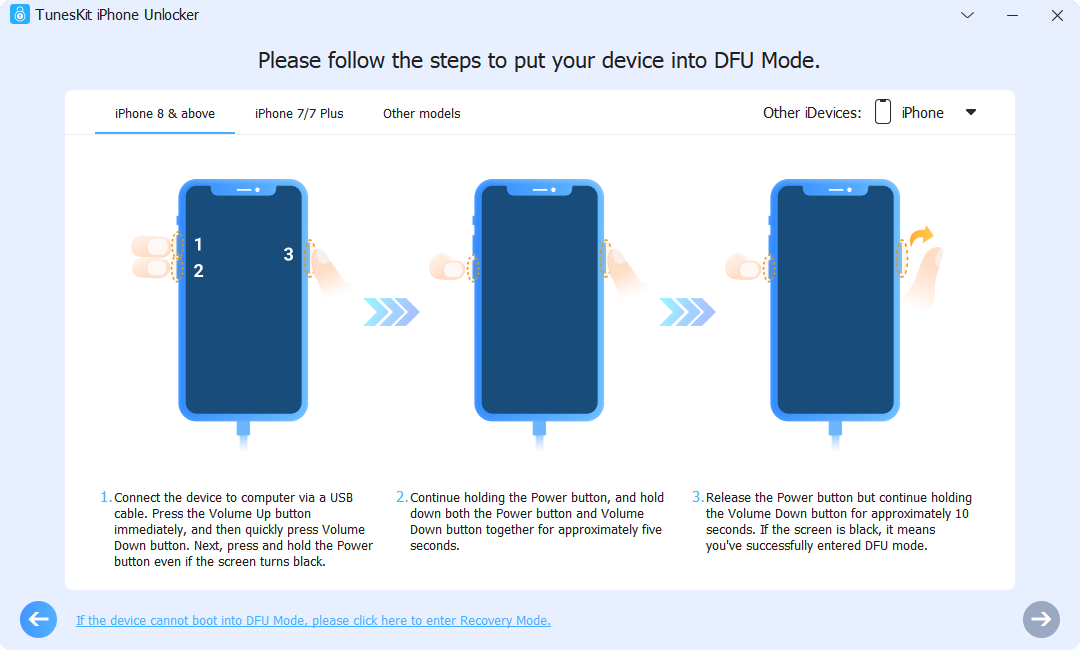 Step 3

Download firmware package

After clicking Download, the application will automatically download the firmware package. It is usually a good idea to double-check the device information before downloading, as it should be accurate for your specific device. If there is a discrepancy, manually adjust it.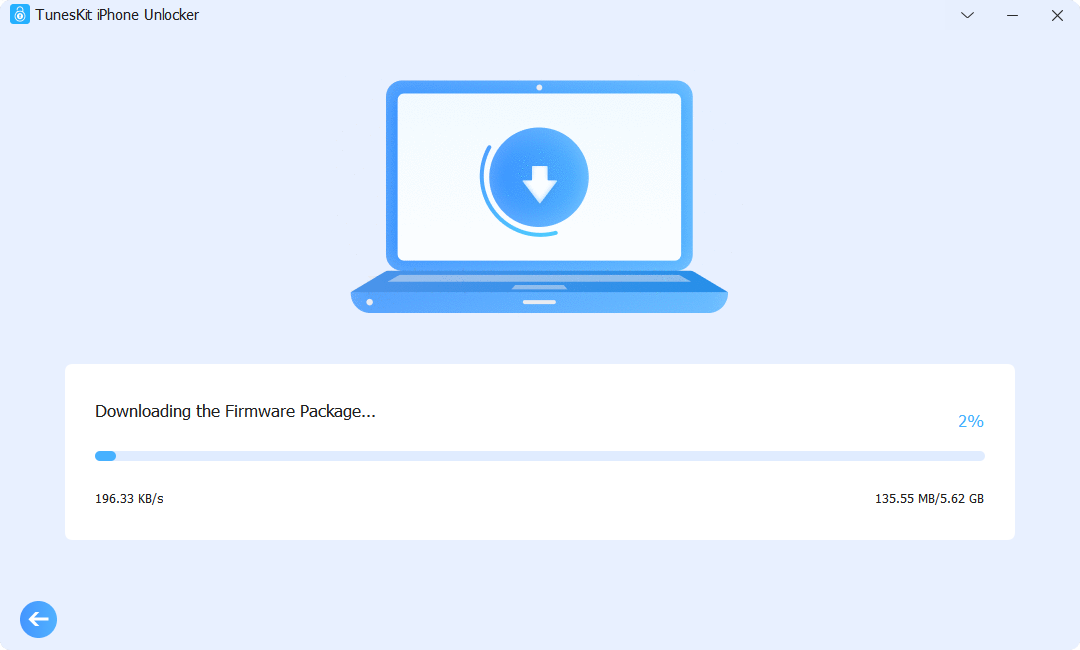 Step 4

Start to unlock iPhone

As soon as the firmware package is downloaded, Tuneskit iPhone Unlocker will get to work and begin unlocking your iPhone. You should be aware that all of your previous data will be lost. If you want to keep your iPhone data, you should back it up before initiating the unlocking process.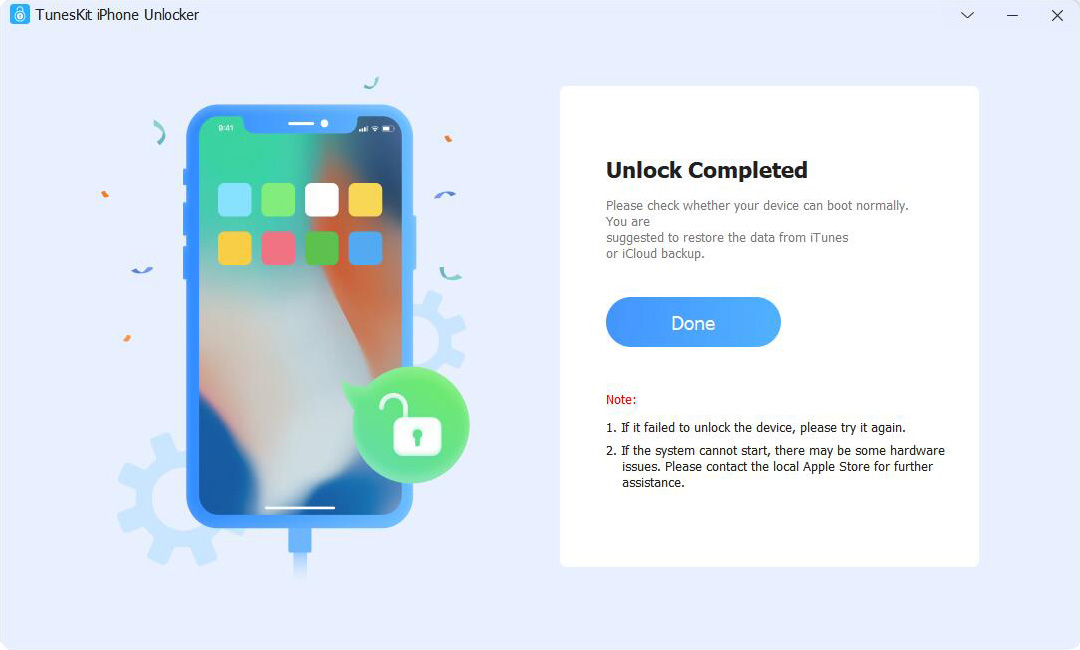 Part 2. Unlocking iPhone via iTunes
If you forget your password, one of the options Apple provides is to unlock your iPhone with iTunes. How do you go about doing it? First and foremost, have you synced your iPhone with iTunes? Because iPhone uses iTunes backup to restore, syncing recovers your device. Below are the steps to follow to unlock your iPhone using iTunes;
Step 1. Make sure you have the most up-to-date version of iTunes for your iPhone. Start the program on your PC.
Step 2. Connect your locked iPhone to your PC now. Please proceed to the next level once it has been detected.
Step 3. Finally, you will see a phone symbol on the screen. Tap to open it and see all of the information on your phone.
Step 4. On the right, you'll notice the "Restore iPhone" icon. To restore your iPhone, click on it.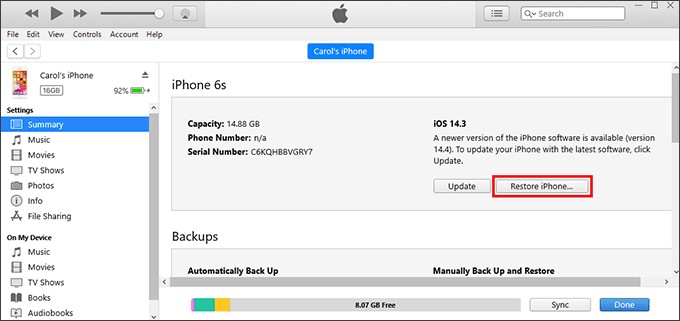 It should be noted that the procedure described above has drawbacks as well. First, you must have synchronized your iPhone using iTunes to unlock it. Second, it may result in data loss. Losing data is a nightmare for those who store important files on their iPhones, but you don't have a choice here.
Part 3. Unlocking iPhone through recovery mode
Recovery Mode allows an iPhone to run and connect to iTunes or a PC without needing to start up the iOS. This allows you to restore a working backup or operating system to a fresh, functional version. The risk you accept here is that your data will be lost. That's because using the recovery mode may wipe your phone's entire contents, including the password you forgot. To learn how to unlock your iPhone with iTunes in recovery mode, follow the steps below:
Step 1. Open iTunes on your computer and connect your locked iPhone to it via a USB cable.
Step 2. Depending on your device, you can boot your iPhone in recovery mode by following the steps below.
For iPhone 8 or later, swiftly press and release the Volume Up and Volume Down buttons. Press and hold the Power button at the same moment to turn on your iPhone.
If you have an iPhone 7/7 Plus, press and hold Power and Volume Down buttons simultaneously. Press and hold until a connection appears on your iPhone's screen.
Press and hold Power and Home buttons together on an iPhone 6s or previous model until you see "Connect to iTunes" on the device screen.
Step 3. You'll notice the option to restore or update your iPhone with iTunes in all of the preceding two steps. Note that after restoring your iPhone to factory settings, you must choose the Restore option to unlock your device, and your iPhone will be unlocked automatically.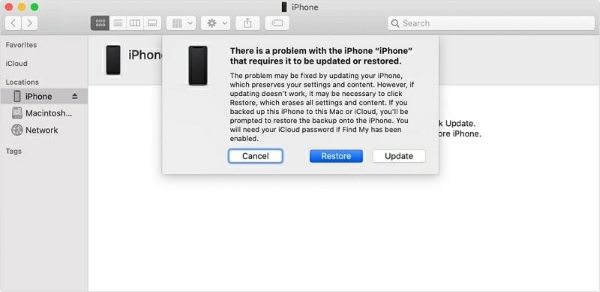 Part 4. Unlocking your iPhone via the iCloud
Using iCloud is another great technique to get rid of your iPhone password if you can't remember passcode to iPhone. This works much better if you ensure that the "Find My iPhone" option is set on and you remember the Apple ID connected with your iPhone. Follow the steps below to unlock your iPhone.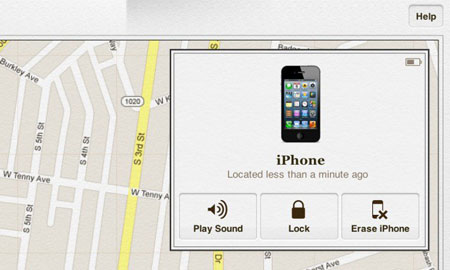 Step 1. Using a computer or another compatible iOS device, go to the iCloud official website and login in with your Apple ID.
Step 2. Select "All Devices" from the "Find My iPhone" menu.
Step 3. On the screen, you can see all of the devices associated with this Apple ID. Press on the iPhone you want to unlock.
Step 4. Finally, select "Erase iPhone" and follow the on-screen instructions.
Conclusion
If you can't remember iPhone passcode, unlocking an iPhone without a passcode is a breeze. Even though most techniques will delete your data or information, they can protect your iPhone from unwanted risks. With either of the techniques, more so the TunesKit iPhone Unlocker, you are guaranteed to unlock your iPhone easily.