Are you looking for some reliable and good iMyFone LockWiper alternatives? Undoubtedly, iMyFone is a powerful tool that can save our phone from a disabled state. However, nothing takes perfect. LockWiper has some disadvantages that make users find an alternative.
In today's post, we sort out the 8 best-recommended iOS unlocking tools that can help us unlock our iOS devices within clicks. If you are now in case of iPhone disabled, here is the right page where you can find the best tools to make your iPhone back to normal. Let's take a look at iMyFone LockWiper and the other 8 alternatives.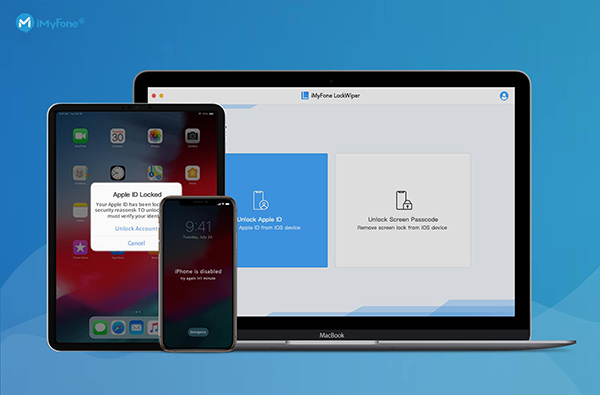 What is iMyFone LockWiper and How it Works?
iMyFone is a trusted tool that gives the best solutions to iOS, Windows PC, and Mac devices. Using it can fix many issues such as retrieving the lost data, unlocking iPhone or Android devices, and resolving many system-related problems.
With the help of this device, you can easily unlock the iPhone in multiple situations, like if you've forgotten the passcode or you had your device secondhand and never knew it to start with. The best thing about it is that it works for all lock screens.
Pros:
1. No need to know the Apple ID and password to unlock your iPhone;
2. There is no need to connect your iPhone to the internet;
3. It saves time and will unlock the device within minutes;
Cons:
1. The tool isn't compatible with Android devices;
2. LockWiper removes device data when deleting the iPhone passcode or lock screen.
To make the application work, just download, install, and open iMyFone LockWiper on your PC or Mac. Select one of the modes from the home's interface.
Step 1: Choose the option of Unlock Apple ID in case you have any issues related to Apple ID or iCloud account password.
Step 2: Pick the option that says Unlock Screen Passcode if you are locked out of your iPhone screen.
Step 3: Select the option Unlock Screen Time Passcode if you don't remember the Restrictions or Screen Time passcode.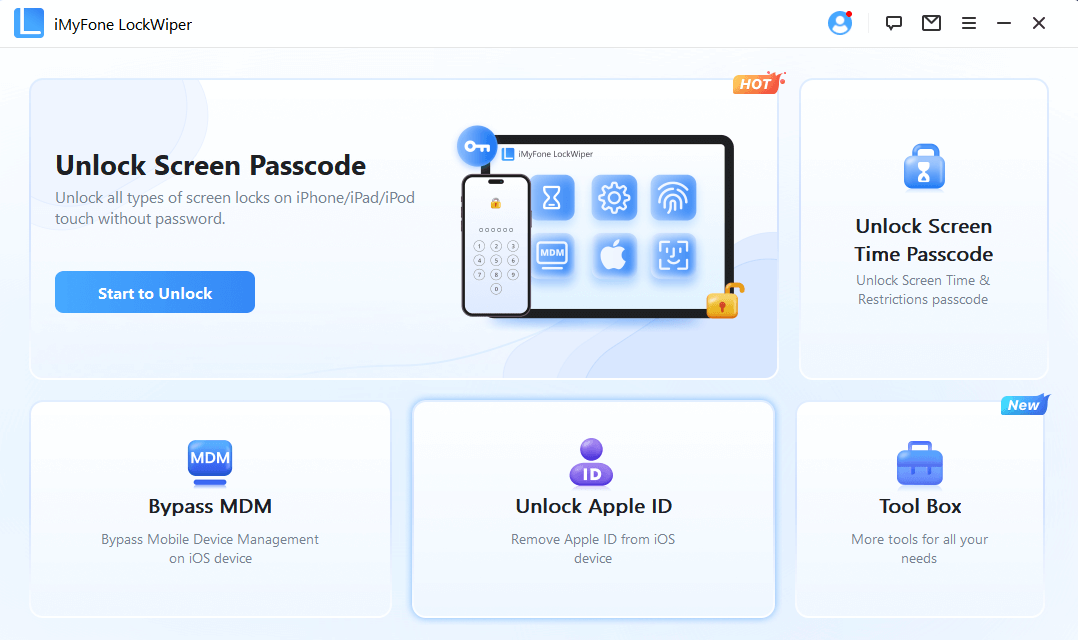 Step 4: Now connect your device and wait until it's detected and then tap the option that says Start to Unlock.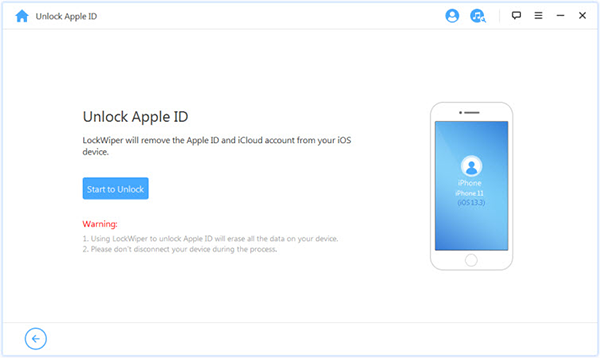 Step 5: In the end, you will see that the phone has started unlocking. Now you can see the option that says Successfully Unlocked on the LockWiper interface. Just go to your device and set it up with your new locks.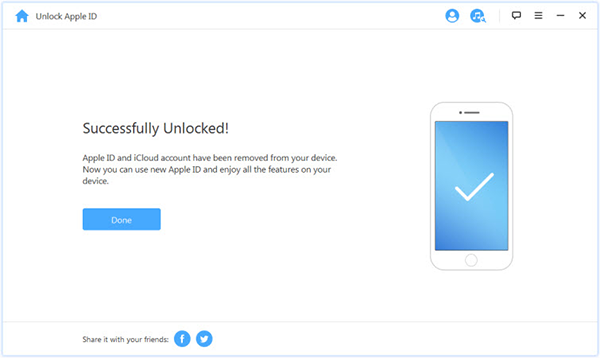 8 Best Alternatives to iMyFone LockWiper
#1. TunesKit iPhone Unlocker
The most-recommended iMyFone LockWiper alternative in today's post is TunesKit iPhone Unlocker. Users can easily remove the iPhone screen passcode using this tool. It has a dedicated feature and concise interface so that it won't take too much time to learn how to use it. Besides, TunesKit iPhone Unlocker allows users to factory reset their iPhone without entering passcodes. If your iPhone is disabled after a number of passcodes attempts, it will help you solve this problem at ease.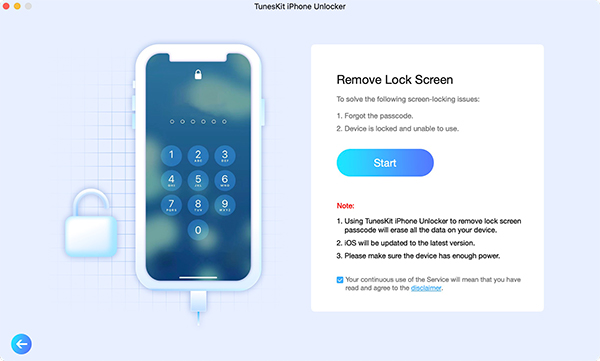 Pros:
1. Unlock your iPhone within several steps;
2. Can factory reset your iPhone without passcodes;
3. Fully compatible with the latest iOS version;
4. Available on Windows and Mac;
5. Easy to use with a user-friendly UI.
Cons:
1. Has only English interface.
#2. Joyoshare iPasscode Unlocker
The next iMyFone LockWiper alternative that has been widely praised is Joyoshare iPasscode Unlocker. By using this mighty tool, users can bypass four types of screen locks and help with unlocking phones in various situations. The screen passcode can be erased in three basic steps that are easy to execute for everyone. No matter which iDevice you have, it will delete the passcode quickly.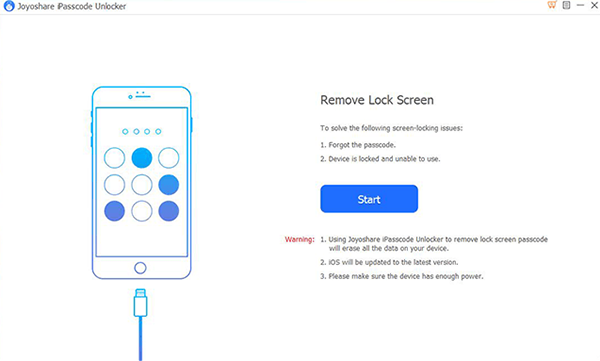 Pros:
1. By using it you can easily unlock all kinds of screen locks;
2. The software is easy to execute, as the commands are simple to follow;
3. Users can easily use it to unlock iPhone/iPad/iPod;
4. It is best for every iOS version;
5. Users can download it on Mac and Windows PCs as well.
Cons:
1. Users have to put the device into DFU mode to unlock it.

#3. UkeySoft Unlocker
One LockWiper alternative that you can rely on is UkeySoft. With the help of this tool, you can delete the iCloud activation lock, Apple ID, and screen passcode. You will find most of the guidelines on the software's main screen and can use the device without any issue.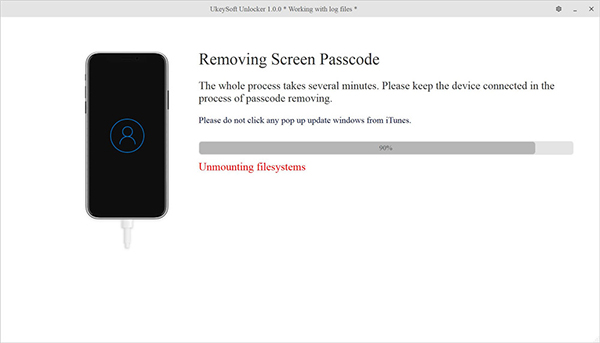 Pros:
1. The tool works fast and is trusted;
2. It functions fine with Mac and Windows;
3. You can delete multiple lock screens from your device.
Cons:
1. This tool updates your iPhone via automatic processing;
2. Your device has to be activated if you need to use this tool.
#4. Tenorshare 4uKey
The tool is best when it comes to unlocking the device and allows you to remove Apple ID without adding a password. Using this device is pretty easy as it shows you a detailed guide about the way it works and unlocks the device within a couple of minutes.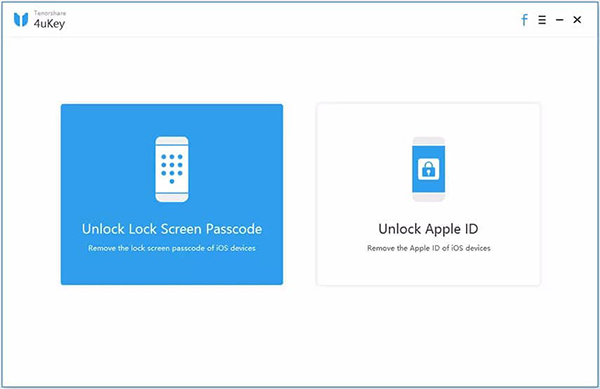 Pros:
1. Even a newbie can use this tool;
2. The application is easy-to-use for everyone;
3. The device works best on Mac and Windows.
Cons:
1. You need to install iTunes; else, it won't work;
#5. Wipelock
Another trusted iMyFone LockWiper alternative that users should know about is Wipelock which is best used for both iOS and Android devices and is suitable for older devices. The tool will help you lock yourself out of an old phone and do not want to lose any data. By using this tool, you can hard reset your phone and download the application directly from the setup without any trouble.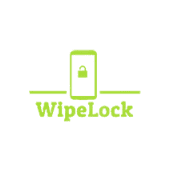 Pros:
1. The application help users in removing iCloud activation lock;
2. You can also unlock screen locks, FRP, and SIM networks
Cons:
1. The tool is hard for beginners to use;
2. It's a bit slow while unlocking.
#6. ApowerUnlock
It is another popular tool that users can use as an alternate choice. It is used to unlock Apple ID and doesn't ask for a password. By using ApowerUnlock, users can bypass the iPhone screen lock and remove the iCloud activation lock.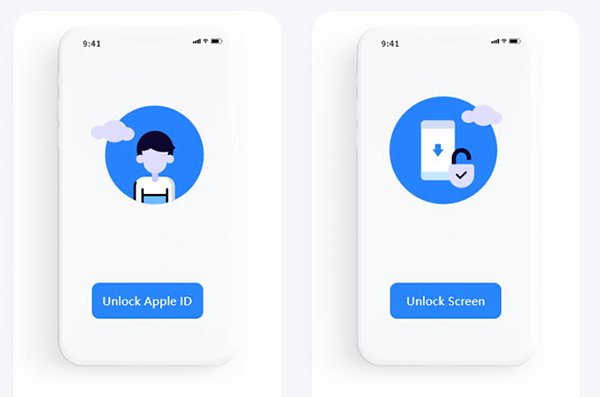 Pros:
1. The device works best for Mac and Windows;
2. It is easy-to-use software;
3. The interface is easy to comprehend;
4. There is no need to jailbreak.
Cons:
1. The device will take a while to unlock an iPhone XR/11/11 Pro;
2. The tool fails to find a locked iOS device sometimes.
#7. iSunshare iPhone Passcode Genius
People who don't want to spend a huge amount of money, you can go for this software. This tool will allow you to delete Apple ID, bypass screen time, and unlock locked screen passcode.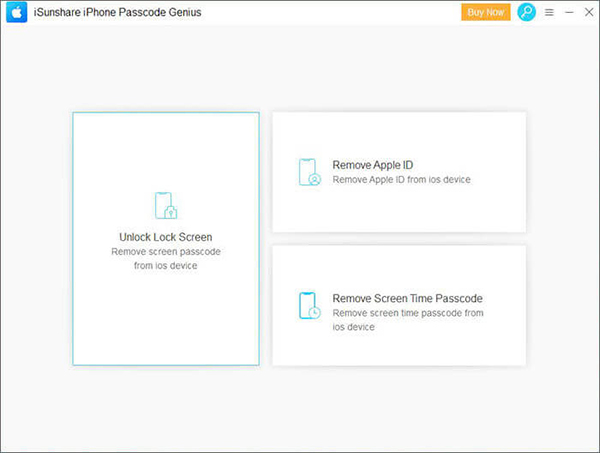 Pros:
1. The software is easy-to-use and is affordable at a price;
2. With a single click, users can unlock the iPhone.
Cons:
1. The unlocking screen ratio is low;
2. Available only for Windows.
#8. AnyUnlock
AnyUnlock is the last tool in our list of 8 best iMyFone LockWiper alternates. The tool helps users to unlock different types of iPhone passcode including iTunes backup passcode, Apple ID passcode, Screen Time passcode, and more. The software gives you a simple way to find, see, and export all your iPhone passwords whenever you need them.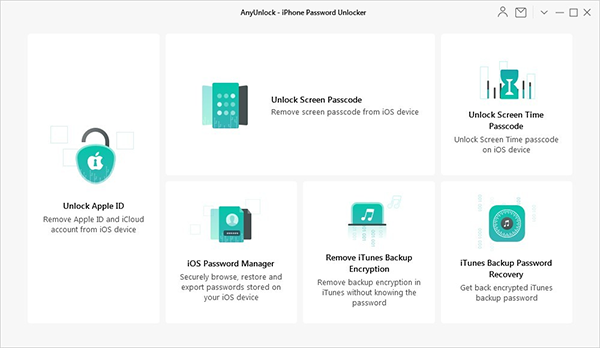 Pros:
1. The tool can work for both Windows and Mac Operating Systems;
2. It offers four forms of screen lock that can be unlocked;
3.UCcan unlock the passcode screen from missing or damaged Apple PC.
Cons:
1. After unlocking the iOS unit, it will remove all the files;
2. It screen lock feature can be unlocked which is not economical;
3. It permits you to access the DPU mode of your PC, which can trigger a malfunctioning in the process.
The Final Words
We hope that the above information will be of some help for all the users who needed to know about iMyFone LockWiper review and some other alternate options that one can relay. Try your favorite tool out and don't forget to share your experience with us. We would love to have your feedback and will guide you in case you have any questions. Feel free to contact us just in case you have something to know about these tools.

Brian Davis has covered tech and entertainment for over 10 years. He loves technology in all its forms.