What Does Activation Lock Mean & How It Works
Posted by Leonard White on Jul 28, 2023 11:35 AM • Category:
Unlock iCloud
6 mins read
Activate Lock pops up and asks for Apple ID and password? In fact, it does not show up at random. Activation Lock is one of the device protection methods created by Apple to prevent others from applying to the device without the owner's permission. If your operation is deemed as having "device security risks", Activation Lock will be triggered. Only by entering the matched Apple ID and password will you be able to continue using the device.
In this post, what does Activation Lock mean, the conditions that trigger an Activation Lock, as well as how to bypass Activation Lock on iPhone without Apple ID and password are clearly stated.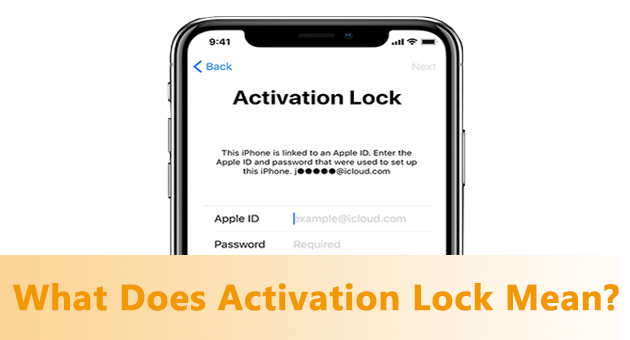 Part 1: What does Activation Lock mean?
Activation Lock removal requires Apple ID and passcode, so it is also called iCloud lock. It is an effective function for the prevention of burglary added since iOS 7 was released. When Find My feature is enabled on iPhone, Activation Lock will be automatically activated. To disable it, you need to enter the Apple ID and password set before. If the device is lost, stolen as well as swiped by others to sell it again, Activation Lock cannot be turned off also. It is such a useful feature that makes it possible for people to find their devices back and prevents personal info on the device accessed by others.
After understanding "what does Activation Lock mean", let's learn how it works.
Part 2: How does Activation Lock work?
Activation Lock will be activated once the Find My feature is enabled on your iPhone. And the Apple ID you used to activate this device is the only credential to bypass the Activation Lock. When the Activation Lock is turned on, the Apple ID and passcode will be automatically stored on the Apple Server. When you swipe or want to reactivate the device, as well as iPhone is marked as Lost Mode, the Activation Lock will appear. Once you enter the Apple ID and password, the Apple Server will receive them and match with the one that you set previously. If it's matched, the Activation Lock can be bypassed.
Part 3 : [Bonus Tips] Proven ways for Activation Lock bypass
Way 1: Remove Activation Lock via iCloud
Currently, aside from finding Apple support, iCloud is another official way for Activation Lock removal. But, it is only suitable for those who bought a second-hand iPhone and still keep in touch with the previous owner, since it requires Apple ID and password. The previous owner can remove the Activation Lock remotely by deleting the device from iCloud account. Here's the guide.
Step 1: Go to iCloud.com
Step 2: Sign into the account.
Step 3: Click All Devices. Find the device you want to get rid of the Activation Lock. And click Remove from Account.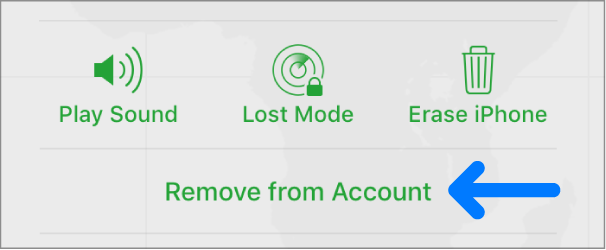 Way 2: Bypass Activation Lock via DNS
When you search "what means iCloud locked" on an engine, you can find there is a solution called DNS bypass recommended by many folks. DNS bypass means changing the DNS address on your iPhone which avoids sending the correct IP address to Apple Server so that it can prevent the Activation Lock triggered. But, what kind of iOS versions and iPhone models are supported are unknown. And it comes with a super low success rate, but some users have succeeded. If you try a lot and fail, you can follow the steps here to have a try.
Step 1: Tap Start Over. And back to the first page.
Step 2: Select language & region. And go to WiFi Settings.
Step 3: Tap the icon i on the right of your WiFi name, and it goes ahead to the next page. Tap Forgot this Network.
Step 4: Tap on i again. Select Configure DNS. Tap Manual. And select Add Server, enter one of these DNS addresses, and save your edit.
North America: 104.154.51.7
South America: 35.199.88.219
Europe: 104.155.28.90
Asia: 104.155.220.58
Global: 78.100.17.60
Step 5: Tap on Back. Connect to the WiFi you've edited. Then, an Activation page shows up. Continue to tap Back, and click Activation help. Completed!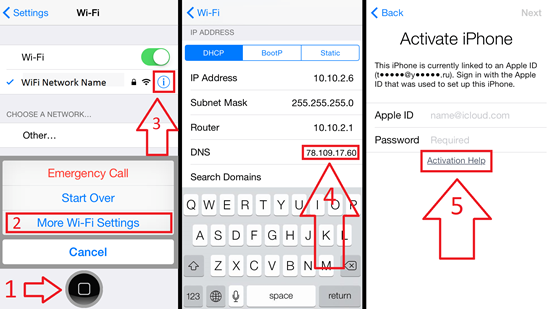 Way 3: Get rid of Activation Lock without password via TunesKit Activation Unlocker
By learning what does iCloud locked mean, you will find forgetting Apple ID and password is a troublesome matter. If you forgot the Apple ID and passcode for Activation Lock and take no account of Apple assistance, a utility Activation Lock remover must be a good option for you, as no professional skills and any proof of purchase required.
TunesKit Activation Unlocker is one of the reliable Activation Lock bypass tools coming with a remarkable success rate, as well as super easy operation and simple intuitive interface. With a comprehensive guide provided, you're able to bypass the Activation Lock in any situation, like forgetting Apple ID and passcode for Activation Lock, Activation Lock not accepting Apple ID, buying a second-hand iPhone with Activation Lock, cannot turn off Find My, etc. Windows and Mac are supported. This user-friendly and safe tool makes Activation Lock bypass become a piece of cake.
Next, the steps below are what you should do to bypass the Activation Lock via TunesKit Activation Unlocker.
Step 1:

Connect your iPhone/iPad

Your device should be connected to the PC in a proper way because everything will be in vain if your device cannot be detected by TunesKit Activation Unlocker. Next, click Start. The terms of use page shows up, please read it carefully, and if there's nothing you disagree with, go to click Agree.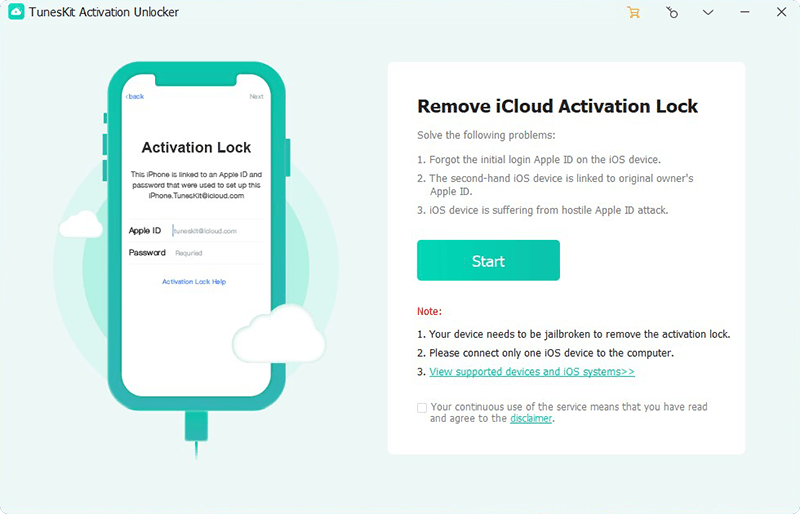 Step 2:

Jailbreak iPhone/iPad system

The process of jailbreaking your device differs between Windows and Mac systems, so, please select the appropriate tutorial link below based on your situation, where you will find a comprehensive step-by-step guide for jailbreaking your device. Once completed, it is necessary to shut down and restart your computer.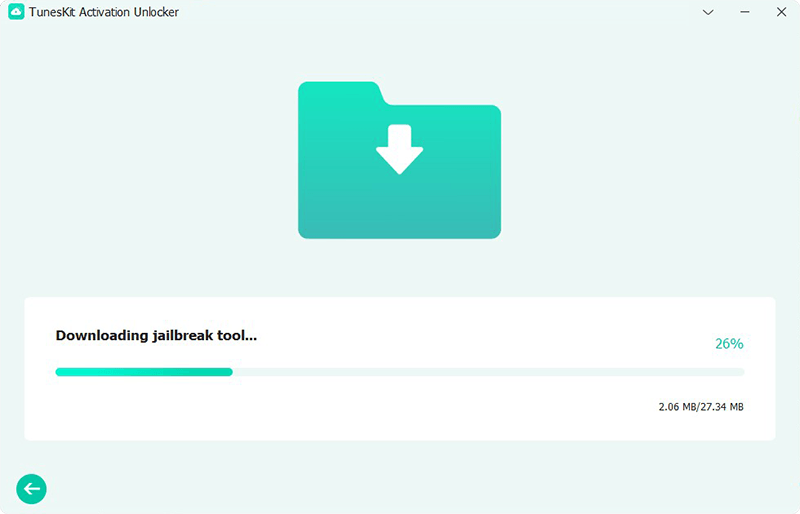 Step 3:

Start to bypass

Launch TunesKit Activation Unlocker again after restarting your PC. All the basic information about your device is displayed on the interface, please check it carefully, then click Start to Remove and proceed to the next step. A few minutes later, a prompt will show up telling you that the Activation Lock has been successfully bypassed.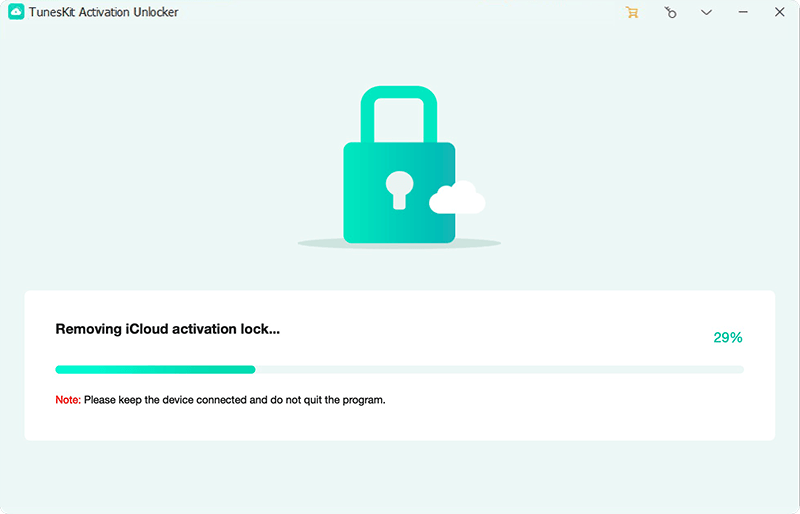 Part 4: Conclusion
What does Activation Lock mean? I believe you've got the answer from this post. Aside from it, 3 proven methods are shared in this post. Compared to the success rate, using the official way to get rid of the Activation Lock as well as using the bypass tool like TunesKit Activation Unlocker has a higher success rate, so it's recommended in priority. Hopefully, by this post, you can have a basic knowledge of Activation Lock.