3 Ways to Realize iPhone 8 Activation Lock Removal
Posted by Leonard White on May 22, 2023 11:35 AM • Category:
Unlock iCloud
6 mins read
When the interface messaging "Activation Lock", you have to enter the passcode of the Apple ID logged in on this iPhone or else you cannot access this device. In fact, Activation Lock, while a powerful feature for iPhone protection, is also a nuisance because we cannot remember every account and password that has been set up for this information age. In addition, if we shop for a used iPhone from a second-hand market or website, unlocking the iPhone with Activation Lock also becomes a difficult task, since we have no way to learn who the previous owner was. Even though Apple has a powerful server, that does not mean there are no solutions to bypass it. You can easily complete the iPhone 8 Activation Lock removal as long as you choose a professional removal tool. In this post, you can learn a professional removal tool and other solutions.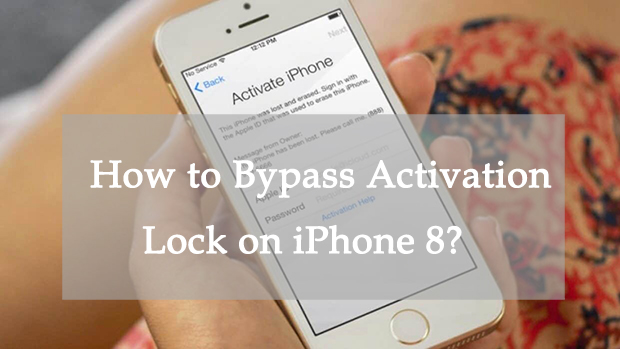 Part 1: What is Activation Lock?
Apple has a robbery protection feature built into iOS devices called Activation Lock. Activation Lock makes it hard for someone to sell or access your device when your iPhone, iPad or iPod touch is lost or stolen. Activation Lock works once Find My on your iPhone is turned on. Apple ID and passcode required to turn off Find My, erase an iPhone, or re-activate an iPhone. When the device is lost or stolen, you can remotely erase the iPhone and activate Activation Lock, which protects your information on this iPhone from being accessed by anyone else.
Part 2: iPhone 8 Activation Lock removal via TunesKit Activation Unlocker
How to bypass Activation Lock on iPhone 8 is a hot topic in the Apple community. Many users deemed that using a third-party tool to bypass the Activation Lock is the most effective and time-saving solution after their multiple attempts on other solutions. But you need to get rid of some illegal software which may make your device crash. Next, a tool highly recommended and with good reviews from users is introduced to you.
TunesKit Activation Unlocker is a professional and safe Activation Lock bypass tool with no accessing any personal information on your iPhone, available for Windows and Mac. It's great option to use TunesKit Activation Unlocker to bypass the Activation Lock on iPhone, iPad, and iPod touch, or to fixing a series of problems caused by Activation Lock and Apple ID, such as turn off Find My without passcode, bypass iCloud locked iPhone lost and erased by previous owner, reset device without signing out iCloud, etc. After bypass the Activation Lock on your iPhone 8 with TunesKit Activation Lock, you're allowed to sign into a new Apple ID to download applications on the App Store and enjoy music and video service on iTunes. Unlike other complicated solutions, TunesKit Activation Unlocker owns an intuitive interface and easy-understanding guide on using.
Go ahead to see how TunesKit Activation Lock can easily complete iPhone 8 iCloud bypass with only a few steps.
Step 1:

Connect your iPhone 8

Before you get started to bypass the Activation Lock on your iPhone, you are required to use a USB cable to connect your iPhone 8 to the PC, and its connection cannot be disconnected once you start the bypass procedure. When you finish your preparation, go to click Start on the interface. Then, a Terms of Use appears, please read it carefully and click Agree to move on.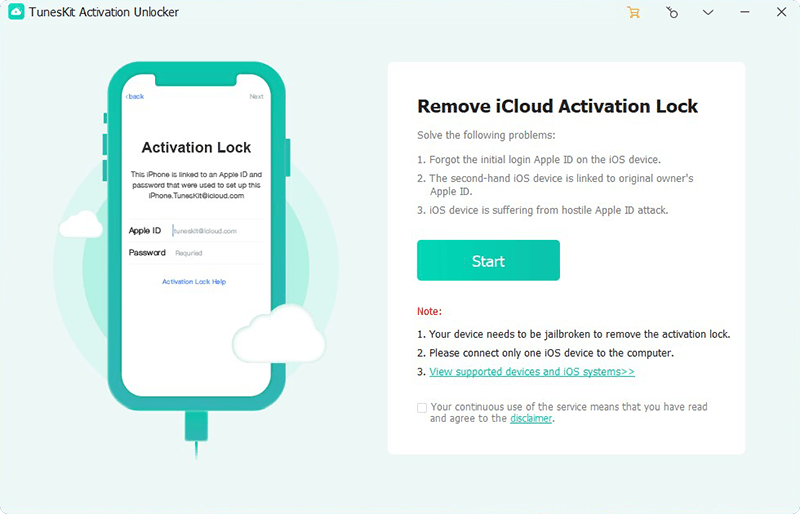 Step 2:

Jailbreak your system

Click the appropriate jailbreak tutorial link below to jailbreak your iPhone 8. When your device has finished jailbreak, click the reboot button on the right corner to restart your computer. Go launch the tool again.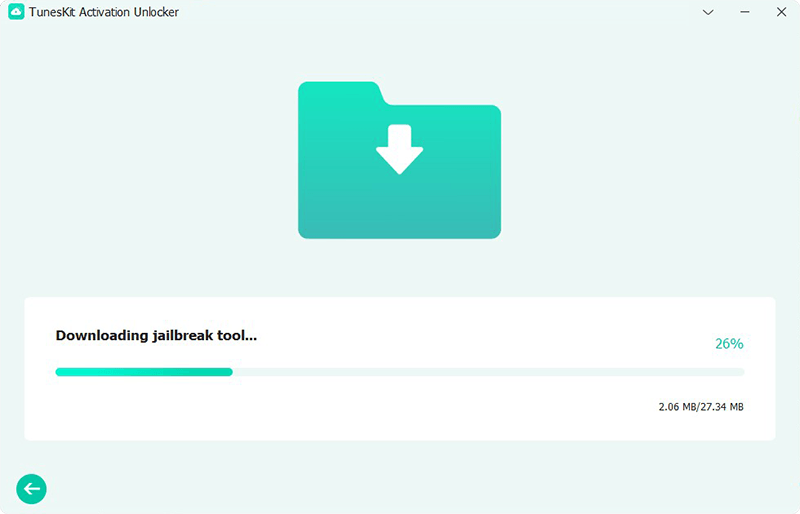 Step 3

: Start to bypass

Go to check the info of your iPhone 8, and click Start to Remove. TunesKit Activation Unlocker will start to bypass the Activation Lock on your iPhone 8. After a few minutes, you can access your iPhone 8 without Activation Lock.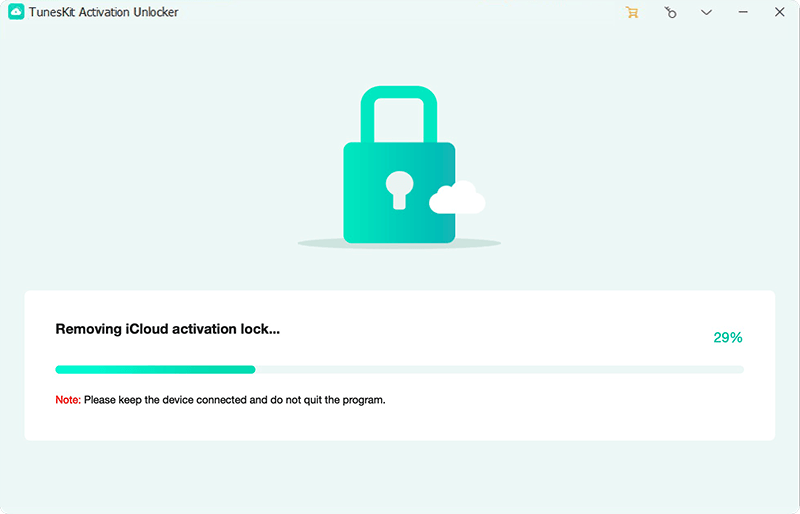 Part 3: [Low success rate] Other solutions to realize iPhone 8 iCloud bypass
Solution 1: Bypass the Activation Lock via IMEI
If you have searched the keyword "Bypass activation lock iPhone 8" online, you can learn that bypass the Activation Lock via IMEI refers to using your unique IMEI code on your iPhone 8 to bypass the Activation Lock. With the help of a third-party tool, you can bypass the Activation Lock on iPhone 8 with no need to jailbreak the system. But, this solution is not available for all the iOS version and models, and its success rate is lower. This is another alternative method to bypass the Activation Lock on your iPhone 8 if you have failed in other methods. You can find your IMEI number on the SIM card tray. Let's have a look at how it operates.
1. Download iFinder from the search engine. Go launch it and log in with your user ID and passcode.
2. Connect your iPhone 8 with a USB cable and turn it into Recovery Mode.
3. Click Unlock iCloud. Then, you will be asked to enter your device info, including your IMEI number, serial number, iPhone model, and iOS version. When you finish, click START.
4. Click Unlock Now. Next, a pop-up will appear to show you the Apple ID and password. Go to use it to unlock your iPhone 8.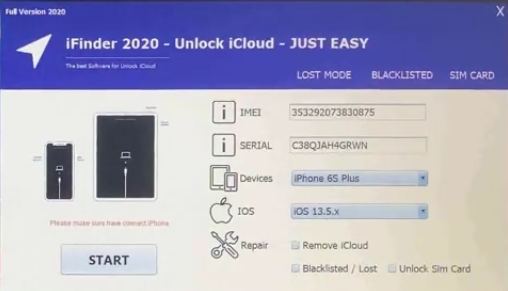 Solution 2: Remove the Activation Lock via DNS
If you cannot learn the specific information used on the last solution, you can change DNS on the device for iPhone 8 Activation Lock removal. This solution is the same as the last solution, coming with a lower success rate. But what's difference is that you don't need to collect any information about your iPhone 8. Follow the steps below, then you can bypass your iCloud locked iPhone 8.
1. Tap Start Over to restart settings.
2. Choose the language and region and go head to WiFi Settings.
3. Tap on i on the right of the WiFi you connected. Select Forgot this Network.
4. Tap icon i again. Select Configure DNS and tap Manual. Go Add Server, enter one of the third-party DNS addresses below according to your region.
☺ North America: 104.154.51.7
☺ South America: 35.199.88.219
☺ Europe: 104.155.28.90
☺ Asia: 104.155.220.58
☺ Global: 78.100.17.60
5. Go Back, and connect to the WiFi. There will be an Activation page show up, continue to tap Back and select Activation help. And your iPhone 8 can be bypassed.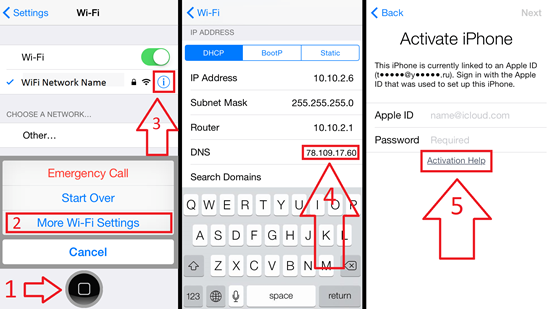 Part 4: Frequent asked questions and answers about Activation Lock removal
Can I bypass the iPhone 8 with iCloud lock with only jailbreak?
No, you can't finish iPhone 8 iCloud bypass only with jailbreak. Jailbreak can break the iOS system and get access to conduct activities that are forbidden by Apple, including installing unofficial software and bypassing Activation Lock without password. However, jailbreak cannot directly bypass your iCloud lock. You still need to use a third-party tool to help you, like TunesKit Activation Unlocker.
Is there a third-party Activation Lock removal tool 100% safe?
You may find many illegal tools when you search for an Activation Lock bypass tool on search engines. It's quite hard to figure out if it's official and 100% safe. You better choose a tool that comes with an official website and user reviews. TunesKit Activation Unlocker is one of those official and legal bypass tools.
Part 5: Conclusion
Using DNS or IMEI to bypass the iCloud locked iPhone 8 comes with a low success rate, while iPhone 8 Activation Lock removal can be successfully done with a high success rate using the professional tool recommended in this post - TunesKit Activation Unlocker. Hope you can learn something to fix your iPhone 8 with this post. Have a nice day!