Best 3 Solutions for iOS 15 Activation Lock Bypass
Posted by Leonard White on Aug 21, 2023 11:35 AM • Category:
Unlock iCloud
6 mins read
It is an especially damning thing to buy a second-hand iPhone with Activation Lock. Some have updated their iOS version to the iOS 15, triggering the Activation Lock. They were asked for the Apple ID and password to bypass it. However, the truth is that they are impossible to bypass with the Apple ID and password because they're not the first owner of this iPhone. And others just forgot the Apple ID and password set before.
If you're still trying a lot for the iOS 15 Activation Lock bypass, this post could be a useful guide telling you how to bypass it without Apple ID and password.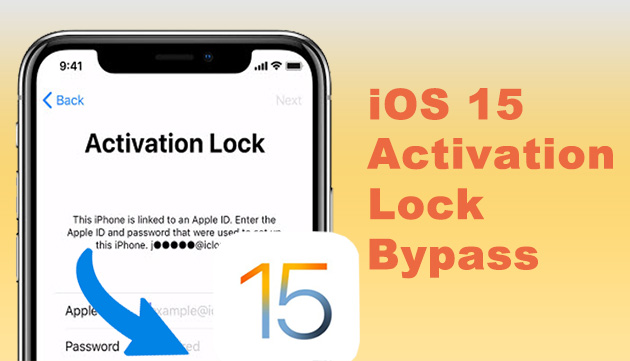 Part 1: What is Activation Lock?
Activation Lock, also named iCloud lock, is a critical feature released by Apple since the iOS 7 has been released to protect others from accessing iPhone when iPhone is lost or stolen. Once it is triggered, the user has to enter the correct Apple ID and password to re-access this device. If the Find My feature is enabled on iPhone, the Activation Lock will be activated, and you won't able to do iOS 15 iCloud bypass even if you swipe your iPhone.
Part 2: How to bypass Activation Lock on iOS 15?
From Apple, the Apple ID seems to be the only way to bypass the Activation Lock. In fact, it is possible to bypass it without Apple ID and password. If you've bought a used iPhone and still keep in touch with the previous owner, go to Solution 1. And if you don't meet this requirement, go to Solution 2 or 3.
Solution 1: Bypass via iCloud
Bypassing Activation Lock via iCloud requires deleting iPhone from iCloud account. So, if you're still keeping in touch with the previous owner, you can ask him to follow this way to remotely bypass the Activation Lock for you.
Step 1: Go to iCloud.com
Step 2: Go to Find My application. Click on All Devices.
Step 3: Click on the iPhone. And select Remove from Account.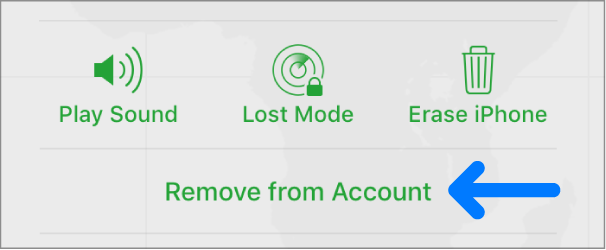 Solution 2: iOS 15 Activation Lock bypass via TunesKit [Without Apple ID and password]
As of now, the professional bypass tool, like TunesKit Activation Unlocker, is still the reliable way for iOS 15 Activation Lock bypass without Apple ID and password.
TunesKit Activation Unlocker has spent a lot on researching Activation Lock on iPhone, as aims to assist iPhone users to bypass the Activation Lock or solve the related problems by themselves, including getting pass iOS 15 Activation Lock, buying a used iPhone locked by previous owner, forgetting Apple ID and password for iCloud lock, etc. Many users have praised its easy operation and intuitive interface, making them successfully complete their operation.
It supports a wide range of iOS versions, up to iOS 16.5.1. Mac are available.
Let's take a look at how to use this amazing tool to tackle the annoying Activation Lock on iOS 15.
Step 1:

Connect your device

Before getting started, you should use a USB cable to make a connection between your iPhone and your computer, making sure of its stability during iOS 15 iCloud bypass process. Next, click on the Start button. Continue to click on the Agree button after you finish reading the terms of use from this tool. Then, you can see your iPhone is automatically into the Recovery Mode.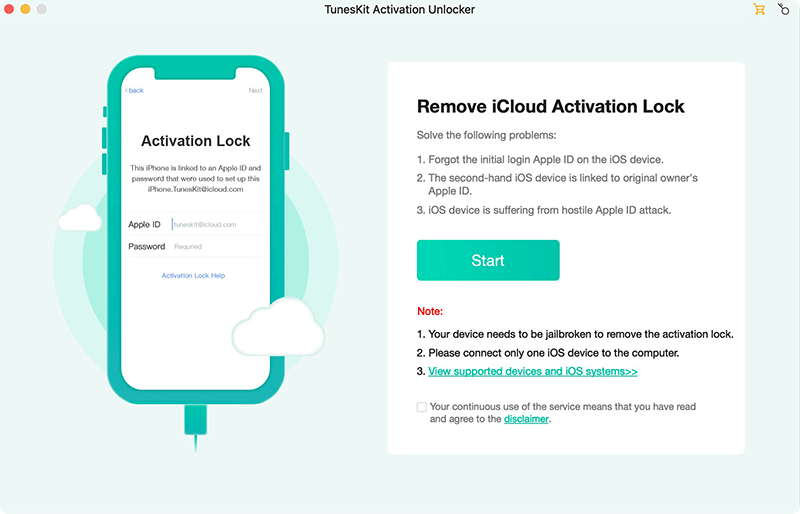 Step 2:

Start to Remove

Here, you should follow the steps on screen to put your device into DFU Mode. When your iPhone is detected being in the DFU Mode, it will start to remove the Activation Lock.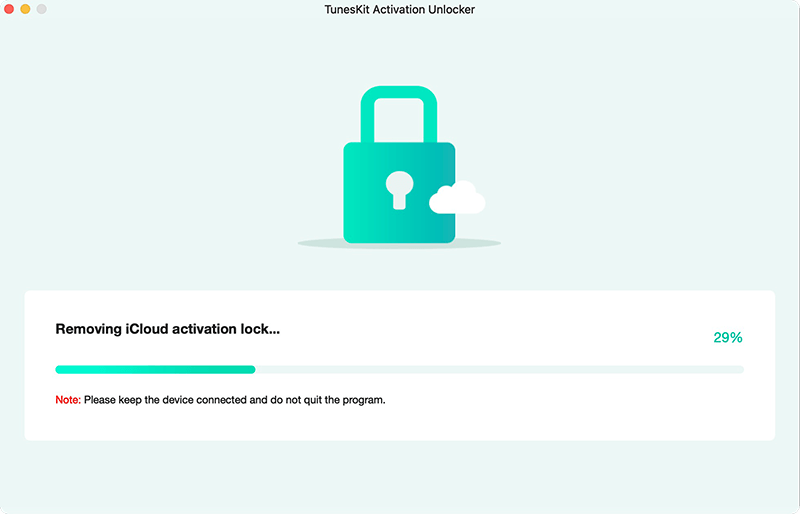 Solution 3: Change DNS
It refers to changing the DNS address on your iPhone to handle the "iCloud bypass iOS 15". By changing the DNS, Apple fails to detect iPhone's "behavior" so that Activation Lock will not be activated when you try to set it up again. But, the recipe of success is unknown, as no one knows which iPhone models or iOS versions it supports.
Step 1: Press Home button, and tap on Start Over (if you don't have it, plz manually go back to the first page of your activating).
Step 2: Finish former settings like language & region, and move ahead to WiFi settings.
Step 3: Here, you can see a small circle icon beside the WiFi. Tap on it and select the Forgot this Network option.
Step 4: Tap on the icon again, and go to tap on the Configure DNS section. And tap Manual. Now, you can create a new DNS address for your iPhone, picking one of the following DNS addresses. Save your edits.
North America: 104.154.51.7
South America: 35.199.88.219
Europe: 104.155.28.90
Asia: 104.155.220.58
Global: 78.100.17.60
Step 5: Go back and connect to the WiFi again, and here comes a page popping up. Keep tapping back, and select Activation help. Done!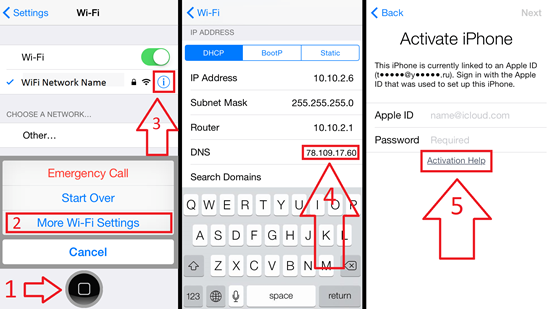 Part 3: FAQ about Activation Lock
Can Activation Lock be removed if I factory reset iPhone?
No. Activation Lock cannot be removed with factory reset. Activation Lock is a program that works between iOS system and Apple Server. Factory reset only erases data on iPhone, but not access iOS system. So, nothing will be changed after the factory reset.
Can jailbreak bypass the iCloud lock?
No. Jailbreak is the critical part of Activation Lock bypass, but in fact, you cannot bypass it only with jailbreak. Jailbreak is to access the system and gain permission for you, and it won't bypass the Activation Lock for you. A third-party tool is still required.
Part 4: Conclusion
This post has made clear what Activation Lock is and how to complete iOS 15 Activation Lock bypass. From the solutions above, TunesKit Activation Unlocker is the best way to bypass the Activation Lock without Apple ID and password, for its high success rate and easy understanding steps. Hope this post can help you a little bit to bypass the frustrating Activation Lock on your iPhone.