iCloudin Review 2023: How to Use?
Posted by Leonard White on Apr 28, 2023 11:00 AM • Category:
Unlock iCloud
5 mins read
iOS devices never fail to surprise users with their high-class features. Activation Lock is one of the surprising features of the iPhone because it keeps it safe. However, sometimes the user forgets the passwords and needs to access iPhone, and in these scenarios, this feature can be problematic. Thus, for this issue, you need to use a tool to unlock the device.
In this article, we will discuss iCloudin and how to use iCloudin. Above all, we will discuss the best alternative to iCloudin, TunesKit Activation Unlocker.
Part 1. Everything You Need to Know about iCloudin
You cannot unlock the device if you don't remember passwords unless you use an activation tool remover. Here we will provide information about iCloudin and how to download iCloudin. Look below to discover more about this tool:
iCloudin is the most known iCloud bypass tool. With it, you can bypass iCloud activation on several devices, such as iPhones and iPad. Above all, you can also remove the previous iCloud account from the device. So, if you need to get rid of the iCloud data of a previous user, this tool can help you a lot. You can say it's a one-stop solution for cloud-locked devices.
Key Features of iCloudin
iCloudin offers many key features, and some of them that you should be aware of are listed here:
◼ With this tool, you can bypass any type of iPhone's iCloud Activation Lock without any restrictions.
◼ It has an easy-to-navigate and tidy interface; thus, you can explore this tool and accomplish your task easily.
◼ There are no such subscriptions in this tool, and you can bypass the activation lock of iCloud without paying money.
◼ You can access this tool on both Windows and Mac computers.
How to Download and Use iCloudin
Do you want to download iCloudin to your device and know how to use iCloudin? The following instructions will help you to do this with ease:
Step 1: Go to the official website of "iCloudin" and click on the "Download" button. It will be downloaded in the form of files. Once the downloading is completed, extract the program files with the help of unzipping software such as WinRAR.
Step 2: After this, download and update "iTunes" on your device and connect the iOS device to the computer. Hereafter, launch the iCloudin and select "Host's File IMEI".
Step 3: Following this, a new window will be opened. You need to go to the iCloudin folder and select "Hosts_Activation_IMEI.java". By this, the lock removal process will be initiated, and you can track its progress by using the "Progress Bar".
Pros and Cons of iCloudin
The pros and cons of iCloudin listed here will help you to know its basics and functionality:
Pros:
This tool is not vulnerable to viruses, so you can use it without worrying about virus attacks.
iCloudin tool can help you to unlock several Apple devices such as iPhones, iPad, and more.
You just have to initiate the procedure of iCloud Activation Lock removal, and it will handle the rest.
Cons:
You need to find a reliable link to download this tool because there are many fake links for iCloudin downloading.
This tool cannot work on the latest devices, so you need to have older iOS devices.
Part 2. The Best Alternative of iCloudin – TunesKit Activation Unlocker
iCloudin is a good tool, but you can face some problems with it, such as it will only work with iOS 9 and earlier. Above all, it's not easy to find the downloading link for iCloudin. You also need to download iTunes on your computer to run this. Thus, you need to use a tool that does not hold such limitations. TunesKit Activation Unlocker is one of the best alternatives to iCloudin.
With this top-notch tool, you can remove the Apple ID without any passwords. Moreover, you can also bypass the iCloud activation lock without inputting the passwords. It also allows you to turn off Find My iPhone and iPad. One of the best things is you can reset the device without signing out of iCloud.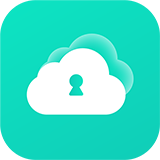 Features of TunesKit Activation Unlocker:
Bypass iCloud Activation Lock without passcode
Supports iPhone, iPad, and iPod touch
Turn off Find My feature without password
Available on Windows and Mac
Try It Free
600,000+ Downloads
Try It Free
600,000+ Downloads
How to Remove iCloud Activation Lock with TunesKit Activation Unlocker
Feel free to follow the procedure discussed below to remove the activation lock of iCloud:
Step 1

Launch TunesKit and Connect Device

Initially, install and launch TunesKit Activation Unlocker on your device and click on the "Try It Free" button. Connect your device to the computer and hit the "Start" button. From the disclaimer, click on "Agree".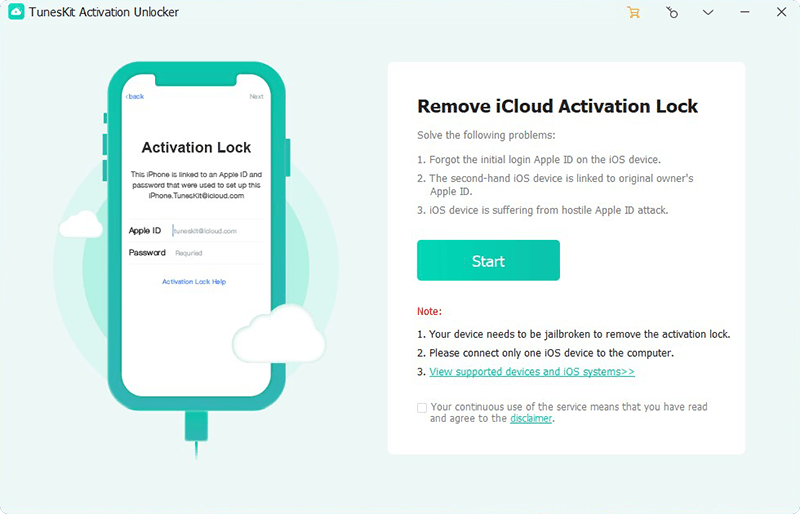 Step 2

Complete the Jailbreak Procedure

Following this, the jailbreak tool will start to download automatically. If you are using a Windows PC, connect a USB to the computer to burn the jailbreaking environment. For this, click on the "Start Installation" button and then select the "Jailbreak Tutorial" option to learn how it works.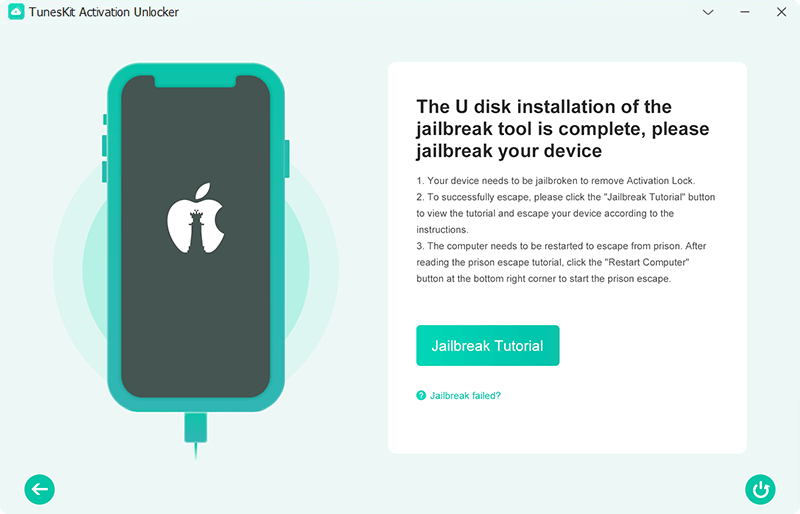 Step 3

Remove iCloud Activation Lock

After this, confirm the information of your device and hit "Start to remove". Wait for a few seconds and hit "Done".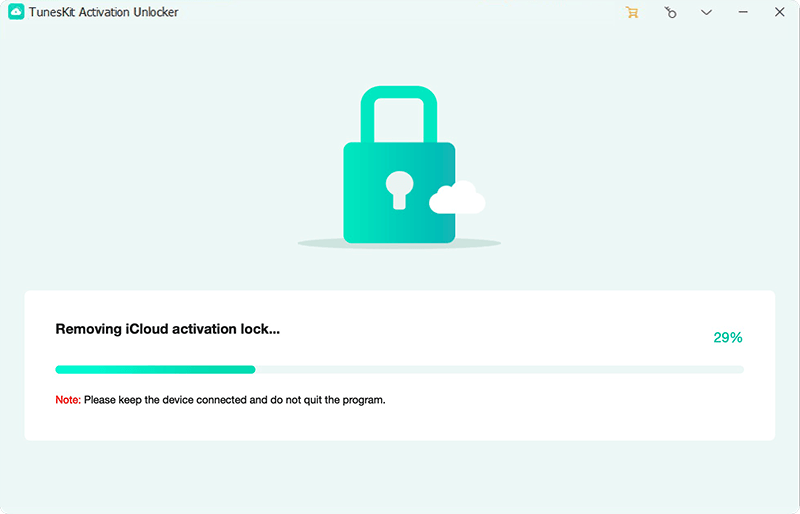 What Makes TunesKit the Best Alternative to iCloudin?
Here are some points that will help you to understand why TunesKit is the best alternative to iCloudin:
1. You can log in to the App Store with your new Apple ID and password with the help of TunesKit.
2. This tool also allows you to enjoy video and music services from the iTunes Store.
3. It is compatible with Windows 7 to 11 and Mac 10.11 to 12 computers which shows its higher functionality.
Part 3. iCloudin vs TunesKit Activation Unlocker – Which Is Better?
The table will provide you with a comparison of iCloudin and TunesKit. By this, you can know which one is better than the other:
| | | |
| --- | --- | --- |
| | iCloudin | TunesKit Activation Unlocker |
| Interface | ⭐ 3.8/5 | ⭐ 4.8/5 |
| Performance | ⭐ 4.1/5 | ⭐ 4.9/5 |
| Latest iOS Devices Support | No | Yes |
| Ease-of-Use | Low | High |
| Chances of Failure | High | Low |
Part 4. Conclusion
In a nutshell, you can use the iCloudin tool to remove the iCloud activation lock from your iOS device. The above discussion also guides you on how to use iCloudin. Moreover, it is very difficult to download and hold limitations, so you can use TunesKit Activation Unlocker, which is its best alternative. The process of removing the iCloud activation lock with TunesKit is also provided above for your ease.