How to Bypass Activation Lock on iPad Without Apple ID [Top 3]
Posted by Leonard White on Oct 31, 2023 11:35 AM • Category:
Unlock iCloud
6 mins read
Apart from screen lock, Activation Lock is also an essential part for users to protect their iPad. However, it is also a damning thing for those who have bought a used iPad from someone. Activation Lock is triggered and asks for Apple ID and password, because they reset iPad without turning off Find My on their iPad.
Here, you can learn a full guide showing you how to bypass Activation Lock on iPad without Apple ID and password.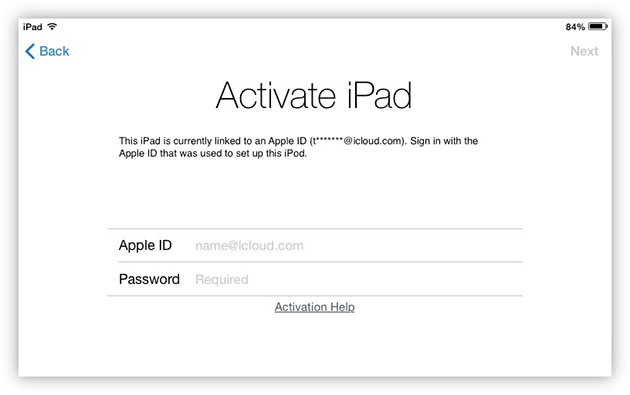 Part 1: How does Activation Lock work?
Learning how it works makes fixing the issue at ease. Activation Lock, also called iCloud lock by many users, is an anti-theft feature built in Apple devices. It works based on the collaboration among iOS system and Apple Server. Once iPad is erased, the iOS system will send a command to Apple Server and trigger the Apple ID verification. Apple ID and password are the only way to bypass the Activation Lock screen.
Part 2: How to bypass Activation Lock on iPad without Apple ID?
Solution 1: Use a bypass tool
At present, bypass tools are still a reliable option for a wide variety of users, as they provide a high success rate and absolutely simple operation.
TunesKit Activation Unlocker is a professional tool that specializes in assisting users to handle with Activation Lock without Apple ID and password, including iPad locked by previous owner, buying a used iPad with iCloud lock, cannot turn off Find My iPad, etc. It supports Windows and Mac. Now, iOS 16.5 is also available. With TunesKit Activation Unlocker, iPhone, iPad iCloud lock removal is no longer a difficult thing. Easy operation!
What's going next is a guide on how to bypass Activation Lock on iPad without Apple ID via TunesKit Activation Unlocker.
Step 1:

Connect iPad

Ahead of hitting the Start button to run the program, you should use a USB cable to connect your iPad to the computer. Next, click Start and continue to hit the Agree button after reading the terms of use.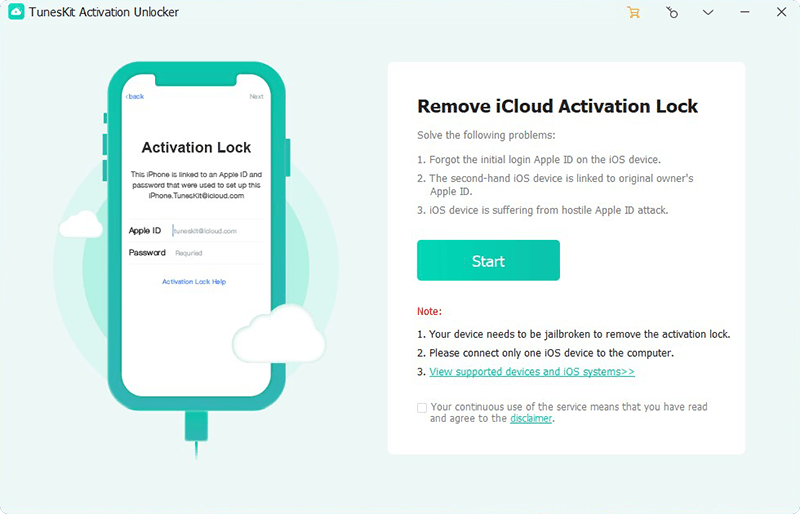 Step 2:

Jailbreak iPad

Jailbreak your iPad. You can see Jailbreak Tutorial on the interface, please click on it. And follow the instructions to complete iPad jailbreak. When finished, reboot the computer by clicking the bottom right corner.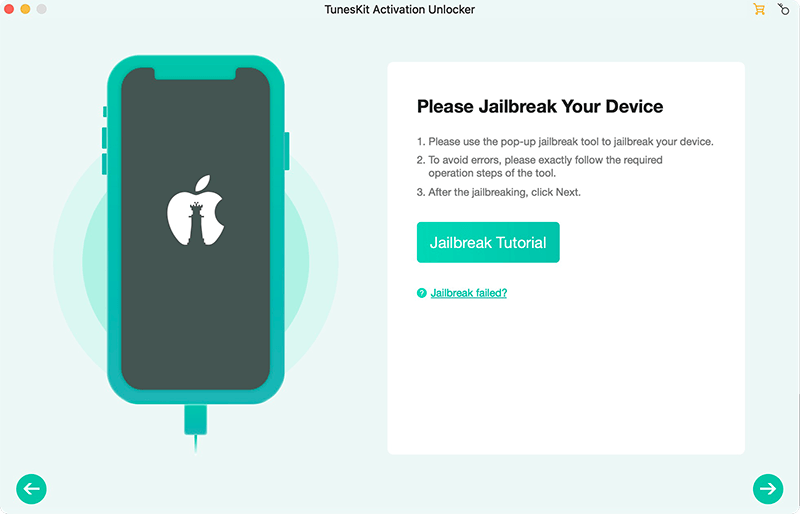 Step 3:

Start to bypass

Launch the tool again. Now, the arrow on the bottom right corner is available. Click it to bypass the iCloud lock on your iPad. The process takes a few minutes.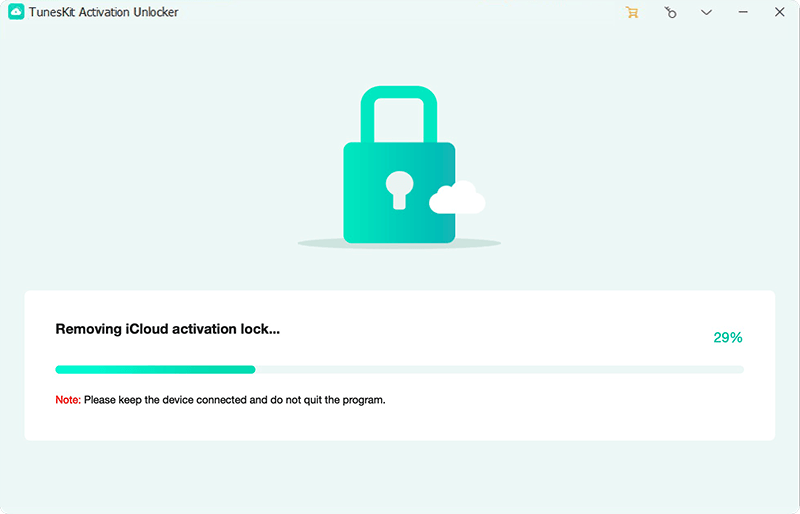 Solution 2: Remove from iCloud
Apple gives users another way to bypass the Activation Lock when iPad is locked - remove from iCloud. By deleting iPad from the previous owner's account, the Activation Lock can be bypassed remotely. If you have bought a used iPad but still keep in touch with the previous owner, this solution is your best choice. Here's how.
Step 1: Go to iCloud.com
Step 2: Sign into your account. Click on Find My.
Step 3: Click All Devices. Select your iPad. Click Erase Device. And hit Remove from Account.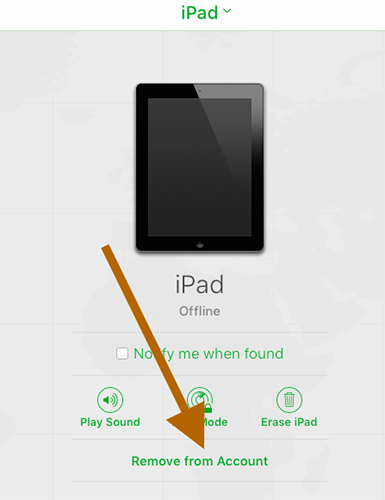 Solution 3: DNS bypass
DNS bypass is widely used to bypass Activation Lock iPad without Apple ID. If you're seeking a solution that is free to use and completely computer-free, this one could be a great option. DNS bypass means replacing the original DNS address with a new third-party DNS address to disturb Apple Server so that you can get rid of the Apple ID verification.
But, you should also learn its disadvantages before using it. It comes with a low success rate, as the supported iPadOS and models are not proven yet, just work randomly.
Step 1: Back to the first page.
Step 2: Complete region and language settings, and go ahead to the WiFi section. Hit the icon i, which is on the right of your WiFi.
Step 3: Select one DNS address in the following and tap Configure DNS > Manual > Add Server to create a new DNS address for your iPad. Save edits.
North America: 104.154.51.7
South America: 35.199.88.219
Europe: 104.155.28.90
Asia: 104.155.220.58
Global: 78.100.17.60
Step 4: Tap Back. Connect to the WiFi again. Continue to tap Back after you connect to the WiFi. Tap Activation Lock Help. Done!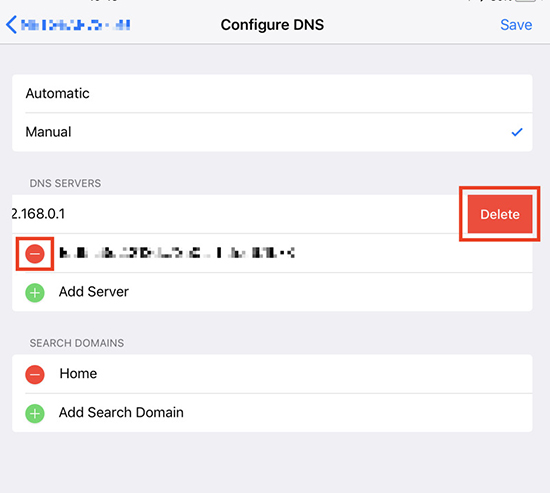 Part 3: Conclusion
In this post, we've shown you how to bypass Activation Lock on iPad without Apple ID in 3 easy ways. Among these solutions, TunesKit Activation Unlocker is recommended in priority for its incredible success rate and user-friendly operation. Still confused about one of the solutions? Leave your comments below. We're glad to help you.